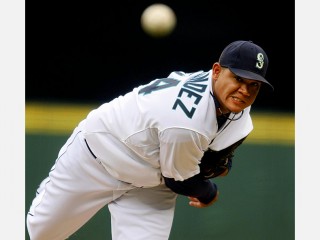 Felix Hernandez biography
Date of birth : 1986-04-08
Date of death : -
Birthplace : Valencia, Venezuela
Nationality : Venezuelan
Category : Sports
Last modified : 2010-10-29
Credited as : Baseball player MLB, pitcher with the Seatle Mariners,
GROWING UP
Felix Abraham Hernandez Jr. was born on April 8, 1986 in Valencia, Valenzuela. His father owned a small trucking company. Everyone in the family worked hard to make the business a success.
The Hernandez family lived a comfortable, middle-class existence in Valencia, a city of roughly a million people in the southern state of Carabobo. All of the Hernandez men could hurl a baseball with great force. In his day, Felix Sr. had been a very good player.
Felix inherited his dad's baseball talent and love of hard work. As a boy, hiss idol was Freddy Garcia, a fellow Venezuelan. Garcia had first made headlines in the mid-1990s when he signed with the Houston Astros.
By age 14, Felix was whipping the ball across the plate at 90 mph. His first major unveiling took place at a baseball tournament in Maracaibo, where scouts had him on the gun as a high as 94. The race was on to sign him.
Luis Fuenmayor, who was bird-dogging for the Mariners, immediately alerted full-time Seattle scouts Pedro Avila and Emilio Carrasquel. They had to wait almost two years before Felix was eligible to sign a pro contract. During that time, he went several months without pitching at his father's urging. Felix Sr. did not want his son to hurt his arm trying to impress the scouts.
By the time Felix turned 16, the Mariners had the inside track. They signed him in the summer of 2002 for $710,000. Other teams—including the New York Yankees, Atlanta Braves and Astros—had pursued Felix, too. Atlanta actually topped Seattle's bonus offer. But Felix's father steered him toward the Mariners.
That was fine with Felix. The Astros had traded Garcia to the Mariners for Randy Johnson several years earlier. Felix's idol had become an All-Star for the M's. Fliex spent the 2002 season with Aguirre in the Venezuelan Summer League.
ON THE RISE
Felix began his minor-league career the following spring. He logged the 2003 season with two Class-A teams, going 7–2 for the Everett Aquasox before a promotion to the Wisconsin Timber Rattlers. There he had a pair of no-decisions in two starts. After the season, the 17-year-old continued to burn through hitters in the Arizona Instructional League and then at home in the Venezuelan Winter League.
Felix was assigned to the Inland Empire 66ers of the Class-A California League in 2004. He went 9–3 in 15 starts, struck out 114 batters in 92 innings, and earned a spot in the Futures Game during the All-Star break. Felix finished the year at Double-A with the San Antonio Missions. Pitching for manager Dave Brundage, he lost just one of his 10 starts while limiting enemy hitters to a .220 average.
At age 18, Felix consistently threw his fastball in the mid-90s, touching 97 and 98 mph regularly. He was on everyone's radar screen, including Baseball America, which named him the #1 pitching prospect in minor league ball.
Felix started 2005 like a house afire, tearing through Triple-A with the Tacoma Rainiers. Pitching just 30 miles away from his final destination, he fanned an even 100 batters in 88 innings and posted a league-leading 2.25 ERA. Felix was named to the Triple-A All-Star Game, but he skipped the contest because of pain in his right shoulder. Doctor diagnosed it as bursitis and shut him down for nearly a month.
Shortly after returning to action, Felix was called up to the Mariners in early August for his long-awaited big-league debut. The team knew his fastball was major-league ready. But it was the command of his off-speed repertoire that convinced the M's to promote him.
Felix pitched well in a losing cause in his first taste of major-league action, and then won his next game with eight innings of shutout ball against the Minnesota Twins. Again and again, batters swung through his pitches or pounded them into the ground. At one point, he faced more than 100 enemy hitters without allowing an extra-base hit. In all, Felix hurled 84 1/3 innings for the Mariners as a rookie, splitting eight decisions and striking out 77 with an ERA of 2.67.
Felix was one of several young hopefuls promoted during an otherwise dismal 69-win campaign. Yuniesky Betancourt and Jose Lopez fared well as the t'eams new double-play combination. Rene Rivera, Greg Dobbs, and Mike Morse also impressed manager Mike Hargrove. Free agents Richie Sexson and Adrian Beltre performed as advertised, but Seattle was ultimately undone by its less-than-stellar pitching staff. The team's best arm belonged to Eddie Guardado, who saved 36 games. Ironically, he pitched the entire year with a torn rotator cuff.
Felix arrived at spring training in 2006 huffing and puffing. He was completely out of shape, and in his hurry to get back in condition, he developed a painful case of shin splints. Although Felix was in the rotation when the season began, the Mariners decided to limit their prize prospect to 200 innings, including Grapefruit League work.
Felix had his ups and downs in his first full year as a major leaguer. He logged his first complete game in June and first shutout in August—both against the division-rival Angels. The Anaheim blanking was a 95-pitch gem. Felix finished 12–14 with a team-high 191 innings and 176 strikeouts. His 12 victories also led the staff. The Mariners improved by nine wins on the strength of big offensive years from Sexson, Raul Ibanez and Ichiro Suzuki.
Hoping not to repeat the problems of the previous off-season, Felix and the Mariners agreed on a regimen of diet, rest and exercises to keep him in shape. He would not play winter ball of any kind.
Felix showed up early for spring training 20 pounds lighter than the year before. He had a solid exhibition campaign and was granted the honor of being Seattle's Opening Day starter. He allowed three hits in eight innings against the Oakland A's and set a new career high with 12 strikeouts. Seattle won 4–0. In his next start, against international sensation Daisuke Matsuzaka, Felix stole the show with a one-hit shutout against the Boston Red Sox.
Felix tumbled from the heights of his early season mastery, landing on the DL with a sore elbow before April was done. He returned in May but never quite got back on track. He was good, but not great, winning 14 games against seven losses with 165 strikeouts and a 3.92 ERA.
The Mariners had a similar season. They won 88 games but fell short of a postseason berth. Hargrove retired unexpectedly, leaving the managerial reins to John McLaren. The team was leading the Wild Card race in late August when the roof caved in and they went two weeks winning just one game.
In 2008, Felix was determined to have a healthy season. Once again he arrived for spring training in good shape. In the first half, he pitched well, but then the season began to unravel. In a highly anticipated June duel with fellow Venezuelan Johan Santana of the New York Mets, Felix belted a ball out of the park with the bases loaded. It was a triumphant moment for a young man who had been telling his teammates for years what a great hitter he was as a teenager. Unfortunately, he turned his ankle later in the game and landed on the DL.
This was a huge blow to the club, which had invested heavily in starting pitching. Erik Bedard had been acquired in a trade for stud prospect Adam Jones, and the M's had also inked Carlos Silva to an expensive free agent contract. Neither newcomer had performed anywhere near expectations. Another starter counted on for double-digit wins, Jarrod Washburn, finished 5–14. The result was a 101-loss season that cost both the manager and GM their jobs.
Among the few bright spots were the performances of two young starters—Brandon Morrow and Ryan Rowland-Smith. Both had been inserted in the rotation out of sheer desperation. Felix finished a disappointing 9–10, but his other numbers were solid, including 175 strikeouts and a 3.45 ERA.
MAKING HIS MARK
There was nowhere to go but up for Felix and the Mariners in 2009, as they sought to erase the bad taste of the previous year. The M's avoided arbitration with Felix and gave him a one-year, $3.8 million deal. He was worth every penny, reaching his potential for the first time. At 23, he was going deep into games, using all of his pitches, striking out a batter an inning, and yielding under three earned runs a game.
Felix showed maturity and leadership skills, too. After he posted a couple of mediocre starts in May, new manager Don Wakamatsu announced that Felix needed to step up if he were to truly be considered an "ace." Felix lost only two more games in 2009. He finished 19–5 with 217 strikeouts and a 2.49 ERA. He also played in his first All-Star Game, hurling a hitless inning.
The Mariners improved by 24 victories, winning 85 games, which was good for third in the American League West. Had the starting staff been a little more stable, the team might have challenged for the Wild Card. But Felix was the only pitcher to start more than 20 games—and the only one to reach double-digits in victories. On the other hand, without the blossoming of David Aardsma as a shut-down reliever, the M's might have finished below .500.
Changes were in the wind as soon as the 2009 season concluded. Sluggers Beltre and Russell Branyan opted for free agency. Casey Kotchman, Milton Bradley and Ryan Garko were acquired to make up for the lost power. Table-setter Chone Figgins was signed to play third base and join Ichiro atop a speedy lineup. And Morrow was traded to the Toronto Blue Jays as part of a huge deal that brought Cliff Lee to Seattle. Along with Felix, the Mariners had arguably the AL's best 1–2 starters.
The biggest off-season move for the M's was signing Felix to a five-year deal worth $80 million. For one thing, the move ended rampant trade conjecture that had been fueling the Hot Stove League. It also extended the continued reign of King Felix in Seatle , which brought a collective sigh of relief from Mariners fans, who finally see the makings of a gritty, hard-working contender.
FELIX THE PTICHER
Year in, year out, Felix finishes ahead of all other major-league hurlers with a fastball averaging close to 96 mph. Occasionally he reaches triple-digits. But speed is only part of the picture. He has become a good pitcher who understands there are many ways to disrupt a batter's timing.
Felix's two-seamer breaks down but never the same way twice. His four-seamer often acts like a cutter. Felix has a decent change-up, which he can also move around the strike zone. His curve breaks down or to the side, like a slider. When one of these pitches is working, he is tough to hit. When all of them are on, he is a nightmare.
Outfielders can usually expect a slow day when Felix his pitching. Because so many of his pitches drop as they near the strike zone, batters rarely lift the ball with any authority.
Read more
Latest headlines