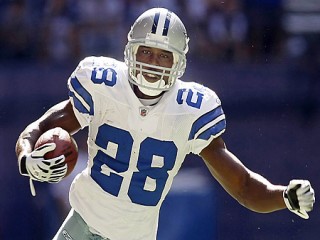 Felix Jones biography
Date of birth : 1987-05-08
Date of death : -
Birthplace : Tulsa, Oklahoma
Nationality : American
Category : Sports
Last modified : 2010-11-03
Credited as : Football player NFL, running back for the Dallas Cowboys, Super Bowl/NFL Draft player
Felix Jones is an American football running back for the
Dallas Cowboys
of the National Football League. After playing college football and majoring in kinesiology at the University of Arkansas, he was drafted by the Cowboys 22nd overall in the 2008 NFL Draft. He has developed the nickname of Felix "The Cat" Jones for his quick movements and speed.
PRO:
Felix Jones was selected by the Dallas Cowboys with the team's first pick in the first round (22nd overall) of the 2008 NFL Draft to add another versatile weapon to the club's offensive arsenal. Jones, who complemented Marion Barber in a two-running back system, showed flashes of his versatility before injuries landed him on Reserve/Injured as a rookie. His ability for explosive plays allowed Jones to become the first club rookie to score a touchdown in his first three professional games with an 11-yard touchdown run on his first career carry in the season opener, a 98-yard kickoff return for a touchdown in the home opener followed by a 60-yard touchdown rush in Week 3. Before his season ended, Jones was second in the NFC, eighth in the league, with a 27.1 kickoff return average. Although he missed two games with a knee injury in 2009, Jones continued to show his ability for the big play as he tied Jamaal Charles with a league-best rushing average of 5.9 yards-per-carry. His threat of being able to take it the distance from any point on the field was on display in 2009 as he had four of the club's top-five longest runs (all 40-or-more yards) with two touchdowns from that distance. In total, Jones had 19 of the club's 66 runs of 10-plus yards (14 from 10-20 and five from 20-plus) and all five of the club's 10-plus yard playoff runs with two going for 20-or-more. Jones also sees time at kick returner in Dallas, averaging 24.2 yards on 46 returns through his 20 pro games. Arriving in Dallas no stranger to sharing time in the backfield, Jones spent three seasons at the University of Arkansas as part of a one-two punch with fellow 2008 first round draft choice Darren McFadden of the Oakland Raiders. Jones' kickoff return ability was displayed through his collegiate career as well, as he left the college ranks as the NCAA's ninth ranked kickoff returner with a career average of 28.2 yards-per-return. From the backfield, Jones averaged 7.7 yards-per-carry, second only to Glen Davis (Army - 8.26 avg. 1943-46). He joined Davis, Mike Rozier (Nebraska - 7.16 avg.) and Reggie Bush (USC - 7.3) as the only backs to average over 7.0 yards-per-carry with a minimum of 350 attempts. In just three years at Arkansas, Jones amassed 5,099 career all-purpose yards, joining McFadden (5,881) as the only players in school history to crack 5,000 career all-purpose yards. Jones is looking to improve off of his numbers from year two and add to the Cowboys already powerful offensive arsenal.
2009:
# Played in 14 games earning one start - the first of his career - in place of Barber (quad) and finished the season second on the team with 114 carries for 685 yards (5.9 avg.) and three touchdowns while catching 19 passes for 119 yards and returning 30 kickoffs for 678 yards (22.6 avg.).
# In the season-opening win at Tampa Bay (9/13), returned to the field for the first time since suffering a hamstring injury at Arizona (10/12/08) and finished with six carries for 22 yards and two kickoff returns for 50 yards.
# In the Cowboys Stadium opener against the N.Y. Giants (9/20) rushed for a career-high tying 96 yards on seven carries (13.7) with a touchdown. Also had six kickoff returns for 134 yards.
# Made his first career start in place of Barber (quad) and had eight carries for 94 yards (11.8) but suffered a knee strain in the third quarter, missing the remainder of the contest against Carolina (9/28).
# Was inactive at Denver (10/4) and for the overtime win at Kansas City (10/11) with the knee injury but returned against Atlanta (10/25) with eight carries for 37 yards.
# Had eight carries for 39 yards with a career-long 30-yard reception while returning three kickoffs for 45 yards in the win against Seattle (11/1).
# Had 10 carries for 49 yards, a seven-yard catch and three kickoff returns for 66 yards against Washington (11/22).
# In the Thanksgiving Day win over Oakland (11/26), led the team with 68 rushing yards on seven carries with a 46-yard touchdown run.
# Recorded 10 carries for 51 yards while returning a kickoff a season-long 41 yards in the loss against San Diego (12/13).
# In the win at previously undefeated New Orleans (12/19) had 14 carries for 58 yards, one catch for 10 yards and three kickoff returns for 90 yards with a season-long tying 41-yard return.
# Finished second on the team with 10 carries for 58 yards and a season-best four catches for 27 yards in the playoff clinching win at Washington (12/27).
# In the season finale shutout against Philadelphia (1/3/10), carried the ball a season-high 15 times for 91 yards with a 49-yard touchdown run and caught three passes for three yards as Dallas claimed its 17th NFC East Division title.
# Against Philadelphia (1/9/10) in Dallas' first playoff win since 1996, led the team with 16 carries for 148 yards - both all-time personal-bests - with a 73-yard touchdown run - the longest of his career. His 148 yards was the first-ever 100-yard outing of his career, was good for the third-most rushing yards in a playoff game in franchise history, marked the 18th 100-yard postseason outing in team history and made him just the eighth different Cowboy to reach 100 yards.
# His 73-yard run was the longest rush by a Cowboy in team postseason history.
# Led the team with 14 carries for 69 yards (4.9) with three catches for 22 yards in the Divisional Playoff loss at Minnesota (1/17/10).
# His 217 postseason rushing yards placed him ninth on the club's all-time postseason rushing yards list.
2008:
# Had his rookie season shortened after suffering a hamstring injury at Arizona (10/12) and subsequent great toe injury suffered during the rehab process, but averaged 8.9 yards with three touchdowns on 30 carries and returned 16 kickoffs for 434 yards (27.1) and a touchdown.
# In his NFL debut at Cleveland (9/7), rushed for 62 yards on nine carries with one touchdown - an 11-yarder on his first career carry. Also returned his first career kickoff 20 yards.
# In the home-opening win against Philadelphia (9/15), returned a kickoff 98 yards for a touchdown to mark the first kickoff return by Dallas since Randal Williams returned one 38 yards for a score against Philadelphia (10/12/03). Jones' was the longest by a Cowboy since Reggie Swinton had a 100-yard return for a touchdown at Philadelphia (9/22/02) and the longest by a Dallas rookie since Ike Thomas had a 101-yard return against the N.Y. Jets (12/4/71).
# Jones racked up 247 return yards against the Eagles to establish a single-game club record while his 41.2-yard return average was good for the fourth best in club annals.
# With his 60-yard touchdown run at Green Bay (9/21), scored a touchdown in each of his first three professional games to become the first rookie in club history and the first league rookie since Andre Davis (Houston) and Donte' Stallworth (New Orleans) in 2002 to accomplish that feat. The 60-yard run was the fourth-longest touchdown run by a rookie in team history.
# Rushed for 96 yards - including a 33-yard fourth down touchdown scamper - on just nine carries (10.7 avg.) against Cincinnati (10/5).
# Returned one kickoff 22 yards and had three carries for 22 yards before leaving the game in the third quarter with the hamstring injury at Arizona (10/12).
# Was inactive the next five games before landing on Reserve/Injured on Nov. 26 with the toe injury.
COLLEGE
# Started 11 of the 38 games he played and rushed for 2,956 yards and 20 touchdowns on 386 carries through his career at Arkansas.
# His 7.7 yard-per-carry average was second only to Glen Davis (Army - 8.3 from 1943-46) in NCAA history. He also joined Mike Rozier (Nebraska - 7.2) and Reggie Bush (USC - 7.3) as the only backs to average over 7.0 yards-per-carry with a minimum of 350 attempts.
# Started three-of-13 games as a junior, ranking fifth in the SEC with an average of 89.4 rushing yards-per-game as part of the nation's fourth-ranked rushing attack (286.5).
# Named SEC Special Teams Player of the Year, averaging 29.6 yards-per-kickoff return (22 returns for a school record 652 yards) with two touchdowns.
# Finished second in the SEC (22nd in the nation) with 1,990 all-purpose yards (third-most in school history), averaging 153.1 per-game.
# Was the nation's fourth-leading kickoff returner, averaging 29.6 yards-per-return.
# Was an All-SEC first-team selection as a sophomore, adding second-team accolades from the league's coaches and Associated Press as he became only the eighth running back in school history to rush for more than 1,000 yards when he earned 1,168 yards - good for eighth in school record books - on 154 carries (7.6 avg.) with six touchdowns for an offense that finished fourth in the nation averaging 228.5 rushing yards-per-game.
# Finished fourth on the squad with 15 catches for 107 yards (7.1 avg.) and three scores.
# Returned 23 kickoffs for 554 yards (24.1 avg.) and a touchdown to rank third in school history for kickoff return yards in a season.
# The kickoff return for a touchdown was his second career 100-plus yard return for a score to make him only one-of-two Razorbacks (Boyd Cypert) and one-of-two SEC players (John Avery, Mississippi) to have two 100-yard returns for touchdowns in a career.
# Ranked 22nd nationally, third in the SEC, with 1,829 all-purpose yards (fourth-most in school history), to finish second to McFadden's 2,058 from 2006 on UA's all-time list.
# His total of 1,829 all-purpose yardage broke the previous UA record and ranked second on the UA single-season list only to McFadden's (2,058 yards) in the same season.
# Became the first freshman in school history to earn first-team All-America honors when CollegeFootballNews.com named him to its team as a kickoff return specialist.
# Second-team All-SEC pick by the league's coaches.
# Finished second in the nation with a 31.9-yard kickoff return average, racking up 543 yards and one touchdown on 17 returns to earn SEC All-Freshman honors as a kickoff returner.
# His 543 total kickoff return yards were the third-most in a single season in school history.
# Rushed for 626 yards and three touchdowns on 99 attempts (6.3 avg.), finishing second on the team, 10th in the SEC, in rushing with an average of 56.9 yards-per-game.
# Tied teammate McFadden for the conference title with 6.3 yards-per-attempt.
# Became just the second player in school history to record two 100-yard rushing games as a freshman.
PERSONAL
# Attended Booker T. Washington High School in Tulsa, Okla., and was named the Tulsa World Player of the Year following his senior season, rushing for 2,282 yards and 48 touchdowns on 205 carries (11.1 avg.).
# Led his squad to a 13-1 record and a state runner-up finish, rushing for 166 yards and three touchdowns in the 5A state championship game.
# Sidelined with a broken ankle early in his junior season, but still managed to rack up 800 yards rushing and 20 touchdowns.
# Rivals.com ranked him as the 19th-best athlete in the nation and the fourth-best overall player in Oklahoma.
# Majored in kinesiology at Arkansas with an emphasis on teaching.
Read more
Latest headlines