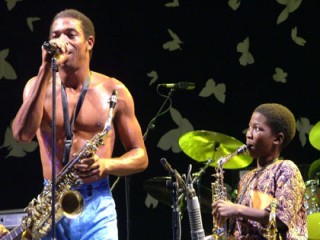 Femi Kuti biography
Date of birth : 1962-06-16
Date of death : -
Birthplace : London,England
Nationality : Nigerian
Category : Arts and Entertainment
Last modified : 2011-12-07
Credited as : musician, Afrobeat, Movement Against Second Slavery
Olufela Olufemi Anikulapo Kuti popularly known as Femi Kuti, is a Nigerian musician and the eldest son of afrobeat pioneer Fela Kuti.
Growing up the son of a famous father can be a mixed blessing, and Femi Kuti, the son of Nigerian Afrobeat pioneer Fela Kuti, who died of an AIDS-related illness in 1997, spent much of his life in his father's considerable shadow. By the mid- to late-1990s, however, the younger Kuti finally emerged in his own right as one of Africa's most dynamic performers, soon gaining a solid following in Western Europe to match his domestic audience in Nigeria. His most recent album recorded with his 18-piece band Positive Force entitled Shoki Shoki--released in Europe by the French record label Barclay in 1997 and on MCA Records in the United States in 2000--swirled together African funk and dance rhythms to create a bold, brass-driven, and slick sound all his own.
"I'm not Fela," he told Boston Globe correspondent Paul Robicheau. "Nobody can ever get Fela's flavor again. But if you're sincere with yourself, you can get your own flavor, and you can be known, or people will love you for your own flavor." And with Shoki Shoki, Kuti flavored his sound with touches of hip-hop--with a remix by the Roots of his anthemic "Blackman Know Yourself"-- techno, and even jazz. "You can't avoid listening to Coltrane, Charlie Parker, and everybody like that.... The moment you listen to anything, you are automatically influenced, subconsciously or consciously. I listen to everything. I'm going to start going crazy for classical music, to show you how crazy my mind works sometimes. I heard some classical tune on the plane, and it sounded so cool."
Kuti's emergence as a recording and performance artist who mixed music of the past with that of the present unexpectedly resulted in a renewed interest in his father's music, and he worked steadily not only to fuel his own career, but also to work with Barclay on a massive reissue program of the vast Fela Kuti catalog. On February 1, 2000, MCA issued The Best of Fela Anikulapo-Kuti, a two-CD compilation of classic Fela material. Then, later that month and into March and April, the label released a total of ten double-album packages comprising 20 albums recorded by the Afrobeat legend between 1970 and 1981, collections previously released in 1999 by Barclay in France and Talkin' Loud in the United Kingdom. "Those reissues have made a whole new generation of sample madness," the Roots' beat expert, Ahmir Thompson, told Vivien Goldman in Spin. "The race to use the tracks has started already: Q-Tip, Lauryn [Hill], D'Angelo, Black Star, Mos Def, and myself. Afrobeat is the next crop of funk to get appetized."
Kuti's work, like the music of his father, draws from his African roots, but steps beyond with the addition of more contemporary grooves, resulting in Afrobeat crossing over to the dance floors of London, Paris, and other major cities across Europe and America. "When Fela died, something told me I had to fill his space," Kuti, who joined his father's band while still in his teens, told Billboard in 1999. "I am destined to play Afrobeat because it is part of who I am and where I come from. But I love rock, rap, house and jungle. I want to introduce those sounds into my music. I don't believe in barriers, I want to take Afrobeat into the future."
Born in 1963, Kuti was destined to follow in his Fela's footsteps, though he wanted to forge an individual identity rather than imitate his father. He picked up the saxophone at the age of 16, and joined his father's band at the age of 18, perhaps as the only way to bond with the elder Kuti, held in awe by many Africans for simultaneously wedding 27 women--many of whom danced for his band--and fathering dozens of children. One of his wives was a British-born pianist of African American, Native American, English, and Nigerian descent named Remi, mother of Kuti and his sisters Yeni and the late Sola. However, Kuti, unlike Fela, remained a one-wife man. "I have my wife Funke in the band with me," he revealed to Goldman, an arrangement "which controls my sexual powers and makes sure I'm not a maniac on the streets." Kuti also swore off smoking cigarettes and using marijuana as part of a spiritual cleansing in 1984, both habits his father enjoyed throughout his lifetime.
In addition to remaining monogamous and smoke-free, Kuti differed from his father in other ways as well. Fela Kuti, born in 1938 in Abeokuta, Nigeria, and educated at Trinity College of Music in London, helped revolutionize the politics as well as the music of his homeland. In 1969, the saxophonist/keyboardist/vocalist brought a band to Los Angeles, where he evolved a new style, later dubbed Afrobeat, that fused radical black politics, African rhythms, and American jazz, soul, and funk. When he returned to Nigeria in 1973, Fela opened the famed Shrine club in the town of Lagos, recording prolifically there with his 20-plus member group Africa 70 (later named Egypt 80). Like reggae legend Bob Marley in Jamaica, Fela became a voice for his country's poor and disenfranchised, and an outspoken critic of Nigeria's repressive political regime. His songs regularly provoked legal harassment, imprisonments, and police beatings, which only fueled further inflammatory recordings and punitive actions by the authorities in power. In 1977, his opposition to the government culminated when soldiers sacked his Lagos compound, a sort of state-within-a-state he had formed known as Kalakuta Republic.
Kuti, by comparison, chose a less contentious, agenda-free direction. For example, his single "Beng Beng Beng" was banned in Nigeria not for its political message, but instead for its sexual explicitness. And while Shoki Shoki features politically-informed songs such as "Truth Don Die," "Blackman Know Yourself," and "What Will Tomorrow Bring," the album adapts a significantly tempered version of Fela's intense anti-establishment stance. Willing to work within the system to accomplish his objectives, in 1998 Kuti formed an organization called M.A.S.S.--Movement Against Second Slavery--a student-focused activist group promoting Pan-Africanism and the preservation of African culture.
"I'm trying to find a way for people to really understand what is going on in Africa, for our corrupt leaders to look back and see that they are not helping Africa by what they're doing," he said in an interview with Richard Harrington of the Washington Post. "There's no way the masses are going to get them out of power except by violence and yet there is no way to be successful because they have the arms. We know that a revolution will not help Africa, that another war will not help Africa, so how do we get out of this mess we're in? We have to find another way of making [the leaders] understand that everything is wrong. So I'm just brainstorming with M.A.S.S."
And while his father's free-form tracks could thunder on for an hour or more, Kuti prefers catchy rhythms that span a more moderate length of time. "I used to get bored playing long songs," he said to Goldman. "The problem was cutting them down and not having a problem at home!" he mused, imitating his father: "'So! You're not playing Afrobeat anymore!' I still wanted to be a part of my father, y'understand, but doing Femi Anikulapo-Kuti."
Undeniably, father and son had much in common. Although Kuti, the son of an almost regal figure, sometimes revolted against his father with an aristocratic haughtiness of sorts, their relationship mellowed over the years, and both men loved and felt intensely proud of one another. However, Fela could seem overbearing at times and detested disobedience. Moreover, while the elder bandleader supported his son's solo career, he nonetheless made Kuti earn his position in the band, with little encouragement besides his often brutal criticism.
Regardless of Fela's methods, Kuti was poised to take over where his father left off and had been laying the groundwork for his own global success for nearly two decades. In 1984, after his father and Fela's then-manager, Pascal Imbert, served jail time for trumped-up currency charges, Kuti, then just 21, ran the Shrine, took over Egypt 80, and became an enthusiastic and forceful frontman. During a later stretch in prison, Kuti ran the club so well that Fela wanted his son to stay on after his release, but the younger musician refused. Although the men did not speak for a good five years after he declined the offer, Kuti, who had by now developed far too musically and wanted to concentrate on his own career, insisted that it was one of the best decisions he ever made. He went on to record several records for European labels, including a self-titled album released by Motown Records--during the label's brief foray into world music--in the United States in 1995.
Finally, in the mid-1990s, the two reconciled after a chance meeting at the Lagos club, but some family members kept the feud alive even after Fela's death. Some band members, for instance, refused to play with Kuti because he was not full-blooded African. "I nearly cried," Kuti admitted to Goldman, recalling the band's reaction, who continued to play Fela's old repertoire in Lagos clubs with Kuti's half-brother Seun as the frontman. Nonetheless, Kuti kept in mind his own mission. "I'm fighting for my people, I'm fighting for the world," he continued. "I believe the sin in life is not to try."
When not touring with his band throughout the world, Kuti--who draws wild cheers from women as he takes off his shirt on stage--lives in Lagos with his wife, son, sister, mother, grandmother, and various children in a large family home in the working-class neighborhood of Ikeja. The Afrobeat star admits that when he discovered that his son Omrinmade, born in 1995, had musical gifts as well, he was not entirely thrilled. On the one hand, he could imagine the thrill of one day taking the youngster on the road with him, keeping in the family tradition. "But I don't want to make the mistake some people make," Kuti, who felt the pressure growing up with his father's band, said in an interview with Los Angeles Times writer Steve Hochman. "He should go to school, be with friends. He has to experience life, make mistakes, have his successes. Maybe he wants to do football in school, play tennis. He needs that and needs to just be happy."
Discography:
-No Cause For Alarm? (1989, Polygram)
-M.Y.O.B. (1991, Meodie)
-Femi Kuti (1995, Tabu/Motown)
-Shoki Shoki (1998, Barclay/Polygram/Fontana MCA)
-Fight to Win (2001, Barclay/Polygram/Fontana MCA/Wraase)
-"Ala Jalkoum" (on the album Rachid Taha Live) (2001, Mondo Melodia)
-Africa Shrine (Live CD) (2004, P-Vine)
-Live at the Shrine (Deluxe Edition DVD) + Africa Shrine (Live CD) (2005, Palm Pictures/Umvd)
-The Best of Femi Kuti (2004, Umvd/Wraase)
-Femi Kuti The Definitive Collection (2007, Wrasse Records)
-Grand Theft Auto IV soundtrack (2008, IF99)
-Hope for the Hopeless (2008) Collaboration with Brett Dennen
-Day by Day (2008, Wrasse Records)
-"Vampires" (on the album Radio Retaliation by Thievery Corporation) (2008, ESL Music)
-Africa for Africa (2010, Wrasse Records)
Read more
Latest headlines