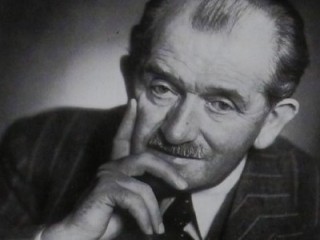 Ferdinand Porsche biography
Date of birth : 1875-09-03
Date of death : 1951-01-30
Birthplace : Maffersdorf, Austria
Nationality : Austrian
Category : Arhitecture and Engineering
Last modified : 2011-05-02
Credited as : Automotive engineer, Volkswagen Beetle, Mercedes-Benz SS/SSK
Though he and his son founded the high-performance sports car firm that bears the family name, Ferdinand Porsche Sr. is also remembered as the visionary who created the Volkswagen Beetle in the 1930s. Already a renowned automotive designer, Porsche's dream was to create a small, affordable car for the European mass market. The rise of the German Nazi Party made this "people's car" a government-subsidized reality.
Ferdinand Porsche was born in the village of Maffersdorf on September 3, 1875. Later renamed Leberec when it reverted to Czechoslovakia, Maffersdorf was at the time part of Bohemia, an area heavily settled by German-speaking tradespeople and part of the Austro-Hungarian empire. Porsche's father, Anton, had a metalsmithing business in Maffersdorf. When his older brother was killed in an accident, it was expected that Ferdinand begin to train for the business. Metalwork did not wholly interest the young Porsche. One day, on a delivery errand to a neighboring town, he saw an electric light plant created to power a carpet factory, and was fascinated by it. The owner gave him a tour, explaining some basic principles of electricity. At home, Porsche began conducting his own rudimentary experiments with acids and batteries. His acumen increased to such a degree that, by 1893, his family home became the first in Maffersdorf to have electric light.
Porsche was sent to the Imperial Technical School in nearby Reichenberg for a time and, at the age of sixteen,
moved to Vienna. There he worked as a student employee at an electrical engineering company called Egger, while taking courses at Vienna's Technical High School. He also began dating a bookkeeper at the company, Louise Kaes, whom he would eventually marry.
Porsche was promoted to Egger's testing and experimental department, where he became interested in electric vehicles. In 1898, he was hired as chief designer for a coach builder's new automotive division. At Lohner he created two noteworthy cars, including the first front-wheel drive vehicle in history. Porsche was called for military duty in the Imperial Reserves around 1902, and served as a staff driver for the top-ranking officers of the Austro-Hungarian army. He even chauffeured the Archduke Franz Ferdinand, whose later assassination sparked World War I.
Back in civilian life, the gifted Porsche advanced rapidly. In 1905, he became technical director of a car company called Austro-Daimler. He continued to work on a more reliable gasoline engine, and often raced his prototypes in European track and endurance competitions. The company set up a division for the design of engines for the new airships and other early airborne conveyances, and he became involved in this as well. In 1909, Porsche set an altitude record for ballooning.
By this point Porsche was married with two children-daughter Louise, and son Ferdinand Jr., nicknamed "Ferry." As a pioneer in automotive design, he earned quite a good salary. The family enjoyed a summer home called "Louisenhuette" in Austria's Rosalie Mountains, where Porsche drove a car he had built. He also plied the waters of nearby lakes in a boat, also self-built, named the Argonaut. Even his son was driving his own miniature vehicle by the age of ten. With the outbreak of World War I, Porsche concentrated on designing aircraft engines at Austro-Daimler. He also created the heavy artillery vehicles, known as Motor-Moerser, used by the German military to invade Belgium. For this and other innovations, he was promoted to managing director of Austro-Daimler in 1916 and awarded several government accolades. Porsche was most pleased, however, by the honorary doctorate in engineering given to him by Vienna University in 1917.
After the war's end, and the dissolution of both the Austro-Hungarian and German empires, Austro-Daimler fell into financial trouble. Porsche was hopeful that the company could emerge from this period with a small, affordable automobile that could be mass-produced in large numbers. He looked toward the very profitable success of the Ford Motor Company's Model T, assembled at vast and modern factories in Detroit, as a model. In 1921, Porsche had another hit with a car he designed for a wealthy Austrian count and film maker, Sascha Kolowrat. The "Sascha" was an open-air two-seater that reached speeds of 90 miles per hour, an extreme at the time. It also successfully made the 900-mile trip back from an Italian auto race, and received a great deal of press for this achievement. Porsche hoped to apply Sascha's technological innovations to the design of a mass-production vehicle for Austro-Daimler. Its board of directors said no, however, and so he resigned.
Porsche and his family moved to Stuttgart, Germany in the spring of 1923, where he took a job with Daimler Motor Works (no connection with Austro-Daimler) as its technical director. He was responsible for designing the famed Mercedes-Benz roadsters, the SS and SSK, both supercharged racing cars with very loud engines. In 1926, the company merged with another German automaker to become Daimler-Benz. Once more, Porsche encountered difficulties in convincing company executives of the feasibility of a small, mass-produced car.
Once again, Porsche decided to resign. He returned to Austria in early 1929, where he took a post with another automaker, Steyr-a comeback greatly heralded in the Vienna papers. During his brief stint at Steyr, Porsche developed an eight-cylinder engine for a model called the "Austria," which featured an innovative rear suspension that yielded superlative handling. He would later copy this design for use in the forerunner to the Volkswagen Beetle. Porsche left Steyr when a merger made it part of Austro-Daimler, and returned to Stuttgart. There, in December 1930, he founded his own firm with his friend Karl Rabe, another engineer. His son Ferry, who had inherited his father's passion for car design, was also on staff.
The Porsche company's first design contract came for a large touring car for Wanderer, a German automaker in Chemnitz. They also did engine and suspension work for various European automakers. In 1932, Porsche visited the Soviet Union at the request of Josef Stalin, who offered him a post as chief construction director, complete with generous compensation, a villa, and the transfer of his entire Stuttgart staff. He was also promised unlimited development funds to build a small car. Porsche, who still loved to race his own cars on the track, declined the offer since the European Grand Prix circuit did not extend to Communist Russia.
Back in Stuttgart in the early 1930s, one of the projects that Porsche took on was a prototype for a sports car with a rear-mounted engine. A consortium of German automakers, including Audi and Wanderer, had formed the Auto-Union Company to build such a car to compete with Mercedes vehicles on the racetrack. Through this involvement, Porsche first met the new German chancellor, Adolf Hitler, at an Auto-Union meeting in March 1933.
A second connection to the Fuhrer came through a Daimler-Benz associate named Jakob Werlin. Hitler bought his first car from Werlin in 1923, when Nazi Party offices in Munich shared building space with a Mercedes dealership. In turn, Werlin later came to know Porsche when both were at Daimler-Benz. Despite his personal preference for the luxury sedan, Hitler was hoping that Germany could create a Volks-wagen, or "People's Car," that fit in with his political and economic agenda. The fascist National Socialist Party had strong-armed its way to power in the early 1930s, and offered desperate Germans a plan to salvage their economy and national identity by various measures, including stripping German Jews of their citizenship and resurrecting an armaments sector banned by the 1919 treaty that concluded World War I. In the fall of 1933, Werlin invited Porsche to a meeting at Berlin's Hotel Kaiserhof, at which Hitler was also present. They discussed the creation of an affordable and reliable German car that might sell for under a thousand marks.
Porsche designed a prototype and submitted it to government offices in January 1934. A contract was drawn up between the RDA, the official association of German auto-makers, and Porsche's Stuttgart firm. To help reduce the cost of raw materials without direct government subsidies, a fund was created that eventually ballooned to $67 million. Marketed through the efficiently pervasive Nazi Party organization, the fund was essentially a state-sanctioned savings plan: thousands of German workers bought five-mark savings stamps weekly, which would later be redeemed for their own "KdF-Wagen," as the vehicle would be called. The acronym stood for Kraft durch Freude, or "Strength through Joy." Extensive testing of Porsche's prototypes began in 1936. Ground was broken by Hitler himself in May 1938 for the Volkswagen factory complex, "KdF-City," situated near the town of Wolfsburg.
Very few KdF-Wagens (later rechristened as the Kaefer, German for "beetle") came off the assembly line before the outbreak of World War II in 1939. The huge Wolfsburg complex was easily converted over to the production of military vehicles and staffed with prisoners-of-war. During these years Porsche served as head of the German Tank Commission, for which he designed massive artillery vehicles so loud they shattered all nearby windows-and received numerous Nazi honors. He also traveled regularly to France to oversee production at the Peugeot autoworks, seized by the German occupation forces in 1940.
When Stuttgart was heavily bombed by Allied planes in 1944, Porsche and his family had already returned to their summer home in Austria's Zell am See. At the war's end he was placed under house arrest. French military authorities then invited the aged and distinguished designer back to Germany to discuss the possibility of manufacturing a Volkswagen-type car for France. It proved to be a ruse and Porsche was arrested as a war criminal for the Peugeot visits. He was 71 at the time, and imprisoned in Dijon. To secure his father's release, Ferry Porsche-also incarcerated for some months-spent a year working for the Italian racing consortium Cisitalia to build a Grand Prix Formula I car with Porsche technology. Cisitalia then secured, via various means, the exorbitant bond money-about $62,000-that France wanted in exchange for the elder Porsche's freedom. A year after his September 1947 release, the French war-crimes tribunal found him not guilty as charged, but the bond money was never refunded.
Porsche returned to his Austrian home, and was legally banned from traveling to Germany. Meanwhile, Allied occupation powers had taken over the Volkswagen plant, after first trying to sell it and then toying with the idea of demolishing it altogether. Because there was such a shortage of vehicles, permission was granted to begin producing the small, economical vehicle again. Several thousand were on the road in Germany by 1949, when their creator was allowed to return for a visit. He was reportedly surprised to see so many of them on the road, but saddened that his dream for a "people's car" had gone so awry. He died in Stuttgart, Germany on January 30, 1951 following a stroke. Porsche was buried in a chapel at Zell am See.
Read more
Ferdinand Porsche Picture Gallery
Latest headlines