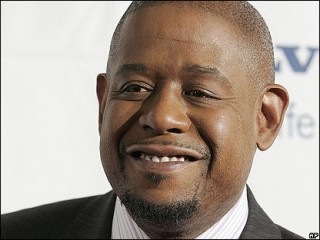 Forest Whitaker biography
Date of birth : 1961-07-15
Date of death : -
Birthplace : Longview, Texas, U.S.
Nationality : American
Category : Arts and Entertainment
Last modified : 2010-07-09
Credited as : Actor and film producer/director, starred in The Expendables,
Forest Whitaker
, born July 15, 1961 in Longview, Texas, United States is an African-American actor, film director and producer.
Tall and heavyset, with a round face and a drooping left eyelid--the result of a congenital condition--Forest Whitaker might be Hollywood's most unconventional-looking leading man. He is definitely one of the hardest-working actors in Hollywood, renowned for his intense preparation for his roles and for alternating between lead and supporting roles in both television and film. He has also worked on the other side of the camera, directing and producing feature films. As an actor, Whitaker is best known for his work in historical dramas--as the jazz virtuoso Charlie Parker in the film Bird and Ugandan dictator Idi Amin in The Last King of Scotland, a role that made him just the fourth African American to win the Academy Award for best actor in a leading role.
Whitaker was born on July 15, 1961, in Longview, Texas, but grew up in Carson and Los Angeles, California. The oldest of three children of an insurance salesman and a special education teacher, Whitaker attended Palisades High School in Los Angeles, where he was a good student and an All-League defensive back in football. He earned a sports scholarship to California State University at Pomona and became a drama and music major. Eventually, though, he felt that his singing talent would be better cultivated at the University of Southern California, and he transferred there to study voice.
Although he was an aspiring opera tenor, stage work proved tempting, and Whitaker began appearing in local equity productions in Southern California. "I was probably going to go to New York and work on stage and that was it," he recalled to the Associated Press. "It just so happens I was working on a play and it turned into an opportunity to do a film." Since 1982 Whitaker has worked regularly in the movies, going from project to project and working his way from the ranks of the "extras" to the very best roles.
Landed Roles in Motion Pictures
Whitaker earned his first substantial role in 1982's well-received teen film titled Fast Times at Ridgemont High. The actor's size and robust build helped him land the part of a tough guy whose cherished car gets trashed. That essentially comic role was followed by more important, serious ones; in The Color of Money, for example, Whitaker appeared as a pool shark who tries to beat the best players in the game. Although he was on screen only briefly, Whitaker studied the nuances of pool intensively for weeks in order to perfect his moves and timing. As a result, observed Robert Wheaton in Ebony, "his one-scene cameo ... almost stole the show from high-powered stars Paul Newman and Tom Cruise." Whitaker's performance in The Color of Money brought him to the attention of director Barry Levinson, who gave the actor a substantial part in the big-budget Good Morning, Vietnam. Whitaker was particularly pleased with that opportunity, because the part was not originally written for a black actor; he later portrayed another character intended for a white actor in Johnny Handsome. For all of these roles, Whitaker did homework--in the form of reading and interviews--in order to assure that his performance would be realistic.
Whitaker put his greatest energy into researching the life of Charlie "Yardbird" Parker--the jazz giant who helped to launch the bebop era--for his lead role in Clint Eastwood's Bird, a film treatment of Parker's life. In order to ensure he would be believable as a saxophone player, Whitaker took horn lessons and talked to numerous people who knew Parker during the years before the famous musician died an early, drug-related death. Whitaker even interviewed recovering heroin addicts in an effort to better understand the effects of drug abuse and dependency. "The research took on a very large scope," he remarked in Ebony. "I would wake up so depressed some mornings that I would really begin to understand why Charlie Parker tried to kill himself and why he took drugs. He led a very hard life, and it took quite a while to shake his thoughts from my head." Whitaker's portrayal of Parker in Bird won the young actor the top award at the 1988 Cannes Film Festival. Jet correspondent Lou Ransom declared that the role was "the crowning achievement in Whitaker's career, which has shown remarkable success." And Wheaton in Ebony suggested that Whitaker's performance was "exceptional, the kind of acting that makes a star. He lets the late jazzman's self-destructive streak come through but also shows us Parker's charm and intelligence."
The success of Bird proved that Whitaker could handle a lead role, and throughout the 1990s he received leads interspersed with his usual supporting roles. In the 1991 comedy-drama A Rage in Harlem, Whitaker was cast as the protagonist, supported by the more famous African-American actors Gregory Hines and Danny Glover. In 1992 he had the honor of being the only American cast in Neil Jordan's Irish Republican Army epic The Crying Game. Later in the decade, famed independent film director Jim Jarmush wrote the film Ghost Dog: The Way of the Samurai specifically for Whitaker to play the lead. As Jarmush told Joshua Klein for A. V. Club in 2000: "If I had written this whole thing and [Whitaker had] said, 'You know what, I can't do this,' I would have either had to start all over ... or chucked the project and gone on to something else because, to me, it's that important."
Became a Producer and Director
Whitaker also began directing films in the early 1990s. His directing debut was in 1993 with Strapped, an original film for HBO for which he won the International Critics' Award for best new director at the Toronto Film Festival in 1993. He has also directed such feature films as Waiting to Exhale in 1995, Hope Floats in 1998, and First Daughter in 2004.
To support his television and filmmaking efforts, Whitaker established his own multimedia company called Spirit Dance Entertainment, based in both the United States and the United Kingdom. The company is involved with film, television, and music production, and in London it serves to mentor black and Asian filmmakers. In 2001 Whitaker produced his first feature film through Spirit Dance, Green Dragon. Soon, his television work was winning awards; with Whitaker as co-executive producer, Door to Door, a made-for-television movie about a man's efforts to become a successful salesman despite his cerebral palsy, won an Emmy Award in 2003. Whitaker also served as a consulting producer and host of the cable television revival of The Twilight Zone.
Whitaker's television efforts as an actor also earned plaudits. The 2003 made-for-television movie Deacons for Defense received good reviews and several award nominations for Whitaker's strong performance as the leader of a militant black group dedicated to protecting civil rights workers and protesters in Louisiana in the 1960s. Whitaker also received acclaim for extended guest-starring roles in the television series ER and The Shield.
Earned Highest Honors as Actor
Though he enjoyed success with his television work, Whitaker's greatest triumph would come with his return to the big screen, in 2006 with his performance in The Last King of Scotland. In the film, Whitaker used his imposing physique to inhabit the role of the Ugandan dictator Idi Amin. It was a role that required intense preparation: "First of all [in Los Angeles] I started learning Swahili, learning the accent, then I had to study all the recording[s] as well as all the books, tapes, and documentaries" about Amin, Whitaker told Paul Fischer for Dark Horizons. After arriving on location in Uganda, he continued his research while working on the film, taking trips to places where Amin lived and worked and interviewing friends and family members. During shooting, Whitaker remained in character constantly, speaking in Amin's accent even when he was not working on the set.
The hard work paid dividends beyond anyone's imagination: Whitaker's performance was one for the ages, and the actor took home virtually every major acting award in the United States and Britain, including the Golden Globe for best lead actor in a motion picture drama; the London Critics' Circle Actor of the Year Award; the NAACP Image Award for outstanding actor in a motion picture; as well as best actor awards from the Screen Actors Guild, the New York and Los Angeles film critics, the British Academy of Film and Television Arts, and the Academy of Motion Picture Arts and Sciences (the Oscars).
Despite all the accolades, when Whitaker received his Oscar, he admitted feeling a little overwhelmed. In his acceptance speech, as quoted by NPR, the actor said: "When I was a kid, the only way that I saw movies was from the backseat of my family's car at the drive-in. And it wasn't my reality to think I would be acting in movies. So receiving this honor tonight tells me that it's possible. It is possible for a kid from East Texas, raised in South Central L.A., in Carson, who believes in his dreams, commits himself to them with his heart, to touch them and to have them happen."
Remained a "Reluctant Star"
Despite The Last King of Scotland's success, Whitaker continued to perform the supporting roles that were his bread and butter over his twenty-six-year film career. He was nominated for a NAACP Image Award for his supporting role in the period drama The Great Debaters starring Denzel Washington, and he appeared in the presidential thriller Vantage Point. In April of 2007 Whitaker was honored for his career accomplishments with a star on the Hollywood Walk of Fame.
Whitaker lives quietly in Los Angeles near his retired parents. He remains devoted to music, especially singing and playing the saxophone, and has been writing screenplays to support his own productions. Married in 1996, Whitaker is rarely seen on the Hollywood party scene--he shuns the limelight whenever possible. Ebony contributor Rhoda E. McKinney once noted that despite his hard work and success, "Whitaker is truly a reluctant star. He is a humble man who shies from excess and pretense." Pressed about his views in Ebony, the star would only reply: "I hope through my work to help people understand themselves and others better."
In September 26, 2008, Whitaker starred in Ripple Effect, which was released by Monterey Media.
July 31, 2009: Whitaker starred in Fragments, which was released by Sony Pictures Releasing. The film is based on a novel by Roy Freirich.
April 23, 2010: Whitaker starred in The Expendables, which was released by Lionsgate.
PERSONAL INFORMATION
Born on July 15, 1961, in Longview, TX; son of Forest (an insurance salesman) and Laura (a special education teacher) Whitaker; married Keisha Nash, 1996; children: four. Education: Attended California State Polytechnic University and University of Southern California.
AWARDS
Selected awards: Cannes Film Festival Award for best actor, 1988, for Bird; International Critics' Award for best new director, Toronto Film Festival, 1993, for Strapped; Emmy Award for best made-for-television movie, 2003, for Door to Door; New York Film Critics Circle Award for best actor and Los Angeles Film Critics Association Award for best actor, both 2006, Golden Globe Award for best lead actor in a motion picture drama, London Critics' Circle Actor of the Year Award, Screen Actors Guild Award for outstanding performance by a male actor in a leading role, British Academy of Film and Television Arts Award for best lead actor, NAACP Image Award for outstanding actor in a motion picture, and Academy Award for best actor in a lead role, all 2007, all for The Last King of Scotland; Star on the Hollywood Walk of Fame, 2007.
CAREER
Actor appearing on stage and in feature films and television, beginning in 1981; film and television director and producer; established Spirit Dance Entertainment.
Selected works
* Television; actor (except where noted)
* Criminal Justice, 1990.
* Last Light, 1993.
* Lush Life, 1993.
* (Director) Strapped, 1993.
* The Enemy Within, 1994.
* Witness Protection, 1999.
* (Co-executive producer) Door to Door, 2002.
* Deacons for Defense, 2003.
* (And consulting producer) The Twilight Zone, 2002-03.
* ER, 2006-07.
* The Shield, 2006-07.
* Films; actor (except where noted)
* Fast Times at Ridgemont High, 1982.
* Platoon, 1986.
* Stakeout, 1987.
* Good Morning, Vietnam, 1987.
* Bird, 1988.
* Bloodsport, 1988.
* Johnny Handsome, 1989.
* Downtown, 1990.
* Diary of a Hitman, 1991.
* A Rage in Harlem, 1991.
* Article 99, 1992.
* The Crying Game, 1992.
* Consenting Adults, 1992.
* Body Snatchers, 1993.
* Bank Robber, 1993.
* Blown Away, 1994.
* Jason's Lyric, 1994.
* Ready to Wear, 1994.
* (Director) Waiting to Exhale, 1995.
* Smoke, 1995.
* Species, 1995.
* Phenomenon, 1996.
* Body Count, 1998.
* (Director) Hope Floats, 1998.
* Ghost Dog: The Way of the Samurai, 1999.
* Light It Up, 1999.
* Battlefield Earth: A Saga of the Year 3000, 2000.
* Four Dogs Playing Poker, 2000.
* (And executive producer) Green Dragon, 2001.
* The Hire: The Follow, 2001.
* The Fourth Angel, 2001.
* Panic Room, 2002.
* Phone Booth, 2002.
* Jiminy Glick in Lalawood, 2004.
* (And director and executive producer) First Daughter, 2004.
* (And executive producer) American Gun, 2005.
* Mary, 2005.
* The Last King of Scotland, 2006.
* Even Money, 2007.
* The Great Debaters, 2007.
* The Air I Breathe, 2007.
* Vantage Point, 2008.
Read more
Latest headlines