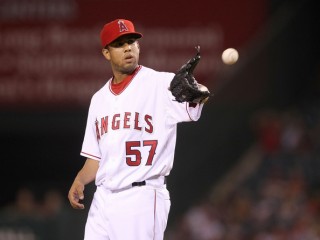 Francisco Rodriguez biography
Date of birth : 1982-01-07
Date of death : -
Birthplace : Bario Kennedy, Venezuela
Nationality : Venezuelan
Category : Science and Technology
Last modified : 2010-11-10
Credited as : Baseball player MLB, pitcher with hte California Angels,
Francisco Jose Rodriguez was born on January 7, 1982, in Venezuela. The 14th child of Isabel Mayorca and Francisco Rodriguez, he came into the world when the couple was in the midst of a split-up. Two months into his existence, Francisco was handed off to his father's parents. From that day on, he called his grandmother, Isabel, "Mom" and his grandfather, Juan, "Dad."
Francisco grew up in Bario Kennedy, a slum in the hillside Macarao section southwest of downtown Caracas. His father saw him only when he needed a place to stay and had to bunk down for a few days with Isabel and Juan. When Francisco was a little boy, he went to see his mother a couple of times, but got brushed off. Despite living less than 30 minutes away, she never came to see him. Francisco harbors great resentment toward his parents to this day.
Although Francisco's grandparents were poor, they were not impoverished. They got financial help from their other children, and Francisco's older brothers also offered assistance. Priority one was putting food on the table for the youngster, not to mention the various cousins and uncles who floated through the couple's cramped, two-bedroom flat. The rest of the household budget was managed with extreme care. Francisco remembers using the same pair of shoes for years, often preferring to go barefoot. Nicknamed "Baby Fran" ("Nene Fran" in Spanish), he made spare change by break-dancing to Michael Jackson music and later by taking bets for local bookies.
Baseball was Francisco's consuming passion. His bat was a broomstick, his ball made of wadded-up newspaper wrapped in electrical tape, his glove fashioned from cardboard. He also played Chapitas, a game that matches pitchers with bottle caps against batters armed with a stick.
Francisco's first break came when he walked onto the field at a ramshackle baseball school in El Valle run by Graciano Ravelo. In his younger days, Ravelo had played and coached for the Caracas Lions in Venezuela's winter league. Now as a part-time scout for the Texas Rangers, he was dedicated to advancing baseball in his country and didn't hesitate to take poor kids under his wing. Most children in Caracas play ball on side streets or rock-strewn plazas, so Ravelo's school, started in the mid-70s, was an important part of the baseball landscape.
Francisco didn't have the money to attend Ravelo's academy, so the coach waived the monthly charge of $7. He also paid the boy's youth league fees. Ravelo did not purchase a glove for Francisco, however. The youngster used a cardboard mitt for a couple of seasons until he saved enough to get a real one. Francisco's only other major expense was bus fare to El Valle, which was 90 minutes from his home.
Upon his first visit to Ravelo's school, Francisco headed straight for the pitcher's mound. In no time at all, he throwing a couple of games a week and playing shortstop in between starts. By the age of 12, he had begun to develop his signature darting fastball. His best friend was his catcher, Dimas Reyna, who deserved combat pay when backstopping for Francisco. In one game, one of the youngster's fastball buzzed across the plate so erratically that Reyna missed it altogether and took it in the chest. While the catcher gasped for air, the rival manager came storing out of the dugout, claiming Francisco had broken league rules by throwing a curve.
In actuality, the movement of Francisco's fastball was due to his unusual grip. His natural release employed slightly more downward force from his middle finger, which "cut" the ball in a way that made it bore in on lefties and sail away from righties. Mariano Rivera, the Yankee closer, has a very similar pitch. As he got older, Francisco realized he could make this pitch act like a slider by changing his arm angle.
All through these early years, Francisco's grandfather was helpful in his grandson's mental development. He always reminded Francisco that baseball was meant to be fun. Once you cross the white lines, Juan liked to say, enjoy yourself.
ON THE RISE
As a 14- and 15-year-old, Francisco was hitting 90 on the radar gun with his fastball, and had a late-breaking slider that was clocked in the mid 80s. There are plenty of live arms in the Caribbean basin, but this teenager was different. He was good and he knew it. To him, every player who strode to the plate was another strikeout victim. Francisco did not mess around on the hill. He punched out opposing hitters like a cold-blooded veteran. In other words, the stuff taught to prospects in the minors, he already had in spades.
By the time Francisco turned 16, there were at least 10 clubs clamoring to sign him, including the Texas Rangers, Colorado Rockies, New York Yankees and Arizona Diamondbacks. Despite Ravelo's high recommendation, Texas offered only $150,000. On his grandfather's advice, Francisco turned down the deal and joined the Venezuelan national team for a youth tournament in Mexico. There he overwhelmed the competition, including a 14-strikeout performance against the home country. He also sparkled during his first trip to the U.S., in an amateur tournament in Illinois.
When he returned to Caracas, the picture had changed. Several teams scheduled special tryouts, and soon after the Minnesota Twins and Atlanta Braves dangled $400,000 bonuses. Anaheim, historically hesitant when asked to loosen its pursestrings for foreign-born talent, came across with $900,000—which blew everyone else out of the water, except the Yankees. New York was prepared to go higher, and Francisco knew it. But the Angels argued that they were building a starting staff for the future, whereas the Yanks were always in the market for veterans. In that scenario Francisco could end up anywhere, and might not get a legitimate shot at the big leagues until his mid 20s. Swayed by this logic, he signed with Anaheim in September of 1998, four months before he turned 17.
For a team that hadn't developed a top-flight starter since Chuck Finley in the mid-80s, rolling the dice on Francisco—even if it was on Disney's tab—was a gamble. But farm director Darrell Miller liked everything about the kid, whose breaking stuff reminded him of Pedro Martinez's. Along with Ramon Ortiz, signed three seasons earlier, the Angels believed they had the makings of a franchise-altering starting staff.
Needless to say, Francisco's bonus check transformed his family. He moved his grandparents out of the slums and into a four-bedroom apartment in the upscale La Urbina suburb of Caracas. He also bought himself a new Ford Explorer. But the money came too late to make a difference in the health of his grandfather, who was suffering from diabetes and stomach cancer. When Francisco left for his first spring training camp in Tempe in February of 1999, his "dad" was gravely ill.
Francisco was assigned to Anaheim's farm team in Butte, Montana, in the Pioneer League. He remembers it as a cold and boring place. Homesick and lonely, he struggled with his English, isolating him even further. Just two weeks into his first pro season, Francisco learned that his grandfather had taken a turn for the worst. He returned to Caracas, but Juan told him to go back and not return again, regardless of what happened. The very day Francisco flew back to the States, his grandfather passed away.
Emotionally, Francisco was not himself the rest of 1999. The organization treated him gingerly, working him primarily as a starter. Despite the internal baggage he carried around, Francisco went 1-1 with 60 strikeouts in 12 games, and impressed enough to be voted the Pioneer League's top prospect. Over the winter, Butte teammate Billy Curtis—the younger brother of Chad Curtis—saw some of the Anaheim players and told them to prepare themselves for Francisco. They laughed him off.
The 2000 season found Francisco promoted to Class A Lake Elsinore. There he was introduced to something he'd never experienced before: the searing pain of tendonitis. It first occurred in his right shoulder, delaying the start of his season until late May. After only 11 innings—in which he fanned 16 batters and hit 99 mph on the radar gum—he was shut down again, this time with pain in his elbow. When he recovered, the Angels used him cautiously. Still he put up highly encouraging stats. Francisco threw a total of 64 innings for the year, going 4-4 with a 2.81 ERA. He struck out 79—more than the total number of hits and walks he allowed.
Francisco suffered from elbow and shoulder soreness again in 2001, with Rancho Cucamonga, another Class A club in Anaheim's organization. Again he got a regular turn in the starting rotation, posting a 5-7 record and 5.38 ERA. His strikeout numbers were eye-popping (147 in 114 innings), but he also gave up more than 180 hits and walks. One of the reasons he got banged around was that the velocity on his fastball had dropped into the low 90s. Francisco also didn't have as much snap to his breaking stuff. When he fell behind hitters, he paid the price.
Worried that Francisco's cross-the-body motion would doom him as a starter, the Angels sent him to the Arizona Fall League to see how he might do as a reliever. At first, Francisco opposed the idea. But he soon discovered that his arm had more life when he pitched several times a week. He also experienced virtually no pain in his shoulder and elbow.
Francisco grew to like the shadow he cast over a game when he sauntered in from the bullpen. Throwing free and easy, his fastball was again reaching 95-plus, too much for most minor league hitters to catch up with. When he rediscovered the filthy break on his slider, he was almost unhittable.
After the instructional season, Francisco returned to Caracas and watched the World Series on television with his grandmother and some of his brothers. As the Yankees and Diamondbacks headed for a dramatic seventh game, he predicted that he would be in the Fall Classic someday.
When 2002 began, the plan was to make sure Francisco could last a whole season injury-free, then move him quickly through the system and into a set-up role with the Angels. Anaheim's brass agreed that as soon as he demonstrated he could get ahead of hitters consistently they would make him a major leaguer.
Francisco started the season at Double-A Arkansas, where he saved nine games and fashioned a 1.96 ERA for the Travelers. On June 13, he joined Anaheim's Triple-A club in Salt Lake City. Francisco could not have been happier with the promotion. He hated the long bus rides in the low minors, and the Stingers traveled almost exclusively by airplane.
Against the best the minors had to offer, Francisco averaged three strikeouts every two innings. His cumulative stats in AA and AAA were 5-6, 15 saves, a 2.27 ERA and 120 strikeouts in 83 and 1/3 innings. The move to the pen had done the trick. Not only was his arm feeling good, he had developed a tighter spin on his breaking pitches, which enabled him to pinpoint their location. When the Triple-A season ended, he was hitting spots with his curve and slider, and hitters were unable to pick up the rotation until it was too late.
With the first wave of Triple-A call-ups, Francisco's name was not on the list. He was not summoned to Anaheim, in fact, until the middle of September. When Francisco arrived in the Angels clubhouse and unpacked his gear, the first thing he noticed was the nameplate above his new locker. His name was misspelled "Rodrigues."
MAKING HIS MARK
The first inkling Francisco's fellow Angels had that he might be something special came in Oakland on September 18th, when Tim Salmon asked the kid to warm him up in the outfield. Everything he threw at the rightfielder dipped and swerved. Salmon told him to cut it out.
That night, in the eighth inning, Francisco made his major league debut. He threw a couple of pitches to Eric Chavez and made him look like a Little Leaguer. He retired all three A's he faced. The next day he came in again against Oakland and struck out the side.
Francisco joined a bullpen that had become a key to the team's success. The Angels could hit, but their starters were undependable. That meant the pen figured into almost every game. The closer, Troy Percival, was excellent. Set-up duties were handled by Ben Weber—he of the wacky windup—and the eight-times-released Brendan Donnelly, who languished in the minors so long that he had to supplement his income digging ditches and exterminating vermin.
Francisco pitched fewer than six innings during his September stint, but opened eyes with every appearance. During one stretch he struck out eight straight batters, equalling a team record established by Nolan Ryan. All of his outings came against division rivals Oakland, Seattle and Texas in the heat of the pennant race, as Anaheim secured the AL Wild Card. When starter Aaron Sele was dropped off the post-season roster, the Angels made Francisco his injury replacement. He was astonished when manager Mike Scioscia gave him the news.
Scioscia and pitching coach Bud Black hoped to catch lightning in a bottle. Weber and Donnelly had pitched well in their set-up roles, but they were not flamethrowers. If Francisco could keep up his dominant ways in the playoffs, the Angels would have a lights-out eighth-inning lead-in to Percival. In turn, Weber and Donnelly would be available to pitch as early as the fifth or sixth inning if need be.
The plan seemed like a good one—until it blew up in Scioscia's face. Francisco took the mound in the sixth inning of Game Two of the Divisional Playoffs against the Yankees, entrusted with a precious 4-3 lead. He allowed one hit and recorded two outs—one of which should have been a double play. He then got Alfonso Soriano in an 0-2 hole, but made a rookie mistake by trying to overthrow his slider. Soriano deposited the hanger in the seats, and the deafening roar of the New York fans seemed to signal an end to Anaheim's great experiment.
Francisco figured his post-season was over, too. But Scioscia sent the 20-year-old out to pitch the bottom of the seventh, and he mowed down Jason Giambi, Bernie Williams and Robin Ventura. When the Angels rallied in the top of the eighth, Francisco had his first big-league win. Getting four outs after allowing a devastating homer told Scioscia all he had to know about his new set-up man.
Two nights later, Francisco landed in the win column again. Pitching the seventh and eighth innings of Game Three, he retired all six Yankees he faced—four on strikeouts. The Angels took a 9-6 victory, and a 2-1 lead in the series. Francisco slammed the door on the Yankees again in Game Four with no runs and three strikeouts in 1 and 2/3 innings. Anaheim won 9-5 to advance to the American League Championship Series.
Francisco was the wild card for the Wild Card Angels when they took on the Twins in the ALCS. The Minnesota hitters—an aggressive bunch—had not seen the kid whom the fans in Anaheim were starting to call "K-Rod." Sure enough, he overwhelmed them with his now tried-and-true formula: Get ahead with the fastball, then use the slider to close the book.
After the Angels dropped the opener, Francisco shackled the Twins in Game Two, a 6-3 victory, and earned the win in Game Three after fanning two batters in one inning of work. He twirled an inning in Anaheim's Game 3 blowout, then stalled a Twins rally in Game Five to pick up his second victory of the ALCS. The win sent the Angels to the World Series for the first time in the franchise's 41-year history.
Just as Francisco had promised his family a year earlier, he made it to the Fall Classic. Heading into the World Series, he had already earned the distinction of being the youngest pitcher ever to win four post-season games. He also set a record for relievers with seven strikeouts against the Twins. His only regret was that his grandmother could not see the action in person. Visa problems kept Isabel and several of Francisco's brothers from leaving Venezuela.
Francisco's World Series debut was a memorable one. He took the mound against the Giants in the sixth inning of Game Two; the Angels had already dropped the opener, so this was a must-win. In a contest that featured 26 hits and six homers, Francisco was given a precarious 9-8 lead. In all, he faced nine Giants, got nine outs and did it with 26 pitches—22 of them strikes. Some of the Giant hitters missed Francisco's pitches by a foot. Weber joked that it looked like a Wiffle Ball game.
Anaheim held on for a thrilling 11-10 victory as Francisco picked up his fifth win of the post-season, tying Randy Johnson's record. He also became the youngest player with a World Series victory to his credit.
Alas, nobody's perfect. Game Four—won 4-3 by the Giants—found Francisco on the mound when the deciding run was scored, on a single by David Bell. With the series deadlocked at two games each, catcher Benjie Molina tried to shoulder the blame, pointing out that it was his passed ball that let the tying run cross the plate. But Francisco accepted his first big-league loss without excuse.
Francisco's next appearance came early in Game Six, with the Angels trailing the series by a game. With starter Kevin Appier in trouble, Scioscia asked his rookie to hold the fort and give his team a chance to fight back. Again, however, Francisco struggled, surrendering a pair of runs that powered the Giants to a 5-0 lead. He left the game after the sixth inning feeling he had let the team down. But when the Angels mounted an historic comeback to win 6-5 and force a seventh game, he was reenergized.
Francisco redeemed himself in the finale, coming into a 4-1 game in the eighth inning and notching three strikeouts. Minutes later, he was on the field jumping around with his teammates, celebrating their World Series championship.
Francisco's post-season resume is still hard to fathom. He took the ball in 11 of his team's 16 games, won five times, and struck out 40 percent of the batters he faced. As the Angels popped champagne corks in the locker room, it crossed some of their minds that the kid who was too young to drink the stuff legally probably deserved more than the one-sixth series share they had voted him shortly after his September call-up.
Francisco went home for a couple of months after the World Series. He was greeted at Maiquetia International Airport by hundreds of cheering fans and a slew of reporters and photographers. His arrival was welcome news for a country in the midst of tremendous civil unrest.
Despite Venezuela's uncertain political and economic climate, the winter baseball season opened as planned (though it was ultimately cut short). Francisco appeared in a few games for the Tiburones de La Guaira, fanning nine batters in less than five innings of work. In turn, he became the first player since Alejandro Carrasquel in 1939 to make his Venezuelan League debut after breaking into the majors.
Meanwhile, Hugo Chavez tried to schedule a joint appearance with Francisco, hoping to boost public support of his disastrous presidency. Chavez congratulated Francisco in a televised address, but the 20-year-old rebuffed El Presidente. Francisco was none too keen on the idea of running the gauntlet of protesters encircling the presidential palace. The two did speak on the phone.
As of Game Seven of the '02 World Series, the Angels still had not fixed Francisco's name plate, which read "Rodrigues" when he packed his things in the fall. Ironically, he started the 2003 campaign as a typical nameless rookie struggling to find his way in the majors. In May, in fact, Donnelly replaced him as Anaheim's primary set-up man. The move was one of several made by Scioscia to shake the team from its doldrums. Also clouding the picture in the bullpen was the uncertain health of Percival, who went on the DL with a bad hip. That injury, combined with poor starting pitching and a lack of timely hitting, clipped the wings of the Angels, who found themselves in the AL West basement.
Francisco's problems were tied to his release point. His unorthodox delivery—he throws across his body and often falls off towards the first-base side—was robbing him of his control. While Francisco was still striking out a batter an inning, he was also getting behind in counts, forcing him to throw his fastball in obvious situations. And as the cliche goes, any big leaguer can hit a 95-mph heater if he knows it's coming.
The Angels didn't appear overly concerned. Black worked with Francisco to correct his flaws, and the youngster was receptive as usual to the coaching. By June, he began to turn things around, posting a 1.15 ERA for the month. Though he tired down the stretch, Francisco finished the year with respectable numbers, including eight wins and 95 strikeouts in 86 innings of work. But he also surrendered 12 homers and walked 35 batters—giving him something to work on in 2004.
The Angels, meanwhile, never recovered from their '03 World Series hangover. At 77-85, the team ended 19 games behind the division-leading A's. Their record on the road—16 games below .500—was an obvious shortcoming. Besides Anderson, who put up stats that in other years would have been worthy of MVP consideration, no one in the batting order played up to expectations. Injuries to Erstad and Glaus also hurt. On a positive note, rookie Jeff DaVanon demonstrated real promise filling in in the outfield.
Heading into 2004, Anaheim's most pressing concern was the starting rotation. The trio of Lackey, Washburn and Ortiz went a combined 36-44 with an ERA well over 4.00. The team clearly needed an ace, and hoped to find one in either Kelvim Escobar or Bartolo Colon, both signed as free agents. The biggest acquisition was All-Star Vladimir Guerrero, whose big bat promised to energize the offense. The Angels also inked Francisco to a one-year, $375,000 contract extension, a real bargain for a closer-in-waiting.
Francisco proved this as the season kicked off. In 10 April appearances, he notched 18 strikeouts and an ERA of 0.00. In fact, Francisco didn't give up an earned run until May, when he surrendered a lead to the Yankees in an 8-7 loss. He dominated the rest of the month, however, as Anaheim battled for first in the AL West.
As the campaign progressed, the division race turned into a dogfight between the Angels, Rangers and A's. With Guerrero putting up MVP numbers, Anaheim showed no signs of fading. Francisco did his part, too. When Percival went down with an injury, he filled in admirably. At the All-Star break, Francisco earned his first selection to the Mid-Summer Classic, and retired botdh batters he faced in the AL victory.
Coming down the stretch, the Angels trailed the A's for the division crown. But when Anaheim caught Oakland in the standings before the season's final weekend, the two teams met for all the marbles. The Angels left nothing to chance, taking the first two of the three-game set to claim the crown. Francisco was called on to pitch in every contest, and was nearly perfect. In four innings of work, he surrendered one hit and no runs, while fanning seven.
Whatever momentum Anaheim had built was throttled completely in the playoffs by Boston. The Red Sox won the first two of the series on the road, and then finished off the Angels at Fenway Park. Like the rest of the ptiching staff, Francisco was largely ineffective.
Overall, however, he enjoyed an excellent bounce-back year in '04. At 4-1 with a 1.82 ERA and 123 K's in 84 innings, Francisco re-established himself as one of the game's toughest young fireballers. He also converted 12 of 19 save opportunities, not a bad percentage for a guy getting his first real exposure to the pressure of the closer's role. Perhaps most impressive was Francisco's avoidance of the gopher ball. After leaving too many pitches up in the strike zone in 2003, he cut his home run balls to two.
In Anaheim, the bullpen remains a strong point, particularly the middle guys. If there is a question with the Angel relievers, it focuses on Percival, who isn't getting any younger. Indeed, the team may want Francisco to step into the closer's job sooner than later. That may be just what the doctor ordered for a guy who has shown he's at his best when the pressure is most intense.
FRANCISCO THE PLAYER
Entering 2003, Francisco was looking at an apprenticeship similar to the one Mariano Rivera served with the Yankees as John Wetteland's set-up man in the mid 1990s. Like Rivera, Francisco has a natural cut on his fastball that handcuffs lefties. He also has a repertoire of breaking stuff that completely shuts down righthanded hitters when he puts the ball where he wants to. His quick arm action adds to his intimidation factor, and also sets up a developing change-up.
Francisco was already more mature than his years when he was promoted by the Angels. His post-season success has given him the kind of confidence and presence that will make him even tougher if he stays injury-free. That's a big if, of course, as 2002 was his only pro season throwing without pain.
Francisco has the blessing of youth and the luxury of time on his side. The Angels are looking at the proverbial glass as half-full—a nucleus of veteran stars and a system full of young guns that ensures that they will contend for the pennant in the foreseeable future. That means Francisco will grow up with a winning organization. He'll be expected to do a lot, but he will never have to bear the load all by himself.
Read more
Latest headlines