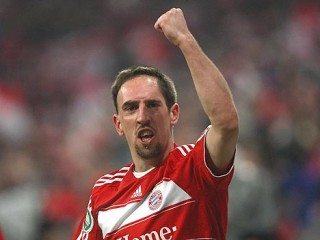 Franck Ribéry biography
Date of birth : 1983-04-07
Date of death : -
Birthplace : Boulogne-sur-Mer, France
Nationality : French
Category : Sports
Last modified : 2010-06-11
Credited as : Football player France, club Bayern Munich, FIFA World Cup
Franck Ribéry
(born 7 April 1983) is a French football player who currently plays for Bundesliga club
Bayern Munich
. Ribéry primarily plays as a winger, preferably on the left side, and is known for "pace, energy, skill and precise passing."
Ribéry's career began in 1989 as a youth player for local hometown club Conti Boulogne. He left the club after seven years to join professional outfit Lille, but departed the club after three years after having difficulties adjusting. In 1999, Ribéry joined US Boulogne, where he played for two years. After spending two more years in the amateur divisions with two different clubs (Alès and Brest), in 2004, Ribéry earned a move to Ligue 1 club FC Metz. After six months with the club, Ribéry moved to Turkey in January 2005 joining Galatasaray and, after six months there, departed the club in controversial fashion to join Marseille in France. In 2007, Ribéry joined German club Bayern Munich for a then club-record fee of €25 million. Since joining Bayern, Ribéry has been recognised on the world stage as one of the best French players of his generation. The previous talisman of Les Bleus, Zinedine Zidane, has called Ribéry the "jewel of French football".
Ribéry is a French International having represented his nation at the 2006 FIFA World Cup and UEFA Euro 2008. At the 2006 World Cup, he scored his first international goal against Spain and played in the final match against Italy. Ribéry is a two-time winner of the French Player of the Year award and has also been named to the UEFA Team of the Year once.
Ribéry began his football career at age six playing in the youth section of amateur club FC Conti de Boulogne-sur-Mer. After a seven-year stay, in 1996, he joined professional outfit Lille, who were playing in the second division. While at Lille, Ribéry excelled athletically, but developed academic and behavioral problems, which led to Lille releasing him. After leaving Lille, Ribéry returned to his hometown joining the biggest club in the city, US Boulogne. After spending a year in the reserves, he was promoted to the senior team. Ribéry only made four appearances in his debut season as Boulogne, who were playing in the CFA, the fourth division of French football, earned promotion to third-tier Championnat National. In his second season with the club, Ribéry appeared in 25 league matches converting five goals. Though Boulogne finished 17th, which meant a return to the fourth division, Ribéry's solid performances earned him a move to fellow National club Olympique Alès. In his only season at the club, Ribéry made 18 appearances scoring only one goal. Following the season, despite finishing safe, Alès were relegated to the Division d'Honneur, the sixth division of French football, by the DNCG after the club declared bankruptcy. The resulting news led to Ribéry signing with Stade Brest, another Championnat National club. At Brest, Ribéry established himself as a premier player in the league appearing in 35 league matches scoring three goals. Ribéry's performance and the team as a whole led to the club finishing second in the league, thus earning promotion to Ligue 2. Despite the success with Brest, Ribéry sought to play in Ligue 1, the top division of French football. His dream came to fruition when FC Metz's manager Jean Fernandez took a liking to him and recruited him on a free transfer.
Ribéry only spent half a season at Metz, but impressed earning the UNFP Player of the Month in August 2004. He scored his only league goal for Metz on 6 November in the team's 1–1 draw with Toulouse. His stellar play on the right side of midfield led to Metz supporters comparing him to Robert Pirès, a former Metz legend. After negotiations on an extension ended in a stalemate, in January 2005, Ribéry relocated to Turkey. There he joined Galatasaray on an initial loan deal; the Istanbul-based outfit had the right to pay Metz €2 million to make the move permanent.
At Galatasaray, Ribéry was brought in by manager Gheorghe Hagi and appeared in 14 league matches as the club finished in 3rd place position. While playing for the club, Galatasaray supporters nicknamed him Ferraribery, in reference to his quick acceleration with the ball at his feet and also Scarface, due to a large scar located on the right side of his face. In the Turkish Cup, Ribéry was instrumental in the club's 5–1 thrashing of rivals Fenerbahçe in the competition's ultimate match. He scored the opening goal in the 16th minute and also assisted on another goal. Ribéry was later substituted out in the 52th minute with Galatasaray leading 3–1. The trophy was Ribéry's first major honour.
On 15 June 2005, Ribéry announced that he would be returning to France joining Olympique de Marseille on a five-year contract, thus reuniting with former manager Jean Fernandez. The move was considered surprising to Galatasaray as Ribéry had three years remaining on his contract after the club paid Metz €2 million to make the loan move permanent on 30 March. Ribéry argued that he had not been paid his wages by the club and asked FIFA, the sport's governing body, to invalidate his contract. He also confirmed that, at one point during the season, he was threatened with a baseball bat by his former agent and a Galatasaray director. A day after announcing his move, Galatasaray officials and manager Eric Gerets blasted the player for betraying the club and also announced their intent to ask FIFA to probe the situation. In July 2005, FIFA ruled in favor of Ribéry and dismissed Galatasaray's claims of the player being at fault. In response, the Turkish club announced their decision to challenge FIFA's ruling by appealing to the international Court of Arbitration for Sport. On 25 April 2007, their appeal was dismissed by the court, who declared in a statement that Ribéry had terminated his contract with the Turkish club at the end of the 2004–05 season on just grounds, and that Galatasaray was therefore not entitled to any compensation. Galatasaray had sought €10 million in compensation from Marseille.
Upon his arrival, Ribéry was handed the number 7 shirt and made his debut on 30 July 2005 in a 2–0 defeat to Bordeaux collecting a yellow card. On 17 September, he scored his first goal for the club in their 2–1 victory over Troyes. Two weeks later, Ribéry netted goals in back-to-back matches in victories over his former club Metz and Nice.On 19 November, Ribéry scored the game-winning goal in a 2–1 win over Nantes. The goal, scored from almost 35 metres (1,400 in) out, was later voted the goal of the season by supporters. In the Coupe de France, Ribéry performed well scoring a double against Le Havre and scoring the opening goal in Marseille's 3–1 semi-final victory over Rennes. The win pushed Marseille through to the 2006 final where they faced Le Classique rivals Paris Saint-Germain, which merited Ribéry his second consecutive cup final appearance. Unfortunately, Marseille faltered losing 2–1 to the Parisian club. In Europe, Ribéry scored two goals in the UEFA Intertoto Cup against Italian club Lazio and Spanish outfit Deportivo de La Coruña. In the UEFA Cup, he scored one goal converting it in the second leg of Marseille's Round of 32 tie with Premier League club Bolton Wanderers. Ribéry was later named the Ligue 1 Young Player of the Year by the UNFP.On 7 June 2007, German club Bayern Munich announced that they had reached an agreement with Marseille for the transfer of Ribéry with the player agreeing to a four-year deal and Bayern paying Marseille a then club-record €25 million. Ribéry was given the number 7 shirt, which was freed up due to the retirement of midfielder Mehmet Scholl at the end of the previous season. He made his team début one month later, scoring twice in an 18–0 friendly drubbing of Munich youth side FT Gern. Ribéry made his competitive debut for Bayern on 21 July 2007 against Werder Bremen in the first round of the Premiere Ligapokal scoring twice and also assisting on another in a 4–1 victory. In the semifinals, he netted an early goal in a 2–0 win over defending champions VfB Stuttgart. Due to injury Ribéry was unable to play in the final, which Bayern won.In the UEFA Cup, Bayern reached the semifinals with Ribéry scoring three goals in the competition including one in the Germans' comeback win over Spanish club Getafe in the quarterfinals. In total, Ribéry appeared in 46 matches scoring 16 goals and assisting on 17 goals as Bayern won the league and cup double. For his efforts, on 8 June 2008, Ribéry was named the 2007–08 German Footballer of the Year. He was also named the French Player of the Year for the second consecutive season.
Following the 2008–09 season, constant speculation began to surface regarding Ribéry's availability on the transfer market. Despite Bayern president Uli Hoeneß, executive Karl-Heinz Rummenigge, and new manager Louis van Gaal declaring that Ribéry would not be sold, numerous media outlets declared that English clubs Chelsea and Manchester United, Spanish clubs Barcelona and Real Madrid, and Italian outfit Internazionale had strong interest in the player with many of the clubs willing to offer as much as €65 million for the player. In order to quell the interest, Hoeneß declared that Ribéry would leave for nothing less than €100 million.
Ribéry started the 2009–10 season struggling with tendonitis in his left knee, but was healthy enough to start the season scoring his first goal in a 5–1 victory against Borussia Dortmund converting a free kick. The goal was notable in part due to Ribéry's celebration afterward. Following his conversion of the free kick goal, Ribéry ran across the field eluding several celebratory teammates and enthusiastically jumped into his manager Louis van Gaal's awaiting arms.The mutual show of admiration ended speculation by the media of the two having a bad relationship. In early October, the tendinitis began to affect his play, which resulted in Ribéry missing the rest of the year, as well as France's World Cup playoff tie with the Republic of Ireland. Ribéry returned to the team on 23 January 2010 appearing as a substitute in the club's 3–2 league win over Werder Bremen. Ribéry's first goal of the new year came on 10 February scoring in Bayern's 6–2 DFB-Pokal victory over SpVgg Greuther Fürth. On 31 March, he scored the equalizing goal in Bayern's 2–1 first leg win over English club Manchester United in the UEFA Champions League quarterfinals after converting a free kick, which deflected off of striker Wayne Rooney before going into the net. In the club's ensuing match, Ribéry scored the opening goal in the team's 2–1 victory over Schalke.
On 20 April, Ribéry was sent off by referee Roberto Rosetti in the club's first leg UEFA Champions League semi-final against Lyon after being adjudged to have committed serious foul play on Lyon striker Lisandro. The expulsion resulted in Ribéry missing the second leg in Lyon, which Bayern won to advance to the UEFA Champions League final. On 28 April, Ribéry was handed a three-match suspension by UEFA's Control and Disciplinary Body for assault. The suspension meant that Ribéry would miss the final. Following the ruling, Bayern Munich announced their intent to appeal the suspension. On 5 May, the club's appeal was heard by the UEFA Appeals Body and Ribéry's ban was upheld which meant that not only would Ribéry miss the final on 22 May, but he would also miss the next UEFA club competition fixture for which he is eligible. However, immediately after the ruling, Bayern responded by announcing their intent to appeal to the Court of Arbitration for Sport. On 15 May, Ribéry scored the third goal in Bayern's 4–0 win over Werder Bremen in the 2009–10 edition of the DFB-Pokal final. Two days later, Ribéry's appeal was heard by the Court of Arbitration for Sport and was dismissed meaning he was officially ruled out of the UEFA Champions League final against Inter on 22 May. Bayern Munich lost the match 2–0. On 20 May, it was announced by German newspaper Bild that Ribéry had agreed to a new five-year contract with Bayern Munich and that the player would sign the contract upon his arrival in Madrid to watch his teammates contest the UEFA Champions League final. On 23 May, the day after the final, the club officially confirmed the agreement. The new deal ties Ribéry to the club until 2015 and, though there is uncertainty regarding the annual salary, it has been speculated that the new deal pays him an annual salary of €10 million a year, the highest annual salary ever awarded to a player in the club's history.
Ribéry earned his first cap with the senior team in a 1–0 victory over Mexico on 27 May 2006 appearing as a substitute in the 74th minute for striker David Trézéguet. His solid performances in the friendly matches ahead of the 2006 FIFA World Cup led to his inclusion in the team for the competition. Ribéry appeared in all seven matches France contested, starting six. On 27 June, he scored France's opening goal in the team's 3–1 Round of 16 win over Spain after receiving a through ball from Patrick Vieira, which allowed the winger to dribble past an oncoming Iker Casillas and shoot into the empty net. He later played in the final where France lost to Italy on penalties. Ribéry's only shot on goal came in extra time and he was later replaced by Trézéguet.
Following the retirement of Zinedine Zidane, it was expected that Ribéry would succeed him and become the national team's talisman. He went scoreless for almost a year and a half before converting a penalty shot against England on 26 March 2008 at the Stade de France. Following the goal, Ribéry paid tribute to legendary French commentator Thierry Gilardi who had passed away a day earlier. At Euro 2008, France performed under expectations with Ribéry appearing in all three group stage matches as France suffered early elimination. On 17 June 2008, in the team's final group stage match against Italy, Ribéry ruptured a ligament in his left ankle in just the 8th minute of play. Ribéry returned to the team on 11 October 2008 in a FIFA World Cup qualification match against Romania and scored the team's opening goal in a 2–2 draw. On 28 March 2009, he scored the lone goal away to Lithuania. Three days later, he completed this feat again, this time at the Stade de France, netting the winner in the 75th minute following service from André-Pierre Gignac.
Read more
Latest headlines