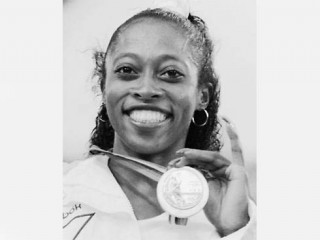 Gail Devers biography
Date of birth : 1966-11-19
Date of death : -
Birthplace : Seattle, Washington, United States
Nationality : American
Category : Sports
Last modified : 2010-07-07
Credited as : Olympic athlete, philanthropist,
Gail Devers
(also known as:
Yolonda Gail Devers
), born November 19, 1966 in Seattle, Washington, United States is an African-American athlete and philanthropist.
African American athlete
Gail Devers
stunned the world of track and field by bouncing back from a severe illness to win the gold medal in the 100-meter sprint at the 1992 Olympic Games in Barcelona, Spain. She had previously set records in the 100-meter hurdles, but placed fifth in the event at the 1992 games. Since her return to the sport, she has excelled in both her signature events, winning a second gold medal in the 100-meter dash at the 1996 Olympics in Atlanta and participating in the gold medal-winning 4x100-meter relay team as well. She is a ten-time World Champion in the 100-meter hurdles.
Yolanda Gail Devers was born on November 19, 1966, in Seattle, Washington, to Larry Devers, a Baptist minister, and Adele Devers, a teacher's aide. The family later moved to National City, California, near San Diego. Devers first became interested in running as a child, spurred on by the taunts of her brother, Parenthesis. "Since I was a young girl, I've always been a runner," Devers recalled on the Gail Devers Website. "In fact, my brother Parenthesis (P.D.) used to race me and then tease me when I lost. Well one day, I decided I was not going to lose anymore. So I started practicing--and it paid off. I beat P.D. the next time we raced, and he never raced me again. From then on, running was all that mattered. I had found my stride." She joined the track team at Sweetwater High School, from which she graduated in 1984. Although she began her high school track career as a middle-distance runner, she eventually established herself as a sprinter and hurdler, one year winning the 100-meter dash and 100-meter hurdles, as well as taking second place in the long jump, at the state championships.
Due to her performance on the track, Devers had her pick of colleges and attended the University of California, Los Angeles, where she majored in sociology and trained under Bob Kersee, a legendary presence in United States track and field and the husband of Devers' close friend, the sprinter Jackie Joyner-Kersee. Kersee immediately pegged Devers as a future Olympic champion and began grooming her for the games. By her senior year in 1988, Devers was ranked one of the top female hurdlers in the country. That year, she set a national record in the 100-meter hurdles with a time of 12.61 seconds and qualified to compete for a spot on the 1988 U.S. Olympic Team.
Mysterious Illness Surfaced
Devers made the Olympic team, keeping Kersee as her personal coach, but during her training she experienced frequent muscle pulls and tired legs. She performed poorly at the Olympics, held that year in Seoul, Korea, logging her slowest time in the 100-meter hurdles since her high school career and failing to qualify for the finals. Her condition worsened after the games, when she began to suffer from impaired hearing, memory loss, migraine headaches, hair loss, convulsions, fatigue, and extreme weight loss. Devers visited a series of doctors, none of whom could offer a proper diagnosis. She attempted to compete again in 1990 at a minor track meet, but performed poorly. That same year, a UCLA team physician she encountered by chance noted that Devers' eyes were bulging and she had a goiter on her throat, both symptoms of a thyroid condition. Tests confirmed that Devers had Graves' disease, an autoimmune disorder resulting from an overactive thyroid gland, and that the growth on the gland would have soon become cancerous. Devers underwent radiation treatment to destroy the growth, but the treatment also destroyed her thyroid gland. She had to start taking a synthetic thyroid medication, something she would most likely be forced to do for the rest of her life.
The radiation treatment alleviated many of Devers' symptoms and she resumed her training with Kersee. Complications began to surface in 1991, however, including the formation of blood blisters on the soles of her feet and between her toes. Walking became so painful that Devers often had to crawl or be carried, and one doctor discussed amputating her feet. A second opinion revealed that the blisters were a side effect of the radiation, however, and within one month of halting radiation therapy, Devers was on the road to recovery. She eased back into training with Kersee, riding a stationary bicycle and walking around the track in her socks until shoes no longer hurt her feet. Soon, she resumed her full-fledged workouts and in March 1991 she qualified for a June TAC (The Athletics Congress) meet, where she won the 100-meter hurdles, setting the women's record for the year in that event. "Deep down, I was scared to death that my life as an athlete was over," Devers wrote on her web site. "But I wasn't going to give up--the word 'quit' has never been a part of my vocabulary." That same year, she divorced runner Ron Roberts, whom she had married in 1988.
Won Olympic Gold
The following summer, Devers placed second in the 100-meter hurdles at the World Championships in Tokyo, Japan, set a new U.S. record in the event at a meet in Berlin, Germany, and qualified for the 1992 Olympics in Barcelona, Spain, in both the 100-meter dash and the 100-meter hurdles. Devers stunned spectators when she won the 100-meter dash, beating second-place finisher Julie Cuthbert of Jamaica by .01 seconds and logging her personal best time in the event. Competitors raised speculation that Devers' miraculous comeback was aided by the use of performance-enhancing drugs, but the suspicions were never confirmed. Devers' performance in the 100-meter hurdles was less spectacular. After tripping over a hurdle, she fell across the finish line and placed fifth in the event, dashing her hopes of becoming the second woman in history to win gold medals in both the 100-meter dash and the 100-meter hurdles. "It just wasn't meant to be," she told Sports Illustrated in a 1993 interview.
Devers achieved her dream of a double victory the following year at the World Outdoor Track and Field Championships in Stuttgart, Germany. Devers and Jamaica's Merelene Ottey finished so close in the 100-meter dash that judges spent three minutes studying the photograph taken at the finish line to determine the winner. The Jamaican team protested the decision, but Devers, who set records in both the 100-meter dash and 100-meter hurdles that year, prevailed. She anchored the silver medal-winning 4x100-meter relay team at the championships as well.
Devers won the 100-meter dash at the World Outdoor Championships again in 1994 and the following year she won the 100-meter hurdles at both the Outdoor Championships and the World Championships. In 1996, she became the second woman in Olympic history to win the 100-meter dash in two consecutive games, and she brought home a second gold medal for her performance in the 4x100 relay. She competed in the 100-meter hurdles as well, but placed fourth.
Bowed Out in Sydney
Aside from a season off in 1998, Devers continued to remain at the top of her game through the 1990s, winning several outdoor championships in the 100-meter dash, 100-meter hurdles, and 4x100 relay, and several indoor championships in the 60-meter dash and 60-meter hurdles. Devers injured her right Achilles tendon and left hamstring while training for the 2000 Olympic Games in Sydney, Australia, but won the 100-meter hurdles at the Olympic trials, beating her own American record in the event. Ultimately, her injuries forced her to pull out during the Olympic 100-meter hurdles semi-finals, however. In a 2004 interview in Science of Mind magazine, Devers said she does not measure success by the number of medals she wins. "To me success does not mean that you have to be number one or have the most money or own the company, it means that you have to give your all," she said. "I tell people that at the end of every task, ask yourself a question, a very basic one: 'Did you do all that you can do?' And if the answer is 'yes,' you're successful and don't let anybody tell you anything different."
Devers continuee to train and compete, although she dismissed Kersee as her coach in 2001, making her one of the few major U.S. runners to work without a personal coach. "It's just me, a seven-pound Pomeranian, and God on the track," Devers, who begins her practices by racing her dog, is quoted as saying on the USA Track & Field web site. She won the 60-meter hurdles at both the USA and World Indoor Track & Field Championships in 2003. In 2004, she became the first athlete to win both the 60-meter dash and the 60-meter hurdles at the USA Indoor Track & Field Championships, posting times of 7.81 seconds in the hurdles and 7.08 in the sprint, which she won in a photo finish. She won a gold medal in the 60-meter dash and a silver in the 60-meter hurdles at the World Indoor Championships that same year. Devers qualified for the 2004 Olympic Games in Athens, Greece, but failed to make the finals in the 100-meter dash. Her string of bad luck in the 100-meter hurdles continued as well; she was eliminated after aggravating a sprained calf.
Off the track, Devers established the Gail Devers Foundation in 1999 to fund education, health, and community development projects. "When I look at what I've accomplished during my life thus far, I realize I've been truly blessed," Devers wrote on her web site. "Now I want to share my good fortune by passing it on and helping others. Then, I'll consider myself a true champion."
AWARDS
PAC-10 Athlete of the Year, 1987-88; U.S. Women's Athlete of the Year, Track & Field News, 1992; Visa Humanitarian Athlete of the Year, USA Track & Field, 1999.
Read more
Latest headlines