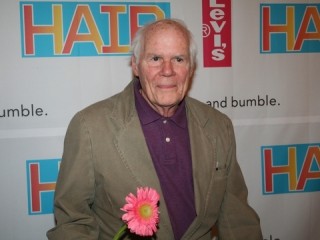 Galt MacDermot biography
Date of birth : 1928-12-18
Date of death : -
Birthplace : Montreal, Quebec
Nationality : Canadian
Category : Arts and Entertainment
Last modified : 2011-12-12
Credited as : composer, pianist, writer of musical theatre
Galt MacDermot is a Canadian composer, pianist and writer of musical theatre. He won a Grammy Award for the song African Waltz in 1960. His most successful musicals have been Hair (1967; its cast album also won a Grammy) and Two Gentlemen of Verona (1971). MacDermot has also written music for film soundtracks, jazz and funk albums, and classical music, and his music has been sampled in hit hip-hop songs and albums.
One of the more intriguing musical developments of the hip-hop era has been the renewed popularity of Galt MacDermot, a Canadian-born composer and pianist previously best known as the creator of the music for the 1967 Broadway pop-rock musical Hair. Over the past few years, a parade of top New York hip-hop producers and DJs have made their way to MacDermot's Staten Island home, intent on drawing new material for sampling from his vast but little-known catalogue of instrumental recordings made decades earlier. MacDermot's newfound fame has a long and unique story behind it.
The son of a Canadian educator and diplomat, MacDermot was born in Montreal, Quebec, Canada, on December 18, 1928. He grew up in a musically oriented household and played the recorder and the violin as a child. When he was a teenager his musical interests shifted from classical to American jazz, and he turned to the piano. In high school he organized a Trinidadian steel drum band. While earning a degree in history and English at Montreal's Bishop University, MacDermot grew more and more interested in music. He enjoyed the intricate swing compositions of bandleader Edward Kennedy "Duke" Ellington, but he also favored other music with a strongly rhythmic orientation, such as the boogie woogie piano of Meade Lux Lewis.
In 1950 MacDermot's father was given a Canadian diplomatic post in South Africa, and MacDermot accompanied his family there. He enrolled in the music program at the University of Cape Town, earning a second degree in composition and organ. When he encountered the popular and traditional music of black South Africans, he absorbed it voraciously. A family cook taught him drum rhythms. He heard South African choral singing, and he came under the spell of several musicians who went on to international careers: trumpeter Hugh Masekela, vocalist Miriam Makeba, and the Zulu-language doo-wop group the Manhattan Brothers. Throughout his career he would remain energized by the possibilities inherent in African rhythms.
Newly married and back in Montreal in 1954, MacDermot took a job as a church organist in the city's Westmount neighborhood. His bent toward composition showed itself as he wrote new choral pieces for the church's choir, slipping them into the Sunday liturgy by claiming that they had been written years before by famous composers. MacDermot moonlighted as a pianist in a jazz trio and as the organizer of a calypso band. Soon he was making contacts in the music industry. After penning music for a play called My Fur Lady in 1955, he was signed to a small Quebec label called Laurentien and released the album Art Gallery Jazz a year later.
That album contained a tune called "African Waltz" that MacDermot had begun working on while still in South Africa. MacDermot played the piece for British bandleader Johnny Dankworth during a visit to London in 1960, and Dankworth agreed to record it. MacDermot forgot about this promise but later heard from a friend that Dankworth's recording was receiving heavy airplay on British radio. The tune was later covered by American jazz saxophonist "Cannonball" Adderley and brought MacDermot two Grammy awards.
MacDermot moved to England for several years in the early 1960s, hoping to capitalize on the success of "African Waltz." The stint in Britain was a failure from a financial standpoint, but the always-observant MacDermot sensed musical change in the air. When he moved with his wife Marlene to New York in 1964 and purchased an old schoolhouse in the New York borough of Staten Island, he was ready to hit the ground running and bring together all the strands of his varied musical education.
MacDermot is probably best-known as the composer of the score for the 1967 Broadway musical Hair. The project came about when music publisher Nat Shapiro put MacDermot in touch with two actors, Gerome Ragni and James Rado, who had sketched out the dialogue and loosely structured plot for a musical about the 1960s counterculture. MacDermot's music, suffused with kinetic rhythms, brought the musical to life and perfectly complemented its communal themes and its evocation of the spontaneous lifestyle of the era's "flower children." Hair became a worldwide smash hit. The show included several widely recorded popular songs--"Aquarius," "Good Morning, Star Shine," and the musical's title number--that left MacDermot financially set for life.
MacDermot described his music for Hair not as pop or rock but with a term that was comparatively new at the time. "My idea was to make a total funk show," he said in a World of Beats interview reproduced on his own website. "They said they wanted rock & roll--but to me that translated to 'funk.'" MacDermot drew on the music he had been making with various New York studio musicians, including drummer Bernard Purdie, bassist Jimmy Lewis, and guitarist "Snag" Allen. He had already recorded one album on his own Kilmarnock label, 1966's Shapes of Rhythm. At the time the album was virtually unknown, but in later years it would be described as revolutionary.
Drawing on rock, pop, jazz, and rhythm-and-blues, MacDermot's mostly instrumental music was not easily classifiable as any of these. It featured free, complex rhythms that avoided the fixed beats of jazz and rock, and looked forward to the more spacious, more rhythmically involved funk sound. MacDermot plowed his Hair profits back into his own music, releasing several more albums that included Hair Pieces (1967) and Woman is Sweeter (1969). MacDermot's funk credentials were strengthened by his score for the 1970 action film Cotton Comes to Harlem.
MacDermot composed the music for several more theatrical productions, winning a Tony Award for his 1971 musical adaptation of William Shakespeare's play Two Gentlemen of Verona. The musical Dude, which reunited the composer with Hair lyricist Ragni, and the science-fiction opera Via Galactica, both in 1972, were financial bombs. But MacDermot kept striking out in new directions. He composed several classical works, spent time in Trinidad from 1974 to 1978 collaborating with playwright Derek Walcott, scored a ballet as well as the avant-garde 1975 film Rhinoceros, and adapted Hair for the big screen in 1979. The musical's film version was directed by Czech-American auteur Milos Forman.
In 1979 MacDermot formed the New Pulse Jazz Band as a vehicle for his musical ideas. With a membership fluctuating between six and 12 members, the band recorded yearly on MacDermot's Kilmarnock label and performed frequently around New York. He composed the score for the 1983 musical adaptation of the William Saroyan play The Human Comedy. Though it failed at the time, it was revived in New York in 2003.
There is no single explanation for the rediscovery of MacDermot's earlier music by hip-hop artists. The popularity of Hair among a wide cross-section of American music enthusiasts played a role, as did the tendency of some hip-hop producers of the 1990s to seek out increasingly obscure material for samples. "MacDermot gets a lot of play from those funk enthusiasts who think the more obscure and unlikely an artist, the more funky he's apt to be," suggested All Music Guide's Rob Ferrier. Yet hip-hop DJ and producer Madlib found himself drawn directly to MacDermot's music. "It's just a feeling," Madlib told Entertainment Weekly. "It hits your soul."
MacDermot himself, although initially skeptical about hip-hop manipulations of his music, was soon converted, after witnessing hip-hop musicians' responses to his music. In a URB interview he described a meeting with hip-hopper The Mighty VIC of the Ghetto Professionals. "VIC was consistent--he pointed out progressions in my music that he liked," MacDermot recalled. "I knew exactly what he was talking about--I liked them too! I thought, 'Here's a guy who is hearing what I heard 30 years ago--and he appreciates it.'
The Mighty VIC became one of several hip-hop figures who made pilgrimages to MacDermot's Staten Island home, some of them at the behest of Beatnuts producer Victor Padilla. Padilla discovered MacDermot's music on his own after he acquired a copy of the Woman Is Sweeter LP. Other hip-hop producers and DJs came to MacDermot thanks to the efforts of Vanderbilt University student Eothen Alapatt, who catalogued the records gathering dust in MacDermot's home and issued a number of unreleased MacDermot titles in a compilation called Up from the Basement. By that time copies of MacDermot's early LPs were prized possessions that circulated quickly among New York club DJs.
The first MacDermot piece to serve as a hip-hop sample was probably an excerpt from the Hair song "Where Do I Go," inserted in rap group Run DMC's "Down with the King" by producer Pete Rock. That brought the 60-year-old MacDermot an ASCAP R&B award. One of the most successful uses of MacDermot's music was the 1995 Busta Rhymes million-seller "Woo-Haa! Got You All in Check," on which producer Rashad Smith sampled a melody from "Space," originally on the Woman Is Sweeter album. Other MacDermot-spawned hip-hop hits included Nas's "Halftime," the Artifacts' "C'mon wit da Git Down," Quasimoto's "Loop Digga" and "Discipline 99," the Beatnuts' "Uncivilized," Rah Digga's "Lessons of Today," and Thirstin' Howl III's "Brooklyn Hard Rock."
The irrepressible MacDermot resumed his performing career with a 2001 concert in Nashville that was organized by Alapatt. The concert paired a performance by his own trio with turntablists' representations of his works. He issued the concert as the Live in Nashville CD on Kilmarnock. MacDermot has continued to compose original work, including music for a 2002 production of the ancient Greek comedy Lysistrata. The year 2003 saw the release of a series of MacDermot remixes by producer Madlib, further confirmation that the composer's rediscovery had been more than a flavor of the moment. Indeed, the compositions of the onetime Canadian church organist appear to have penetrated deep into American musical culture.
Shows:
-My Fur Lady (1957)
-Hair (1967)
-Isabel's a Jezebel (1970)
-Who the Murderer Was (1970)
-Two Gentlemen of Verona (1971)
-Dude (1973)
-Via Galactica (1973)
-The Human Comedy (1984)
-The Special (1985)
-The Legend of Joan of Arc (1997)
- Sun (1998)
-Blondie (1998)
-The Corporation (1999)
Selected discography:
-Art Gallery Jazz (1956)
-The English Experience (1961)
-Shapes of Rhythm (1966)
-Haircuts (1969)
-Woman is Sweeter (1969)
-New Pulse Band (1979)
-Purdie as a Picture (1994)
-Up from the Basement Volumes 1 & 2 (2000)
Read more
Latest headlines