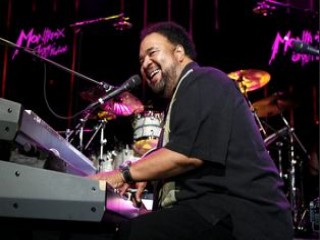 George Duke biography
Date of birth : 1946-01-12
Date of death : 2013-08-05
Birthplace : San Rafael, California
Nationality : American
Category : Arts and Entertainment
Last modified : 0000-00-00
Credited as : jazz musician, electronic jazz, soul, the George Duke Trio
George Duke
a well-known jazz musician, was born in San Rafael, California, and reared in Marin City, a working class section of Marin County. He began his piano studies at age seven, absorbing the roots of Black music in his local Baptist church. "That's where I first began to play funky. I really learned a lot about music from the church. I saw how music could trigger emotions in a cause-and-effect relationship."
By the age of sixteen, George had played with a number of high school jazz groups. He was heavily influenced by Miles Davis and the soul-jazz sound of Les McCann and Cal Tjader. Attending the San Francisco Conservatory Of Music and majoring in trombone and composition with a minor in contrabass, he received his Bachelor of Music degree in 1967.
George and a young singer named Al Jarreau formed a group which became the house band at San Francisco's Half Note Club. The George Duke Trio which emerged from those sessions was soon burning a path of creative excitement through the jazz world. It included a major European tour and an appearance at the Newport Jazz Festival. The group's first gig in a rock-oriented venue came in early 1969. Soon, ushered in the West Coast counterpart of the Eastern fusion revolution sparked by Miles Davis, The Mahavishnu Orchestra and Weather Report. Before '69 was out, George joined Frank Zappa (as he put together a new "Mothers Of Invention" lineup) and toured for an entire year.
In 1973, George rejoined Zappa and brought Jean-Luc Ponty with him. That band stayed together for the next three years, until Duke left to join forces with drummer Billy Cobham. Together, they formed a powerhouse jazz fusion unit even more popular and influential than the earlier Duke/Ponty group.
George Duke became a solo artist in 1976, and enjoyed success with a series of fusion-oriented LP's such as his debut CBS LP, From Me To You. In 1978, the funk-flavored sound of the gold album Reach For It propelled George Duke into the upper reaches of the charts, and from small clubs to large arenas.
In the late '70s, George decided to get into producing as a career. George began by producing the Brazilian instrumentalist Raoul de Souza, then made his first vocal album with singer Dee Dee Bridgewater. His breakthrough came with an album by A Taste Of Honey. The single, "Sukiyaki," went to Number 1 on the pop, adult contemporary, and R&B charts, ultimately selling over two million copies.
Duke also wrote and produced the number one single "Sweet Baby" for his own recording with Stanley Clarke (The Clarke/Duke Project). Duke's special expertise was even tapped by such unlikely mainstream artists as Melissa Manchester and Barry Manilow. By the end of 1988, he had produced four songs for Smokey Robinson and several songs for saxophonist George Howard. George's other production projects included the number one chart hit "Call Me" by Phil Perry and several songs for Miles Jaye, vocalist Dianne Reeves, The Pointer Sisters, 101 North, Najee, Jeffrey Osborne, Take 6, Howard Hewett, Chante Moore, Everette Harp, Rachelle Ferrell and, most recently, Gladys Knight, Keith Washington, Filipino star Gary Valenciano, Johnny Gill and Anita Baker.
George Duke made his debut on Elektra in February, 1985 with the Latin-flavored Thief In The Night. A second album, simply titled George Duke, was issued in August 1986, followed by Night After Night, George Duke's final release for Elektra.
Through the years, along with his own releases and busy producing schedule, George has acted as musical director for numerous artists and television specials, including the Soul Train Music Awards (nine years), NBC's Sunday Night Show and Anita Baker (Duke took Anita and a 14-piece band to Washington D.C. to perform at the Kennedy Center for The Democratic National Committee). He served as musical director for Disney's concert to benefit the Foundation for Pediatric AIDS For Our Children (featuring an all-star cast that included Michael Bolton, Paula Abdul and Kris Kross) and Disney's Salute To Youth during the President's Inaugural celebration. In '92, he went to Spain to be music director for the largest guitar festival in history, featuring such artists as George Benson, Stanley Clarke, Larry Coryell, Paco de Lucia, Rickie Lee Jones and John McLaughlin. He also was at the helm for Legend to Legend with George Burns, Tony Bennett, Johnny Mathis, and others.
Highlights of '91 included a sold-out U.S. tour with Dianne Reeves and Najee, with a performance at the Montreux Jazz Festival's 25th Anniversary and headlining the first annual Japanese Playboy Festival at the Tokyo Dome.
In '92, George's Warner Bros. debut Snapshot captured the number one slot on the jazz charts for five weeks and generated the Top Ten R&B single "No Rhyme, No Reason." The following year, George Duke's Muir Woods Suite, a major orchestral piece, premiered at the Montreux Jazz Festival and, in 1994, Duke began work on Illusions.
Following the release of Illusions in January 1995, Duke began mixing the Muir Woods Suite which was recorded live, when originally performed at the Montreux Festival in 1993. When not locked in the studio with the Suite, George arranged, produced and performed on songs and albums for a number of artists, including: Najee, George Howard, and the Winans (he arranged and produced three tracks on their Qwest album Heart And Soul which was nominated for a Grammy). George Duke also traveled extensively, performed a European tour with Anita Baker and a Brazilian tour with Rachelle Ferrell, as well as toured the states with his own Duke and Friends tour featuring Phil Perry, Howard Hewett, Dianne Reeves and George Howard. He ended the year performing in Jakarta with Phil Perry.
'95 also saw George involved in conducting and arranging for numerous award and episodic TV shows. He maintained his long time association with Soul Train, and served as Music Director for their 25th anniversary special and also wrote, performed and produced the theme for the Walt Disney show Inside Out.
The beginning of '96 saw the release of his musical and emotional tour de force Muir Woods Suite, which was performed by a jazz quartet made up of George Duke (piano), Stanley Clarke (bass), Chester Thompson (drums) and Paulinho Da Costa (percussion) with L·orchestre National de Lille, Ettore Stratta, conductor. This was followed by more production with work on songs for Marilyn Scott, Al Jarreau and Natalie Cole. (George produced one-third of the songs on Natalie Cole's Stardust LP which was nominated for two Grammys and won one). George also wrote and produced the main title for The Malcolm and Eddie Show on UPN.
In addition to doing his annual Soul Train Music Award stint in '98 and recording and releasing his "for lovers only" Grammy-nominated After Hours, his first completely instrumental album since 1975, he also produced three tracks for Dionne Warwick and one for Take 6. Next he hit the road, touring with Rachelle Ferrell, subsequently serving as music director for The Lady of Soul Awards and the Kansas City Jazz Festival.
George also produced the Grammy award winning In the Moment CD for Dianne Reeves, and Rachelle Ferrell's Individuality, delaying completion of his own year 2000 solo release, Cool.
The summer of 2001 finds Duke on the Tom Joyner Cruise with a combination vacation and gig. Live dates include a special performance for the 100 Black Men of AmerIca Convention in Atlanta. Off to Europe where Duke is artist in residence at the North Sea Jazz Festival featuring performances with Dianne Reeves and Rachelle Ferrell. A special performance of Muir Woods Suite with the Prima la Musica Orchestra form Brussels was amazing! Also various performances at the Montreux Festival kept George busy. One special moment was a tribute to Miles Davis featuring Marcus Miller, Christian McBride and Richard Bona on basses; Herbie Hancock and duke on piano and synths; Terri Lynn Carrington and Chester Thompson on drums; Wallace Roney on trumpet and Jeff Lee Johnson on guitar.
Upon his return from Europe, rehearsals for a USA tour with Al Jarreau and Rachelle Ferrell begin. Once again immediately following the tour, George begins rehearsals for the Lady Of Soul Award Show featuring performances with Johnny Gil, Tyrese, Luther Vandross, Ronny Isley, Genuine, and El Debarge. In September, work began on his new CD to be released the Spring on 2002. George also was part of Wave for Peace, a concert to raise money for the victims of the WTC incident.
Predictably, the energetic, unstoppable George Duke keeps moving from strength to strength, bringing invention, dimension and texture to music that is alive with personality and rich with artistry. In the case of his passionately performed Cool, which was nominated for an Image Award and a Grammy, Duke takes the lead on vocals adding presence and power to his ever-evolving view of others and himself. This deeply revealing and yet thoroughly accessible edition of Duke celebrates life, love…and the "Ancient Source."
2001 was a great year for Duke! Tami Willis from BET produced and directed a profile called "House Of Duke." We also find the release of the Duke produced Grammy award winning Dianne Reeves album, "The Calling."
He hooked up with Kenny Lattimore to write and produce a Gospel song entitled "Healing." George also enjoyed producing three tracks for the incredible Kelly Price for her first Christmas offering on Def Jam.
After returning from a brief European tour, George did a USA tour with Rachelle Ferrell and Al Jarreau. After another Soul Train Awards ceremony, George set about writing and recording the first CD for his new label, BPM (Big Piano Music) called Face The Music.
The beginning of 2002 finds Duke editing and enhancing Rachelle Ferrells live CD Live In Montreux 91-97, and putting the final touches on his new solo CD. This year also marks his debut performance in South Africa. In May of 2002, George began rehearsals for the second installment of Kirk Whalum's "Gospel According To Jazz." He also worked on Eddie Griffin's movie "Undercover Brother" with Stanley Clarke, and played a "vacation" date in Bermuda.
Duke returned to Rotterdam for several shows with Randy Crawford before returning to LA to put the final touches on Dexter Gordons CD for BPM.
Face The Music was released on September 3rd. The rest of the year finds George on the road doing one promotional activity after another. Between these dates, George found time to play for the Emeril Show, and a trip to Holland to perform with the Metropole Orchestra.
The end of the year, he is quite busy scoring a film for Whoopi Goldberg and Danny Glover called "Good Fences," directed by Ernest Dickerson for Showtime. It is now available on DVD.
2003 finds Duke still touring and promoting his new CD, while handling the MD chores for Soul Train, The Trumpet Awards, and BET's Gospel Celebration. The Dexter Gordon CD, Live at the Both/And Club 1970 was released on BPM, and George found time to recorded a tribute project for Jimi Hendrix and played several tracks on a new Will Downing CD.
During the summer, George takes his band to Moscow to perform, and secures the release of "Face The Music" in Europe through Challenge Records in Holland. George spends several weeks re-establishing contacts in Europe, and then returns to finish the DMX film.
2004 began with George performing "Muir Woods Suite" at Disney Hall with The LA Philharmonic, followed by a performance with The US Air Force Band at Constitution Hall in Washington DC.
MD for the Trumpet Awards was again on tap followed by an Artist In Residence series at Berklee College of Music.
George produced albums for Regina Belle and Marilyn Scott, and continued to tour with his band in the US and Europe. He also found time to score his second film for Ernest Dickerson "Never Die Alone" staring DMX.
Duke completed work on "DUKE," his second solo CD on his label, BPM. In September he was MD for the Black Caucus Gala and the Thelonius Monk Institute Awards in DC.
George received the coveted Edison Life Time Achievement Award in Rotterdam in November. January 2005, George served as artist and MD for a special series of concerts in India featuring Al Jarreau, Stanley Clarke, Earl Klugh, L Subramanium and Ravi Coltrane. BET and MTV India documented some of the shows.
Duke composed the theme for the "News & Notes" PBS radio show staring Ed Gordon, and flew to Jakarta, Indonesia for the 1st Annual Jakarta Jazz festival. More live dates followed with George promoting his new CD.
Another Marilyn Scott CD was on the way (to be released in 2006), and a very special George Duke & Friends show was presented at the Hollywood Bowl featuring Billy Cobham, Christian McBride, Airto, Bobby Hutcherson, Kenny Garrett, Roy Hargrove and Joe Sample. George & Joe also began playing some duo piano gigs in the US and Japan.
At a New Years Eve fundraiser, George saluted the Symphonic Jazz Orchestra with his jazz trio at the Bakery. Brain Bromberg was on bass and Terri Lyne Carrington was the drummer. A week later, Duke was in the studio with this band recording his new jazz CD for release in June 2006. At the end of January another project took place in Nassau, the Bahamas for the Michael Jordan Celebrity Golf Tournament. George put a band together for himself, Michael McDonald and Philip Bailey.
Famous keyboardist that played on Michael Jackson's 'Off the Wall' died in 2013, Aug. 5 in Los Angeles, after being treated for chronic lymphocytic leukemia.
Read more
Latest headlines