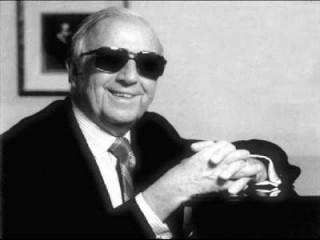 George Shearing biography
Date of birth : 1919-08-13
Date of death : 2011-02-14
Birthplace : Battersea, London, England
Nationality : American
Category : Famous Figures
Last modified : 2012-02-02
Credited as : jazz pianist, Bandleader, Composer
George Shearing was an Anglo-American jazz pianist who for many years led a popular jazz group that recorded for Discovery Records, MGM Records and Capitol Records. The composer of over 300 titles, he had multiple albums on the Billboard charts during the 1950s, 1960s, 1980s and 1990s. He died of heart failure on February 14, 2011 in New York City, at the age of 91.
George Shearing always regarded himself as a pianist who happened to play jazz. During the 1950s and 1960s, he led one of the world's most popular jazz quintets, playing in a style he called "locked hands" and inventing a unique quintet sound derived from the combination of piano, vibraphone, electric guitar, bass, and drums. Along with the success of his quintet, Shearing made other great contributions throughout these years, including leading several small, Afro-Cuban jazz combos in the 1950s. Vibraphonist/percussionist Cal Tjader, along with esteemed congueros like Mongo Santamaria, Willie Bobo, and Armando Peraza, all played with Shearing's Latin-influenced bands. Throughout his career as a soloist, fellow pianists admired his light, refined touch, and though he developed his own unique style, Shearing claimed both the great boogie-woogie pianists and classical players as prominent influences. A prolific composer, Shearing wrote over 300 pieces over the course of his lifetime, including the classic "Lullaby of Birdland," which became a jazz standard.
George Albert Shearing was born on August 13, 1919, in the Battersea district of Southwest London, England. Blind since the time of his birth, Shearing was one of nine children of a coal worker. Although his parents "read very little beyond the headlines of a newspaper," as Shearing recalled in an online interview with Steve Capra, they never discouraged the youngster in his musical development, although they never encouraged their son either. Nonetheless, by the time Shearing was three years old, he had already started playing piano and displayed an acute ear for music.
Receiving some training in his teens at the Linden School for the Blind, Shearing, excluding these four years at school, trained very little in the formal sense. During his school years, he also started picking up stylistic cues from a variety of sources, namely jazz influences from Teddy Wilson and Fats Waller records. When the young pianist reached the age of 16, his instructor at school had all but given up on trying to teach his student classical lessons, telling Shearing's parents, "You know, further study of classical music for this young man would be a total waste of time," as quoted by Capra. "It is obvious to me that he's gonna become a jazz pianist." Despite this prediction, however, Shearing would later play the music of classical composers such as Bach, Mozart, Debussy, and Stravinsky (some of Shearing's personal influences) for his own enjoyment, as well as with orchestras throughout the world.
Upon completing school, Shearing earned several scholarship offers from a number of universities, but turned them down in order to pursue a more financially productive endeavor--playing piano in a neighborhood pub. In the 1930s, he joined an all-blind band (the Ambrose dance band) and developed a friendship with the a noted British jazz critic and author named Leonard Feather, who encouraged Shearing to make his first recording in 1937 and helped him land his first appearance on BBC (British Broadcasting Company) radio. From there, Shearing became a star in his homeland, performing on a regular basis for the BBC, playing a role in the London-based groups of French violinist Stéphane Grappelli (1908-1997) in the 1940s, and winning several Melody Maker polls.
At the prompting of Feather, Shearing emigrated to New York City in 1947, hoping to extend his fame to the United States. He quickly absorbed the popular bebop style of the time (his early recordings in England focused mainly on the swing genre), joining the Oscar Pettiford Trio as Erroll Gardner's replacement and leading a quartet with Buddy DeFranco. With his unique sound commanding national attention, in 1949 Shearing formed his first and most famous quintet, comprised of Marjorie Hyams on vibes, Chuck Wayne on guitar, John Levy on bass, and Denzil Best on drums. An instant success on the national level since the quintet's debut, Shearing began performing at the most respected venues of the era, including the legendary Birdland jazz club in New York, and became one of the most popular recording artists in the United States.
Shearing recorded briefly for the Discovery label before settling into lucrative association with MGM (from 1950 to 1955) and Capitol Records (from 1955 to 1969). During his years with Capitol, Shearing recorded albums with such singers as Nancy Wilson, Peggy Lee, and Nat King Cole, and released a lone album for the Jazzland label with the Montgomery Brothers in 1961. In addition to working in jazz and even more pop-oriented fare, the pianist around this time also started playing concerts with symphony orchestras.
Leaving Capitol in 1969, Shearing slowly started to phase out his work with the quintet, which he felt had become too predictable, and finally disbanded the unit for good in 1978. "I couldn't wait to get rid of it," he told Los Angeles Times writer Zan Stewart in 1995. "I felt I'd put myself in a box. I could go on autopilot and play" the band's repertoire, "so I went to the duo" for piano and bass. Before breaking up the quintet, Shearing started his own label called Sheba, and the company lasted a few years into the early-1970s. From there, he moved briefly to MPS in the later part of the decade, recording some trio efforts for the label. Nevertheless, Shearing's profile had lessened in the 1970s by comparison to his stature during the MGM and Capitol years.
However, in the 1980s Shearing found the perfect home at Concord, signing with the label in 1979. He recorded five acclaimed albums with Mel Tormé, including An Evening with Mel Tormé & George Shearing, a 1982 Grammy Award winner for best jazz vocal performance. The duo earned a second Grammy the following year, with Tormé garnering the award for their Concord album Top Drawer. Other notable projects included collaborations with bassists Brian Torff (Blues Alley Jazz and On a Clear Day) and Don Thompson (Live at the Café Carlyle), pianists Hank Hones (The Spirit of 176) and Marian McPartland (Alone Together), guitarist Jim Hall (First Edition), and vocalist Carmen McRae (Two for the Road). The decade also saw Shearing recording the solo Grand Piano sessions, sets for which the pianist's full palette comes into play.
Shearing continued to be a vital force well into the 1990s, signing with the Telarc label in 1992. I Hear a Rhapsody: Live at the Blue Note (1992) and Walkin': Live at the Blue Note (1995) both were taken from a live engagement (with bassist Neil Swanson and drummer Grady Tate) at the New York club and won stellar reviews. For That Shearing Sound (1994), the pianist returned to his quintet format, and in 1997, he released a solo album entitled Favorite Things. Penning over 300 compositions in his lifetime, Shearing enjoyed one of the most prolific and longest recording careers in jazz history.
A recipient of numerous honors and awards, Shearing earned an honorary Doctorate of Music degree from Westminster College in Salt Lake City, Utah, in May of 1975, as well as an honorary doctorate in music by Hamilton College in upstate New York in May of 1994. In 1978, he received the prestigious Horatio Alger Award for Distinguished Americans. That same year, a community recreational facility in Battersea, South London, was the named the George Shearing Centre in his honor. In May of 1993, Shearing was presented with the Ivor Novello Award for Lifetime Achievement--the British equivalent of the Grammy honor. On November, 26, 1996, the pianist was invested by Queen Elizabeth II at Buckingham Palace as an Officer of the Order of the British Empire for his musicianship and service in promoting British/American relations. In March of 1998, Shearing received the first American Music Award by the National Arts Club in New York City. In addition to these and other awards, Shearing was invited to play before three U.S. presidents, Gerald Ford, Jimmy Carter, and Ronald Reagan, and performed at a Royal Command Performance for Queen Elizabeth II and Prince Philip. His organizational memberships include the Friars Club and Lotos Club in New York, as well as the Bohemian Club in San Francisco.
All of these honors, said Shearing, represented a collective highlight of his career. When asked what his favorite moment as a pianist was, he replied: "I think it would be the idea of knowing that I can appear in Carnegie Hall with Dizzy [Gillespie] in 1948 and knowing that I've played for three presidents knowing I've played command performances for Queen Elizabeth knowing that I played with a number of symphony orchestras throughout the country," as quoted by Capra. "And all this from a little blind kid born on the wrong side of the tracks whose parents were quick to say `Oh, we don't get those kind of jobs, son. They're for the nobs, you know.'"
During the late 1990s, Shearing continued to perform in select music halls on occasion. He and his wife, Ellie, divided time between homes in New York and abroad in Cotswold, in the English countryside. Even in his later years, Shearing remained, according to Stereo Review's Chris Albertson, "a remarkable artist who's creativity remains undiminished."
Selected discography:
-So Rare ,Savoy, 1947.
-Piano Solo ,Savoy, 1947.
-George Shearing Quintet ,Discovery, 1949.
-Lullaby of Birdland ,Verve, 1949.
-You're Hearing the George Shearing Quartet MGM, 1950.
-Touch of Genius ,MGM, 1951.
-The Shearing Spell ,Capitol, 1955.
-Shearing Caravan ,MGM, 1955.
-Shearing in Hi Fi ,MGM, 1955.
-White Satin & Black Satin ,Capitol, 1956.
-Black Satin ,Capitol, 1956.
-Latin Escapade ,Capitol, 1956.
-Velvet Carpet ,Capitol, 1956.
-Shearing Piano ,Capitol, 1956.
-Shearing on Stage ,Capitol, 1957.
-In the Night ,Capitol, 1957.
-Latin Lace ,Capitol, 1958.
-Latin Affair ,Capitol, 1958.
-Burnished Brass ,Capitol, 1958.
-Blue Chiffon ,Capitol, 1958.
-On the Sunny Side of the Strip ,Capitol, 1959.
-Satin Brass ,Capitol, 1959.
-White Satin ,Capitol, 1960.
-San Francisco Scene ,Capitol, 1960.
-The Swingin's Mutual ,Capitol, 1960.
-Mood Latino ,Capitol, 1961.
-Satin Affair ,Capitol, 1961.
-George Shearing and the Montgomery Brothers, Jazzland, 1961; reissued, Original Jazz Classics, 1989.
-Jazz Moments ,Capitol, 1962;reissued, Blue Note ,1995.
-Nat "King" Cole Sings/George Shearing Plays ,Capitol, 1962; reissued, Capitol, 1991.
-Shearing Bossa Nova ,Capitol, 1962.
-Soft and Silky ,MGM, 1962.
-Latin Rendezvous ,Capitol, 1963.
-Old Gold and Ivory ,Capitol, 1963.
-Rare Form ,Capitol, 1963.
-Deep Velvet ,Capitol, 1964.
-Out of the Woods ,Capitol, 1964.
-That Fresh Feeling ,Capitol, 1966.
-Out of This World ,Sheba, 1970.
-The George Shearing Quartet , Sheba, 1972.
-The George Shearing Trio, Vol. 1 , Sheba, 1973.
-Light Airy and Swinging ,MPS, 1974.
-Live ,Concord Jazz, 1979.
-Blues Alley Jazz ,Concord Jazz, 1980.
-Two for the Road ,Concord, 1980.
-Alone Together ,Concord Jazz, 1981.
-An Evening with George Shearing and Mel Tormé Concord Jazz, 1982.
-First Edition ,Concord Jazz, 1982.
-Live at the Cafe Carlyle ,Concord Jazz, 1984.
-Grand Piano ,Concord Jazz, 1985.
-George Shearing and Barry Tuckwell Play the Music of Cole Porter , Concord Concerto, 1986.
-Breakin' Out ,Concord Jazz, 1987.
-More Grand Piano ,Concord Jazz, 1987.
-Dexterity ,Concord Jazz, 1988.
-In Dixieland ,Concord Jazz, 1989.
-The Spirit of 176 ,Concord Jazz, 1989.
-Piano ,Concord Jazz, 1990.
-(With Mel Tormé) Mel and George "Do" World War II , Concord Jazz, 1991.
-I Hear a Rhapsody: Live at the Blue Note ,Telarc, 1992.
-Midnight on Cloud 69 ,Savoy, 1993.
-My Ship , Verve, 1994.
-That Shearing Sound , Telarc, 1994.
-Walkin': Live at the Blue Note , Telarc, 1995.
-The Best of George Shearing ,Capitol, 1995.
-The Best of George Shearing, Vol. 2 , Capitol, 1997.
-Favorite Things , Telarc, 1997.
Read more
Latest headlines