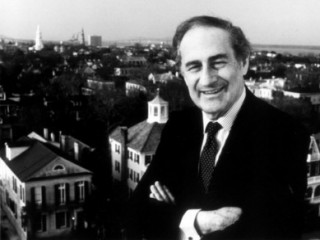 Gian Carlo Menotti biography
Date of birth : 1911-07-07
Date of death : 2007-02-01
Birthplace : Cadegliano, Italy
Nationality : Italian
Category : Famous Figures
Last modified : 2011-12-14
Credited as : composer, He wrote the classic Christmas opera, won the Pulitzer Prize
Gian Carlo Menotti was an Italian-American composer and librettist. Although he often referred to himself as an American composer, he kept his Italian citizenship. He wrote the classic Christmas opera, Amahl and the Night Visitors, among about two dozen other operas intended to appeal to popular taste. He won the Pulitzer Prize for two of them: The Consul (1950) and The Saint of Bleecker Street (1955).
He founded the noted Festival dei Due Mondi (Festival of the Two Worlds) in 1958 and its American counterpart, Spoleto Festival USA, in 1977. In 1986 he commenced a Melbourne Spoleto Festival in Australia, but he withdrew after three years.
Even as a young child Gian Carlo Menotti displayed a natural ability to compose music, creating tunes to go with children's poems by the age of five. Retaining this childlike sense of drama and playfulness through a lifetime of composing, Menotti has composed some of the most popular and recognized operas of the twentieth century. He brought opera to radio and television, introducing millions of viewers and listeners to it for the first time. He has received many awards for his work, and during the 2001-2002 season, his ninetieth birthday was celebrated in opera houses across the United States and throughout the world.
Menotti was born the sixth of eight children on July 7, 1911, in Cadegliano, Italy, near Lake Lugano. His father, with whom he had a distant relationship, was an import-export merchant dealing in Colombian coffee. His mother, Ines, an accomplished musician in her own right, had the greatest impact on his life. In the book Menotti: A Biography, written by John Gruen, Menotti said, "My mother was an impulsive woman, and a very handsome one. She had a domineering personality, and many people in the town found her high-handed and a bit of a snob. I think my father was terrified of her. All of us children, however, adored her." She recognized and nurtured her son's talent, bringing instructors from Milan to teach Gian Carlo and his siblings piano, cello, and violin.
Menotti's maternal grandfather had been a popular mayor of Cadegliano, and many relatives lived in the area. They often had large family gatherings, particularly in the summer, as Lake Lugano was a popular summer vacation area. On these occasions family members would entertain each other with chamber music nights and puppet shows complete with music and special effects. Menotti owned almost 100 puppets as a child and loved to put on fairy tale productions.
As he grew up, Gian Carlo's talent was so remarkable that his family assumed he would become a musician. At age eleven he had already written his first opera, The Death of Pierrot. In 1923 he began to attend the Verdi Conservatory of Music in Milan where he studied for three years. A family friend, the famous conductor and composer Arturo Toscanini, recommended that Menotti attend school in the United States at the Curtis Institute of Music in Philadelphia, Pennsylvania. His mother politely declined, not wanting to send her son so far away.
Everything changed, however, when Menotti's father died. His mother, realizing the family business would no longer support them, remarried and moved to South Africa. Acting on Toscanini's suggestion, she finally arranged for Gian Carlo to attend the Curtis Institute; she also found an Italian-American family with whom he could live. At 16 Menotti moved across the ocean to learn music in a country where he didn't even know the language.
At Curtis, Menotti began studying with Rosario Scalero, a composition instructor with whom he would train for six years. Scalero introduced Menotti to Samuel Barber, who agreed to help the new student adjust to American life. Because Menotti could not yet speak English, the two communicated in French. During their time at Curtis, they began a lifelong friendship, spending four consecutive summers in Menotti's hometown of Cadegliano.
In 1933 Menotti graduated from Curtis with honors. He and Barber decided to move to Vienna, where they shared an apartment. Barber had left school early, but came back to finish his degree in 1934, and then began to achieve success in the United States. In May of 1936 they joined up again, traveling through Europe.
Menotti finished composing Amelia Goes to the Ball in the spring of 1937 and returned to the United States at the invitation of Mary Louise Curtis Bok, the founder of the Curtis Institute of Music. When she was requested to finance a presentation at the school, she refused unless Menotti's new opera could be included. The performance took place on April 1, 1937. "Amelia was dedicated to Mrs. Bok, towards whom I have so much to be grateful for," Menotti said in his biography. "I have a very great fondness for it. Not only was it my first opera, and my first success, but it was also the only opera of mine that was ever heard by my mother." Mrs. Bok paid for his mother, who was already ailing, to come from South Africa to see it. Amelia was so successful that it was presented at the Metropolitan Opera of New York on March 3, 1938.
Shortly after the Metropolitan presentation, Menotti was invited to Rome by Dino Alfieri, the Italian minister of culture, to discuss the opera's Italian premiere. At the time Italy was under the thumb of fascist dictator Benito Mussolini. Menotti was told that the presentation would be supported if he would become a member of the Fascist party. He refused, and the press was ordered to give poor reviews to the opera when it was presented. Menotti decided to concentrate on success in America instead.
In 1939 Samuel Chotzinoff of the National Broadcasting Company (NBC) commissioned him to write an opera specifically for radio. The Old Maid and The Thief premiered on April 22, 1939, to favorable reviews. It was considered a great achievement in radio, broadcasting opera to audiences that may not otherwise have been exposed to it.
Menotti's popularity launched him into high society and the company of many rich and famous people. He enjoyed the lifestyle and gained a reputation for being an entertaining and charming guest. Everything changed, however, with the failure of his third opera, The Island God. Trying to impress the critics by presenting a serious opera, he disappointed his audiences, who were expecting lighter fare. He suddenly found he was no longer receiving invitations to parties and social gatherings. Worse, he was unable to find work and was running out of money.
After struggling in New York, Barber and Menotti were helped by their longtime supporter, Mary Louise Curtis Bok (now Mrs. Efrem Zimbalist), who gave them the money to buy a house in which they could work. They moved into the house, called Capricorn, in the summer of 1943. They worked on compositions during the week, but on the weekends, Capricorn became a hot spot for social gatherings.
In 1944 Menotti agreed to write the music for a ballet called Sebastian. He was quite pleased with his own work, but frustrated by the lack of effort put in by the choreographer. The experience prompted him to insist on greater control over future productions. He would not only compose the music and write the lyrics, but also take on the role of stage director and casting director. His sense of playfulness also found him playing bit parts in some of the productions.
His next big success, The Medium, brought him even greater fame. Performed originally on May 8, 1946, it was joined the following year by another of Menotti's pieces, The Telephone. The two ran as a double bill on Broadway for seven months, playing to small audiences despite positive reviews. Menotti then wrote a letter to the man who first recommended that he study music in the United States, Arturo Toscanini, inviting him to attend. When Toscanini agreed, Menotti leaked it to the press. After that, there was no longer any trouble selling the seats. When it closed on Broadway, the production was taken to Paris and London, where Menotti finally achieved international success. A few years later, it was made into a film in Rome.
In 1950 Menotti opened his three-act opera The Consul in Philadelphia. Immediately hailed by the critics, it won the Drama Critics Circle Award and a Pulitzer Prize. It also ran on Broadway for eight months.
In 1951 Menotti was approached again by NBC, this time to provide a Christmas opera for television. Amahl and the Night Visitors, which premiered on Christmas Eve 1951, became his best-known work and was shown on NBC during the Christmas season for 16 years. It was also performed onstage, and by 1972 the Central Opera Services Directory listed it as the most-performed opera in the United States.
In 1958 Menotti started the Festival of Two Worlds in Spoleto, Italy, to celebrate the cultural collaboration of the arts in Europe and the United States. The Festival, presented each year, became so successful that another festival was started in Charleston, South Carolina in 1977. In the mid-1960s Menotti began working frequently with Francis Phelan, a troubled young actor and figure skater. Phelan began to appear in many of Menotti's performances. In 1974 Menotti legally adopted Phelan, whom he called "Chip," as his son.
Menotti received the Kennedy Center Honor for Lifetime Achievement in the Arts in 1984. Two years later he was commissioned by Placido Domingo to write Goya, which Domingo performed with the Washington Opera at the Kennedy Center for Performing Arts. In 1991, at 80 years old, he was named Musician of the Year by Musical America.
Although he has retained his Italian citizenship, Menotti has spent most of his life in the United States. He now resides in Scotland at his manor, Yester House, with his son, daughter-in-law, and grandchildren. His son has taken over most of the responsibilities of running the Festival of Two Worlds in Spoleto, but Menotti remains actively involved.
Menotti died on February 1, 2007, at the age of 95 in a hospital in Monte Carlo, Monaco, where he had a home.
List of operas:
-Amelia Goes to the Ball (Amelia al ballo) (1937)
-The Old Maid and the Thief, radio opera (1939)
-The Island God (1942)
-Sebastian (1944) ballet
-The Medium (1946)
-The Telephone, or L'Amour à trois (1947)
-The Consul (1950)
-Amahl and the Night Visitors, television opera (1951), with Chet Allen in the title role
-The Saint of Bleecker Street (1954)
-The Unicorn, the Gorgon, and the Manticore (1956)
-Maria Golovin (1958)
-Labyrinth, television opera (1963)
-The Last Savage (1963)
-Martin's Lie (1964)
-Help, Help, the Globolinks! (1968)
-The Most Important Man (1971)
-Tamu-Tamu (1973)
-The Egg (1976)
-The Hero (1976)
-The Trial of the Gypsy (1978)
-Chip and his Dog, on commission for the CCOC (1979)
-La loca (1979)
-Missa 'O Pulchritudo' (1979) mass with inserted text
-A Bride from Pluto (1982)
-The Boy Who Grew Too Fast (1982)
-Goya (1986), with Plácido Domingo in the title role
-The Wedding (Giorno da Nozze) (1988)
-The Singing Child (1993)
Read more
Latest headlines