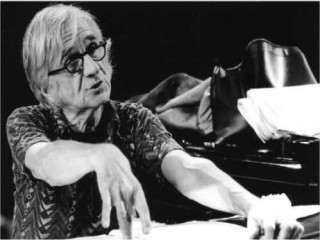 Gil Evans biography
Date of birth : 1912-05-13
Date of death : 1988-03-20
Birthplace : Toronto, Ontario, Canada
Nationality : Canadian
Category : Famous Figures
Last modified : 2011-11-12
Credited as : jazz pianist, composer, Briggs-Evans Orchestra
Gil Evans was a jazz pianist, arranger, composer and bandleader, active in the United States. He played an important role in the development of cool jazz, modal jazz, free jazz and jazz fusion, and collaborated extensively with Miles Davis.
Gil Evans has an indelible mark on the course of modern jazz. His work of the 1940s helped harness the raw-edge and fast-paced tempos of bebop and distill them into rich orchestral scores that reflected the influence of Duke Ellington, Fletcher Henderson, and European modernist composers. Though Evans lacked formal pianisitic training and resisted a systematic study of keyboard scales and exercises, he possessed a natural analytical ability which enabled him to pursue a visionary path of self-study. His talent for writing, orchestrating, and arranging exemplified a genius attentive to both the musical score and the proper accompaniment for the soloist--a talent exemplified in his work with Miles Davis, Kenny Burrell, Atrud Gilberto, and other exploratory music, stage, and film projects.
The family's large jazz record collection of artists such as Louis Armstrong and Duke Ellington exposed Evans to the sounds of mainstream jazz. While in San Francisco in 1927 he saw the Duke Ellington Orchestra at the Orpheum Theatre. "I will never get over it!" he told Brian Priestly in Jazz Journal International. "I wasn't even into music then. I was just buying records and going to high school." From recordings Evans studied music and the art of composition and arrangement--a process he would continue throughout his life. In Stockton he played in high school bands and formed his first group.
In 1933 Evans co-led the Briggs-Evans Orchestra and, three years later, formed a band which became the Rendezvous Ballroom's house band in Bilboa Beach. The unit eventually fell under the leadership of singer Skinnay Ennis who, in 1938, landed the ensemble a job on Bob Hope's NBC radio program in Hollywood. For nearly three years, Evans worked on the Hope broadcast as the band's staff arranger. "By about 1941 I began to realize that I wasn't really technically equipped to handle that kind of work," admitted Evans in Down Beat. "It took too much to do it. Besides the producer of the show was always calling me the poor man's Stravinksy ... because he could never figure out what key we were playing in." The show's producer also brought in pianist Claude Thornhill to write some arrangements for the program. Evans considered Thornhill a first-rate arranger and fine pianist with a perfect sense of timing. When Thornhill decided to go to New York and start his own band he hired Evans in 1941. After Thornhill's induction into the military, Evans enlisted in the army in 1942.
Returning to New York after military service in 1946, Evans joined Thornhill's newly-reformed orchestra. An inventive arranger, Thornhill divided the band into unconventional sections and introduced the French horn into a dance band setting. "It was a conservatory band in a way," explained Evans in Down Beat. "The pitch was perfect, the blend was just built in. At the time I needed a workshop to hone my craft. I had never written for French horns, for example, Thornhill had two, and later three, flutes in addition to the saxophones we already had." The band's non-vibrato horn section sound required Thornhill to lower registers of the instruments. As Evans related in Ira Gilter's Swing to Bebop, "There was a French horn lead, one and sometimes two French horns playing in unison or a duet depending on the character of the melody. The clarinets doubled the melody, also playing lead. Below were two altos, a tenor, and a baritone, or two altos and two tenors. The bottom was normally a double on the melody by the baritone or tenor. The reed section sometimes went very low with the saxes being forced to play in subtone and very soft."
Evans's first arrangements for Thornhill were Russian composer Modeste Moussorgsky's Pictures At an Exhibition and Arab Dance. Though a fine arranger, Thornhill's ambition to write waned during the post war years, allowing Evans to gain valuable experience. "He leaned on me, and he didn't want to," stated Evans in Swing to Bop. "I let him because I wanted the experience. He liked modern jazz, but it wasn't what he wanted to play." A follower of bebop and the music of Charlie "Bird" Parker, Evans introduced Parker's "Anthropology" and Miles Davis's "Donna Lee,"--a quintet tune expanded by Evans into a seventeen-piece big band arrangement--into Thornhill's band book. Evans's arrangement of "Donna Lee," recorded by the Thornhill band in 1947, featured trumpeter Red Rodney, clarinetist Danny Polo, and saxophonist Lee Konitz. "It was a beautiful band," related Konitz in Ira Gitler's Jazz Masters of the Forties. "Gil Evans wrote the better arrangements in the book, and it was a good group of musicians. Gil tried to teach them ... how to play bebop. He was bringing in Bird's lines and teaching these cats--and a lot of them were older--how to inflect the lines." In The Swing Era, Gunther Schuller described Evans as "creating sublime arrangements for Thornhill" that, as he added, "represent some of the more glorious moments in jazz history."
In the summer of 1948 Evans resigned from Thornhill's band. From his downstairs cramped midtown Manhattan apartment on 55th Street, he created a gathering place for modernist jazz musicians. The apartment, described as a jazz salon by Miles Davis's biographer Jack Chambers, became the meeting place for a coterie of musicians such as Charlie Parker, Miles Davis, Gerry Mulligan, and John Lewis. Furnished with only a piano, lamp, and a bed that took up most of the apartment's floor space, Evans left the door open for visiting musicians. The discussions held among Evans and his guests have become famous in the annals of jazz history. Another visitor, Miles Davis, noted in his autobiography Miles, "During this time I was going over to Gil Evans's a lot, listening to what he was saying about the music. Gil and I hit it off right away. I could relate to his musical ideas and he could relate to mine. With Gil, the question of race never entered; it was always about music." From the discussions held at Evans's 55th Street gathering spot came the idea to assemble a nine piece ensemble to be placed under Davis's leadership.
In September of 1948 The Miles Davis Nonet was booked for two week engagement at the Royal Roost--an ensemble consisting of saxophonists Lee Konitz, Gerry Mulligan, trombonist Michael Zwerin, French hornist Junior Collins, tubaist Bill Barber, bassist Al McKibbon, drummer Max Roach, and vocalist Kenny Hapgood. In tribute to the gathering of talent, Davis urged the Royal Roost's owner to display on the club's street sign: "Miles Davis Nonet; Arrangements by Gerry Mulligan, Gil Evans, and John Lewis," marking the first time jazz arrangers were bestowed such recognition. Though the band evoked mixed reactions from listeners and critics, it drew the attention of Pete Rugolo of Capitol Records who, through Davis's intercession, decided to record the nonet. The ensemble's second session featured "Boplicity," a composition co-authored by Evans and Davis (credited to Davis's mother Cleo Henry) and Evans's arrangements of "Moon Dreams" and "Darn That Dream." The series of 78's were finally issued as the ten-inch disc Birth of the Cool. The nonet's music gave rise to a jazz movement known as cool or westcoast jazz. But as Pete Welding observed in the liner notes to Birth of the Cool, "Let's reaffirm something here: catchy as the album title notwithstanding, the music of the Miles Davis Nonet was, is anything but cool ... Among these twelve performances is to be found some of the most arresting, resourceful, richly textured and abidingly creative small-ensemble writing in all of jazz history." In his book West Coast Jazz, Ted Gioia credited Evans as the midwife of the cool jazz sound that, in its effort to refine the sounds of bebop, inspired imitations among jazz musicians throughout the world.
During the 1950s Evans appeared as a pianist with Gerry Mulligan at New York's Basin Street and with drummer Nick Stabulas in Greenwich Village. In May of 1957, after nearly nine years since their last collaboration, Evans and Miles Davis were reunited to record the critically acclaimed album Miles Ahead. "The new project was far removed from the youthful experiments conceived in the grimy 55th Street basement," wrote Chambers in Milestones I. "It involved a nineteen-piece orchestra, and it was backed by the corporate weight of Columbia Records." The album included a version of Delibes's "Maids Of Cadiz" and Evans's original composition "Blues For Pablo." The collaboration proved an artistic and critical success. In his autobiography Miles, Davis expressed his appreciation for Evans's abilities: "As usual, I loved working with Gil because he was so meticulous and creative, and I trusted his musical arrangements completely."
In the fall of 1957 Evans made his recording debut as pianist and leader of a ten-piece band with the album Gil Evans and Ten. The LP featured former Thornhill members--trumpeters Louis Mucci and Jake Koven and saxophonist Lee Konitz--as well as drummer Nick Stabulas and bassist Paul Chambers. The next year, Evans continued his musical association with Davis, recording George Gershwin's folk opera Porgy and Bess. Within the modern interpretive score, Evans wrote the piece, "I Loves You Porgy" for Davis. "Miles and Gil do not merely flirt with show music tunes," observed Charles Edward Smith in liner notes to Porgy and Bess, "they do a job on this greatest of operettas related to American black folk music and jazz. In working from the original vocal score, Gil is aware of both literary and musical relationships."
In two session periods held in November of 1959 and March of 1960, Evans and Davis once again joined forces for the recording of Sketches of Spain. After hearing Spanish composer Joaquin Rodrigo's adagio movement, "Concierto de Aranjuez for Guitar and Orchestra," Davis approached Evans with the idea of recording the piece. Evans and Davis then decided to record an entire album of Spanish themes. The difficult arrangement of "Coincerto de Arnjuez" took a twenty-piece studio orchestra eight sessions to complete. To prepare himself for the recordings, as Chambers noted in Milestones 2, "Evans spent the interval listening to recordings of Spanish folk music and logged several hours in the library reading books on flamenco music." Taken from a theme from Maneul de Falla's 1915 ballet score El amor brujo, Evans scored "Will O' the Wisp," and from traditional folk tunes and Andulasian melodies he created the remaining arrangements "Pan Piper," "Saeta," and "Sola."
In November and December of 1960, Evans recorded his solo effort, Out of the Cool, which included his original composition "La Nevada" (snow fall in Spanish). In 1961 Davis recorded with the Gil Evans Orchestra at Carnegie Hall, and in the following year recorded a project together for Columbia in a large orchestra with jazz vocalist Bob Dorough. Evans and Davis too recorded a bossa nova session which produced the number "Quiet Nights" (now available on the recently released CD box set Miles Davis & Gil Evans). While in Los Angeles in 1963 Evans and Davis composed and recorded a score for the play Time of the Barracuda at Columbia's Hollywood studio. Though the score was abandoned for the short-lived stage production, Evans utilized the score's jointly written material for the 1964 recording "Barracuda" (listed as "Time of the Barracuda" on later reissues) which appeared on the LP Gil Evans Orch., Kenny Burrell & Phil Woods. Driven by Elvin Jones's propulsive drumming and featuring guitarist Kenny Burrell, "Barracuda" has been considered as one of Evans's finest solo efforts of the 1960s. Evans's work from 1963-64 has appeared on the LP The Individualism of Gil Evans which featured his impressionistic blues composition "Las Vegas Tango."
In 1965 Evans appeared as the arranger on Burrell's acclaimed Verve release Guitar Forms. "I had a great time with Gil Evans on Guitar Forms," recalled Burrell in the liner notes to Kenny Burrell, Jazz Masters 45. "I selected the tunes ... the only input I had with the arrangements was our discussion of some of the harmonies--not necessarily how we would voice them but just what changes we would use at certain points. I made suggestions; he was always open to suggestions. He was incredible as an orchestrator and a harmonizer." Evans then orchestrated and arranged the music for singer Astrud Gilberto's 1965 Verve album Look to the Rainbow. In 1968 Evans appeared as an arranger on Miles Davis's album Filles de Kilimanjaro.
In 1971 Evans recorded his album Ampex (his work from 1969 and 1971 also appears on the Enja LP Blues in Orbit). Though Ampex featured acoustic and electric piano, earlier that year Evans had begun to incorporate the synthesizer into his live performances. Around this same time, he too explored the music of Jimi Hendrix, whom he had met in the studio while mixing the Ampex album. In Jazz Journal International, Evans told Robert Palmer how Hendrix "was a really good guitar player ... innovative ... [and] a bright spirit." Though Evans planned to record with Hendrix after the guitarist's return from England in 1970, the project came to an end with Hendix's death in the fall of that year. In 1974 Evans's orchestra played a Carnegie Hall concert dedicated to Hendrix's music and later that year paid tribute to the guitarist with the 1974 album There Comes a Time: The Music of Jimi Hendrix (re-released in 1988).
After recording his 1973 Atlantic album Svengali, Evans followed up his electronic explorations with the 1977 effort Priestess, featuring a fourteen-piece orchestra which included two tubas and a synthesizer. His 1980 acoustic piano and saxophone duo performance at New York City's Green Street, Lee Konitz and Gil Evans: Anti Heroes, presented Konitz's saxophone and Evans's sparse yet haunting piano style in brilliant dialogue. In 1983 Evans arranged several pieces for Davis's Star People album, and toured Japan with his orchestra on a double bill with Davis's group. Three years later, he recorded with saxophonist Steve Lacy and continued to compose and arrange for his orchestra. Evans died of peritonitis on March 20, 1988, in Cuernavaca, Mexico.
Evans's 1996 induction into the American Jazz Hall of Fame and the release of the six-CD box set Miles and Gil Evans: The Complete Columbia Studio Recordings are but a few honors recognizing a man who ranks with the greatest minds of the twentieth century's cultural avant garde. In the liner notes to Anti Heroes Lee Konitz stated, "Gil was not a composer in the usual sense of the word. He was not a piano player in the usual sense, either. In fact, Gil was not your usual kind of man. He was a poet all the way from morning till night."
Selective Works:
-Gil Evans & Ten, Prestige, 1957.
-New Bottle, Old Wine, 1958.
-Out of the Cool, Impulse, 1960.
-The Individualism of Gil Evans, Verve.
-Blues in Orbit, (1969) reissued on Enja, 1985.
-There Comes a Time, The Music of Jimi Hendrix, re-released as The Gil Evans Orchestra Plays the Music of Jimi Hendrix, (1974) reissued on RCA, 1988.
-Svengali, Atlantic, 1973.
-There Comes a Time, RCA, 1975.
-Priestess, 1977.
-Gil Evans, Jazz Masters 23, Verve, 1994.
-Arrangements With Claude Thornhill "Early Autumn," 1947.
-"Donna Lee," 1947.
-With Miles Davis "Boplicity" and "Moon Dreams" for Birth of the Cool, 1949.
-Miles Ahead, Columbia, 1957.
-Porgy and Bess, Columbia, 1958.
-Sketches of Spain, Columbia, 1960.
-Filles de Kilimanjaro, Columbia, 1968.
-Star People, 1983.
-With Others (Gilberto Astrud) Look to the Rainbow, Verve, 1965.
-Masabumi Kikuchi & Gil Evans, (released in Japan), 1972.
-Kenny Burrell, Jazz Masters 45, Verve, 1995.
-Lee Konitz and Gil Evans, Anti Heroes, Verve, 1991.
Read more
Latest headlines