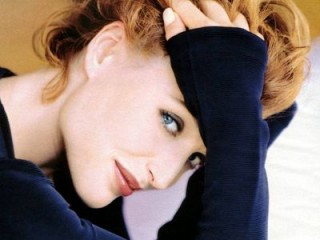 Gillian Anderson biography
Date of birth : 1968-08-09
Date of death : -
Birthplace : Chicago, Illinois, USA
Nationality : American
Category : Arts and Entertainment
Last modified : 2010-08-09
Credited as : Actress X-Files, film director, and screenwriter
Born
Gillian Leigh Anderson
on August 9, 1968 in Chicago, IL, to parents Edward and Rosemary Anderson, Anderson's family moved to Puerto Rico shortly after her birth before settling down in London's North End while she was still a baby. Anderson spent her childhood growing up in London's Stamford Hill and Crouch End neighborhoods while her father studied film production at the London School of Film Technique. As Anderson approached her teen years, her family returned to the U.S, settling down in the radically different Grand Rapids, MI, where her father took up work running a film post-production company, while her mother worked as a computer analyst. While attending City High School in Grand Rapids, Anderson's interest in acting was sparked when she auditioned for a community play. Though her prior interests had been marine biology and science, Anderson's childhood transition from England to the U.S. – combined with her dramatic personality – only helped bolster her acting ability. Performing a scene from "Romeo and Juliet" at the age of 14, Anderson began to display a natural talent for acting.
Best known for her award-winning role as Agent Scully on
The X-Files
, Gillian Anderson is a talented actress and activist. She's done much stage work, in addition to her TV and movie roles, and was voted 1996's "Sexiest Woman in the World" by FHM magazine. Gillian desperately hopes to one-day cease being the object of affection for so many shut-in, sci-fanatics, still clinging to the desperate memory of the show. Amongst the charitable causes which now occupy much of her time, Gillian focuses on work for PETA, Neurofibromatosis, Inc., and various South African aid organizations.
Since The X-Files ended, Gillian has relocated to England. She performs on stage there, and continues to do film and television. Most of her current projects are UK based. Gillian devotes time to a number of charitable causes, including PETA, Artists for a New South Africa, Action for Southern Africa, and the Neurofibromatosis Association. She has also been through a slew of relationships, many of them featuring unconventional wedding ceremonies. In 1994, Gillian married Clyde Klotz, an X-Files assistant art director, in a Buddist ceremony on a Hawaiian golf course. This relationship lasted several years. In 2004, Gillian married Julian Ozanne, a documentary filmmaker, on an island off the coast of Kenya. The couple separated 16 months later. Gillian has just had a son with new boyfriend, Mark Griffiths. How they cemented their relationship is not known, but most certainly was eccentric and laced with international flair.
Upon graduating from high school in 1986, Anderson went on to study acting at DePaul University's Goodman Theater in Chicago. After her freshman year at the university, Anderson was invited to attend a summer workshop in Ithaca, NY, run by the National Theatre of Great Britain. She went on to earn her Bachelor's degree in Fine Arts from DePaul and headed to New York to pursue a career in acting. Landing her first break shortly after arriving in the Big Apple, Anderson was cast in the off-Broadway play, "Absent Friends." Though fairly new to the New York stage, she quickly garnered attention for her performance and was honored with a Theater World Award in 1991. Anderson went on to appear in a New Haven, CT production of "The Philanthropist" and made her feature film debut in "The Turning" (1992).
Relocating to Los Angeles, Anderson began to audition for television roles, a form of acting she had previously been opposed to pursuing until work became scarce. She made her television debut in an episode of the short-lived collegiate drama, "Class of 96" (FOX, 1993). That same year, Anderson auditioned for the role of Special Agent Dana Scully on the Fox sci-fi series, "The X-Files." Though she impressed series creator Chris Carter, Fox executives wanted an actress with more "va-va-voom" sex appeal for the lead role. Backed by Carter – who was most impressed with the young actress' convincing read of drawn out medical and scientific dialogue – Anderson landed the role and quickly relocated to Vancouver, B.C. to shoot the pilot. On set, Anderson met and began dating assistant art director Clyde Klotz; the pair later wed in Hawaii on New Year's Day of 1994. Soon, Anderson fearfully broke the news to her series co-workers that she had become pregnant. Not wanting to recast Anderson's character during the second season, the ever-loyal Carter created an alien abduction storyline that allowed Anderson a short maternity leave and consequently, the deepening of the story and the bond between Scully and her partner, Agent Fox Mulder (David Duchovny). The real-life birth was a blessing in disguise, as it allowed the writers to go crazy with the Scully's abduction, sending Mulder into a tailspin, which resonated with fans. Trooper that she was, Anderson gave birth to daughter Piper on Sept. 25, 1994 and returned to the set only 10 days later. Fortunately, the majority of her scenes took place in a hospital bed, where she spent most of her time between takes, sleeping.
Immensely popular with fans – called X-philes – and equally well-received by critics – the conspiracy series put Anderson and her equally sexy co-star Duchovny in the bright spotlight. Though Duchovny was the bigger name at the onset of the show, the relative nobody that was Anderson soon began growing equally important, both in terms of plot and in fan popularity – particularly with the nerdy male set, who adopted her as their intellectual dream girl. The couple's weekly adventures trying to find the "truth" that was "out there" and the matter of just when the sexually-charged agents would eventually hook up ("never!" – according to Carter) became the water cooler topics du jour. When the two actors posed naked in bed together on the cover of a mid-90s issue of Rolling Stone magazine, fans and critics were atwitter over its suggestive implications.
Apart from the rabid fan devotion, critics took notice of the show and its impact as well. Anderson's deft performance of Scully earned her numerous award nominations and landed her the Emmy and Golden Globe awards for Outstanding Performance by an Actress in a TV Series, in 1997 as well as the 1996 and 1997 Screen Actors Guild Awards for Outstanding Performance by a Female Actor in a Drama Series. The TV show was such a cultural phenomenon by the late nineties, that a feature film was made, taking off where that year's season finale had just left off. At the time, it was unheard of for a TV show to not only move its storyline to the big screen while still part of a primetime line-up, but to resume said storyline instead of offering a stand-alone feature for the unfamiliar filmgoer. Despite all potential strikes against it, the faithful and the as- yet-uninitiated turned out en masse, making "The X-Files: Fight the Future" (1998) a success at the box office and big enough to warrant a cover of Newsweek. That same year, Anderson branched out from Scully by appearing against type as a vintage biker-alcoholic in the Sharon Stone film, "The Mighty" (1998), as well as a love-weary woman in "Playing by Heart" (1998), opposite Angelina Jolie, Sean Connery and Jon Stewart.
Due in part to his new marriage to LA-based actress Tea Leoni, Duchovny became increasingly restless and vocal about moving the show from Vancouver back to the States to be closer to his wife. After Duchovny got his wish – as well as the opportunity to direct an episode of the show – he left "The X-Files" in 2000 due to a contract dispute, throwing fans of the obsessive agent and the actor himself into a tizzy. Much was then expected of Anderson, who was teamed up with actor Robert Patrick as Agent John Doggett in her quest to find Mulder – who was never written out of the show completely by Carter, in the hopes that Duchovny would return at some point. With his departure, Anderson became the star of the series. Going behind the camera that same year, Anderson also became the first woman to write and direct an episode of the series, entitled "All Things." Though ratings went down following Duchovny's exit – due mostly to the fact that the pull of the show had always been the couple's journey together; not separately – the loyal fans continued to tune in.
Landing her first starring role apart from the series, Anderson went on to appear as Lily Bart in the feature film adaptation of Edith Wharton's "The House of Mirth" (2000). Well-received by critics, Anderson's performance earned her the British Independent Film Award for Best Actress. There was even talk of an Oscar nomination, to no avail. But as Anderson relished her success on the big screen apart from Scully, she knew she had to return to the paranormal world of "The X-Files." Realizing the show was winding down, to everyone's relief, Duchovny returned to finish out the series in 2002. After nine years, Anderson and Duchovny left the show together – with their characters finally hooking up – both well aware of their places in pop cultural history.
After finishing the nine year series run, Anderson relocated to London where she returned to her theater roots. She appeared in a West End production of the play, "What the Night is For" in 2003 and starred as Dana Fielding in a 2004 production of "The Sweetest Swing in Baseball." Returning to film, Anderson went on to appear in the Irish film, "The Mighty Celt" (2005) opposite Robert Carlyle and in the Michael Winterbottom comedy, "Tristam Shandy: A Cock and Bull Story" (2005). Apart from a few appearances in tabloid stories – one for suffering a serious fall which required hospitalization, as well as for her failed marriage to her second husband, documentary filmmaker, Julian Ozanne – Anderson appeared to be MIA to American audiences for several years.
However, when Anderson appeared as Lady Dedlock in the BBC production of Charles Dickens' "Bleak House" (2005), she came back in a big way. Her brilliant performance earned her Emmy and Golden Globe nominations and landed her the Broadcasting Press Guild Award for Best Actress. A year later, Anderson starred opposite Forrest Whitaker in the critically acclaimed drama, "The Last King of Scotland," which focused on the life of brutal Ugandan dictator Idi Amin – a film which received much Oscar buzz. Adding to her rising profile was the reported news that, after several years, Anderson and Duchovny would revive everyone's favorite paranoid FBI agents with yet another big screen foray into the world of "The X-Files" – shooting in Vancouver, starting December 2008 for a summer 2009 release.
EXTRA
* 1991 Appeared in the Off-Broadway production Absent Friends
* 1992 Feature film debut in The Turning
* 1993 Played FBI agent Dana Scully on the FOX paranormal crime drama series, The X-Files
* 1997 Made cameo appearance as a big-haired working-class girl who fights with her boyfriend in Chicago Cab
* 1998 Had supporting role as an eccentric, alcoholic biker chick in The Mighty
* 1998 Offered fine turn as a romantically embittered theater director finding love with architect Jon Stewart in the ensemble film Playing By Heart
* 1998 Reprised Emmy-winning role of Scully for the feature film The X-Files
* 2000 Starred as Lily Bart in Terence Davies film adaptation of The House of Mirth
* 2005 Portrayed Lady Dedlock in the BBC/PBS adaptation of Bleak House ; based on the novel by Charles Dickens; earned BAFTA (2006), Emmy (2006) and Golden Globe (2007) nominations for Best Actress in a Miniseries or Television Movie
* 2006 Featured in A Cock and Bull Story a film version of the novel, Tristram Shandy
* 2006 Played the wife to an English doctor in The Last King of Scotland about Ugandan dictator Idi Amin (Forest Whitaker)
* 2008 Joined an ensemble cast for the comedy How to Lose Friends & Alienate People
* 2008 Reprised role of Agent Scully for The X-Files: I Want to Believe the second feature based on the popular series
* Cast in the pilot episode of The X-Files the same day her last unemployment check arrived
* Got involved in community theater productions while still in high school
* Moved from London, England to Grand Rapids, Michigan at age 11
* Performed the book tape version of Anne Rice s Exit to Eden
Read more
Latest headlines