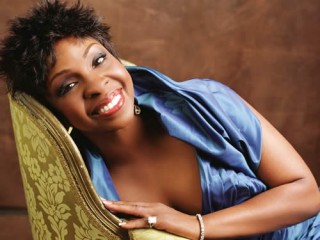 Gladys Knight biography
Date of birth : 1944-05-28
Date of death : -
Birthplace : Atlanta, Georgia, U.S.
Nationality : American
Category : Arts and Entertainment
Last modified : 2011-12-07
Credited as : singer-songwriter, "Empress of Soul", Gladys Knight & the Pips
Gladys Maria Knight (born May 28, 1944), known as the "Empress of Soul", is an American singer-songwriter, actress, businesswoman, humanitarian, and author. She is best known for the hits she recorded during the 1960s and 1970s, for both the Motown and Buddah Records labels, with her group Gladys Knight & the Pips.
Knight was born into a musical career. Her parents were singers in the Wings Over Jordan gospel choir. She began singing gospel music at the Mount Moriah Baptist Church and had her first recital in 1948. Gladys then toured southern churches with the Morris Brown Choir of Atlanta, Georgia from 1950 through 1953, and she also performed in recitals at local churches and schools. By age seven, with her mother's encouragement, Gladys appeared on Ted Mack's "The Original Amateur Hour" in 1952, where she won the first prize of $2,000 for singing Nat King Cole's "Too Young."
In 1952, Gladys entertained her family by singing with ten-year-old brother Merald (known as "Bubba"), sister Brenda, and cousins William and Elenor Guest at Bubba's 10th birthday party. Another cousin, James "Pip" Wood later suggested that they turn professional. He lent the group his nickname to The Pips. They sang at supper clubs during the week and at church on Sundays.
Gladys Knight and the Pips toured nationally with Jackie Wilson and Sam Cooke before Gladys was 13, but their 1957 recording debut with Brunswick went nowhere. By then, the group expanded to include cousins Edward Patten and Langston George along with Gladys, Bubba and William Guest; Brenda Knight and Guest had left the group to be married. In 1960, the group produced their first Rhythm and Blues (R&B) Top-20 hit in 1961 with a version of Johnny Otis's "Every Beat of My Heart," which attracted national attention and moved to number six on the R&B charts in July of 1961.
George Langston retired from the group in the early 1960s after two more singles, including "Letter Full of Tears," a top 20 hit in 1962. The group faltered somewhat in the early 1960s, as Gladys had two children and the Pips recorded as back up singers in the studio. When Langston left the group, it became a quartet -- Gladys Knight and the Pips. Gladys had periodically left the group, but firmly rejoined them in 1964.
Once reunited as a quartet, the group was known mostly to R&B fans, with little connection to a mass audience until the mid-sixties. Although the group signed a long-term deal with Fury Records, thus solidifying their R&B credentials, their success halted when they switched to the Maxx label in 1964.
The group's breakthrough began tentatively in 1966, when Gladys Knight and the Pips signed to Motown's subsidiary, Soul. They were teamed with producer/songwriter Norman Whitfield. Knight's grainy alto vocals left them slightly out of the mainstream at first. By December of 1967, however, the group released their major hit single, "I Heard It Through the Grapevine," which became a Motown standard, reaching number two on the Billboard charts, where it remained for three weeks. The song remains a classic to date. Numerous hits followed successfully including, "The Nitty Gritty" (1968), "Friendship Train" (1969), and "If I Were Your Woman," which became one of the label's biggest selling releases in 1970.
Also in 1970, Gladys Knight used her influence to help the Jackson 5 become discovered. Knight wrote to label owner Berry Gordy suggesting that he check out the group, however, credit for the group's discovery is sometimes mistakenly given to Diana Ross.
In the early 1970s, Gladys Knight and the Pips moved slowly toward a middle-of-the-road harmony which contributed to their success in 1972 with "Neither One of Us (Wants to Be the First to Say Goodbye)." By 1973, the group left Motown and signed with Buddah records, just as the Weatherly-penned "Neither One of Us (Wants to Be the First to Say Goodbye)" was climbing the charts. It became the number two hit in March 1973. The group attributed their label switch to a lack of support from Motown after its relocation of operations from Detroit to Hollywood. At Buddah, Knight and the Pips met with seemingly instant success and popularity. Their first album released with Buddah was Imagination, their biggest selling album to date. Not only did the album go gold, but it also produced three gold singles, "Midnight Train to Georgia"; "I've Got To Use My Imagination"; and "Best Thing That Ever Happened to Me." Although contracted with Buddah, Motown continued to release albums by Gladys Knight and the Pips, for which the group claims they never received royalties. This includes the single "Neither One of Us."
Also in 1974 the group performed on Curtis Mayfield's soundtrack for the film Claudine, which included the hit single, "On and On." The following year, the title track of I Feel A Song yielded yet another number one soul hit. The group successfully continued singing with a smoother approach, as evidenced by "The Way We Were/Try to Remember," which became the centerpiece for their Second Anniversary album in 1975. During this same year, the group hosted their own American television series and, the following year, Gladys made her acting debut in Pipedreams, for which the group recorded a soundtrack. The subject of this film involved love among the Alaskan oil pipelines.
Despite the group's growing success, legal problems ensued for the remainder of the decade as a result of their attempted label switch to Columbia, coupled with a previous unsettled suit by Motown. Because of these legal proceedings, Gladys was not allowed to record with the Pips for three years--though they sang together live. During this time, Gladys recorded a solo album and the Pips released two albums on Casablanca. Because of their inability to record together, the group's popularity waned. An out of court settlement in 1980, however, resulted in a new contract for Knight and the Pips through 1985. Once reunited on Columbia, the group rapidly regained their former status with All About Love and the R&B hit, "Landlord," produced by one of the most enduring songwriting teams, Ashford and Simpson.
In November of 1982, the group performed with a variety of musicians at the first Jamaican World Music Festival in Montego Bay. Following this, Gladys recorded the Grammy award winning gold single "That's What Friends Are For" with Dionne Warwick and Elton John in support of AIDS in 1986. The album Visions also produced a hit single, "Save the Overtime" and subsequent releases alternated between R&B and middle of the road tunes, where Knight's group demonstrated their ability in each genre. In 1988, the title cut of the group's Love Overboard album became their biggest selling single in decades. This song earned them a Grammy award in early 1989 for the Best R&B Performance.
Following the release of "Love Overboard" and its Grammy recognition, Knight and the Pips broke up to pursue different career paths. Bubba had always handled the business affairs of the Pips in addition to being a musician with the group. He served as road manager for Knight. She had her first hit as a solo act in the United Kingdom top ten hit with the James Bond theme song, "License to Kill."
Knight first performed without the Pips at Constitution Hall on November 8, 1989, with newcomer David Peaston, and the pair performed incredible duets. The set consisted of popular soul singles of the 1980s and also included songs from Knight's gospel roots. Knight then released an album in late 1991, Good Woman, featuring guest stars Patti LaBelle and Dionne Warwick. This recording proved Knight and her colleagues still could compete head-to-head with younger female vocalists such as Whitney Houston, Mariah Carey, and Karyn White. Good Woman was consistent, with its major song, "Superwoman" performed by Knight, LaBelle and Warwick. Knight also performed another successful duet with David Peaston entitled "Give Me A Chance." Knight also contributed to writing several songs on the album, including the emotional ballad, "Waiting on You," said to have been inspired by the Persian Gulf War.
Gladys Knight has had as busy a personal life as a professional career. She graduated from Shaw University with honors, was married in the 1960s and had two children, James and Kenya. Eventually divorced, Gladys later married Barry Hankerson in October of 1974; they divorced in 1979. The couple had one son from this marriage, Shanga-Ali.
In 1993, Knight began appearing in the company of Les Brown, well known for his motivational lectures and best-selling book Living Your Dreams. Brown, a highly acclaimed speaker who lectures nationwide and appears on PBS specials, was a divorced, single parent. Brown said in subsequent interviews that in Gladys, he believed he had found his soulmate. Knight said of Brown, "He's my heart," according to an interview with Jet magazine.
Knight eventually wed Brown on August 29, 1995. They divorced in 1997. She and William McDowell, a spa manager whom she had met in 1990, married April 12, 2001.
In a 2003 interview with Jet, she addressed her latter marriages, saying that her marriage to Brown, "made me realize what kind of man I didn't want. It really was a lesson. I don't regret it. I don't regret any decisions I've made in my life." Knight says that although she and McDowell have a considerable age different, she is very happy. "He is everything I've prayed for. I knew what I need in a relationship this time. I finally grew up." Although he once worked as a spa administrator, he is know involved in Knight's business concerns and sells real estate.
Alhough pressured in the past to perform certain types of music to cater to audiences, Knight said she refused to worry about that or about competing for chart placement for this recording. In her opinion following those dictates suppresses creativity. With this album, Knight celebrated her 40th anniversary in show business. She says the title refers to those people for whom she performs--family members and fans who have always been there, as well as her latest fans. In addition to her career as a vocalist and songwriter, Knight continued to prove successful as an actress. She had a recurring role as Natalie, a nightclub owner, on the television series New York Undercover.
Knight has been continually involved in a number of successful business ventures outside of her music career. This includes a period as spokeswoman for Aunt Jemima pancake products, for which she was roundly criticized. In response, Knight said she lends her celebrity to the product because she values the products, not the money derived from advertising. As a example, Knight said she refused to perform in South Africa during the height of apartheid. The fee would have been four times the amount of money she made from Aunt Jemima commercials.
Some of Knight's other ventures included joining her daughter Kenya Love in 1995 to open "Kenya's Gourmet Bakery" in Las Vegas. She was instrumental in the opening of Gladys Knight and Ron Winan's Chicken & Waffles, the Atlanta-based fast-casual restaurant chain she founded in 1997. Among her other business ventures has been the launching of Many Different Roads, a recording label founded by Knight. The label is reportedly open to artists of any genre, so long as they don't use profanity.
Another important cause to which she lends her celebrity is diabetes awareness. She established the American Diabetes Association Elizabeth Knight Fund, named for her mother who died from complications from the disease in 1998, to raise funds for the non-profit organization. She also frequently speaks on the topic at seminars and published a cookbook designed with dietary issues, including diabetes, in mind.
In May of 1995, Knight received the Whitney M. Young Award from John Mack, president of the Los Angeles Urban League. John Mack said that Knight is "... a very caring, decent human being. Gladys is a superstar off stage and on. She hasn't forgotten from whence she came," according to Jet. The 22nd annual black tie dinner commemorating this event was held at the Century Plaza Hotel and raised nearly $700,000 for numerous employment and educational programs supported by the Urban League.
The crowning glory of Knight's incredible achievements thus far occured in 1996, when she was inducted into the Rock and Roll Hall of Fame--an honor some contended was long overdue after 48 years as an entertainer. Knight and the Pips were inducted by popular vocalist Mariah Carey, who recalled "sneaking a radio under the bed covers to listen to a singer as real as it gets. All she has to do is stand there and sing and she'll blow you away," according to the Washington Post. By 1996, even though Knight felt that the music industry and radio stations ignore veteran recording stars in favor of contemporary, younger singers, she continued to have a large following who admired her music and treasure her songs.
Knight has maintained a close relationship with her adult children. Jimmy Newman, Knight's son and long-time manager, died in his sleep in 1996; Kenya, her daughter became Knight's manager after Newman's death; her youngest son, Shanga-Ali Hankerson, is head of operations for Gladys Knight and Ron Winan's Chicken & Waffles, the Atlanta-based fast-casual restaurant chain Knight founded in 1997. She also has 11 grandchildren, at least one of whom has performed with her.
After her divorce from Brown in 1997, Knight converted to the Mormon religion. She has been very active and visible in church functions and is very vocal about her religious beliefs. She, for example, credits her faith as well as her family with helping support her after Jimmy's death.
She continued to perform on stage and record. At Last was released in 2001. At the time, it had been six years since her last recording apart from a gospel album. She produced the alnum with the assistance of her then 16-year-old grandson, Rishawn Newman. The album won a Grammy for Best Traditional R&B Vocal Album in 2001.
She signed a contract to perform at the Flamingo Las Vegas after the success of that album. Knight said the fit was perfect, especially she has been based in Las Vegas for many years. "I was looking for the perfect engagement to allow myself the chance to travel less, and this couldn't have come at a better time," she told Jet. "I ... am blessed that the Flamingo Las Vegas has given me this golden opportunity." The show, which featured her own hits as well as other Motown classics, became one of the top drawing shows on the strip and her contract was extended four years beginning in 2003.
What's more, Knight shows absolutely no signs of slowing down. She remained active in her career and her businesses, in her church life, in her community, and in her family and personal life.
Selected discography:
"I Heard It Through the Grapevine," Motown, 1967.
"Neither One of Us (Wants to be the First to Say Goodbye)," Motown, 1973.
- Imagination Buddah, 1973.
- I Feel a Song Buddah, 1975.
-About Love Columbia, 1980.
-Visions Columbia, 1983.
-All Our Love MCA, 1988.
-Soul Survivors: The Best of Gladys Knight & the Pips (compilation), Rhino, 1990.
-Good Woman Universal, 1991.
-Just for You MCA, 1994.
-Midnight Train to Georgia (compilation), BMG Special, 1997.
-Many Different Roads Many Roads, 1998.
-Soulfully Yours (compilation), Hallmark, 1999.
-At Last MCA, 2000.
-The Early Times of Gladys Knight & the Pips (compilation), Orpheus, 2002.
-Platinum & Gold Collection (compilation), Buddha, 2003.
Read more
Latest headlines