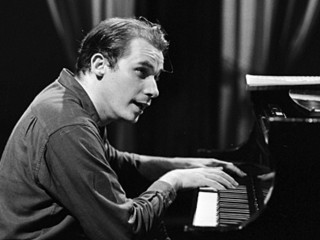 Glenn Gould biography
Date of birth : 1932-09-25
Date of death : 1982-10-04
Birthplace : Toronto, Ontario, Canada
Nationality : Canadian
Category : Famous Figures
Last modified : 2011-11-17
Credited as : Pianist, Johann Sebastian Bach, "The Prospects of Recording"
Glenn Herbert Gould was a Canadian pianist who became one of the best-known and most celebrated classical pianists of the 20th century. He was particularly renowned as an interpreter of the keyboard music of Johann Sebastian Bach. His playing was distinguished by remarkable technical proficiency and capacity to articulate the polyphonic texture of Bach's music.
When pianist Glenn Gould died in October of 1982, he left behind a legacy of recordings, television and radio programs, interviews, and articles in which he offered opinions and interpretations that continue to exert a profound influence on contemporary music. He was a complex figure and a mass of contradictions: a recluse who made himself, through the media, extraordinarily accessible; a man greatly sensitive to the cold who had a fascination with the Canadian Arctic; a romantic who dismissed most of the music of the romantic 19th century and whose playing displayed a notable lack of sentiment. Yet there was a consistency beneath the contradictions. In 1962, two years before he stopped performing in order to devote himself solely to recording, Gould contributed an article to Musical America, called "Let's Ban Applause!," in which he made a statement that came to represent his view of life for the next 20 years: "The purpose of art is not the release of a momentary ejection of adrenaline but is, rather, the gradual, lifelong construction of a state of wonder and serenity."
Glenn Herbert Gould was born on September 25, 1932, the only son of Russell Herbert Gould, a Toronto furrier, and Florence Greig Gould. His mother claimed to be a descendant of Norwegian composer Edvard Grieg. Both parents were amateur musicians, and the young Gould displayed his own musical abilities at an early age. His mother taught him piano until he was ten; he then enrolled at the Toronto Conservatory of Music (now the Royal Conservatory of Music), studying piano with Alberto Guerrero. He attended the Williamson Road Public School until 1945, later advancing to Malvern Collegiate Institute, a public high school.
Gould's formal debut was not as a pianist but as an organist, at Toronto's Eaton Auditorium on December 12, 1945. On May 8, 1946, he gave his premiere performance as a pianist, playing the first movement of Beethoven's fourth piano concerto with the Toronto Conservatory Symphony Orchestra at Toronto's Massey Hall. That year he also received an associate diploma from the Toronto Conservatory.
In 1951 Gould left Malvern Collegiate without receiving his diploma; he stopped studying with Guerrero in 1952. By this time he was performing throughout Canada, establishing a reputation as one of the country's most promising musicians. On January 2, 1955, Gould made his U.S. debut at the Phillips Gallery in Washington, D.C.; a week later he appeared at New York City's Town Hall. His programs at that time were characterized by a taste for intellectually rigorous music and a conspicuous absence of the 19th-century staples that dominate the repertory of most pianists.
The day after the New York recital Gould was offered a recording contract with Columbia Records--unprecedented considering he had mounted only a single performance in New York City. His first recording, of Bach's Goldberg Variations, was released in 1956 and became a best-seller. Gould was on his way to becoming a celebrity, known not only for his piano playing but also for his eccentricities: He sang and conducted himself as he played, sat in a low chair that put him at about shoulder level with the keyboard, carried a suitcase of pills for various ailments, soaked his hands in hot water before concerts, kept bottled water at his side, and wore wool sweaters under his tuxedo vest to ward off the cold of drafty concert halls.
Although his reputation continued to grow in the 1960s, Gould became increasingly uncomfortable as a concert performer. "At live concerts I feel demeaned, like a vaudevillian," he told Holiday magazine in 1964, as was recalled by Tim Page in his introduction to The Glenn Gould Reader. On April 10th of that year he gave his last public performance. His withdrawal from concert life shocked both critics and the public, who felt he was turning his back on them at the height of his fame. But Gould had been planning to leave for years and had been telling reporters as much since the 1950s. He had his reasons. The most notorious of these was a belief that the live concert would cease to exist by the year 1999 and would be replaced exclusively by recordings. He felt that a piece of music could neither be played nor appreciated as well in a concert hall as it could via recording in one's living room. Moreover, as he wrote in "The Prospects of Recording," a piece he penned for High Fidelity, "In the course of a lifetime spent in the recording studio [the performer] will necessarily encounter a wider range of repertoire than could possibly be his lot in the concert hall." And in establishing what was perhaps most significant to him, Gould concluded that recording "enables the performer to establish a contact with a work which is very much like that of the composer's own relation to it. It permits him to encounter a particular piece of music and to analyze and dissect it in a most thorough way, to make it a vital part of his life for a relatively brief period, and then to pass on to some other challenge and to the satisfaction of some other curiosity."
Gould put these ideas into practice for the next 18 years, making over 80 recordings in which he engaged in what he called "creative cheating," where multiple "takes"--different recorded versions of the same material--were recorded, the most appropriate of these spliced together to create the perfect whole. He compared this process to the making of films, where scenes are frequently shot out of sequence and then pieced together in the editing room. Gould even imagined a time in the future when the home listener could obtain an editing kit by which his or her own ideal performance could be produced by splicing together, say, one orchestra playing the first movement of a symphony, another playing the second movement, and so on.
In a 1982 interview, reprinted in Piano Quarterly, Gould told music critic Tim Page, "All the music that really interests me--not just some of it, all of it--is contrapuntal music"--music in which individual musical lines overlap. Gould's recordings displayed his facility for playing such music with remarkable clarity and accuracy. His interpretations were often controversial because he approached each piece of music from a fresh point of view, refusing to concern himself with how the piece "should" be played or with what other performers had done in the past. "If there's any excuse at all for making a record, it's to do it differently," he remarked in a 1968 interview captured on Volume 1 of The Glenn Gould Legacy, "to approach the work from a totally recreative point of view ... to perform this particular work as it has never been heard before. And if one can't do that, I would say, abandon it, forget about it, move on to something else."
Gould participated in dozens of radio and television broadcasts, mostly for the Canadian Broadcasting Corporation (CBC). Perhaps his most important undertaking for these media was the Solitude Trilogy, a series of three docudramas he wrote and produced for CBC radio: "The Idea of North," "The Latecomers," and "Quiet in the Land." Each of these explored the concept of isolation in various forms, the participants' comments often overlapping to create a kind of counterpoint.
In addition to his roles as pianist and media figure, Gould was also a composer and writer. He wrote articles and essays throughout his life that developed his ideas about musical interpretation and analysis, the recording industry, and the electronic media, many of which were published in North American periodicals. Gould wrote a string quartet in his youth; his 1964 So You Want to Write a Fugue? is a humorous piece for voices and instruments. He was also involved in creating music for films, including Slaughterhouse Five, in 1972, and The Wars, in 1982. Toward the end of his life Gould became interested in conducting; three months before his death he conducted members of the Toronto Symphony Orchestra in a recording of Wagner's Siegfried Idyll.
Gould allowed observers to believe that his reclusive, highly controlled lifestyle was a reflection of his attempt to construct the "state of wonder and serenity" that was his ideal. In reality, his reclusive habits were most likely due more to Gould's high-strung and extremely sensitive temperament. Nonetheless, one can reason that by avoiding the distractions of the outside world, Gould was able to explore music and ideas in a way that would have been otherwise impossible. When listening to Gould's recordings, the listener can't help but feel that he or she is in the presence, so to speak, of a highly original and utterly intelligent musical mind. As Nicholas Spice wrote in the London Review of Books in 1992, "[Gould] delivers the music to us as someone might place in our hands a fragile and priceless object which he loved beyond anything else."
Also composed scores for films, including Slaughterhouse Five, 1972, and The Wars, 1982.
Selective Works:
-On CBS/Sony, except where noted Bach, Goldberg Variations 1956.
-Beethoven, Sonata No. 30 in E Major, Op. 109 1956.
-Berg, Sonata, Op. 1 1959.
-Krenek, Sonata No. 3, Op. 92, No. 4 1959.
-Schoenberg, Three Piano Pieces, Op. 11 1959.
-String Quartet, Op. 1 1960.
-Brahms, Intermezzi: Op. 76, Nos. 6 and 7; Op. 116, No. 4; Op. 117, Nos. 1-3; Op. 118, Nos. 1, 2, and 6; Op. 119, No. 1 1961.
-Schoenberg, Five Piano Pieces, Op. 23 1966.
-Schoenberg, Piano Pieces, Op. 33a and b 1966.
-Scriabin, Sonata No. 3 in F-sharp minor, Op. 23 1969.
-Byrd, A Voluntary; Sixth Pavan and Galliard; First Pavan and Galliard; Hughe Aston's -Ground; Sellinger's Round; Gibbons Orlando.
-Lord of Salisbury Pavan and Galliard; Allemand, or Italian Ground; Fantasy in C Major 1971.
-The Idea of North CBC Learning Systems, 1971.
-The Latecomers CBC Learning Systems, 1971.
-Hindemith, Sonata No. 3 in B-flat Major 1973.
-A Glenn Gould Fantasy 1980.
-So You Want to Write a Fugue? 1980.
-Haydn, Selected Sonatas 1982.
-Bach, Goldberg Variations 1982.
-The Glenn Gould Legacy Volume 1, 1984; Volume 2, 1985 Volume 3, 1986; Volume 4, 1986.
-Glenn Gould the Composer 1992.
-The Art of Glenn Gould 1992.
-The Glenn Gould Edition 1992.
Gould won four Grammy Awards:
1974 – Grammy Award for Best Album Notes – Classical: Glenn Gould (notes writer), for Hindemith: Sonatas for Piano (Complete) performed by Glenn Gould;
1983 – Grammy Award for Best Classical Album: Samuel H. Carter (producer) & Glenn Gould, for Bach: The Goldberg Variations;
1983 – Grammy Award for Best Instrumental Soloist Performance (without orchestra), for Bach: The Goldberg Variations;
1984 – Grammy Award for Best Instrumental Soloist Performance (without orchestra), for Beethoven: Piano Sonatas Nos. 12 & 13.
Read more
Latest headlines