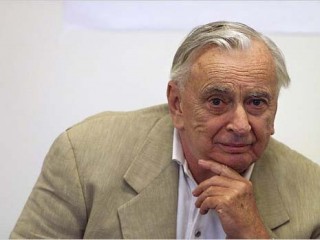 Gore Vidal biography
Date of birth : 1925-10-03
Date of death : -
Birthplace : West Point, New York, U.S.
Nationality : American
Category : Arts and Entertainment
Last modified : 2010-08-27
Credited as : Author and playwright, essayist and screenwriter, political activist
"Sidelights"
In a career that has spanned much of the twentieth century,
Eugene Luther Gore Vidal
has become one of America's literary giants. Familiar to the general public as a witty and wicked talk show guest, two-time political candidate, and creator of the outrageous fictional character Myra Breckinridge, Vidal has written numerous novels, plays, screenplays, essays, and reviews. Called "one of the more alert and favoured writers of our time" by a critic in the London Observer, Vidal remained the subject of critical and media attention for much of his career, particularly during and after the 1960s. His work is noted for its eloquence, intelligence, urbane humor, and biting satire, as well as for its attacks on cultural and political sacred cows. "Vidal's novels, plays, and essays can be divided roughly into three areas of animosity," explained Time correspondent R.Z. Sheppard. "The first is the author's belief that Western civilization erred, when it abandoned pagan humanism for the stern, heterosexual authority of the Judeo-Christian patriarchy. ... The second area that draws Vidal's scorn is American politics, which he dramatizes as a circus of opportunism and hypocrisy." For the third area, Vidal's "most freewheeling disdain is directed at popular culture, macho sexuality and social pretensions."
Vidal's writings run the gamut from historical fiction to autobiographical essays to political commentary, and his styles range from witty and cultured to sarcastic and acidic. "Vidal is a difficult writer to categorize because he is a man of several voices," wrote Robert F. Kiernan in his book Gore Vidal. "He has brooded over ancient empires in several novels, as though he were possessed by the spirit of Gibbon, yet he has also written about the American crise de virilite and managed to sound a good deal like Hemingway. He has sent young Americans in search of old Europe, as a dutiful son of Henry James, but he has also written novels about the American political system and acknowledged a debt to Henry Adams. In his essays he often seems like Lord Macaulay, magisterial and urbane, while in the Breckinridge novels he evokes Ronald Firbank, irrepressible and playful." In the Nation, Patrick Smith observed: "Vidal has given us many gifts. His gathered essays are nonpareil in postwar American letters. With Julian, published in 1964, he began to exploit the historical novel to an extent no one I can think of approaches. ... In the land of Updike and Jane Smiley, one does not stray ... far from the nineteenth century without risking opprobrium. Some of Vidal's risks--too many, one could argue--have not come good. Praise be to him, though, for all the leaps he has attempted. In no artist's work can the failures be subtracted from the triumphs."
Greatly influenced by his maternal grandfather, Oklahoma senator Thomas P. Gore, Vidal developed a life long passion for politics. "I do nothing but think about my country," he once noted in a Time article. "The United States is my theme, and all that dwell in it." His interest has taken a variety of forms outside his writing. He has twice run for political office--for the U.S. House of Representatives in 1960 and the U.S. Senate in 1982--originated the idea for the Peace Corps, campaigned for presidential candidate Eugene McCarthy in 1968, and served as an organizer and secretary-of-state designate for the ultraliberal People's Party. He also became quite well known as a political commentator and journalist. "The only thing I've ever really wanted in my life was to be President," he told a Time writer. His interest in the U.S. political system, as well as his intimate knowledge of politicians and powerbrokers, has informed many of Vidal's works, such as his political plays, The Best Man: A Play of Politics, Weekend, and An Evening with Richard Nixon, and his celebrated historical novels, Washington, D.C., Burr, 1876, Lincoln, Empire, Hollywood, and The Golden Age.
Vidal sees himself as a "correctionist," a word he has used to describe his political views many times since his 1960 congressional campaign. In his essay "Writing Plays for Television," reprinted in Homage to Daniel Shays, Vidal wrote: "I am at heart a propagandist, a tremendous hater, a tiresome nag, complacently positive that there is no human problem which could not be solved if people would simply do as I advise." Nothing is too large or small for his attention; at one moment he will rail against the U.S. military-industrial complex and the Chase Manhattan Bank; later he is outlining a plan to curb the earth's burgeoning population. "His tone is that of the seer scorned; yet he can hardly claim to be the prophet ignored," commented a Time writer. "For thirty years he has been a cinder in the public eye."
With the publication of Williwaw in 1946, Vidal joined the ranks of the literary enfants terribles who dominated the American cultural scene just after World War II. His name was often linked with other post-War prodigies such as Truman Capote, John Horn Burns, James Jones, and--several years later--Norman Mailer. Five years after the release of Williwaw, John W. Aldridge wrote in After the Lost Generation: A Critical Study of the Writers of Two Wars that "Vidal, at twenty-five, occupies an enviable position in American letters. Not only is he the youngest of the group of new writers whose first books began attracting attention right after the war, but he has already produced as large and varied a body of work as many of his contemporaries may be expected to produce comfortably in a lifetime." Although giving Vidal's fourth novel, The Season of Comfort, a lukewarm review in the Saturday Review of Literature, Aldridge remarked that "so far, of the handful of writers who are young enough to qualify as members of a new literary generation, only Gore Vidal has made more than a fledgling attempt to discover the sensibility of the Forties."
Begun while Vidal was recuperating from a bout of rheumatoid arthritis contracted during his U.S. Army Transportation Corps service in the Bering Sea during World War II, Williwaw describes the effect of an Arctic squall--called a "williwaw"--on the crew members of an army transport ship. The plotting is simple, the language concise, and a number of critics applauded Vidal's self-restraint. Aldridge, writing in After the Lost Generation, called Williwaw "a slight and unpretentious book," and Kiernan opined, "that nineteen-year-old Gore Vidal should have been capable of writing Williwaw is astonishing."
Vidal quickly followed up the success of Williwaw with another novel, In a Yellow Wood, published barely a year later. The book, which takes its title from Robert Frost's poem "The Road Not Taken"--"Two roads diverged in a yellow wood / ... I took the one less travelled by / And that has made all the difference"--recounts a day in the life of Robert Holton, a rather dull young clerk at a brokerage house. Holton is a determinedly conventional man and when he again meets his exotic Italian wartime mistress and his happy-go-lucky army buddy, he is disturbed rather than excited by their invitations to experiment with a more fascinating life. He turns down their offers, choosing to continue his boring but safe existence.
The novel shows "a psychological astuteness," noted New York Herald Tribune Weekly Book Review reviewer Stephan Stepanchev, who admired the way Vidal structures the book by reflecting Holton through the eyes of the various people with whom he comes in contact. In a Yellow Wood, Stepanchev continued, demonstrates "that the author has a good eye for metropolitan surfaces and an accurate ear for ordinary speech." Some critics, such as N.L. Rothman in the Saturday Review of Literature, praised In a Yellow Wood for its "controlled naturalism ... concentrated workmanship ... rigid and painstaking selection of details, plus ... [a] delicacy of understatement that reaps its delicacy of overtone." Though the book received favorable reviews at the time of its publication, Vidal himself considers it a failure. Twenty-seven years after its release in 1947, he told a Paris Review interviewer that the novel is doomed to remain "in limbo forever. I can't rewrite it because it's so bad that I can't reread it."
With two fairly successful novels to his credit, Vidal wanted to try something different. "I was bored with playing it safe," he recalled in the foreword to the 1965 revision of his next novel, 1948's The City and the Pillar. "I wanted to take risks, to try something no American had done before." The City and the Pillar immediately appeared on best-seller lists and raised conflicts in the New York publishing world that would reverberate for years. The subject of the novel--homosexuality--was not a topic new to American literature; what was new, however, was the way in which Vidal treats his subject, presenting the novel's young gay protagonist as a perfectly average, athletic, handsome, boy-next-door type. Vidal "wrote what had never been published by a reputable American writer: an unreserved novel about the homosexual demimonde and the 'naturalness' of homosexual relations," observed Kiernan.
While an inquisitive public put The City and the Pillar on the best-seller lists, the more conservative press helped dampen the career of its author. A New York Times contributor gave the book a very negative review, refused to accept any advertising for it, and then either did not review or published extremely harsh reviews of Vidal's next five novels and story collections. (At one point Vidal resorted to publishing a series of mystery novels under the pseudonym Edgar Box in order to get them reviewed.) According to Vidal in his annotation to the revised version of The City and the Pillar, the New York Times review continued "to haunt that book, and all my writing ever since."
Perhaps because of such backlash, the five novels Vidal published after The City and the Pillar were commercial failures. Searching for his authorial voice, Vidal discarded his naturalistic style and experimented with a number of techniques in The Season of Comfort, A Search for the King: A Twelfth-Century Legend, and Dark Green, Bright Red. These books, generally judged to be inferior works, were followed up by The Judgment of Paris and Messiah. Largely ignored at the time of their publications, both have since been recognized as well-crafted novels written in what has become Vidal's mature style. However, critical recognition of these novels came too late to salvage Vidal's flagging career as a novelist. His financial resources dwindling, he embarked instead on what he termed his "five-year plan": he went to Hollywood to write screenplays for films and television, determined to earn enough money to last him the rest of his life.
Television was in its heyday in the mid-1950s when Vidal was writing scripts for such highly acclaimed programs as Philco-Goodyear Playhouse, Studio One, and Omnibus Theater. As a screenwriter for the movies, he made contributions to the scripts of Ben Hur, I Accuse, Suddenly Last Summer, The Catered Affair, The Scapegoat, and The Left-handed Gun, among others. A self-proclaimed "writer for hire," Vidal eventually met his goal of financial independence, although it took him closer to ten years than five.
During his Hollywood years Vidal also began to write plays. His first theater script, Visit to a Small Planet: A Comedy Akin to a Vaudeville, grew out of a television play of the same title. The story of a visitor from another planet who comes to Earth to watch the U.S. Civil War battle at Manassas Junction but instead ends up in mid-twentieth-century Virginia, Visit to a Small Planet had a Broadway run of 338 performances and an extended national and international tour. It was later produced as a motion picture starring Jerry Lewis.
With the success of Visit to a Small Planet, Vidal continued to write plays. "As a playwright, I am a sport, whose only serious interest is the subversion of a society which bores and appalls me," Vidal wrote in an essay about this vocation. The rest of his plays have indeed been attacks on politics, politicians, and what he views as middle-class hypocrisy. A typical example is The Best Man, a political drama concerning two contenders for the presidential nomination and one of Vidal's most successful plays. Produced in 1959 in order to take advantage of the 1960 election fever, The Best Man had a respectable Broadway run and was later adapted into an award-winning film that is still often shown on television.
In 1964 Vidal published Julian, his first novel in ten years and his first historical novel written in the style that became his trademark. Presented as the journal of the eccentric fourth-century Roman emperor Julian, and framed by a commentary in the form of margin notes and letters by two of Julian's aging contemporaries, the novel is full of cutting remarks, catty asides, ribald jokes, fourth-century gossip, and references to the state of the commentators' health, careers, and sexual performance. It is this humorous interjection of the trivial and the personal into an impeccably researched historical novel which has made Vidal famous.
In writing historical fiction "the interpreter is everything," said Dudley Fitts in the New York Times Book Review, and "if, like Gore Vidal in this evocation of Julian the Apostate, he is able to penetrate to depths of human meaning ... his vision may create a design not wholly remote from parable or allegory." Like Fitts, a number of other reviewers also appreciated the fact that Vidal "is attempting something other than the recreation of the past for its own sake," as Walter Allen put it in the New York Review of Books. "While it would be absurd to see the novel as a parable for our time or to look for any close parallels between Julian's situation and our own, it is impossible to escape the conclusion that Vidal intends the book to have some direct relevance to the world today. The brilliance of his portrayal of Julian persuades us that it has." Still, other critics found Vidal's Julian a less than compelling figure. Saturday Review essayist Granville Hicks, for instance, insisted that Julian "doesn't ... really grasp the imagination. Looking at him simply as a character in a novel, one wonders whether he is worth writing about at such great length."
A string of best-selling novels followed. Like Julian, these works combined Vidal's gifts for mimicry and satire, his savage sense of humor, his passion for personal and political intrigue, and his jaundiced view of the ruling classes. "The fact is that Vidal Novelist had an unusually long apprenticeship," maintained Gerald Weale in the Atlantic. "The early books ... are workmanlike enough, but they are curiously flat and undefined, without any of the zest and bitchy vitality Vidal shows in even the most ordinary conversations. But when he did return [from screenwriting] to the novel a decade later in Julian, he brought to it the flavor and energy of his own person. He is still an overly intellectual novelist, but now his subjects are more in keeping with his particular novelistic shtick."
In the New York Times, John Leonard pointed out that Vidal has a tendency to "twin" his novels, following one book sometime later with another one using either the same characters, subject, or milieu. Kiernan observed that " Messiah and Kalki are twin novels about the coming apocalypse, whereas Burr and 1876 are paired novels about American history. Myra Breckinridge and Myron are unmistakable twins, enjoying virtually Siamese attachment. The second novels in these pairs never seem to represent a rethinking or reworking of the material in the first."
Julian's twin is Creation, an epic of the ancient world as told by Cyrus Spitama. Contemptuous of the Greeks and their philosophical concepts, Cyrus is an avid defender of the Zoroastrian doctrine of dualism. Yet he also seeks to confirm his understanding of the world, and in his travels he speaks with the great prophets and philosophers of the East. "As a grandson and the last descendant in the male line of the prophet Zoroaster, Cyrus feels obliged to argue theology, to devise an acceptable theory for the creation of the universe and to account for the existence of evil within it," explained Paul Gray in Time. Though Cyrus often strays from this narrative path, Kanfer considered Cyrus's message about creation to be best revealed through the telling of his life's story, rather than stated explicitly. " Julian was wonderful," affirmed Leonard; "Creation, I am happy to report, is even better."
Creation's allure for many critics lies in its richness of fact and detail. "There isn't a page of Creation that doesn't inform," Leonard praised, "and very few pages that do not delight." Rex Warner, in the Washington Post Book World, also admired Vidal's facile handling of miscellaneous information and called Cyrus "the greatest name-dropper who ever lived." "What Cyrus Spitama is really good at is gossip-writing," noted Warner. "He can tell you of all the intrigues of the Persian court and knows most of the secrets of the harem." For other reviewers, however, Vidal's presentation of the ancient world was unnerving, and his attention to the minutiae of history rather than to its broader scope, tedious. Gray acknowledged the book's shortcomings, but added: "Whatever its flaws, Creation offers a leisurely guided stroll through a complex era. The book is encyclopedic enough to be short on intrinsic pattern; it is also filled with information, oddities and wonder."
After Julian, Vidal turned his eye toward American history, producing the interrelated volumes Washington, D.C., Burr, 1876, Lincoln, Empire, Hollywood, and The Golden Age. The first of these, Washington, D.C., introduces the reader to Vidal's interest in exposing the seamier side of American politics. Peter Ackroyd, writing in the Spectator, called the novel "a lounge-lizard look" at Washington's power structure that is "giddily melodramatic [as well as] soberly historical." Burr is told as the memoirs of American founding father-turned-renegade Aaron Burr, and 1876 is an account of the United States' centennial year. Both are narrated by the character Charles Schemerhorn Schuyler, who first appears as the young, opportunistic illegitimate son of Aaron Burr, and in the second novel is seen forty years later, a jaded expatriate come home to recoup his lost fortunes. These novels are told in the style familiar to readers of Julian and Creation; as Gray remarked, Vidal "can make old facts look like contemporary gossip. And he takes wicked pleasure in turning accepted notions about the past upside down." Reviewing Burr, Christopher Lehmann-Haupt in the New York Times declared: "Vidal gives us an interpretation of our early history that says in effect that all the old verities were never much to begin with. ... And how thoroughly enjoyable is the entire process of disillusionment!"
The novel 1876 also takes demythologizing the American past as its task and, as many critics pointed out, the events recounted in the novel were startlingly similar to those taking place near the time of the book's publication in 1976. Parallels abound: the corrupt Ulysses S. Grant with discredited President Richard Nixon, the Whiskey Ring scandal with Watergate, the Hayes-Tilden presidential race with the election of 1972 and the administration of Gerald Ford. The novel is, according to Paul Levy in Books and Bookmen, "an historical contribution of large importance. ... What Vidal has done by investigating the scandals leading up to the 1876 election and the election itself is to show that nothing much has changed in America's last hundred years."
A major criticism of 1876 has been that, unlike Burr, it lacks a strong central character. Whereas Aaron Burr is extraordinarily compelling--for himself and as the rival and critic of Thomas Jefferson, Alexander Hamilton, and other Revolutionary heroes--1876's protagonist, Charlie Schuyler, is not as interesting, serving merely as a mouthpiece for Vidal's observations. In order to compensate, New Statesman reviewer Philip French maintained, "all of Vidal's considerable craft, wit, political insight, elegance and irony is called into play. Unfortunately some of the material here is intractable and many readers will feel that he has overestimated their potential interest in American history of a century ago."
Lincoln is also concerned with the history of the United States. Released in 1984 with an extraordinary 200,000-copy first printing and preview excerpts in the Atlantic and Gentleman's Quarterly, Lincoln was called "a momentous fictional biography" and a "masterpiece" by Stephen Rubin in the Chicago Tribune Book World. "The intelligence, the wit, the humor, the outrageousness are omnipresent," said the critic. "If Vidal is impatient with novelistic techniques such as transitions, he allows himself the luxury to marvelously plot a true political novel of breadth and rich texture. The pace he sets for himself is a noble andante that gives him the time for a spectacular array of detail work, the element that ultimately makes Lincoln unforgettable."
Set in the late 1890s to early 1900s and covering the rise of American industry, Empire, according to Newsweek contributor David Gates, "reanimates the moribund genre of historical fiction with a few modernist jots--and still stays within the conventions of the Good Read." Gates added that even critics of the novel "won't be able to deny that they've been elegantly entertained." Lehmann-Haupt considered Empire the best of Vidal's series, stating that Vidal tells "a dramatically compelling story without sacrificing either his complex view of American history or his unusual ability to caricature its major players."
Hollywood takes up where Empire leaves off, with America's entrance into World War I, covering the presidencies of Woodrow Wilson and Warren Harding, in addition to the rise of the film industry of Hollywood. "Like the earlier books, the new novel is an imaginative re-creation, a heady mix of fact and fancy, wisdom and nonsense," stated Joel Conarroe in the New York Times Book Review. Conarroe commended Vidal's colorful portrayals of such figures as President Wilson and his wife, Edith, the actors Charlie Chaplin and Douglas Fairbanks, as well as the witty Alice Roosevelt Longworth. David Walton in the Detroit News, however, commented that while "there are a number of effective scenes and sharply rendered lines in this book ... Hollywood is too sprawling, too diffused and uncentered, and in most ways too much concerned with what's behind the scenes ever to establish a consistent foreground."
The Golden Age, Vidal's final installment in the American historical fiction series, revisits some of the same characters and situations that the author pondered in Washington, D.C. A span of thirty-three years separate these two volumes, and the passage of time has altered both Vidal's focus and agenda in the latter title. "Vidal's interest this time is less concentrated on his characters' private vicissitudes," observed Janet Maslin in the New York Times Book Review. "Like Orson Welles, who of course turns up in a heavily name-dropping story that begins in 1939, he is interested in deep focus. So the series' familiar figures ... are integrated into an ambitious historical tableau." As he was a young man at the time of the story--and a first-hand observer of Washington politics--Vidal includes himself as a character too. Beneath the surface banter, however, large issues loom: Roosevelt secretly plots to involve the United States in World War II, Harry S. Truman ushers in the Atomic Age and the cold war, and the military-industrial complex gears up for the Korean War. A Time reviewer declared that The Golden Age "coats its ethical inquiries with plenty of narrative sweeteners: the sweep of history, celebrity walk-ons, conspiracy theories and reams of conversation, much of it witty. ... But the issue of power and who should hold it is never far from the surface."
Popular as Vidal's historical novels have been, the author's greatest coup, according to many critics, has been Myra Breckinridge, a campy, satiric look at modern America. An instant smash, Myra Breckinridge takes potshots at almost everything, from uptight heterosexuality to the burgeoning population, from the New American Novel to 1940s movie stars, and from American youth to the American dream. Above all, Myra Breckinridge is about breaking the barriers of sexuality, a theme in much of Vidal's fiction and nonfiction.
"To say Mr. Vidal's new novel is queer would be an understatement; it is a queer, queer book, a virtuoso exercise in kinkiness, a draught of fizzy hemlock, a strikingly intelligent attempt to go as far as possible in outrageousness," declared John Weightman in the Observer Review. "Literature about sex is so often soggy and embarrassing or clinical and sick-making. Mr. Vidal pitches his narrative in a key of slightly demented funniness, and sustains this note right to the end." Indeed, the irrepressible Myra is an odd character: a homosexual male turned female through a sex change operation, she goes to California to claim her share in a drama academy and to write a book about the films of the 1940s. Teaching empathy and posture at the academy, Myra expounds her views on every possible subject--yet in the end, according to her logic, it all leads back to sex and power. "Myra Breckinridge herself sees all life as a naming of parts, an equating of groins, a pleasing and/or painful forcing of orifices. Which is the essence, after all, of pornography," observed a Times Literary Supplement critic.
While Myra Breckinridge is sexually graphic, most reviewers recognized it as a satire on pornography. Newsweek correspondent Joseph Morgenstern referred to the book as "gleefully dirty, wittily dirty, gracefully and intricately dirty in its creation and development of a genuine film freak." Myron, a sequel to Myra Breckinridge in which Myra returns to her male form and is transported to the set of a 1940s B-movie, was described as "surprisingly colorless and lumpish" by James Boatright in the New Republic.
In 1992, Vidal penned the much-hyped novel Live from Golgotha: The Gospel according to Gore Vidal, a scathingly irreverent examination of the origins and subsequent perversion of Christianity. The novel's protagonist is Timothy, the confidant of Saint Paul, who will become Saint Timothy. Some sixty years after the crucifixion of Jesus Christ, Timothy is visited by the ghost of Saint Paul, who warns him that, in the distant future, a super-sophisticated computer hacker is deleting the Gospels from the files of Heaven and Earth alike, thereby erasing the memories of the faithful. Timothy's task, Paul explains, is to write the last, definitive account of the Gospels and hide it, so that it can be discovered by theologians two thousand years hence.
The problem, we soon discover, is that Timothy's recollections are vastly different from those of the New Testament's Matthew, Mark, Luke, and John: Saint Paul, for example, is depicted as an evangelical huckster and a pederast, and Jesus is a buffoon with a glandular problem. History is further obfuscated by the visitations, in the form of visions, of celebrities and network executives from the twentieth century. Having perfected the technology to both travel and broadcast through time, they plan to broadcast the crucifixion "live" on television, and they ask Timothy to act as emcee. When introduced to television--and, in particular, to CNN--Timothy's memories and accounts become increasingly unreliable, and he calls into question whether it was actually Jesus who died on the cross.
Clearly, with Live from Golgotha Vidal anticipated offending more than a few readers. "Very early on," noted New Statesman reviewer Douglas Kennedy, "Vidal lets it be known that he is gunning for the Rushdie prize for droll blasphemy." Andrew Greeley, writing in the Washington Post Book World, warned that "if Christians viewed blasphemy the way orthodox Moslems do, some Christian version of the Ayatollah might have put out a contract on Vidal." Los Angeles Times Book Review critic John Rechy, moreover, proclaimed: "If God exists and Jesus is His son, then Gore Vidal is going to hell."
Despite the caustic portrayal of Jesus and his followers, Live from Golgotha stirred up surprisingly little controversy. Alfred Kazin, writing in the New Republic, called the novel "nothing but bawdy entertainment for the bathhouse boys" that is "actually no dirtier than anything else these days." Thomas M. Disch opined in the Nation that Vidal's novel is less polemical than such works as Martin Scorcese's The Last Temptation of Christ, because "the Gospel according to Gore Vidal is not to be taken as serious fictional evocation of the (possible) history behind the myths. ... Not even the most naïve reader could approach Live from Golgotha as a serious challenger to the Gospel according to anyone else." "Some readers will find it sacrilegious," admitted New York Times critic Herbert Mitgang. "But it's too funny to be condemned simply as a blasphemous novel." Kennedy, too, found the novel "unapologetically giddy and gloriously excessive," full of "demented energy that you will either find bracing or just plain exasperating." John Calvin Batchelor, writing in Chicago's Tribune Books, claimed that, "despite every Rushdie-like blasphemy he can think of, what [Vidal] achieves is a serious argument about the birth and meaning of Christianity." Commonweal reviewer Irving Malin concurred: "Although Vidal offers a fiendish gospel--a counter-gospel--he must be taken seriously. He is, after all, asking basic epistemological questions. ... I suggest that Vidal's provocative, distasteful novel is, perhaps, one of his most sustained meditations on the nature of things. It will be read for many years."
The Smithsonian Institution also experiments with time travel and unlikely campy pairings between characters from various eras in American history. The novel begins with a secret invitation to a thirteen-year-old mathematical genius named T.--he must go to the Smithsonian Institution after hours. Once inside the museum, T. discovers that the exhibits come to life. The first ladies roam about--one of them seduces T.--and the presidents argue about modern matters. The issue at hand is the onset of World War II, and T. has been recruited by a cartel of scientists who are trying to build a bomb that will kill people but leave buildings intact. Given the knowledge that he will be killed himself in the upcoming war, T. tries to go back in time to change history and avert U.S. involvement in the conflict.
In his New York Times review, Christopher Lehmann-Haupt wrote: "Despite its seeming zaniness, The Smithsonian Institution is appealing in several ways. ... Despite a certain amount of mumbo-jumbo, you come to believe in the novel's world of intersecting realities, where all time collapses into a quantum present and individuals meet different versions of themselves along the space-time continuum." New Criterion contributor Brooke Allen considered the novel one of Vidal's weaker efforts. "Vidal has obviously been dabbling in the work of Stephen Hawking, and his slight, rather goofy plot nearly gets buried under a morass of amateurish scientific speculation on the nature of time and other mysteries," Allen suggested. "Science fiction is not really Vidal's thing, and the reader must simply plod on until the author turns to historical comedy, which he brings off with far more elan." Some critics, including Allen, noted the wealth of insider material based on Vidal's own experiences. A Publishers Weekly reviewer concluded: "If the tale of T. remains a mostly private, somewhat rueful joke, it will no doubt charm Vidal's most devoted readers."
Vidal revisits fiction with Clouds and Eclipses: The Collected Short Stories, an assortment of short fiction that was primarily written and collected in the 1950s, but with the more recent addition of the title work that was previously unpublished. Although many of the stories have homosexual themes, Vidal succeeded in transforming them into more universally accepted formats that allowed readers of any persuasion to identify with the characters on some level. There is an especially pertinent theme in several stories that addresses the idea of public versus private activity, and at what stage a person's behavior ceases to be the business of society or the government. There is also the perception of youth, and the obsession with remaining as young as possible even as one ages--an obsession once associated more with pockets of society that seems to have infected every corner of present day society. John de la Parre, writing for Lambda Book Report, commented of Vidal: "His artistic characterizations shed light on the mysteries behind the powerful interest in one's own lost youth. In examining the early choice between the closet and living honestly, he carved out a space for our current gay creed." Notably, the title story has originally been left out of Vidal's earlier compilation, A Thirsty Evil, due to overt escape from sexual orientation through the taking of own's own life--a story based on Tennessee Williams's youth when he intended to commit suicide rather than face a life of what he knew society perceived as "deviant" sexual behavior. While it is clear why this story was considered inappropriate in the 1950s--in fact, Williams requested it not be published until all of his family members were deceased--its style meshes well with the other offerings in the volume. Brad Hooper, writing for Booklist, opined: "A certain Somerset Maugham urbanity imbues every piece."
In addition to well-reviewed novels, Vidal has also received critical acclaim for his essays and criticism. "It is not that Vidal's essays are better than his novels," explained Gerald Clarke in the Atlantic. "It is rather that his essays are more consistently good and that the qualities that limit him as a novelist are precisely those that a good essayist needs: a forceful intelligence, a cool detachment, an unpretentious, graceful style, and a sense of perspective that distinguishes the big from the little. If most of his fictional characters seem unbelievable, his judgments on real people are both original and irrefutable." Vidal's essays display the same incisive wit and characteristic elan that make him such a popular talk show guest and interview subject; his nonfiction is full of autobiographical asides, personal references to the famous and the infamous, allusions to ancient and modern history.
Dubbing Vidal's essays "the intellectual equivalent of the comics," Joseph Epstein added in a Commentary profile of Vidal: "Intellectual journals are not noted for providing many laughs, but laughter is Gore Vidal's specialty--what he plays for and what he is about. The chief play in a Vidal essay is to point out that the emperor has no clothes and then go a step further and remove the poor man's skin. The spectacle can be most amusing, assuming of course that it is not one's own carcass that is being stripped." According to Robert Plunket in the Advocate, Vidal's "marvelously bitchy commentary makes for delicious company. As he dispenses scandal, insight, and punch lines, all that's missing is the pitcher of martinis. But amid all the dish are some touching nuggets. ... Most of all, one comes away awed by Vidal's career--not just his writing but also the people he has known."
Wit alone has not made Vidal the respected essayist he is; critics have noted that his essays and reviews reveal an erudition and knowledge that is impressive, and an insight that is often remarkable. Simon, reviewing the essay collection Matters of Fact and of Fiction in Esquire, wrote: "I think that Gore Vidal's greatest service to this society could be in the proper packaging of his style and language. I do not see fiction as being his true medium. ... Vidal is an essayist of talent ... [and Matters of Fact and of Fiction] contains some very good pieces, as weighty as anything in Oscar Wilde and easily as witty as the best of Matthew Arnold." In the volumes United States: 1952-1992 and The Last Empire: Essays, 1992-2000, Vidal draws together the best of over four decades of commentary, including literary criticism--he makes no bones about his contempt for the writing of John Updike--politics, and biography. Calling The Last Empire "vintage Vidal," Marvin J. LaHood noted in World Literature Today that "because Vidal's greatest talent may be as an essayist, this longish collection is good reading."
After the terrorist attacks of September 11, 2001, and the U.S. government's War on Terror that followed in its wake, Vidal was not shy in expressing his views on the state of world politics, publishing widely in periodicals ranging from the Nation to the Times Literary Supplement. In the books Perpetual War for Perpetual Peace: How We Got to Be So Hated, Imperial America, and Dreaming War: Blood for Oil and the Cheney-Bush Junta, he collects some of these essays, and thus secures his place as "a prolific preacher against America's imperialist policies," according to a Publishers Weekly reviewer. Perpetual War for Perpetual Peace recalls the U.S. government's assaults on Ruby Ridge, Waco, and Operation Desert Storm while taking a particularly close look at the Oklahoma City bombing because of their retributive quality in light of U.S. aggressions around the world. Vidal's essay "September 11, 2001" is also included; rejected by several U.S. magazines, it posits the idea that the attacks were justified in much the same way Vidal sees the Oklahoma City bombing as justified. The three new essays in Imperial America criticize the Bush administration, demonstrating, according to a Publishers Weekly contributor, that "Vidal's Jeffersonian anti-imperialism is fashionable again with the left wing" on the eve of the 2004 presidential elections. Among other topics, Dreaming War draws parallels between the September 11th attacks and the attack on Pearl Harbor during the presidency of Franklin Roosevelt, and Vidal argues that both Bush now and Roosevelt then knew in advance of the attacks and used these tragedies to fuel their own political ends. "That Vidal is fonder of sermonizing than logical argument, of assertion rather than cold data is no matter," noted a Kirkus Reviews contributor of Dreaming War: "This is trademark Goring and unforgiving: woe to its unfortunate target."
Although many critics inevitably take issue with Vidal's often radical points of view, few challenge the grace and elegance with which he expresses his opinions. "No one else in what he calls 'the land of the tin ear' can combine better sentences into more elegantly sustained demolition derbies than Vidal does in some of his best essays," observed Thomas Mallon in the National Review. McPherson suggested: "Technical virtuosity is what Vidal possesses to an extraordinary degree; and intelligence and erudition, irreverence, and an ability to cut through cant. I used to think of him as the brightest rhinestone around. I've revised my opinion though; he's the genuine article."
In Inventing a Nation: Washington, Adams, Jefferson, Vidal seeks to paint a more accurate picture of the founding fathers of the United States, and the ways in which their lives and issues impacted their achievements. Rather than stressing the political successes of these men and their peers, he considers them as human beings, addressing rivalries, egotistical behavior, and individual ambitions that sometimes forced the fledgling nation's greater good to a lower spot on the agenda. The founding fathers were not all-seeing, all-knowing men who knew exactly what they were doing, with a single great vision for a new country. Rather, they were educated farmers who felt there must be a better alternative than their previous experiences of being ruled under a monarch, and who set out to try to figure out what that alternative might be, taking into account human nature when they drafted out the rules by which they intended to govern the country. A reviewer for Publishers Weekly commented: "Vidal illustrates that the new nation was, in fact, a messy, tenuous experiment, consistently teetering on the brink." Grant A. Fredericksen, in a review for Library Journal, noted that the book is hardly an all-encompassing history, but a volume that assumes a certain base knowledge regarding the founding of the United States. He wrote: "This book offers little beyond commentary that is sometimes obscure at best." Booklist contributor Gilbert Taylor found the book to be an "entertaining and enlightening reappraisal of the founders."
Throughout most of his fifty-odd-year career as a writer and public personality, Vidal vowed that he would never write an autobiography. However, the 1995 publication of Palimpsest: A Memoir proved him wrong. Covering Vidal's first four decades, the book focuses on what Washington Post Book World critic Jonathan Yardley termed "the most public period of his life," in which Vidal worked as a Hollywood scriptwriter, playwright, and sometime political candidate. Yardley added: "Vidal knows that private turmoil and public provocation make splendid stories, while laboring away in his office, [as Vidal did after age forty,] makes no story at all. Thus craftsmanship far more than reticence or coyness is surely the explanation for his decision to cut things off where he does." Feasting on the tumultuous saga of his dysfunctional family, high-profile friendships, numerous homosexual liaisons but only one great love, various forays into the political arena, and writings, Palimpsest is, "for all its tilts and malice and wonderful jokes, an oddly disinterested work," opined Michael Wood in the New York Times Book Review. "As I am supposed to be remembering myself, I am central to these memories," Vidal wrote. "I am, however, happier to be at the edge, as one is in an essay, studying someone else or what someone else has made art of." Widely praised by reviewers, Palimpsest prompted Karl Miller to write in the Times Literary Supplement: Vidal's "essays, and this memoir, with its repertoire of stories and sayings, are a dimension of his elegant and pointed speech, and there are admirers of his who think that he speaks better than he writes, and that his essays are better than his fictions."
Having succumbed to the lure of autobiographical writings, Vidal continued with Point to Point Navigation: A Memoir. The book, which covers Vidal's life from approximately 1964 to 2006, focuses less on his best-selling books and more on his daily life, his experiences, his relationships, and his thoughts regarding the state of the nation and the world, the last of which is often colorful and adamant. Many of his stories revolve around famous figures he has known, including the likes of Susan Sontag, Johnny Carson, Paul Newman, Federico Fellini, Greta Garbo, Rudolf Nureyev, Saul Below, and various members of the Kennedy family. As is to be expected with an author who has survived into his eighties, many of Vidal's acquaintances have died in recent years, and so some of his stories taken on a quality of mourning and remembrance, particularly in relation to Howard Auster, who died of cancer in 2003, and was Vidal's partner of fifty years. In a review for Lambda Book Report, John de la Parre pointed out that "Vidal repeatedly expresses a strong aversion to divulging the intimate matters of his personal life, so when he describes the slow death of Auster, a death which happened right before his eyes, it is especially poignant." Francine Prose, reviewing the book for O, the Oprah Magazine, commented that "even mortality and aging seem somehow less formidable in the company of such a witty, penetrating--and unfailingly nervy--intelligence." Taylor Antrim, writing for Vogue, dubbed this second autobiographical outing as similar to Palimpsest, labeling it "a hopscotch tour through the writer's political, celebrity, and literary circles, delivered with the biting wit and playful self-admiration ... for which Vidal is known." Noting in particular Vidal's political slams against the second Bush administration, on which he has written numerous vitriolic essays and articles, a Publishers Weekly reviewer called the book "a perfect encapsulation of Vidal's outsized personality," and went on to add that "readers' reactions will be determined by how they already feel about him."
Once asked by Newsweek interviewer Arthur Cooper if it is fun being Gore Vidal, the author's response was characteristic. "Gore Vidal isn't what I set out to be," he explained. "Early on I wanted to be Franklin Roosevelt, and then as I realized I had to make a choice I saw myself more in the great tradition, somebody like Thomas Mann, going on and on into my old age turning everything into literature like a bivalve collecting sea water. But I don't mind what I've become. ... I do exactly what I want to do and I've made a living--which you're not supposed to do if you write the way you want to. I've had really great luck."
PERSONAL INFORMATION
Born October 3, 1925, in West Point, NY; son of Eugene Luther (a U.S. government official) and Nina Vidal. Education: Graduate of Phillips Exeter Academy, 1943. Politics: Democrat. Military/Wartime Service: U.S. Army, Army Transportation Corps, 1943-46; became First Mate; served in Pacific Theater during World War II. Memberships: American Academy of Arts and Letters.
AWARDS
Edgar Allan Poe Award, Mystery Writers of America, 1955, for television drama; Antoinette Perry Award nomination for best play, 1960, and for best play revival, 2001, and Drama Desk Award for outstanding revival of a play, 2001, all for The Best Man; Screen Writers Annual Award nomination, and Cannes Critics Prize, both 1964, both for screenplay The Best Man; National Book Critics Circle Award for criticism, 1982, for The Second American Revolution and Other Essays; named honorary citizen, Ravello, Italy, 1983; Prix Deauville, 1983, for Creation; National Book Award for nonfiction, 1993, for United States: Essays, 1952-1992; Chevalier, Ordre des Arts et des Lettres (France); PEN/Borders Literary Service Award, 2007; Distinguished Contribution to American Letters Award, National Book Awards, 2009.
CAREER
Writer. E.P. Dutton, New York, NY, editor, 1946; Democratic Party candidate for Congress in the Twenty-ninth District of New York, 1960; member of President's Advisory Committee on the Arts, 1961-63; host of Hot Line (television program), 1964; cofounder of New Party, 1968-71; cochair of People's Party, 1970-72; ran for nomination as Democratic Party senatorial candidate in California, 1982. Lecturer; has appeared on television and radio talk shows. Narrator of Home Box Office (HBO) production Middle Sexes, 2005.
WRITINGS:
NOVELS
* Williwaw (also see below), Dutton (New York, NY), 1946, reprinted, University of Chicago Press (Chicago, IL), 2003, published as Dangerous Voyage, Amereon (New York, NY), 1946.
* In a Yellow Wood, Dutton (New York, NY), 1947.
* The City and the Pillar, Dutton (New York, NY), 1948, revised edition published as The City and the Pillar Revised, 1965
* The Season of Comfort, Dutton (New York, NY), 1949.
* A Search for the King: A Twelfth-Century Legend, Dutton (New York, NY), 1950.
* Dark Green, Bright Red, Dutton (New York, NY), 1950.
* The Judgment of Paris, Dutton (New York, NY), 1952, revised edition, Little, Brown (Boston, MA), 1965.
* Messiah, Dutton (New York, NY), 1954, revised edition, Little, Brown (Boston, MA), 1965.
* Julian (also see below; two chapters first published as Julian the Apostate, 1962), Little, Brown (Boston, MA), 1964, reprinted, Vintage (New York, NY), 2003.
* Washington, D.C. (part one of series), Little, Brown (Boston, MA), 1967.
* Myra Breckinridge (also see below), Little, Brown (Boston, MA), 1968.
* Two Sisters: A Novel in the Form of a Memoir, Little, Brown (Boston, MA), 1970.
* Burr (part two of series; also see below), Random House (New York, NY), 1973.
* Myron (also see below), Random House (New York, NY), 1974.
* 1876 (part three of series), Random House (New York, NY), 1976.
* Kalki (also see below), Random House (New York, NY), 1978.
* Creation, Random House (New York, NY), 1981, reprinted, Doubleday (New York, NY), 2002.
* Duluth, Random House (New York, NY), 1983.
* Lincoln (part four of series), Random House (New York, NY), 1984.
* Myra Breckinridge [and] Myron, Random House (New York, NY), 1986.
* Empire (part five of series), Random House (New York, NY), 1987.
* Hollywood (part six of series), Random House (New York, NY), 1990.
* Live from Golgotha: The Gospel according to Gore Vidal, Random House (New York, NY), 1992.
* The Smithsonian Institution, Random House (New York, NY), 1998.
* The Golden Age (part seven of series), Doubleday (New York, NY), 2000.
UNDER PSEUDONYM EDGAR BOX; MYSTERIES
* Death in the Fifth Position (also see below), Dutton (New York, NY), 1952.
* Death before Bedtime ... (also see below), Dutton (New York, NY), 1953.
* Death likes It Hot (also see below), Dutton (New York, NY), 1954.
* Three by Box: The Complete Mysteries of Edgar Box (contains Death in the Fifth Position, Death before Bedtime ..., and Death likes It Hot), Random House (New York, NY), 1978.
TELEPLAYS
* Visit to a Small Planet and Other Television Plays (contains Visit to a Small Planet [also see below], aired on Goodyear Playhouse, 1955; Barn Burning, 1954; Dark Possession, 1954; The Death of Billy the Kid, 1955; A Sense of Justice, 1955; Smoke, 1954; Summer Pavilion, 1955; and The Turn of the Screw, 1955), Little, Brown (Boston, MA), 1956.
* Dress Gray (based on the novel by Lucien Truscott), National Broadcasting Corporation (NBC-TV), 1986.
* Gore Vidal's Billy the Kid, Turner Network Television, 1989.
Also author or adaptor of Dr. Jekyll and Mr. Hyde, 1955, Stage Door, 1955, A Farewell to Arms, 1955, Honor (also see below), 1956, The Indestructible Mr. Gore, 1959, and Dear Arthur, 1960. Author of teleplays for series Philco-Goodyear Playhouse, Studio One, and Omnibus Theater.
SCREENPLAYS
* The Catered Affair, Metro-Goldwyn-Mayer (MGM), 1956.
* I Accuse, MGM, 1958.
* (With Robert Hamer) The Scapegoat, MGM, 1959.
* (With Tennessee Williams) Suddenly Last Summer, Columbia, 1959.
* The Best Man (adapted from Vidal's play of the same title; also see below; produced by United Artists, 1964), edited by George P. Garrett, Irvington, 1989.
* (With Francis Ford Coppola) Is Paris Burning? (based on the novel by Dominique Lapierre), Paramount, 1966.
* The Last of the Mobile Hotshots, Warner Bros., 1970.
Also author of screenplay adaptations of his novels Kalki and Burr.
STAGE PLAYS
* Visit to a Small Planet: A Comedy Akin to a Vaudeville (also see below; adapted from his television play; produced on Broadway, 1957), Little, Brown (Boston, MA), 1957 , revised edition, Dramatists Play Service (New York, NY), 1959.
* The Best Man: A Play of Politics (also see below; produced on Broadway, 1960), Little, Brown (Boston, MA), 1960, revised edition, Dramatists Play Service (New York, NY), 1977.
* On the March to the Sea: A Southron Comedy (also see below; adapted from the teleplay Honor), produced in Bonn, West Germany (now Germany), 1961.
* Three Plays (contains Visit to a Small Planet, The Best Man: A Play of Politics, and On the March to the Sea: A Southron Comedy), Heinemann (London, England), 1962.
* (Translator and editor) Friedrich Dürrenmatt, Romulus: A New Comedy (produced on Broadway, 1962), Dramatists Play Service (New York, NY), 1962.
* Weekend (produced in New Haven, CT, 1968; produced on Broadway, 1968), Dramatists Play Service (New York, NY), 1968.
* An Evening with Richard Nixon (produced in New York, NY, 1972), Random House (New York, NY), 1972.
Vidal's Romulus: The Broadway Adaptation was performed with Friedrich Dürrenmatt's Romulus the Great (translated by Gerhard Nelhaus), 1966.
ESSAYS
* Rocking the Boat, Little, Brown (Boston, MA), 1962.
* Sex, Death, and Money, Bantam (New York, NY), 1968.
* Reflections upon a Sinking Ship, Little, Brown (Boston, MA), 1969.
* Homage to Daniel Shays: Collected Essays, 1952-1972, Random House (New York, NY), 1972, published as Collected Essays, 1952-1972, Heinemann (London, England), 1974, published as On Our Own Now, Panther (London, England), 1976.
* Matters of Fact and of Fiction: Essays, 1973-1976, Random House (New York, NY), 1977.
* The Second American Revolution and Other Essays, Random House (New York, NY), 1982, published as Pink Triangle and Yellow Star and Other Essays, [London, England], 1982.
* Armageddon? Essays, 1983-1987, Andre Deutsch (New York, NY), 1987.
* At Home: Essays, Random House (New York, NY), 1989.
* A View from the Diner's Club: Essays, 1987-1991, Andre Deutsch (New York, NY), 1991.
* Screening History, Harvard University Press (Cambridge, MA), 1992.
* The Decline and Fall of the American Empire, Odonian Press, 1992.
* United States: Essays, 1952-1992, Random House (New York, NY), 1992.
* The Last Empire: Essays, 1992-2000, Doubleday (New York, NY), 2001.
* Dreaming War: Blood for Oil and the Cheney-Bush Junta, Thunder's Mouth Press (New York, NY), 2002.
* Perpetual War for Perpetual Peace: How We Got to Be So Hated, Thunder's Mouth Press (New York, NY), 2002.
* Inventing a Nation: Washington, Adams, Jefferson, Yale University Press (New Haven, CT), 2003.
* The Selected Essays of Gore Vidal, edited by Jay Parini, Doubleday (New York, NY), 2008.
OTHER
* A Thirsty Evil: Seven Short Stories (also see below), Zero Press, 1956.
* Three: Williwaw, A Thirsty Evil: Seven Short Stories, [and] Julian the Apostate, New American Library (New York, NY), 1962.
* (Editor) Best Television Plays, Ballantine (New York, NY), 1965.
* An Evening with Richard Nixon (recording; based on Vidal's play of the same title), Ode Records, 1973.
* (With others) Great American Families, Norton (New York, NY), 1977.
* (Author of introduction) Edith Wharton Omnibus, Doubleday (New York, NY), 1978.
* (With Robert J. Stanton) Views from a Window: Conversations with Gore Vidal, Lyle Stuart (Secaucus, NJ), 1980.
* (Author of introduction) Paul Bowles, The Collected Stories, Black Sparrow Press (Santa Barbara, CA), 1983.
* (Author of foreword) Logan Pearsall Smith, All Trivia, Ticknor & Fields (New York, NY), 1984.
* (Author of introduction) Tennessee Williams, The Collected Stories, New Directions (Newton, NJ), 1985.
* (Author of introduction) Fritz Peters, Finistere, Seeker Press, 1985.
* (Editor) Henry James, The Golden Bowl, Penguin (New York, NY), 1985.
* Vidal in Venice, Summit Books (New York, NY), 1987.
* (Author of introduction) Dawn Powell, QPB (London, England), 1989.
* (Author of foreword) Alfred Chester, Head of a Sad Angel: Stories, 1953-1966, edited by Edward Field, Black Sparrow Press (Boston, MA), 1990.
* (Author of foreword) Marion E. Rodgers, editor, Impossible H.L. Mencken: A Selection of His Best Newspaper Stories, Doubleday (New York, NY), 1991.
* (Author of introduction) Don Bachardy and James P. White, editors, Where Joy Resides: A Christopher Isherwood Reader, Farrar, Straus (New York, NY), 1991.
* (Author of foreword) Robert McAlmon, Miss Knight and Others, edited by Edward N. Lorusso, University of New Mexico Press (Albuquerque, NM), 1992.
* Palimpsest: A Memoir, Random House (New York, NY), 1995.
* The American Presidency, Odonian (Boston, MA), 1998.
* Sexually Speaking: Collected Sex Writings, Cleis (Pittsburgh, PA), 1999.
* The Essential Gore Vidal (omnibus volume), Random House (New York, NY), 1999.
* Imperial America: Reflections on the United States of Amnesia, Nation Books (New York, NY), 2004.
* Conversations with Gore Vidal, edited by Richard Peabody and Lucinda Ebersole, University Press of Mississippi (Jackson, MI), 2005.
* Clouds and Eclipses: The Collected Short Stories, Carroll & Graf Publishers (New York, NY), 2006.
* Point to Point Navigation: A Memoir, Doubleday (New York, NY), 2006.
Contributor of short story "Clouds and Eclipses" to Harvard Review, 2005; contributor of the foreword to Before Time Could Change Them, by Constantine P. Cavafy, (poems), translated by Constantine Theoharis, Harcourt (New York, NY), 2001. Contributor to periodicals, including New York Review of Books, Times Literary Supplement, and Nation. Member of advisory board, Partisan Review, 1960-71.
MEDIA ADAPTATIONS
The Death of Billy the Kid was the basis for the film The Left-handed Gun, filmed by Warner Bros., 1958; Visit to a Small Planet was filmed by Paramount, 1960; Myra Breckinridge was filmed by Twentieth Century-Fox, 1970.
Read more
Latest headlines