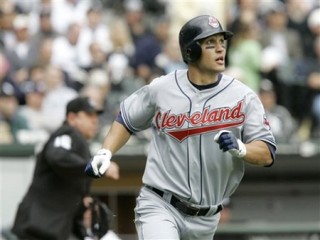 Grady Sizemore biography
Date of birth : 1982-08-02
Date of death : -
Birthplace : Seattle, Washington, USA
Nationality : American
Category : Sports
Last modified : 2010-11-10
Credited as : Baseball player MLB, Centerfielder with the Cleveland Indians,
Grady Sizemore was born on August 2, 1982, in Seattle, Washington to Donna and Grady Sizemore II. Grady's mom worked as an accountant. His father was an insurance adjuster.
The Sizemores lived in Everett, an easy drive north of Seattle. Like Derek Jeter, Grady was the product of a mixed-race marriage. Donna is white, while Grady II is African-American.
Grady II was a pretty fair baseball player in his day and enjoyed a good career in college. By contrast, he encouraged his sons (Grady and his younger brother, Corey) to play whatever sport was in season.
Grady's baseball career started at 18 months, when his parents bought him a Fat Albert baseball bat. The first time he gripped it, his stance was so perfect that the Sizemores felt compelled to snap a picture. The family still has it today. By age four, Grady was hitting overhand pitching with an aluminum bat.
An excellent all-around athlete, Grady loved baseball, football and basketball, and was equally good in all three. As a kid, he had three posters in his room: Ted Williams, the Seattle Seahawks, and the 1992 Olympic Dream Team. Grady was also a serious, well-organized student who mastered early the juggling of schoolwork and sports. As a freshman at Cascade High School in 1996-97, he starred for the JV basketball team and served as a sub for the varsity. It was not unusual to catch him doing his homework between games.
Grady quickly became one of coach Bob Smithson's top players on the Bruins' baseball squad. He also became a standout—at running back and quarterback—on the football team for coaches Terry Ennis and Rollie Wilson. When Grady took the football field as a senior in the fall of 1999, he stood 6-2 and tipped the scales at a burly 200 pounds. By the end of the season, he was not only Cascade's greatest quarterback, he also owned the school's all-time rushing and interception marks.
A second-tier prospect when the campaign started, Grady was being recruited by some of the top West Coast football programs by Thanksgiving, including Cal and Arizona State. His most ardent admirer was University of Washington had coach Rick Neuheisel, who had been watching him since the previous season.
In February of 2000—while he was starring for Cascade in basketball—Grady signed a letter of intent to play quarterback for the Huskies. As his final baseball season began, he let it be known that only an "overwhelming offer" could persuade him to abandon his dreams of NCAA gridiron glory. Grady did his part to earn a shot at the pros, batting .457 with seven homers, 20 RBIs and 24 steals. When scouts timed him in the 40, he broke the tape at a very respectable 4.5 seconds.
ON THE RISE
Though not listed in Baseball America's Top 100 high schoolers, Grady was at the top of many teams' lists by the time the June draft began.The Montreal Expos made him their third pick and lavished a $2 million bonus on him. Neuheisel was crestfallen when told that Brady would be heading to the minor leagues. Brady spent the season with the Rookie-level Bradenton Expos, hitting .293 with 13 stolen bases in 55 games.
The teenager was promoted to the Clinton Lumber Kings of the Class-A Midwest League in 2001.He played well all year as part of the best young outfield in the minors, which included Jason Bay and Brandon Watson—both future big-leaguers.
Grady began what would be a life-altering 2002 season with the Brevard County Manatees of the Florida State League. Near the end of June, he received news that he had been traded. The Expos, fearful that they might be contracted by commissioner Bud Selig, decided to make a push for the playoffs and packaged Grady with Class AA prospects Cliff Lee and Brandon Phillips in exchange for ace hurler Bartolo Colon.
Grady and his parents were shocked that the club would pull the plug so shortly after investing $2 million in him. But in terms of opportunity, Cleveland was not a bad place to be. After ruling the AL Central during the 1990s, the team was retooling with younger players. Grady moved to the Kinston club in North Carolina. Under the tutelage of manager Ted Kubiak, he raised his average nearly 100 points to .343 for and began to show some real power.
Grady spent the entire 2003 campaign with the Akron Aeros of the Class AA Eastern League. Playing beside future major leaguers Ryan Church, Luis Gonzalez, Macier Izturis, Hector Luna and Luke Scott, Grady felt like he was on the right track. The Aeros won the EL championship under manager Brad Komminsk, and Grady was named Rookie of the Year. He was also voted the MVP of the mid-summer Futures Game. For the year, he posted a .304 average, 26 doubles, 11 triples and 13 home runs, As the Cleveland brass noted, he was developing the kind of power that suggested he could thrive in major-league parks.
After the season, Grady was selected to play for Team USA. It was the chance of a lifetime, particularly because Frank Robinson was managing the squad. Grady thrived under the guidance of the Hall of Famer. In 13 Olympic qualifiers, he hit .442 with 12 runs and seven RBIs. The experience, however, was ultimately a disappointment, as America lost to Mexico 2-1 in its final game and missed the Summer Games.
Grady had a great spring training in 2004 and looked like he would make the Indians. Instead, the club sent him Class AA Buffalo for further seasoning. He played a good outfield, demonstrating great range and an accurate throwing arm, and also hit consistently throughout the spring. Grady was drawing comparisons to a young Steve Finley, only with a livelier bat. It was only a matter of time before the call-up to the bigs finally came.
The phone rang in July. Grady joined the big club as a spare outfielder and showed terrific defensive instincts in limited playing time. He also held his own offensviely, batting .246 with 12 extra-base hits in 43 games. The Indians worked with him mostly on pitch recognition and tinkered with his approach at the plate, hoping he would be able to turn on balls over the inner half instead of inside-outing them.
The following February, Grady earned a spot with the Indians out of spring training. Cleveland's plan was to use him as a fourth outfielder, but that changed when veteran Juan Gonzalez destroyed his hamstring after one at -bat on Opening Day. Grady stepped into a starting role and brought new energy and enthusiasm to a team still trying to find itself. The Indians and their fans loved him from the get-go. The youngster tracked down everything in centerfield, and at the plate he hit with surprising power.
Early in May, Cleveland inserted Grady into the leadoff spot, and the offense immediately began to click. With the emergence of shortstop Jhonny Peralta and pitcher Cliff Lee, the Tribe was able to dig itself out of an early-season hole and make a thrilling run for the playoffs. Though the team's post-season bid fell short when the entire lineup went into a September slump, Cleveland fans were excited about their Indians again.
Grady helped fuel the city's renewed interest in baseball. Indeed, his final numbers weren't just good—they were historic. Grady joined Roberto Alomar as just the second Indian to produce a season with 20 doubles, 20 homers, 20 steals and 10 triples. Overall, he hit .289 and scored 111 runs. He was one of only three American Leaguers (along with Ichiro and Carl Crawford) to reach double-figures in doubles, triples and homers.
The Tribe rewarded Grady with a six-year deal worth almost $24 million. It was one of the largest contracts ever offered to a pre-arbitration playerAs they had done in the early 1990s, the Indians were intent on locking up their young talent. Grady was an important part of their nucleus.
Bouyed by the confidence Cleveland's brass showed in him, Grady elevated his game to a whole new level in 2006 and established himself as one of baseball's best all-around players. By the All-Star break, Grady's batting average stood at .291, he was on pace for 30 homers, and no one in the league had scored more runs. Grady was an easy pick for the AL squad in the Mid-Summer Classic.
While Grady's diving catches and clutch hits made the evening highlights again and again, it was a four-strikeout game against the Pirates that may have best captured how far he had come as a player. After acheiving the golden sombrero, Grady came to the plate in the 10th inning with the score tied and two out. He worked the count to 3-1, and then took a called strike on a pitch that was clearly up and in. Grady stepped out of the box to collect himself, never saying a word to the umpire. When he stepped back in, he calmly laced the next pitch over the rightfielder's head for the game-winning homer to beat Pittsburgh.
Grady ended the '06 campaign at .290 with 28 homers and 76 RBIs. Again, he reached double-figures in doubles (53) and triples (11). Grady also topped the league in runs with 134. Defensively, he continued to patrol the outfield as well as anyone in baseball.
For most the year, the Indians watched the Minnesota Twins and Detroit Tigers from a distance battle for the AL Central lead. The club, however, sensed it could be there too by plugging holes in a leaky bullpen. Cleveland GM Mark Shapiro went shopping over the winter and came back with closer Joe Borowski. As the 2007 season wore on, the rest of the pen fell into place and the Indians began to assert themselves in the division.
Grady earned his second All-Star nod in '07, even though his numbers were down slightly. Clearly, however, he was an improved hitter. Grady increased his selectivity at the plate and topped 100 walks for the first time. He also upped his steal total to 33. The Indians seized control of the AL Central in the second hafl and went into the playoffs on a roll.
After beating the Yankees in Game 1 of the ALDS, the Indians found themselves in a taut affair in Game 2 that turned on a swarm of bugs that plagued Joba Chamberlain. The New York rookie he lost his cool with a 1–0 lead, and Grady raced home after a wild pitch to tie the score in the eighth inning. Three inning later, Hafner singled to win the game.
The Yankees bounced back to take Game 3 in New York, but Grady led off Game 4 with a home run and the Tribe never looked back. They moved on to the ALCS with a 6–4 victory. Grady batted .376 in the series and reached base in more than half his plate appearances.
The Indians got off to a rough start against the Red Sox in the ALCS, as Josh Beckett handcuffed them for a 10-3 victory in Game 1. The Tribe returned to Fenway one night later and turned the tables, exploding for seven runs in the 11th for a 13-6 win. Grady was one of many contributors to the cause, with a home run.
Game 3 went to the Indians 4–2 in Cleveland, and they took Game 4 as well with a seven-run fifth inning. The Tribe survived back-to-back-to-back homers by the Red Sox to win 7–3. The reslient Red Sox then took the series back to Boston with a 7–1 victory in Game 5. From there, the Indians looked nervous and totally collapsed. After getting drubbed in Game 6, Cleveland kept the decider closer for six innings. The Red Sox, however, scored two runs in the seventh and six more in the eighth for an 11-2 win. Grady drove in the Indians' second run with a sac fly, but it wasn't nearly enough. Boston pitching completely handcuffed him over the last five games of the series.
Although Grady's numbers don't yet scream "superstar," the intangibles sure do. He is a winning player in the mold of a Derek Jeter, rising again and again to meet challenges even after humbling defeats. Blessed with hunky good looks, Grady is also the type of star baseball loves to market and marketers love to sell. With Cleveland once again rising to the top of the baseball world, expect Grady to be cast as the Tribe's leading man.
GRADY THE PLAYER
Grady has one of the most athletic bodies in baseball. He is tall, fast, strong and flexible—swifter than most sluggers and more powerful than most speedsters. Grady's swing is smooth and dangerous. He can hit with power to all fields and always busts it out of the box, often converting singles into doubles and doubles into triples. Grady is still learning the nuances of batting leadoff, but he has enough natural discipline at the plate that his walks should rise and his strikeouts should fall.
As a multi-sport star, Grady understands the value of coaching advice and is a ravenous learner. When he was signed, his swing was a bit kinky, and he threw the ball like a quarterback. Those flaws are now long-ago memories. He still jumps at pitches on occasion, but with more experience, he should curb this habit.
Whether Grady's ultimate role with the Indians is as a table-setter or an RBI man may depend on how his power develops. Right now, his home runs arean unexpected bonus. If Grady develops into a 35-homer man, the Tribe will begin looking elsewhere for a leadoff hitter and move him down in the lineup.
EXTRA
* In 1999, Grady was ranked the state's #4 high school football prospect by SuperPrep.
* Grady gained 1,199 yards rushing as a quarterback during his senior year at Cascade High.
* Grady finished high school with a 3.85 GPA.
* The player assigned to recruit Grady to the University of Washington was quarterback Marques Tuiasosopo.
* Grady was Cleveland's Minor league Player of the Year in 2003.
* Grady finished his rookie year with a 62-game errorless streak.
* Grady pulled off a straight steal of home against the Toronto Blue Jays in a 2005 game.
* In 2006, Grady became just the second player in baseball history with 50 doubles, 10 triples, 20 homers and 20 steals in the same season. Chuck Klein was the first payer to do it, in 1932.
* Grady's 53 doubles in 2006 were third-most in team history, behind Ed Burns and Tris Speaker. Heled all of baseball with 92 extra-base hits in '06, the most XBH by a leadoff hitter since 1957.
* Grady hit a three-run inside-the-park homer in April of 2007.
* In 2005, White Sox manager Ozzie Guillen called Grady the best player in the division.
* Grady loves to spend time with friends and family. When the Indians play the Mariners in Seattle, he prefers to stay in his old room at home instead of the team hotel.
* Grady is not the first player from Washington's Snohomish county to star for the Indians. Hall of Famer Earl Averill—"The Earl of Snohomish"—played for the Tribe from 1929 to 1939.
* Grady has his own "fan club" at Jacobs Field—Grady's Ladies, a group of young women who come bearing "Marry Me
signs and shirts that say "Mrs. Sizemore."
* Grady owns a pit bull named Carmela.
* Grady was a groomsman at Jason Bay's wedding.
* Grady is an obsessive movie collector and admits he loves every flick he sees, no matter how bad it is. "I know if Grady liked a movie, it probably sucked," says Bay. "He thinks everything is good because he sees good in everything."
Read more
Latest headlines