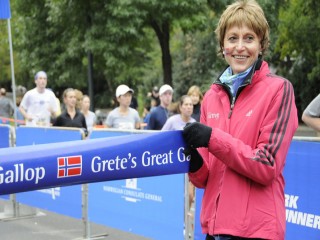 Grete Waitz biography
Date of birth : 1953-10-01
Date of death : -
Birthplace : Oslo, Norway
Nationality : Norwegian
Category : Sports
Last modified : 2010-06-17
Credited as : Athlete and distance runner, winner of nine New York City marathons,
Grete Waitz
born October 1, 1953 in Oslo, Norway is a Norwegian athlete .
Norwegian-born distance runner
Grete Waitz
(born 1953) has excelled in all forms of running, from track and field to middle-distance road racing to the marathon. She caught the eye of many in the sport in 1975, when she set a new world record for the 3,000 meters, and she caught the imagination of a nation when she won nine New York City Marathons. Waitz is also an Olympic-class runner, having earned a silver medal in the marathon event at the 1984 Olympic Games held in Los Angeles, California.
One of the most versatile female runners of the twentieth century, Norwegian-born Grete Waitz captured two world records in the 3,000 meter, as well as records in the 8-kilometer, 10-kilometer, and 15-kilometer distances and the longer 10-mile, and marathon high-endurance runs. Beginning her career as a track runner, Waitz retired from that specialty in 1978 only to begin a second career as a world-class distance runner following her record-breaking win at the New York Marathon.
The first daughter and youngest of three children born to pharmacist John Andersen and wife Reidun, Grete Andersen was born on October 1, 1953. Waitz grew up in suburban Oslo, Norway. Although she exhibited her athletic abilities at a young age with handball and gymnastics, her older brothers' sports training took precedence, creating a situation wherein young Waitz had to excel competitively in order to be recognized. Inspired by the life of U.S. sprinter Wilma Rudolph, who overcame juvenile polio to earn a bronze medal at the 1956 Olympics, the competitive Waitz began running as a way to keep up with her older brothers. She soon fell in love with the sport for its own sake, and by age eleven had been recruited for a local track team coached by Olympic javelin champion Terje Pedersen. As a teen she got up early in the morning to get in a speedwork session before leaving for school, but realized that her strength lay more in endurance than speed. Developing muscular strength, pacing, and quick foot turnover, she competed in local and regional events, winning the 16-year-old runner national junior titles in the 400 and 800 meters. A year later she set the European junior record in the 1,500 meter with a time of 4:17. This win confirmed Waitz's belief that her future lay in mastering the distance run.
Expanded Opportunities for Women Runners
Her performance in national competition caused Waitz's parents to finally acknowledge their daughter's talent, and they began to support her career as an athlete. After qualifying, she competed in Munich's 1972 Olympics in the 1,500 meter, one of the first women allowed to compete in this event--up until 1960 when the women's 800-meter race was reinstated, women had been barred from any distance longer than 200 meters after two women fainted at the finish line during the 1928 Olympic games. Although she did not place in the event, she received encouragement from her fellow Olympic athletes, and realized that natural talent was not enough; she needed to begin more thorough training. Wisely, she came home to Oslo and began training as a high school physical education teacher; she also started a grueling training regime that included a restricted diet and a running schedule that found her logging an average of 75 miles each week on the track and on the road.
In 1974, four years after winning the Norwegian nationals, Waitz competed in the 1,500 meter at the European championships, taking home the bronze medal in that event. In 1975 she extended her race distance and established a new world record in the 3,000 meter with a time of 8:46.6. During her second Olympic try, in Montreal in 1976, Waitz was eliminated in the 1,500-meter semifinals. In 1977 she won a gold medal in the 3,000 meter at the first World Cup meet, shattering her own record and running a career best of 8:31:75. By the time she was 25, Waitz was the oldest woman on the Norwegian track team, and good naturedly bore up under the nickname "Grandma."
A strong runner, Waitz eventually became inhibited by the restrictions of the track. She gradually moved to longer distances on roads and unpaved trails, and won world cross-country titles five times, including in 1978, 1979, 1981, and 1983. Having graduated from teacher's college and now married to former accountant Jack Waitz, Grete balanced her athletic career with a full-time job teaching at Oslo's Bjölsen School. When not teaching, she channeled much of her free time into running the longer distances--up to 13 miles at a time--required of the cross-country runner, while also cross training and following the strict nutritional regimen demanded of an endurance athlete.
Waitz's talent as a runner--her world records of 30:59:8 in the 10,000 meter and 48:01 for the 15,000 meter--while not widely reported in the U.S. press, caught the attention of Fred Lebow, president of the New York Road Runners Club and director of the world-famous New York City Marathon since its inception in 1970. The New York Marathon, which started as a local race of 55 runners around Central Park, had grown in only a few years into a world-class event with a field of 25,000 that attracted top distance-runners from around the world to its course through the city's five boroughs. In 1978 Lebow contacted Waitz, asking her to come to the United States and race in his November marathon as part of a select group of elite, world-class athletes invited to race each year.
At the urging of her husband, Jack, Grete took Lebow up on his offer, even though she had never run--let alone raced--such a long distance before. What she did not realize, as she later told Peter Gambaccini of Runner's World Online, was that Lebow never for a moment believed that Waitz would finish the race. "He was enthusiastic about having me, but not because he thought I could do a good marathon," she explained of the man who would become her distance-running mentor and close friend. "He thought that with my background as a world class track runner, I would be a good pacesetter for the women's field and lend some international flavor to it, coming from Norway. He thought I'd set a good pace for the women so they could run a fast time, and I would probably drop out." On a chilly day in late October, wearing bib number 1173, she followed the course through New York's five boroughs, took the lead at the 18-mile mark, and won the marathon. Completing the first 13.1 miles in one hour 18 minutes, Waitz ran a "negative split"--she ran faster during the second half of the race--and broke the world record for the women's 26.2-mile event by two minutes with a time of 2:32:30. She also changed the course of her future.
Ironically, Waitz had entered the New York Marathon with the idea of retiring as a professional runner. During the grueling race, as the hours of pounding on New York's unforgiving pavements, exhaustion, and dehydration began to take their toll, by mile 20 she vowed never to run such a long distance again. Within months of her winning finish, however, she found herself embarking on a whole new running career, coached by the tireless Lebow. Leaving her position as a teacher and increasing her weekly training to upwards of 100 miles, running in the New York City Marathon became almost an annual event for Waitz; she went on to win eight more races during the decade that followed--in 1979, 1980, 1982, 1983, 1984, 1985, 1986 and 1988--although she was forced out of the 1981 race due to shin splints. She also continued to challenge the course record, and in 1979 and 1980 upped the world record she had set for the marathon distance in 1978--finishing 104th overall in 1979 with a time of 2:27:33, and in 1980, with a time of 2:25:41, becoming the first woman to complete the 26.2-mile marathon distance in under two and a half hours. Her victories were not hers alone, however; Waitz's performance in 1979 prompted an editorial in the New York Times that challenged races around the world to accept women in competition.
In addition to competing in the marathon distance in New York City, Waitz entered the field in 19 other marathons around the world, winning in 13 of these distance events between 1978 and 1988. She tied the world record of 2:25:29 in the London marathon in 1983, a banner year for the Norwegian-born athlete. Competing in the inaugural Women's World Championship Marathon held that same year in Helsinki, Waitz topped the all-female field by three minutes to win the gold, then went on to win the New York Marathon with 2:27:00. Setting a personal record of 2 hours 24 minutes 54 seconds at the London Marathon in 1986, Waitz won her final New York marathon in 1988 with a finish time of 2:28:07.
Encouraged by her triumphant performances in New York, Waitz hoped to qualify for her second Olympic competition in 1980. Unfortunately, that year Norway followed the lead of the United States in boycotting the Moscow Olympic Games. The Union of Soviet Socialist Republics (USSR) had invaded Afghanistan only the year before, and Norway joined several other nations in supporting U.S. President Jimmy Carter's forced withdrawal of all U.S. Olympic teams from the games. Cold War politics may have forced Waitz to put her Olympic dreams on hold, but she rallied and went on to win the international women's cross-country championships for the third year in a row, as well as set several other world records. Four years later, in 1984, she flew to Los Angeles to compete in the first women's marathon offered as part of the historic 1984 Olympics. Excited by the addition of woman's 3,000 meter and marathon distance events to the track portion of the games, Waitz was favored to win the gold based on her stellar performance the previous year at the world marathon championships. However, during the marathon run she was bested by U.S. runner and good friend Joan Benoit, who put in an extraordinary effort to win the gold; Waitz captured the silver medal for Norway.
Beyond Retirement
Although Waitz officially retired in 1991 after suffering a number of running-related injuries, like many distance runners the sport of running remained an important part of her life. Reducing her daily mileage to under ten miles and her weekly mileage to between 35 to 40 miles, she began to invest more time in cross training activities, such as joining her husband, Jack, in Nordic skiing, walking, and biking throughout Germany, Austria, and elsewhere in Europe.
Recognizing early in her career her potential as a role model for others, in 1986 Waitz coauthored the book World Class, in which she recounts her own rise in the sport and also provides women of all abilities with training, motivation, and racing advice. She also coauthored the book On the Run: Exercise and Fitness for Busy People. Beginning shortly after retirement, she also took on the role of fitness ambassador to women through her participation in the Avon Running Global Women's Circuit, held in major U.S. cities throughout the 1990s. Together with fellow veteran runner Kathrine Switzer--who in 1967, as the genderless K. V. Switzer, became the first registered woman to run the Boston Marathon, then closed to women--Waitz traveled to various races to meet, run, and encourage women of all levels--from walkers to beginners and above--along a 10-K course. She also became an official spokeswoman for Adidas, a running shoe and apparel manufacturer. She continued to maintain a presence in distance competition, running for five and a half hours alongside former coach Fred Lebow as he completed the New York Marathon course in 1992 while undergoing treatment for the brain cancer that would ultimately take his life.
In 1983, inspired by an all-woman 10-K race she had run in New York City and the encouragement of Lebow, Waitz inaugurated the Grete Waitz Run, a five-kilometer women's-only race through the streets of her hometown of Oslo. Over 3,000 runners turned out for the first race; by 1993 the field had expanded to 40,000, many of whom were inspired to begin running by Waitz. Waitz was honored for her many other contributions to distance running in the United States by the National Distance Running Hall of Fame, which inducted her as its first foreign member. In 1991 Runner's World magazine echoed that honor, naming Waitz as female runner of the quarter century. As Peter Gambaccini noted in that magazine, "almost single-handedly" Waitz established "the standard for women's distance running as the sport began to proliferate on American roads."
A modest, down-to-earth woman, Waitz has always been somewhat uncomfortable with her celebrity status. "To suddenly be a hero on a world basis was hard for me to understand," she admitted to Runner's World in reflecting on her career. "God gave me a gift. I got the chance to use it. . . . I didn't think I deserved what people were saying. My talent is just more visible than theirs." Continuing her role as ambassador for women's running, Waitz and her husband continue to divide their time between in Oslo and their home in Florida. Continuing her support of personal health and fitness, she donates her time to CARE International and the International Special Olympics. She has also remained active in the New York Marathon organization by acting as chairperson of the group's Women's Foundation, which encouraged running among inner city children. In November of 2003, she once again took to the streets of New York in celebration of the 25th anniversary of her historic win, however this time she was not on foot. As grand marshal, she rode in the woman's lead vehicle, in her accustomed spot at the head of the pack.
AWARDS
Set world record in 3,000 meters, 1975; won world cross-country titles, 1978, 1979, 1981, and 1983; winner, nine New York City marathons; set world marathon records, 1978, 1979, 1980, 1983; winner, world marathon championships, 1983; silver medal for marathon, 1984 Olympic Games; Runner's World magazine female runner of the quarter century, 1991; inducted into Women's Sports Foundation Hall of Fame, 1995; inducted into U.S. Distance Running Hall of Fame.
Read more
Latest headlines