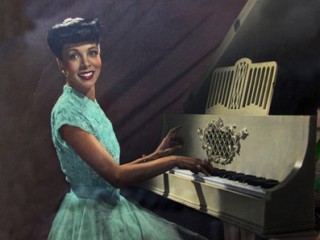 Hadda Brooks biography
Date of birth : 1916-10-29
Date of death : 2002-11-21
Birthplace : Los Angeles, California,U.S.
Nationality : American
Category : Arts and Entertainment
Last modified : 2011-10-31
Credited as : Singer, Queen of the Boogie,
Hadda Brooks, was an American pianist, vocalist and composer.
Hadda Brooks emerged in the 1940s as the "Queen of the Boogie," recording such piano tunes as "Swinging the Boogie" and "Hadda Swings" on the Modern record label. She became known for her smoky-voiced torch songs a few years later, scoring hits with "Trust in Me," "Don't Take Your Love from Me," "Dream," and her signature tune, "That's My Desire." She sang in several films during the 1950s, and became the first black entertainer to host her own show, the Hadda Brooks Show, in 1957. She lived abroad for a while, and enjoyed ebbs and flows of popularity until her death in 2002.
Brooks was born Hadda Hopgood on October 29, 1916, in Los Angeles. She was raised in the Boyle Heights area of the city by her parents, who had migrated to California from the South. Her mother was a doctor, her father a deputy sheriff. Her grandfather, Samuel Alexander Hopgood, moved to California from Atlanta, Georgia, and proved to be an enormous influence on Brooks. He introduced her to theater and the operatic voices of Galli-Curci and Caruso. She also came to love the subtle comedy of black theater and vaudeville entertainer and singer Bert Williams.
Brooks asked her father for piano lessons when she was just four years old. Her hands were too small to reach an octave, however, and the teacher refused to teach her until she could. Brooks practiced stretching exercises for a week before she was able to reach an octave on the piano, and the teacher, an Italian woman, agreed to take her. Brooks remained with the same teacher for 20 years. Given her aptitude, Brooks studied a special music curriculum at her Los Angeles high school. There, she nearly gave up playing the piano in favor of the pipe organ. "I loved the organ so much...," Brooks said in an online interview at offbeat.com, "all the different tones I could get out of it...." She then attended Chapman College, and refused to study with the German teacher there who made her play Bach.
Brooks began playing piano professionally in the early 1940s at a tap-dance studio owned by Hollywood choreographer and dancer Willie Covan. For ten dollars a week, she played the popular tunes of the day while Covan worked with such stars as Fred Astaire, Gene Kelly, and Shirley Temple. Brooks was married briefly during this period to a Harlem Globetrotter named Earl "Shug" Morrison in 1941. She toured with the team when they traveled, and once was almost kidnapped into sexual slavery when staying in Algeria. Morrison developed pulmonary pneumonia, however, and died about a year after they were married. It was Brooks's only marriage.
To increase her range at the studio, Brooks was constantly trying to work the same songs into new and different rhythms. She had turned the classical composition "The Poet and the Peasant" into both a rumba and a waltz, and was looking to turn it into a boogie tune along the lines of those composed by Fats Waller, Count Basie, and Pete Johnson. She was working the cash register at a restaurant when Jules Bihari offered her a record deal if she could get the boogie together in a week. She did, and Bihari spent his last $800 recording the song in 1945. From then on, Brooks was known as the "Queen of the Boogie."
If Brooks was the Queen of the Boogie, Bihari was her king. He took a great interest in her career, gave her the stage name Hadda Brooks, and built the Modern record label around her. He went on to record such acts as B.B. King, Etta James, Charles Brown, and Jimmy Witherspoon, among others, and Modern became the preeminent R&B label of its day. Brooks's and Bihari's professional relationship became a romantic one, and Brooks was recording up to three boogies per month, which sold well in the American South. At this point, she was only playing the piano on her recordings; she had yet to record as a vocalist.
Brooks began singing in 1947 with encouragement from bandleader Charlie Barnet. When she offered to play another boogie as an encore, Barnet suggested, "Why don't you sing and break the monotony?" according to the Chicago Tribune. Her first recorded song was "You Won't Let Me Go." Though she had sold scores of records with her piano playing alone, she would sing her most popular hits. "That's My Desire" and "What Have I Done?" are among her signature vocal tunes. "Her voice, velvety and drenched with an after-hours smokiness, is familiar with deep emotions," critic Peter Watrous wrote in the New York Times in 1989.
Clarinetist and bandleader Benny Goodman recommended Brooks to a film director friend of his who placed her in the film Out of the Blue in 1947. She usually played the small part of a lounge piano player in films, and often sang the title song. "Out of the Blue" became a top hit for Brooks. Boogie Woogie Blues followed in 1948, and she appeared in In a Lonely Place (1950) starring Humphrey Bogart, and in The Bad and the Beautiful (1952) with Lana Turner and Kirk Douglas. Brooks became the first African-American woman to host her own television show in 1957. The Hadda Brooks Show, a combination talk and musical entertainment show, aired on Los Angeles' KCOP. The show opened with Brooks seated behind a grand piano, cigarette smoke curling about her. She appeared in 26 half-hour episodes of the show.
As music audiences of the 1950s became more and more taken with rock 'n' roll, Brooks found herself at odds trying to entertain them with her blues boogies. "I couldn't keep an audience of 25 quiet," she told Los Angeles magazine. So, in search of a more blues-savvy audience, she set off on a two-week tour of Australia, but ended up living there for six years. She enjoyed playing for audiences abroad. "They're very intent," she said in her biography on the Virgin Records website. "I'll be playing in front of 800 people and it's so quiet you can hear a rat walk on cotton. I love it.... It's difficult to reach out to the audience when they're fidgeting and shouting out requests."
Unwilling to compete any longer with rock 'n' roll, Brooks retired in 1971, but reemerged in 1987 to open a new club in Perino's restaurant in Los Angeles. She returned to playing nightclubs regularly in Los Angeles and New York, receiving rave reviews. She enjoyed another resurgence of popularity in the mid-1990s, fueled by actor-director Sean Penn's use of her song "Anytime, Anyplace, Anywhere" in his 1995 film The Crossing Guard, starring Angelica Huston and Jack Nicholson. She began playing at hip night clubs like actor Johnny Depp's Viper Room, New York's Algonquin Room, and at Hollywood haunts like Goldfinger's and the Cinegrill. Her eightieth birthday party was held at the Viper Room, and included such guests as actors Uma Thurman, Johnny Depp, and Jack Nicholson.
Brooks's newfound popular appeal fueled her return to the recording studio for the first time in decades. In 1995 she recorded Time Was When for Virgin Records. The label had released the greatest-hits compilation That's My Desire in 1994, and put together a retrospective, titled I've Got News for You in 1999. The two-CD set features classic instrumentals like "Hadda Swings" and vocal numbers like "Hadda Sings." Also included in the collection were newly recorded duets with Charles Brown and Carla Bozulich of the indie-rock group Geraldine Fibbers. Though she was popular with a young and modern crowd, Brooks maintained that she worked from the past. "I try not to put anything new into my songs," she is quoted as saying in 1989 in the New York Times. "I go back 20 years to find me."
Brooks died on November 21, 2002, in Los Angeles, at age 86, a few weeks after undergoing heart surgery. She was survived by a sister, Kathryn Carter. She played her last engagement at Michael's Room, a Los Angeles nightclub in September of 2002. "She played three or four weekends in a row," Austin Young, who was making a documentary on Brooks, told the Boston Globe. "It was packed every night she played, and the crowd would go wild. This was a woman who knew how to work the crowd."
Selected discography:
Singles:
"Swingin' the Boogie," Modern, 1945.
"Polonaise Boogie," Modern, 1945.
"Blues in B Flat," Modern, 1945.
"Nightmare Boogie," Modern, 1945.
"Rockin' the Boogie," Modern, 1945.
"Bluesin' the Boogie," Modern, 1945.
"Ridin' the Boogie," Modern, 1945.
"Society Boogie," Modern, 1945.
"Morocco Blues," Modern, 1946.
"Grieg's Concerto Boogie," Modern, 1946.
"Basin Street Blues," Modern, 1947.
"That's My Desire," Modern, 1947.
"Trust in Me," Modern, 1947.
"Don't Take Your Love From Me," Modern, 1947.
"That's Where I Came In," Modern, 1947.
"Minuet in G Boogie," Modern, 1947.
"Hollywood House Party Boogie," Modern, 1948.
"The Best Things In Life Are Free," Modern, 1948.
"Night Life," Modern, 1948.
"Bully Wully Boogie," Modern, 1948.
"Variety Bounce," Modern, 1948.
"Out of the Blue," Modern, 1948.
"What Have I Done?," Modern, 1948.
"Nightmare Boogie," Modern, 1948.
"Roses of Picardy Boogie," Modern, 1948.
"Melody in F Boogie," Modern, 1948.
"Juke Box Boogie," Modern, 1949.
"Take Me," Modern, 1949.
"I'll Never Know Why," Modern, 1949.
"Anna Lucasta," Modern, 1949.
"I Hadn't Anyone 'til You," Modern, 1950.
"This Time We're Through," Modern, 1950.
"I See a Million People," Modern, 1950.
"Maggie's Boogie," Modern, 1950.
"The Man With the Horn," Modern, 1950.
"It Hadda Be Brooks," London, 1951.
"Keep Your Hand on Your Heart," Modern, 1951.
(With Count Basie) "When a Woman Cries," Modern, 1951.
(With Count Basie) "I Feel So Good," Modern, 1951.
"Ol' Man River," Modern, 1956.
"The Thrill is Gone," Kent, 1957.
"Stolen Love," Alwin, 1957.
"The Song Is Ended," Alwin, 1957.
"House of Boogie Woogie," Kim, 1987.
"Mama's Boogie," Kim, 1988.
Albums:
-Femme Fatale , Modern, 1956.
-Boogie , Crown, 1958.
-Sings & Swings , Crown, 1963.
-Anytime, Anyplace, Anywhere ,DRG, 1994.
-That's My Desire , Virgin, 1994.
-Time Was When , Virgin, 1996.
-I've Got News For You , Virgin, 1999.
-Romance in the Dark , Ace, 2002.
Read more
Latest headlines