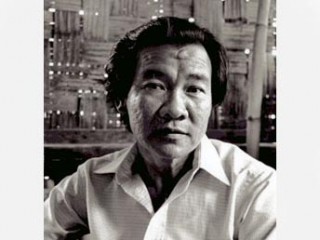 Haing Ngor biography
Date of birth : 1940-03-22
Date of death : 1996-02-25
Birthplace : Samrong Yong, Cambodgia
Nationality : Cambodgian-American
Category : Arts and Entertainment
Last modified : 2010-07-15
Credited as : Actor, author and physician,
Dr. Haing Somnang Ngor
(born March 22, 1940 in Samrong Yong, Cambodia – died February 25, 1996 in Los Angeles, California, U.S.) was a Cambodian American physician, actor and author who is best known for winning the 1985 Academy Award for Best Supporting Actor for his debut performance in the movie The Killing Fields, in which he portrayed Cambodian journalist and refugee Dith Pran. His mother was Khmer and his father was of Chinese descent. Ngor and Harold Russell are the only two non-professional actors to win an Academy Award in an acting category. As of 2010, Dr. Ngor remains the only Asian to win an Oscar for Best Supporting Actor.
A survivor of the reign of terror of the Khmer Rouge in his native Cambodia, Haing S. Ngor (c. 1947-1996) became known for his role in the 1984 film The Killing Fields, which told of atrocities in Cambodia. Although a physician, not an actor, he won the Academy Award for Best Supporting Actor for the film. Until his tragic death, Ngor was a human rights activist, using his fame and income to help refugees, and to tell the story of the holocaust experienced by his people.
In an article entitled "Haing Ngor: Witness for Cambodia, Champion for Peace," Charles L. Bland of the University at Buffalo recalled that Ngor, his friend and colleague, viewed himself as "an historical witness" who had a story to share, with The Killing Fields remaining as "his legacy." Bland concluded, "Through this film, [Ngor] eloquently gave eyes to a sightless world to see and know about the horrifying genocidal destruction of Cambodia."
Childhood in Cambodia
Ngor was born to a Khmer mother and a Chinese father in Samrong Yong, which was south of the Cambodian capital of Phnom Penh. The details on his birthdate and family life vary. Some sources state that 1947 was his birth year, while others list 1941, 1950, or 1951. In addition, some sources say he was born into a wealthy family, while others say his family was poor farmers. Nonetheless, sources do agree that Ngor had an ordinary, happy childhood until civil war came to Cambodia.
Established Medical Practice
Despite the unrest in his country, Ngor was able to attend medical school. While a medical student, Ngor fell in love with a young woman. Her name was Chang My Hoa (variant spelling of Huoy), and she was training to be a teacher. They would later marry.
Eventually, Ngor set up his own practice in Phnom Penh, where he specialized in gynecology and obstetrics. He also served as a medical officer in the Cambodian Army. It would appear that Ngor was successful and living a quiet life. That all changed, however, when the Khmer Rouge, guerrilla rebels led by Pol Pot, took over the capital in 1975.
As noted in an article about Ngor on the BBC Website, the rebels were initially greeted as saviors, and the citizens truly thought peace would be restored to their country. The article continued, "Little did the population of Cambodia know, but this was to be the start of one of the greatest human catastrophes and acts of barbarity ever to be seen by the modern world."
The Khmer Rouge believed that Cambodia must be freed from all influences of Western culture, and if force was necessary, so be it. They "evacuated" cities and towns, sending millions of people into the countryside to do labor and be "re-educated." Owning personal property was illegal. People who were considered educated or intellectual were executed, and Ngor had to practice medicine in secret.
"The Killing Fields"
Writing for People Weekly, Bill Hewitt recalled that eventually, Ngor, his family, and his fiancée were taken to a labor camp and forced to work. In his years in the labor camp--He would be a prisoner of the Khmer Rouge regime from 1975-1979--Ngor endured terrible abuse. Hewitt wrote that Ngor "smashed rocks from dawn to midnight and was made to wear a yoke and plow the earth like an ox. His tormentors starved and flogged him, clamped his head in a vise, cut off part of his little finger and strung him up on a cross above a smoldering fire." Ngor endured the torture, and saved himself by insisting he was illiterate or a taxi driver.
Ngor's family was not so lucky. His parents, sisters, brothers, and their wives were murdered by execution squads. But the ultimate loss was that of his wife and child. Ngor was forced to watch his wife die, as she went into premature labor with their son. Although a cesarean section might have saved her life, Ngor had no surgical tools and could do nothing. Hewitt noted that his wife "died an agonizing death in his arms." In all, it is estimated that the Khmer Rouge murdered over two million people during its reign of terror.
Escaped Labor Camp; Began New Life
In May of 1979, Vietnamese forces took over Cambodia and the Khmer Rouge regime collapsed. Ngor rescued his young niece and escaped with her and a friend to Thailand. For approximately 18 months, he worked as a doctor in refugee camps. Ngor tried to immigrate to both Australia and the United States, but was denied entry. In the fall of 1980, however, he was finally allowed to enter the United States, and he settled in Los Angeles, California.
Ngor had to start his life over. He was not allowed to practice medicine because his credentials were not recognized in the United States. He found work as a security guard, and later took a position as a job counselor, working with refugees. Some of his clients were Cambodian refugees, just like him, and he was happy to be able to help them.
Movie Role and Honors
In the early 1980s, Hewitt noted, Ngor, along with thousands of others, answered a casting call for a movie entitled The Killing Fields, a true-life account of the Khmer Rouge reign of terror in Cambodia. Initially, Ngor was indifferent about the project, but most sources concur that Ngor had promised his late wife that he would tell the world about Cambodia's sufferings. By participating in this project, he could fulfill that promise. He agreed to take a part in the film.
It was when production began in Thailand that Ngor learned he would have a major role in the film. He would be playing Dith Pran, a real-life Cambodian news photographer who had helped New York Times reporter Sydney Schanberg escape the country, but then had been captured by the Khmer Rouge. Ngor and Pran shared a similar history and memories of "the killing fields" as both had endured years of torture and hardship before escaping.
Released in 1984, Ngor's performance in The Killing Fields received critical acclaim. His portrayal of Pran earned him several honors, including the Academy Award for Best Supporting Actor. He was the first "non-professional" to win an Academy Award since 1946. He also won the Golden Globe Award for Best Supporting Actor, and the British Academy of Film and Television Arts Awards for Best Actor and Best Newcomer to Film. In interviews, he often said he really was an actor, but that his best acting had been done in Cambodia when he was a prisoner of the Khmer Rouge.
Continued to Act; Helped Others
Ngor continued to take acting jobs, and using his fame and money to help others in need. He took guest starring roles on American television series such as "Miami Vice," "China Beach," "Highway to Heaven," and "Hotel." He also appeared in other films, most notably Oliver Stone's Heaven and Earth and My Life, starring Nicole Kidman and Michael Keaton.
In a 1993 interview with Jim Hill of CNN, Ngor reflected, "I have a house, I have everything, but I have no family...How rich you are, but you can't buy a happy family." He lived very modestly, with his focus on helping others. Hill added, "Ngor's money did buy help for the people of Cambodia...Ngor...supported two clinics and a school in his Southeast Asian home country." He even continued his position as a job counselor, and worked on behalf of Cambodian refugees in Thailand, France, and Belgium.
In 1987, Ngor and journalist Roger Warner co-wrote his autobiography A Cambodian Odyssey, which received critical acclaim. He did some speaking engagements, and in 1991, he founded the Haing S. Ngor Foundation. A sawmill and a school were established in Cambodia. Eventually, Ngor was spending most of time and money in Cambodia instead of in the United States. He was regarded as a very dedicated, but private man.
Tragic Ending
On the evening of February 25, 1996, Ngor was shot and killed in the driveway of his home in Los Angeles. Since Ngor had been active in helping fellow Cambodians and had someday hoped to bring the Khmer Rouge war criminals to justice, some of his friends and family wondered if he was the victim of an assassination. Initially, Time reported, "Police [were] looking into whether Ngor, an outspoken benefactor of L.A.'s Cambodian-refugee community, was a victim of robbery or politics."
Friends were shocked by Ngor's untimely death. Bland wrote that it was "truly heartbreaking" and that "the people of Cambodia, the people of the world, deserve better than this." Schanberg, who had befriended Ngor during the filming of The Killing Fields, told People Weekly, "The Cambodians believe that the spirit returns after death--Ngor's spirit will always be around. You just don't kill a spirit--not his."
Shortly after the crime, the Los Angeles Police theorized that Ngor had been the victim of robbery, and had perhaps been shot for refusing to give up jewelry that contained his late wife's picture. Eventually, three teenage gang members were arrested and in April of 1998, they were convicted of the crime. (According to IMDb, the Internet Movie Database Website, the conviction was overturned in April of 2004.)
Contemporary Authors focused on the irony of Ngor's death, noting, "Ngor survived the killings fields of Cambodia's brutal Pol Pot dictatorship, but he did not survive the streets of Los Angeles."
AWARDS
Academy Award and Golden Globe Award for Best Supporting Actor, 1984, for The Killing Fields; British Academy of Film and Television Arts Awards for Best Actor and Best Newcomer to Film, 1984, for The Killing Fields.
Read more
Latest headlines