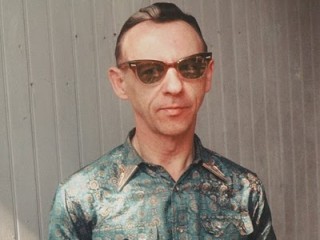 Hank Snow biography
Date of birth : 1914-05-09
Date of death : 1999-12-20
Birthplace : Brooklyn, Nova Scotia, Canada
Nationality : Canadian
Category : Famous Figures
Last modified : 2012-02-09
Credited as : Singer, Country artist, member of the Country Music Hall of Fame
Clarence Eugene "Hank" Snow was a Canadian-American country music artist. He charted more than 70 singles on the Billboard country charts from 1950 until 1980. This total includes the number 1 hits "I'm Moving On", "The Golden Rocket", "I Don't Hurt Anymore", "Let Me Go, Lover!", "I've Been Everywhere", and "Hello Love" as well as other top ten hits. He is a member of both the Canadian Country Music Hall of Fame and the Music Hall of Fame.
One of country music's biggest stars with over 70 million records sold, Hank Snow was a classic entertainer. A yodeling crooner from humble beginnings, he followed his own adolescent wanderlust and went to sea at the age of 12, during which time he developed the outlook and persona of a traditional rambling troubadour. Subsequently he learned to play the guitar and developed a following among his co-workers on the ships and docks of the North Atlantic. As a popular recording artist for RCA Victor in the 1930s, and later as a member of Nashville, Tennessee's Grand Ole Opry, Snow penned much of his own repertoire and endeared himself to listeners around the world. His upbeat songs depicted a romantic image of the lifestyle of a free and rambling spirit.
Some of Snow's classic compositions include his signature song, "I'm Moving On," and his 1962 hit song, "I've Been Everywhere." As Snow's talent matured he mastered the art of strumming ballads in addition to his natural affinity for writing and singing songs of the road. Likewise he was adept at performing rousting renditions of fast-paced rhumbas. During the 1950s, as a partner in a musical promotion partnership with Colonel Tom Parker, Snow was instrumental in bringing a then-unknown guitar picker named Elvis Presley from Mississippi to the stage of the Grand Ole Opry. Additionally, Snow was honored with numerous professional awards throughout his career, and in 1976 he established the Hank Snow Foundation for the Prevention of Child Abuse, a cause that he held dear throughout his life. All Music Guidesaid that Snow was a "country traditionalist who gave much more to the business than he took."
Snow was born Clarence Eugene Snow on May 9, 1914, in Queens County, Nova Scotia, Canada, in the small town of Brooklyn. As a child he went by the nickname of Jack, and he adopted the name of "Hank Snow" for theatrical purposes when he embarked on his career as a country music performer. His parents, George Lewis and Marie Alice (Boutlier) Snow were industrious but poor. George Snow worked in the mills around Nova Scotia and led hunting expeditions during moose season. Both occupations kept him away from his family for extended periods of time. Snow's mother was a homemaker, seamstress, and part-time entertainer who sacrificed a full-blown performance career in order to devote herself to raising her four children: Lillian Mae, Nina Elizabeth, "Jack," and Marion Victoria. Hank Snow inherited his musical inclinations from both of his parents--his mother habitually sang and played the organ, and his father also loved to sing.
Snow's parents divorced when he was eight years old. As the family split apart, the Snow siblings dispersed. His sisters went into foster care while Snow went to live with his grandmother. Snow's grandmother was a stern and humorless women, and Snow persistently defied her discipline. After four years his mother remarried and Snow was returned to her custody, only to discover that his new stepfather was a cruel and brutal man. Snow's new father despised his young stepson and displayed his displeasure overtly. As a result, Snow left home at age 12 and took a job as a cabin boy, working on the various fishing ships that left from the coast of Canada.
As a cabin boy, he lived in poverty and frequented the less affluent areas of the town. During those years he turned to singing as a means of expression as well as for recreation. On the ships he readily entertained during non-working hours, and his co-workers proved to be a receptive audience. When he was 16 years old, his mother gave him a guitar that she purchased through a mail-order distributor, and Snow was enamored with the instrument. As the circumstances of his life brought him through a series of odd jobs, both on and off the docks, he sang continually, played his guitar, and decided ultimately to become a singer, in the fashion of his boyhood idol, Jimmie Rodgers.
Snow moved to Halifax in 1933 where he auditioned for a job with radio station CHNS. He was hired and immediately started singing on the radio that same day. He was heard on a weekly program called Down on the Farm, and the radio station promoted the new singer under the nickname of the Blue Yodeler: Clarence Snow and His Guitar. One of the announcers on the radio station helped Clarence Snow come up with his stage name of Hank Snow, which reflected Snow's country music image more appropriately.
Snow performed for CHNS for three years, and initially he sang uncompensated, but he began singing professionally soon afterward. When the network took over Snow's radio show, the promoters billed Snow as "Hank, the Yodeling Ranger" and placed him on the payroll. Snow's name recognition increased further when he began to perform regularly on the Canadian Farm Hour.For that show he brought together a group of musicians called the Rainbow Ranch Boys. Snow then billed himself as the Singing Ranger, which led to a recording contract with RCA Victor in Montreal, Quebec, in 1936. Among his earliest recordings were his own compositions, including "The Prisoned Cowboy," and "Lonesome Blue Yodel."
Snow pursued stardom in the United States throughout the remainder of the 1930s and into the 1940s. In 1949 he signed to perform on "The Big D Jamboree" out of Dallas, Texas. As a result of that contact he made the acquaintance of a well-established country singer, the late Ernest Tubb. Tubb in turn introduced Snow to the Grand Ole Opry circuit. As Snow's popularity escalated in the United States, RCA moved to release his records outside of Canada in 1949. His first American single, released that same year, was called "Marriage Vow," and RCA marked the release by sending Snow on his first tour of the United States to promote the record. The recording received a mediocre reception and failed to bring Snow to stardom. Likewise his Grand Ole Opry debut in January of 1950 was less than spectacular. Snow, who by then was married and the father of a child, considered leaving the United States and returning to Canada.
Suddenly in July of 1950, one of Snow's recordings, "I'm Moving On" caught the ear of the record-buying public; the song held the number one position on the record charts for 21 weeks. Snow's follow-up release, "The Golden Rocket," went to number one also, as did "The Rhumba Boogie," which was released the following year. All together Snow logged 24 top ten hits between 1951-55, including "I Don't Hurt Anymore," which in 1954 held fast at the top of the record charts, spending 20 weeks in the number one position. As the appeal of Snow's country ballads and traveling songs gained him an increasing number of fans, he recorded some rockabilly tunes including, "Hula Rock" and "Rockin', Rollin' Ocean." The records failed and Snow focused on writing and performing pure country music thereafter.
During his years of budding fame, the story of an early and serendipitous professional relationship with the rock and roll phenomenon Elvis Presley became a favorite sidenote of Snow's. As a new recording star in the early 1950s, Snow shared his manager, Colonel Tom Parker, with Presley; and in 1954 Snow tested his own entrepreneurial skills and joined with Parker as a booking agent. In later years, Snow recalled proudly that it was in part through his personal intercession for Presley that the young rock and roll star eventually performed on the stage of the Grand Ole Opry, and although Presley failed to impress Opry members, he moved on to other music realms and took the world by storm.
Snow's personal career continued on a rising star throughout the 1960s. He recorded new music, performed, and produced chart-topping songs until 1974. In that year, at the age of 60, Snow released the final number one hit song of his career, a tune called, "Hello Love." With that tune he achieved the distinction of being the oldest singer to release a number one hit song. He continued to perform at the Grand Ole Opry in Nashville into the 1990s.
Snow's career spanned over six decades, and during those years he recorded more than 2,000 songs, including ten top-selling records. He released more than 80 albums and was recorded in 30 languages. Robert Hilburn of the Los Angeles Timessaid that Snow's singing "has a winning and distinctive edge, thanks chiefly to his immaculate enunciation. His upbeat hits are generally characterized by catchy, galloping rhythms." Snow's most memorable performances, according to his own recollection, were overseas program venues where he performed for United States troops worldwide.
Hank Snow married Minne Aaiders on September 2, 1935, during his years as a struggling radio singer. Their son, Jimmie Rodgers Snow, was born in 1936. In 1958 the Canadian singer adopted United States citizenship.
Throughout his lifetime, certain lingering memories of childhood remained unresolved in his mind, and in 1976 he founded the Hank Snow International Foundation for Prevention of Child Abuse and Neglect of Children Inc. Thereafter Snow devoted much of his time to furthering that cause.
Hank Snow died of suspected heart failure at his Rainbow Ranch in Madison, Tennessee, on December 20, 1999. Selected pieces of the flamboyant cowboy attire that he routinely wore are enshrined along with his yellow 1947 Cadillac at the Hank Snow Country Music Centre near his home.
Albums:
-Hank Snow Sings ,RCA Victor, 1952.
-Just Keep A-Movin' ,RCA Victor, 1955.
-Hank Snow's Country Guitar , RCA Victor, 1957.
-When Tragedy Struck , RCA Victor, 1958.
-Singing Ranger , RCA Camden, 1959.
-Hank Snow Sings Jimmie Rodgers Songs , RCA, 1960.
-The Southern Cannonball , Camden, 1961.
-I've Been Everywhere , RCA Victor, 1963.
-The Last Ride , Camden, 1963.
-Old and Great Songs by Hank Snow , Camden, 1964.
-Heartbreak Trail , RCA Victor, 1965.
-This is My Story , RCA Victor, 1966.
-Travelin' Blues , Camden, 1966.
-The Best of Hank Snow , RCA Victor, 1966.
-Tales of the Yukon , RCA Victor, 1968.
-Cure for the Blues , RCA Victor, 1970.
-In Memory of Jimmie Rodgers , RCA Victor, 1970.
-Tracks and Trains , RCA Victor, 1971.
-The Jimmie Rodgers Story , RCA Victor, 1972.
-The Best of Hank Snow, Vol. 2 , RCA Victor, 1972.
-I'm Moving On , Pair, 1974.
-Living Legend , RCA Victor, 1978.
-Lovingly Yours , RCA, 1980.
-The Singing Ranger: 1949-1953 , Bear Family, 1989.
-The Singing Ranger, Vol. 2 , Bear Family, 1990.
-Snow Country , RCA Victor, 1992.
-The Singing Ranger, Vol. 3 , Bear Family, 1994.
-Yodelling Ranger (1936-1947) , Bear Family, 1994.
-The Essential Hank Snow , RCA Victor, 1997.
-Yodelling Ranger: Young Hank Snow 1936-1943 , Bear Family, 1999.
Read more
Latest headlines