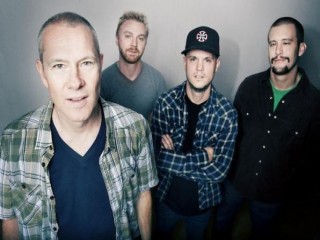 Helemet (band) biography
Date of birth : -
Date of death : -
Birthplace : New York City, New York, U.S.
Nationality : American
Category : Arts and Entertainment
Last modified : 2012-06-29
Credited as : rock band, Page Hamilton guitarist,
Helmet
is one famous rock band formed in New York City in 1989. Founded by vocalist and lead guitarist Page Hamilton, Helmet has had numerous lineup changes, and Hamilton has been the only constant member.
Members include Frank Bello (joined group, 2004), bass; Henry Bogdan, bass guitar; Rob Echeverria (joined group, 1993), guitar; Page Hamilton, vocals and guitar; Peter Mengede (born in Australia; immigrated to the United States; left group, 1993), guitar; John Stanier, drums; John Tempesta, drums; Chris Traynor (joined group, 1999), guitar, bass. Addresses: Record company--Interscope, 6430 Sunset Blvd., Ste. 321, Hollywood, CA 90028. Website--Helmet Official Website: http://www.helmetband.com.
Aggressive yet precise, Helmet has never fit the typical post-punk band mold. Blending extensive musical training with intellect and brute force, the band quickly became successful in the early 1990s. At the end of the decade, band members became weary of the music and each other, prompting its dissolution. Hamilton reformed the band in 2004 with new personnel but the same desire to play loud, guitar-driven rock music.
Singer and guitarist Page Hamilton brought Helmet together in early 1989 in New York, after leaving the avant-garde ensemble Band of Susans. Originally from Medford, Oregon, Hamilton wasn't always interested in music. While growing up, he worked at a local logging mill by day, and during the evenings he lit smudge pots under trees in the Harry and David fruit orchard to keep the buds from freezing. "I was just a really nice little small-town geek who wanted to play baseball and football," Hamilton told Rolling Stone.
In his senior year of high school, the music of Led Zeppelin IV-- combined with what he now calls excessive marijuana smoking--completely changed Hamilton's direction. Additionally, hearing the music of jazz guitarists George Benson and Grant Green also changed his career trajectory, according to a 1997 interview with Guitar Player. "It's not necessarily that I thought rock sucked," he said, "but it just seemed so common and everyday. Jazz seemed limitless, and I devoured it inch by inch."
After graduating from the University of Oregon with a major in jazz and classical guitar, Hamilton moved to New York to get his master's degree in jazz guitar at the Manhattan School of Music. He had never heard of New York's popular rock clubs like the Mudd Club or CBGB, but he did frequent the Village Vanguard, where his hero, jazz artist John Coltrane, had played. Hamilton soon hooked up with minimalist composer Glenn Branca's famous guitar orchestra and then went on to play with wall-of-sound, Branca-influenced Band of Susans. He played on the album Love Agenda and toured with the band before forming Helmet.
"If you're a dedicated musician, you're interested in learning everything you can about music, so for me it's never been a matter of some sort of 'purity of punk' that you shouldn't play well," Hamilton told Guitar Player.
Mengede had moved to New York from Australia and joined Hamilton in the search for the remaining members. Through their classified ads, they found drummer John Stanier and bassist Henry Bogdan. Originally from Portland, Oregon, Bogdan had played with Portland's punk pioneers Poison Idea. When he saw Hamilton and Mengede's ad, he was already disillusioned with rock, preferring to concentrate on his career as a scenic artist and studio assistant to the minimalist painter Frank Stella. Still, he decided to reply to the ad because of their shared interests in Branca, The Cramps, and the early No Wave post-punk scene influences.
Drummer John Stanier had moved to New York from Fort Lauderdale, Florida. After he graduated from high school, Stanier studied orchestral percussion at the University of Miami and then dropped out. He had developed a combination of control, power, and endurance through years of playing with the drum and bugle corps in his hometown. He performed with Fort Lauderdale hardcore bands while building his technique in the nationally known drum corps Florida Wave and Sunco Sound.
Once the band cemented, the musicians recorded a demo tape that got the attention of Tom Hazelmeyer, the owner of the Minneapolis-based independent label Amphetamine Reptile Records. He decided to sign Helmet to his label. The band released its first single, "Born Annoying" and "Rumble," six months after the band had formed.
In 1990, Helmet released its debut album, Strap It On, on Amphetamine Reptile and met with a fervent audience reception on their tour of the United Kingdom and other countries in Europe. They released their next single, "Unsung" and "Your Head," in October of 1991, and the buzz began. Though Strap It On had only sold 10,000 copies, eight different major labels started courting Helmet in 1992. They ended up signing a controversial million-dollar-plus contract with Interscope Records. The contract allowed the band complete creative control and generous royalty rates.
Helmet released Meantime in June of 1992, and "Unsung" took off as their first hit single. After recording the album, Hamilton went to Seville, Spain, to join his old friend and bandmate Glenn Branca for a live performance of Branca's Symphony No. 8. Helmet then traveled to Japan, Australia, and Hawaii to kick off the tour supporting Meantime. Though their record contract had generated skepticism and controversy, Helmet was touted as a success. Meantime sales reached gold status, and in 1993, Guitar World published a cover story naming Page Hamilton as a central figure of a new generation of players.
Interscope Records re-released Strap It On in December of 1992, as Helmet was preparing for the final leg of its tour. Just before the tour began, in February 1993 the band asked guitarist Mengede to resign. "The relationship with Peter got increasingly strained," Hamilton told Rolling Stone. "My take on it is that he became resentful of the fact that I was writing songs that the three of us were capable of playing, and he wasn't as capable. A good musical thing can't survive in that kind of vibe."
In March of 1993, Mengede was replaced by Rob Echeverria, who had played in some early New York hardcore bands including Straight Ahead and Rest in Pieces. After finishing their '93 tour, Helmet made its break into film soundtracks. They collaborated with House of Pain for the song "Just Another Victim" on the Judgment Night soundtrack, which was released in September of 1993. They then recorded the original version of "Milquetoast" for The Crow soundtrack.
In the summer of 1994, Helmet released its third album, Betty, produced by T. Ray. When Rolling Stone asked Hamilton about Helmet's musical progression, he said, "Strap It On was kind of an accident--we'd stumbled upon this thing we could all do well together. The next album was a little more metal. On this album, we were all aware we liked the groove aspect of things."
Helmet continued contributing to film soundtracks with a song for Johnny Mnemonic, featuring Henry Rollins and Ice-T. And they appeared in the Jerky Boys movie as a rock band, with veteran rocker Ozzy Osbourne playing their manager. The band recorded Black Sabbath's "Symptom of the Universe" and "Lord of This World" for the movie, but only "Symptom of the Universe" made the final cut. "Lord of This World" appeared as a giveaway with an English magazine called Volume. In addition, Helmet recorded a version of "Custard Pie" for a Led Zeppelin tribute album.
In 1997, Helmet went back in the studio without its full line up. The resulting CD was Aftertaste, which left critics including Chuck Eddy of Entertainment Weekly pondering the blandness of this effort. "Hamilton's vocals are so perfunctory, the songs seem cold and humorless," he said in his March 1997 review. "If Helmet want to connect, they need a singer with half a heart."
Chris Traynor (who had played in the band Orange 9mm) filled in on guitar for the remainder of the tour. But Helmet wasn't the same and it disbanded in 1999. Hamilton, in a 2004 interview with liveDaily, attributed the break up to the fact that the bandmates "were not happy campers. We didn't communicate at all and we were sick of each other," he said. "There was no point in continuing." Still, notice was taken. Critics pointed out that the band's influence could be heard in successive bands in various genres including System of a Down, Korn, and Limp Bizkit.
In the hiatus, Hamilton performed and recorded various projects. This included a loose group with a bunch of New York-based friends in a group called Gandhi as well as collaborations with David Bowie, Uberzone, and Ben Neill. He performed on soundtracks for films including S.W.A.T, The Good Thief, and Titus.
Hamilton opted, in 2002, to focus on songwriting. Late that year, he was introduced to John Tempesta--known best for his drumming stints in metal bands Testament and White Zombie, as well as performing on Rob Zombie's solo projects. When Zombie decided to concentrate on acting, Tempesta became a free agent. Hamilton and Tempesta contacted Traynor and they decided to see what would happen in the studio.
The band officially reformed in 2004, with Hamilton, Traynor, Tempesta and Frank Bello (ex-Anthrax) playing bass. Hamilton, in an interview with liveDaily attributed the reformation of the band largely to the insistence Interscope Records' Jimmy Iovine. When word of the trio's studio dabbling leaked out, various labels intrigued. "[Interscope] was sort of a warm, fuzzy place with comfortable people I knew and trusted and wanted to work with again. As far as a label, it made perfect sense. That was how this album came together," Hamilton said. "I never felt it was musically done," Hamilton told Billboard. "I always felt I had more Helmet records to write. ... For me, there's something about spreading your legs apart and grabbing the guitar. I was really missing it."
The album was Size Matters, with Traynor pulling double duty on guitar and bass. The recording was completed before Bello had committed to the band. The attendant tour, scheduled to kick off in September, was postponed when Hamilton had a mountain bike accident in August that left his left shoulder badly injured. The release of Size Matters was also pushed back. Anticipation was running high, despite the delay.
"People will have different reactions to a new album and an album with different personnel. But it still sounds like Helmet. The bottom line is, it's in the writing, and that's the sort of thing that's specific about Helmet," Hamilton said in that same liveDaily interview. "I know some people will miss [former Helmet members] John Stanier and Henry [Bogdan], who's an amazing musician. But they're doing their own thing. ... They didn't want to be doing this. These guys that I'm working with couldn't be anymore enthusiastic."
Before the hiatus, Hamilton told Rolling Stone in a 1997 interview that dedication and enthusiasm were essential ingredients in any band. "Whatever anyone's doing, they should do it with incredible passion," he said. "It's the process itself, it's trying to assert yourself with some discipline and reach something higher. That, to me, is critical."
Studio albums:
Strap It On (1990)
Meantime (1992)
Betty (1994)
Aftertaste (1997)
Size Matters (2004)
Monochrome (2006)
Seeing Eye Dog (2010)
Read more
Latest headlines