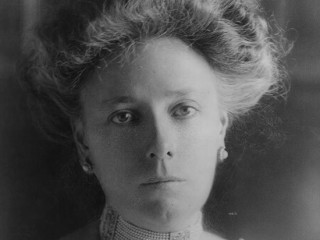 Helen Herron Taft biography
Date of birth : 1861-06-02
Date of death : 1943-05-22
Birthplace : Cincinnati, Ohio, U.S.
Nationality : American
Category : Famous Figures
Last modified : 2010-08-05
Credited as : First lady of the United States, wife of President William Howard Taft,
Helen Herron Taft
, also known as
Mrs. William Howard Taft
born June 2, 1861 in Cincinnati, Ohio, United States - died May 22, 1943 in Washington, District of Columbia, United States was the First lady of the United States and teacher.
American First
Lady Helen Herron Taft
supported her sometimes reluctant husband,
William Howard Taft
, from his early judicial posts in Ohio through his presidency and final years as a Supreme Court justice. Ambitious and energetic, Taft had a lifelong interest in politics and was the first presidential spouse to publish her memoirs. Her descendants have remained active in politics and remain one of Ohio's most prominent political families.
Early Life and Career
The fourth of eleven children, Helen Herron Taft was born Helen Herron on June 2, 1861, in Cincinnati, Ohio. Her family was a wealthy and prominent one. Her father, John Herron, was a member of the Ohio senate and a U.S. attorney with connections to two Ohio men who would become U.S. presidents; he had been a college roommate of Benjamin Harrison (twenty-third president, 1889-1893) and a law partner of fellow Cincinnatian Rutherford B. Hayes (nineteenth President, 1877-1881). Her mother, Harriet Collins, was the daughter of a Democratic congressman from New York. Writing in First Ladies of the United States: A Biographical Dictionary, Robert P. Watson noted that "Helen grew up accustomed to politics as an intimate part of daily life and developed a strong attraction to political affairs." Legend recounts that when the Herron family was invited to visit the Hayes White House when Taft was a teenager, she was so impressed by her surroundings that she made up her mind to marry a future President.
Taft--called "Nellie" from birth--felt somewhat isolated from her family, being separated from her next surviving older and next surviving younger sister by three years in each direction, and she was often plagued by insecurity and self-criticism during her teen years. Despite this, she excelled as a student, graduating from the Miss Nourse School for Girls in June of 1879 and attending courses at Miami University in Oxford, Ohio. Although few women of the era pursued careers, Taft aspired to have a career, hoping particularly to pursue her love of music. She considered herself unlikely to marry and held high standards for any possible future husband. During the early 1880s Herron made many male acquaintances, including a young court reporter and Yale graduate named William Howard Taft, but none of these acquaintanceships led to serious courtship. Instead, Taft asserted her youthful independence from her parents and society's expectations by smoking cigarettes, drinking beer at Cincinnati's German American beer halls, and in 1882, taking a position as a schoolteacher.
Became a Political Wife
The following year, her friendship with William Taft grew closer; he was, as Carl Sferrazza Anthony observed in Nellie Taft: The Unconventional First Lady of the Ragtime Era, "what might be characterized as a `conservative feminist' ... that is, one who genuinely believed that women were intellectually equal to men if given full access to education and should be equally salaried and employed, but that most women would probably end up pursuing a traditional role as wife and mother." Taft proposed to Helen and she rejected him at first, but accepted his subsequent proposal in 1885. The pair married on June 19, 1886, at the Herron residence in Cincinnati.
In 1887 William Taft was appointed to a vacancy on the Ohio Superior Court, and Helen Taft began teaching kindergarten at her alma mater, the Miss Nourse School for Girls. Two years later the couple's first child, Robert, was born. A daughter, Helen, would follow in 1891 and another son, Charles, in 1897. By 1890 William Taft had been elected to a full five-year term on the Superior Court, and seemed content with his life as judge, husband, and father. However, Helen Taft still held hopes that her husband would be more politically powerful and began encouraging him to move into more prominent national positions. In 1890 she urged him to accept recently elected President Benjamin Harrison's offer of a position as U.S. solicitor general, the federal advocate before the U.S. Supreme Court. That year the Taft family moved to Washington, D.C.
Helen Taft enjoyed life in the nation's capital. She often attended sessions of the House and Senate, observing the proceedings from the visitors' gallery. Politically astute and interested in meeting prominent Washingtonians, she became a frequent guest at social events. When President Harrison nominated William Taft to the federal circuit court in Ohio, Taft--being more interested in the law than in political gain--was pleased; Helen Taft, however, was less enthused. Despite his wife's objections, Taft accepted the position and resigned his Washington post in March of 1892. Helen Taft returned to Ohio with her husband, leaving behind the active political and social circles in which she had thrived and fearing that her husband would never regain the attention of major political players. Despite any misgivings, William Taft immensely enjoyed his appointment, and Helen Taft became socially and culturally prominent in Ohio's capital city, Columbus.
Moved to the Philippines
In 1898 the United States assumed control of the Philippine Islands as a result of the Spanish-American War. Two years later President William McKinley appointed William Taft governor of the Philippines, an office which William Taft took with some reservations, but which Helen Taft believed would bring excitement. She studied Filipino culture during her time there and assisted her husband with the challenges presented by his position. She also took advantage of the opportunity to visit Asia. Despite Taft's great success as governor, his growing health problems made it advisable for him to return to the United States. In 1904 the Taft family left Manila for Washington, D.C., when new President Theodore Roosevelt appointed Taft to his cabinet as Secretary of War (now Secretary of State).
Helen Taft found life in Washington difficult. She believed her husband's salary was too low and, as she said in her memoirs, Recollections of Full Years, she found "the life of a `Cabinet lady' newly arrived in the Capital [to be] one of rather monotonous stress." During William Taft's time on Roosevelt's cabinet, his wife acted as his chief adviser and considered ways to raise her husband to higher office, urging Roosevelt to endorse him as a successor. Twice--once during his governorship and once during his years on Roosevelt's Cabinet--William Taft was offered a position on the Supreme Court. Although this job was the one for which he longed above all others, Taft, at the urging of his wife, refused the position both times. Helen Taft continued to press her husband, and in 1908 he became the Republican Party's Presidential nominee.
Became First Lady
Helen Taft was the driving force behind her husband's campaign; Watson wrote that "Taft golfed while Helen organized the campaign." She wrote his speeches and continued to encourage Roosevelt, a popular figure, to show his support for Taft's election. Her efforts on her husband's behalf bore fruit, and he won the 1908 election. Helen Taft rode with her husband on the inaugural parade route, a somewhat scandalous act that set a precedent for future presidential spouses. Unquestionably more enthusiastic about being in the White House than was her husband, Taft continued to serve as his chief adviser, sometimes challenging his decisions and support for certain issues such as prohibition. Her continual drive was temporarily slowed after a stroke partially paralyzed her shortly after Taft took office.
Taft regained her strength and returned to her political role. She supported education measures for women and sat on White House committees. Although previous First Ladies had held influence over their husbands' presidential decisions, none had done so as openly as did Taft; she became the first presidential spouse to give press interviews, speaking about her position as Taft's adviser in national publications. During her time in the White House, Taft helped modernize the presidency by eliminating horse and buggies in favor of Pierce-Arrow automobiles, and created the annual Washington, D.C., cherry blossom week in the face of opponents who argued that the capital's climate was unsuited for the Japanese trees. She also supported the arts, attending many performances and helping establish a bandstand.
Although Taft relied on his wife's advice, others in Washington used her closeness to the President to attack his abilities. The First Lady could be difficult; she was notoriously hard on the White House staff and sometimes worked to block political appointments of those she did not like. She prevented Nicholas Longworth, a relative of Theodore Roosevelt's, from receiving a diplomatic appointment; this contributed to Roosevelt's decision to withdraw his support from William Taft. This split the loyalties of the Republican Party and led to Roosevelt's subsequent run for president on the Bull Moose ticket in 1912. With Republican support divided between the two candidates, Democratic nominee Woodrow Wilson easily won the electoral vote.
After the debacle of 1912, Taft decided to retire from politics. Helen Taft urged him to run for reelection to the presidency in a future election; however, Taft was appointed as Chancellor Kent Professor of Law and Legal History at Yale University in New Haven, Connecticut. Pleased to be returning to his chosen profession, the law, Taft embraced the position. Helen Taft soon became prominent in New Haven society and was an active supporter of the arts. In 1914 she became the first former First Lady to publish her own memoirs.
Returned to Washington
In 1921 newly inaugurated President Warren G. Harding appointed fellow Ohioan William Taft to the position of chief justice of the Supreme Court. Taft delightedly accepted, finally achieving the position he had always dreamed of attaining. Helen Taft returned to the capital with her husband, although in a somewhat different capacity; Anthony noted that "she was more removed from [her husband's] work and activities than at any point since his first judicial appointment. ... Will's new job, in fact, permanently ended the active partnership of the Tafts." Uninterested in the field of law, Helen Taft no longer held any sway over her husband's decision-making. However, Taft supported her husband wholeheartedly in his court seat and used her position in Washington to closely follow politics.
Helen Taft also became active in the Colonial Dames, a patriotic society, and was honorary vice president of the Girl Scouts of America. After the death of her husband in 1930, Taft remained resident in Washington, D.C. She died there in 1943 and was buried in Arlington National Cemetery, the first presidential spouse to receive this honor; she was later joined only by Jacqueline Kennedy Onassis.
Throughout her life, Taft worked to support and influence her husband in her political endeavors. Writing in her memoirs, Taft said, "I confess only to a lively interest in my husband's work which I experienced from the beginning of our association and which nothing in our long life together, neither monotony, nor illness, nor misfortune, has served to lessen." She passed this lively interest on to her children; indeed, her most significant legacy may be that of her political family. The eldest Taft child, Robert, served in the U.S. Senate for three terms; his son, Robert Jr., was a Congressman and later senator from Ohio. The third Robert Taft--Helen Taft's great-grandson--served as Ohio's governor from 1999 to 2007. Charles Taft, William and Helen Taft's second son, became mayor of Cincinnati and was the Republican candidate for governor of Ohio in 1952. Helen Taft's place as a strong political figure can still be observed through the importance of the Tafts, and her influence and character have left a mark on history.
Read more
Latest headlines