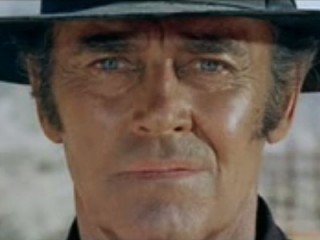 Henry Fonda biography
Date of birth : 1905-05-16
Date of death : 1982-08-12
Birthplace : Grand Island, Nebraska, United States
Nationality : American
Category : Arts and Entertainment
Last modified : 2010-06-08
Credited as : Actor and film producer, impersonator of president Abraham Lincoln, Fonda: My Life
Henry Fonda
(also known as:
Henry Jaynes Fonda
) born May 16, 1905 in Grand Island, Nebraska, United States of America was an American actor and producer.
A star of both stage and screen for more than 50 years, Henry Fonda (1905-1982) was known for portraying the average "every man" with sincerity, integrity, and decency. Though Fonda occasionally played characters with a dark or impatient side, critics considered most all of his performances to be natural and unassuming. Despite spectacular performances in films such as The Grapes of Wrath (1940), Fonda did not receive an Academy Award until a shortly before his death.
Fonda was born in Grand Island, Nebraska, on May 16, 1905. He was the oldest of three children, born to William Brace Fonda and his wife, Herberta (nee Jaynes). William Fonda worked as a printer. When Fonda was still an infant, the family moved to Omaha, Nebraska, where his father opened a print shop. As a child, Fonda liked to write, winning a short story contest when he was ten years old. Two years later he began working in his father's shop after school.
Discovered the Theater
After graduating from Omaha Central High School in 1923, Fonda entered the University of Minnesota to study journalism. William Fonda insisted that his son hold a job while in college, and Fonda held two. He worked as a physical education instructor at a settlement house and for the telephone company. The strain of maintaining two jobs may have contributed to Fonda's dropping out of school after about two years. In 1925, Fonda returned to Omaha, to look for a job in journalism. A friend of his mother's, Dorothy Brando (mother of famous American actor Marlon Brando), offered him a chance to audition for a part at the Omaha Community Playhouse. Dorothy Brando was an amateur actress and very involved with the group. Despite his inexperience, Fonda was cast as Ricky in You and I. Though initially unsure of himself, Fonda grew to love the experience. Soon he was spending a significant amount of time at the Playhouse, performing odd jobs such as ushering and set building.
Fonda's father did not approve of his son's new career choice. He made Fonda take a job as a clerk in a credit company to support himself. Still, Fonda was cast in the lead role of Merton of the Movies at the Playhouse in 1926 or 1927. When William Fonda attended a performance, he recognized his son's talent. Fonda got an early break in 1927 when he wrote a sketch for George Billings, a leading impersonator of former
president Abraham Lincoln
. The sketch featured a role for Fonda as Lincoln's secretary. He toured on the vaudeville circuit with Billings for three months. When he returned to Omaha at the end of the tour, Fonda became the assistant director at the Omaha Community Playhouse.
In 1928, Fonda moved to New York City to pursue a professional acting career. That summer, he worked in summer stock at the Cape Playhouse in Dennis, Massachusetts. He was the third assistant stage manager and had several small rolls. Fonda began an association with the University Players Guild, based in Falmouth, Massachusetts. He spent the next four summers (and one-year long season in Baltimore, Maryland) appearing in a number of University Players productions, first in smaller rolls, then in bigger ones. Not all were successes. Fonda's role as the dumb boxer in Is Zat So? was critically panned. As he had done in Omaha, Fonda performed other tasks for the Guild, including setting up the lighting and building and painting sets. Fonda liked to paint (primarily landscapes and still lifes), pursuing it as a hobby for the rest of his life.
Made Broadway Debut
Fonda's first appearance on Broadway was a small walk-on role in the 1929 production of The Game of Life and Death. The production closed after six weeks, and it would take several years for Fonda to establish himself in New York City. In addition to his summer work with the University Players Guild, Fonda appeared in many productions of the National Junior Theatre in Washington, D.C. He appeared in many productions in 1929 through 1931, including a stint as the Cowardly Lion in The Wizard of Oz. Fonda was married in 1931, to fellow actress, Margaret Sullivan. The marriage was short-lived, however, and the couple divorced in 1933.
By the early 1930s, Fonda appeared more regularly in productions in New York City. In 1932, for example, he played Eustace in I Loved You Wednesday. Critics began noticing Fonda in 1934 when he appeared in the revue New Faces, doing comic sketches with actress Imogene Coca. Through his work in summer stock, Fonda got a big break later in 1934 when he was cast as the farmer, Dan Harrow, in The Farmer Takes a Wife. After a run in Washington D.C., the play moved to New York City, where it was critically and commercially acclaimed. Producer, Walter Wanger offered Fonda a film contract. Although Fonda demanded $1000 per week, Wanger agreed to the terms. Instead of jumping immediately to films, Fonda appeared in the Broadway play All Good Americans.
Began Film Career
In 1935, Fonda made his film debut in The Farmer Takes a Wife, opposite co-star Janet Gaynor. Though he had created the role on stage, Fonda was not the first choice for the screen version. His work garnered widespread critical attention. In a review of the film, Andre Sennwald of The New York Times fortuitously wrote, "Mr. Fonda, in his film debut, is the bright particular star of the occasion. As the virtuous farm boy, he plays with an immensely winning simplicity which will quickly make him one of our most attractive film actors." Fonda immediately began making American epic-type films including The Trail of the Lonesome Pine (1936) and was a recognized film star. Despite his Hollywood success, Fonda continued to appear both in films and in theater in New York City. He married his second wife, Frances Seymour Brokaw, in 1936. They had two children together, Jane and Peter, both of whom later became actors.
In 1939, Fonda first film with director John Ford, Young Mr. Lincoln, received much acclaim. This marked the beginning of fruitful creative association. Fonda appeared in many of Ford's films, as did another screen legend, John Wayne. After the pair made Drums Along the Mohawk (1939), Ford was eager to cast him as Tom Joad in a 1940 screen version of John Steinbeck's The Grapes of Wrath. To secure the role, however, Fonda had to sign a seven-year deal with 20th Century-Fox. The result was one of Fonda's best performances, one that cemented his reputation for emotionally honest and powerful acting. Unfortunately, the contract also meant that Fonda was forced to take roles he probably would not have agreed to otherwise. For example, he appeared in the 1941 comedy, Lady Eve. While he did receive some praise for this work, the genre as a whole was not his strong suit.
In the early 1940s, during the onset of American involvement in World War II, Fonda wanted to serve in the military. The head of 20th-Centur Fox, Darryl Zanuck, worked behind the scenes to ensure this did not happen. After Fonda completed The Immortal Sergeant and The Ox-Bow Incident in 1942, he volunteered for the United States Navy, though he was exempt from serving. Fonda worked in operations and air combat intelligence. For his heroism, he earned the Bronze Star and a presidential citation. Before his discharge in 1945, Fonda reached the rank of lieutenant.
After his tour of duty was ended, Fonda briefly returned to film before concentrating on theater. After his calmly valiant turn as Wyatt Earp in John Ford's My Darling Clementine (1946), Fonda appeared in Ford's Fort Apache (1948). Fonda's role in Fort Apache showed a different side to his acting abilities: his character was darker, meaner, and a bit stuffy. It was his last starring film role for seven years.
In 1948, Fonda returned to Broadway and starred in Mister Roberts. He did not miss any of the long-running show's 1077 performances, and later claimed that this was one of his favorite roles. Fonda was praised for his accomplishments, receiving critical acclaim for his genuinene performances. He later recreated the role on a national tour. During the run of Mister Roberts, Fonda's tumultuous marriage to Frances Seymour Brokaw came to an end. Mentally unstable for much of their marriage, she committed suicide on October 14, 1950, when Fonda demanded a divorce. Fonda was married for a third time to Susan Blanchard, on December 28, 1950. He adopted her daughter, Amy, from a previous relationship. The couple divorced in 1956.
While Fonda continued to appear on Broadway in the 1950s, in such plays as Point of No Return (1951) and The Caine Mutiny Court Martial (1953), he also returned to film. His first project was a film version of Mister Roberts (1955). This was the last collaboration between Fonda and John Ford, who took over the directorial helm at Fonda's request. However, they had completely opposite opinions on interpretation, which resulted in physical clashes. Ford became ill and was unable to complete the work, so Mervyn Le Roy took over as director. Still, Fonda was never happy with the way the film turned out.
Fonda had mixed success with films throughout the 1950s, 1960s, and 1970s. Though many critics believed that he was miscast as Pierre, others praise his work in War and Peace (1956). The only time Fonda acted as a film producer was for 1957's Twelve Angry Men, in which he also had a starring role as the juror who saves the life of the accused man. He played political roles in several movies in the early 1960s, including a turn as the president of the United States in Fail-Safe (1963). Fonda continued to explore his dark side by playing villains several times, primarily in westerns such as Firecreek (1968) and Sergio Leone's Once Upon a Time in the West (1969). Fonda married his fourth wife, Countess Adfera Franchetti, on March 10, 1957. They divorced in 1962. Fonda married for the fifth and final time to model and stewardess Shirlee Adams, in 1965.
Professionally, Fonda concentrated on theater and television. In 1959, he was the co-producer and star of the short-lived series The Deputy. In 1962, he returned to Broadway to appear in A Gift of Time with Olivia De Havilland. Fonda took a second try at a television series in 1971-72 as the patriarch of The Smith Family. One of Fonda's last major theater roles was as Clarence Darrow in a one-man show. From 1974 until 1975, Fonda appeared in this role on Broadway and on a national tour. Before one performance, he collapsed backstage and was forced to have a pacemaker installed on his heart. This marked the beginning of frequent health problems. Despite frequent hospitalization, Fonda continued to work.
Fonda's last film role was one of his most memorable and acclaimed. In 1981, he appeared in On Golden Pond as an irascible old professor reflecting on his life, trying to make peace with his daughter (played by Fonda's daughter Jane), and face his own fears about death. Vincent Canby of The New York Times wrote "Mr. Fonda gives one of the great performances of his long, truly distinguished career. Here is film acting of the highest order--As you watch him in On Golden Pond, you're seeing the intelligence, force and grace of a talent that has been maturing on screen for almost 50 years." Fonda won his only Academy Award for this role, a short time before his death. He died of heart failure on August 12, 1982, in Los Angeles, California. He was 77 years old.
AWARDS
National Board of Review Award, best acting, 1939, for Young Mr. Lincoln; National Board of Review Award, best acting, 1940, for both The Grapes of Wrath and Return of Frank James; Antoinette Perry Award and Barter Theatre Award, best actor, 1948, both for Mister Roberts; British Academy of Film and Television Arts Award, best foreign actor, 1957, for Twelve Angry Men; Drama Desk Award, outstanding performance, 1974, for Clarence Darrow; Grammy Award, best spoken word recording, 1976, for Great American Documents (with others); Lifetime Achievement Award, American Film Institute, 1978; Lifetime Achievement Award, Kennedy Center Honors, 1979; Special Antoinette Perry Award, 1979; Cecil B. DeMille Award, Hollywood Press Association, 1980; Honorary Academy Award, 1980; Lifetime Achievement Award, Los Angeles Drama Critics Circle, 1981; Academy Award, best actor, Golden Globe Award, best actor in a motion picture drama, National Board of Review Award, best actor, 1982, all for On Golden Pond; Bronze Star; Presidential Citation Award.
Fonda's autobiography,
Fonda: My Life (1981)
, written with
Howard Teichman
, offers perhaps the most comprehensive and accurate review of the actor's life and career—"warts and all," according to Fonda. Interested readers also will find valuable insights in John Shipman,
The Fondas: The Films and Careers of Henry, Jane, and Peter Fonda (1970);
Michael Kerbel,
Henry Fonda (1975)
; Norm Goldstein,
Henry Fonda (1982)
; Allen Roberts and Max Goldstein,
Henry Fonda: A Biography (1984)
; Gerald Cole and Wes Farrell,
The Fondas (1987)
; and Tony Thomas,
The Complete Films of Henry Fonda
(1990). Obituaries are in the New York Times (13 Aug. 1982), and Time and Newsweek (both 23 Aug. 1982).
Read more
Latest headlines