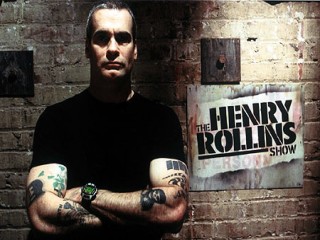 Henry Rollins biography
Date of birth : 1961-02-13
Date of death : -
Birthplace : Washington, D.C., U.S.
Nationality : American
Category : Arts and Entertainment
Last modified : 2011-09-10
Credited as : singer-songwriter, comedian, radio DJ
Henry Rollins
, born
Henry Lawrence Garfield
is an American singer-songwriter, spoken word artist, writer, comedian, publisher, actor, and radio DJ.
More than 25 years ago, Henry Rollins made a name for himself as the frenzied, tattooed front man for the hardcore punk band Black Flag. While many of his contemporaries have long since disappeared from the stage, Rollins is still performing. The free-associating wordsmith still dabbles in music but also gives spoken-word performances and has toured with the United Service Organizations (USO), providing comic relief to U.S. troops in Iraq and Afghanistan.
During his career, Rollins has averaged more than 100 performances a year and shows no signs of slowing down. He has tackled Lollapalooza and Woodstock, appeared on late night television with Conan O'Brien and Jay Leno, and snagged the occasional acting gig alongside such A-list celebrities as Will Smith and Al Pacino. Rollins even won a Grammy, for the audio book Get in the Van , an account of his road-tripping band days. In 2004, Rollins moved from performing onstage to behind the camera as host of his own television show on the Independent Film Channel. At first, the show focused on movies, but by 2006, he had extended the format to also include critiques of music, politics, and pop culture amidst a steady stream of celebrity guests and musicians.
Born Henry Lawrence Garfield on February 13, 1961, in Washington, D.C., Rollins was raised primarily by his mother, Iris, after his parents divorced. He saw his dad, an economist, on weekends. Along the way, he changed his name from Garfield to Rollins but shies away from revealing why. Rollins describes his childhood as terribly unhappy. One of his mother's boyfriends beat him and mentally abused him. Skinny, insecure, hyperactive and taking prescription Ritalin to calm his body and mind, Rollins felt like an outsider growing up. This feeling is reflected in many of his songs and books.
When Rollins was a teenager, a teacher inspired him to start lifting weights, which ultimately changed his murky outlook on life. Speaking to the Chicago Tribune 's Greg Kot, Rollins described the transformation this way: "For me the weights were a major turning point in my life. When I was 14, I went from skinny, no presence, low self-opinion to someone who could actually feel his feet in his shoes. When I found I could actually lift something that six weeks before I could not lift, it was the first time in my life that I ever felt a sense of achievement."
Rollins attended the Bullis School—at the time a strict, all-boys school in nearby Potomac, Maryland. Rollins' mother worked for government outreach organizations that focused on public education, so it was important for her son to get a good education. Rollins credited his mother with instilling in him a love of literature. Early on, Rollins was turned on by words. Like weightlifting, literature provided a release from his self-deprecating mind. "In school I really didn't dig math or science but I liked literature," Rollins told an interviewer for the Modern Word website. "I was one of those introspective skinny boys who read because I would get my a** kicked on any level playing field with athletics, so I read my mom's Dylan Thomas and E.E. Cummings and I really enjoyed John Steinbeck." As a teen, Rollins wrote stories, though he never imagined he would be a published author some day. After he left Bullis, Rollins attended American University, located in his hometown of Washington, D.C. He lasted one semester before dropping out.
As a young man, Rollins joined a local punk band called S.O.A.—short for State of Alert. The group released an EP around 1980. At about that same time, an acquaintance introduced Rollins to the music of the Southern California punk band Black Flag. Rollins became an instant fan, especially after seeing the group perform live. "I had never seen anyone play like that before," Rollins told the Washington Post's William F. Powers. "It was like they were trying to break themselves into pieces with the music. It was one of the most powerful things I'd ever seen. There was not a second wasted on stage. The songs were devoid of filler. The urgency of the music and the playing was unsettling. Made me wonder what planet they came from. I wanted to move there immediately."
In 1981, Rollins supported himself by scooping ice cream at a Haagen-Dazs store in the Washington area. One night he drove to New York to catch a Black Flag concert. By this time, Rollins had become good friends with the band members. During the concert, Rollins requested the band sing "Clocked In," a song about work. The lead singer looked at Rollins and told him to sing it, so Rollins hopped onstage and nailed the performance. Soon, the band called and asked if Rollins wanted to audition for lead singer; the current singer wanted to switch to rhythm guitar. Rollins got the job and joined the band as a roadie, learning its songs bit by bit before taking over as the front man.
During the 1980s, Black Flag toured incessantly, covering the United States and Canada and occasionally visiting Europe. The band took its name in reference to the traditional anarchist symbol of a black flag. Rollins proved to be a dynamic live performer and with him at the helm, Black Flag attracted a large fan base. Often, Rollins appeared onstage barefoot, wearing only shorts—veins popping, sweat spewing—as he hopped around, sometimes crouching to expel the lyrics and showing off his highly muscular, tattooed body. Washington Post reporter Joe Brown once wrote that a Black Flag concert is like a storm with "wild-child Rollins, raging and blazing in a pair of black shorts, the antithesis of calm. His rock output consists of idealistic lyrics sung-shouted over the band's assault—harsh, grinding, exhilarating songs that don't stop until they run out of gas or hit the guardrail." During Rollins' tenure with Black Flag, the group released several albums and singles, then folded in 1986.
After the band's breakup, Rollins formed a new group, the Rollins Band, which played similar music, though it included passages of jazz and a touch more heavy metal. The Rollins Band produced music at a feverish pace, releasing three albums between 1988 and 1990. Having established itself as a key player in the alternative rock world, the Rollins Band was invited to perform at the first Lollapal- ooza, in 1991. The band's 1992 release, The End of Silence , shot to No. 1 on the College Music Journal 's chart. The group's most noteworthy album, however, was 1994's Weight , which cracked Billboard 's Top 40. One of the album's singles, "Liar," garnered heavy rotation on MTV and helped the band win an invitation to appear at Woodstock '94. With frequent appearances on MTV and VH-1, Rollins continued to gain a following and in 1994, the charismatic entertainer appeared in his first film, The Chase , starring Charlie Sheen. That same year Details , the magazine for hip urban men, named Rollins its "Man of the Year."
As a band leader Rollins wrote many songs, but over the years he branched out and also published opinion pieces and stream-of-consciousness rants in various rock journals and magazines. Along the way, he also began to give spoken-word performances, which brought his written material to life. Rollins produces books through his own publishing company, 2.13.61, which is named for his birthdate. Founded in 1984, the company has published Rollins' journals, as well as books by Australian musician Nick Cave and Exene Cervenka of the punk band X. Like his songs, Rollins' books have an angry, raw tone. A frequent subject is his dreary childhood and the death of his best friend and roommate, Joe Cole, who died after they were held up at gunpoint outside their apartment in 1991. Rollins also writes about politics. By 1997, Rollins had published ten books and produced several audio books, including the 1995 best spoken word Grammy winner Get in the Van , a recollection of his days on the road with Black Flag.
Despite his obvious talents, Rollins finds writing excruciating. Speaking to the Modern Word website, Rollins said his writing "has always been very inept, it's a callisthenic—I have to work so hard to get it over the wall. I have really no talent for writing, merely an obsession and some kind of strange duty I feel. Yet I never felt that I'm any good at it. I can't even say I enjoy writing. I sometimes wish I could stop. Unfortunately I can't."
The former punk rocker eschews tobacco and alcohol—he is part of the straight-edge movement that came about in the late 1970s. Speaking to Crazewire 's Will Fresch, Rollins said he finds drinkers "just so slow and dull…. As for today, I mean, it's not even a temptation for me. It's as much of a temptation as drinking paint. I'm just not interested."
Each year, Rollins keeps a busy schedule of spoken-word performances. A typical show consists of Rollins reporting his thoughts on what he has been seeing and feeling—and like his other work, he does not shy away from expressing the pain and frustration he feels living in today's world. Rollins frequently talks about Iraq and living in a post-9/11 society. His shows include well-polished monologues, as well as spur-of-the-moment rants that frequently target U.S. President George W. Bush. Despite his disagreements with the Bush administration's policies, Rollins has done several tours with the USO, beginning in 2003, because troops kept requesting him. Over the years, Rollins has entertained troops in Korea, Japan, Iraq, Qatar, Kuwait, Honduras, Kyrgyzstan, Egypt, the South Pacific, and Afghanistan.
Touring with the USO has generated plenty of material for Rollins. If "you go hang out in Saddam's palace for an afternoon, there's no way that you're not going to have some stories to tell. I'm not on some political agenda. I'm just giving you my take of what I saw, which is definitely not like what the guy on the news is going to say because I'm not shilling for anybody," Rollins told Kane Young of the Hobart Mercury .
In 2004, Rollins began hosting a radio show, Harmony in My Head , at a Los Angeles radio station. That same year, he became host of Henry's Film Corner on the Independent Film Channel. On the television show, which aired monthly, Rollins gathered real professionals to review films. For one episode, he called upon a group of firefighters to critique Ladder 49 . In another episode, a group of female boxers weighed in on Girlfight . The show turned out to be such a success that when it was renewed, the cable channel offered Rollins a weekly slot and renamed it The Henry Rollins Show .
The newly reformatted show, which hit the airwaves in 2006, allowed Rollins to do more than speak about films. He began critiquing music and pop culture, too. Instead of opening his talk show with a monologue like many hosts, Rollins opens with a segment called "Teeing Off," in which he offers a short social commentary. The show also includes "Letters from Henry," where he reads sarcastic letters he has written to politicians and celebrities. Guests have included filmmakers Oliver Stone and Werner Herzog, as well as musicians Ozzy Osbourne and Chuck D. The Rollins Band has performed on the show. Some shows are filmed live outside the studio, such as the opener for the 2007 season, which was recorded while Rollins was on tour in Tel Aviv, Israel.
Rollins uses some of his profits for various charities, including the Southern Poverty Law Center and the Free the West Memphis Three organization. Rollins became interested in the West Memphis, Arkansas, case after seeing some documentaries about the three teenage boys who were convicted in the murders of three eight-year-olds in 1994, despite any physical evidence or witnesses. Rollins visited the group's headquarters and viewed crime-scene shots and autopsy results. Convinced the boys did not receive a fair trial—and may even be innocent—Rollins took up their cause. He put together a benefit album, released in 2002, which included various musicians—like Iggy Pop, Chuck D, and Ice T—singing a collection of Black Flag cover songs. Profits from the album and a subsequent tour were donated to the defense fund.
Awards:
Details magazine "Man of the Year," 1994;
Grammy Award for best spoken word album, Recording Academy, for Get in the Van , 1995.
Read more
Latest headlines