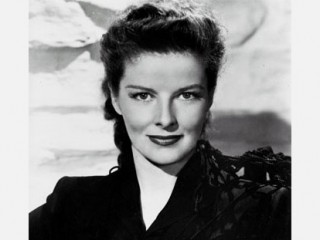 Hepburn Katharine biography
Date of birth : 1907-05-12
Date of death : 2003-06-29
Birthplace : Hartford, Connecticut, U.S.
Nationality : American
Category : Arts and Entertainment
Last modified : 2010-06-15
Credited as : Actress, Little Women (1933), Best Actress Oscar
Katharine Hepburn
(also known as:
Katharine Houghton Hepburn
) born May 12, 1907 died June 29, 2003 in Old Saybrook, Connecticut, United States was an American actress.
Family Background.
Katharine Houghton Hepburn was born on 12 May 1907 (despite conflicting reports that have dogged her since her first Hollywood film), the second of the six children of Katharine "Kit" Hepburn and Thomas Hepburn. Her mother was part of a well-known New England family, the Houghtons. Encouraged by her dying mother to acquire an education for herself and her sisters, Kit Houghton eventually earned a bachelor's degree from Bryn Mawr (1899) and a master's degree from Radcliffe (1900). Houghton's upbringing encouraged her to value independence, education, and social responsibility, three qualities that dominated her life. Because of her mother's interests, Katharine Hepburn had a childhood that was characterized by her family's deep involvement in many social causes of the day: the suffrage movement, the presence of brothels in their home city of Hartford and the associated spread of venereal disease, and the efforts to provide safe birth control to women (the latter cause was ably headed by Margaret Sanger, a friend of the Hepburns.) The Hepburn family's social conscience was not, however, guided solely by Kit Hepburn. Thomas Norval Hepburn was a young medical student when he first met Kit Houghton, and his sense of social awareness was as acute as hers. He chose to specialize in urology, an unmentionable subject in the polite society of that time. His practice led him to understand the horrors of syphilis, which was devastating the populations of all social classes. He chose to speak out about this unmentionable disease, at one point even paying for the printing and distribution of a play (Damaged Goods, by French dramatist Eugène Brieux) on the subject.
Family Emphasis on Physical Activity.
Another feature of Hepburn's childhood was her family's emphasis on physical activity. From ice cold baths to swinging on a homemade trapeze strung from the trees to playing tennis and golf, the family's active life was the result in large part of Thomas Hepburn's belief that a sluggish body led to a sluggish mind.
Family Tragedy.
This closely knit family did suffer one early tragedy that also shaped Hepburn's growth: the accidental death by hanging of the oldest child, Tom, who was especially close to his sister Katharine. Soon after this time, Hepburn and her four siblings formed the Hepburn Players, an assortment of neighborhood children who put on performances with their own staging and direction. Even here, the family's social consciousness dominated: All proceeds from the production of Beauty and the Beast went to benefit the children of the Navajo Indians in New Mexico. (Hepburn herself played the beast.)
Acting in College.
Like her mother and grandmother before her, Hepburn attended Bryn Mawr College, where she took part in many of the school theatricals: Her parts ranged from playing a young man in one performance to playing Pandora in The Woman in the Moone [sic]. These experiences seem to have led to her decision to become an actress; just before the end of her senior year, she approached Edwin H. Knopf, a director of a local theater company, armed with a letter of introduction and asking for work.
Early Theatrical Career.
In 1928, just before her graduation from Bryn Mawr, Katharine Hepburn's persistence overrode Knopf's objections, and he hired her to play one of six ladies-in-waiting in a production of The Czarina (1928). Hepburn's early years on the stage were marked by many struggles and ups and downs. She was, as she later said, "a quick study": She could read a part wonderfully and impress the director. When she was hired, however, she lacked the training and experience to carry through a full performance.
From Broadway to Film.
In 1932, Hepburn played the supporting role of Antiope, an Amazon warrior, in the Broadway production of The Warrior's Husband. Her entrance staggered Broadway: Wearing a short tunic, a helmet, a breastplate, and leggings, and carrying a dead stag over her shoulder, Hepburn leapt down a steep ramp and onto a platform, where she hurled the stag at Hippolyta's feet. This performance led to an offer of a screen test for Hepburn. On the basis of this screen test, Hepburn was awarded her first role in Hollywood, playing Hillary Fairfield in the 1932 film A Bill of Divorcement with the famous John Barrymore. This role led to Hepburn's instant fame, although her second film in Hollywood, Christopher Strong, was neither a popular nor a critical success. Hepburn's popularity returned after her third picture, Morning Glory (1933), for which she was awarded her first Academy Award for Best Actress. Hepburn's next film role, Jo in Little Women (1933), was critically acclaimed, but she was not to be part of another popular film until Stage Door in 1937.
The Lake.
After she received her Academy Award, Hepburn's appeal was so great that she was offered the lead in the stage production of The Lake (1934). The play began disastrously, with a hard director apparently trying to browbeat Hepburn into buying out her contract. Hepburn stuck to her work, however, and struggled so hard to improve each performance that, by the time the play closed, she was turning in excellent performances. Soon after this experience, Hepburn returned to Hollywood.
Bringing Up Baby.
In 1938, Hepburn's second film with the talented Cary Grant, Bringing up Baby, was released. Though it was not enormously popular upon first release, Bringing up Baby later came to be considered the finest of the "screwball comedies" that were so popular during the 1920's and 1930's.
Return to the Stage.
Despite her successes in dealing with Hollywood on her own terms and her previous difficulty with The Lake, Hepburn often returned to the stage. One of her most successful theatrical runs was in The Philadelphia Story (1939). As well as starring in the play, Hepburn was involved in all aspects of its production, from writing to casting to arranging financing. Hepburn was as deeply involved in the writing and production of the film version of The Philadelphia Story (1940), in which she repeated her role from the stage version.
Partnership with Spencer Tracy.
In 1942, yet another Hepburn film, Woman of the Year, was released. This picture marked Katharine Hepburn's first screen work with the superb actor Spencer Tracy, and it initiated what became the longest screen partnership in history as well as a legendary Hollywood romance. Hepburn and Tracy worked together until 1967, when their last film together, Guess Who's Coming to Dinner, was completed shortly before Tracy's death. Hepburn's work in this film earned for her a second Academy Award, which she believed must have been meant for both Tracy and herself.
Transition from Starlet to Mature Actress.
The African Queen (1951), made with Humphrey Bogart on location in Africa, saw the transition in Hepburn's career from a young Hollywood actress whom the studios had tried to portray as a starlet to the mature Hepburn, who was able to show film audiences the confidence and competence she had possessed all along. As one of her biographers, Sheridan Morley, explained, with the role of the missionary Rose Sayer, Hepburn transcended the "battle-of-the-sexes ... comedies ... and the old high-society romps" of her early career to become a great dramatic actress. This picture (for which Bogart won the Academy Award for Best Actor) was a critical and financial success for all concerned. Another Hepburn film that received great critical acclaim was Long Day's Journey into Night (1962), in which she gave a compelling performance of a woman sinking into the depths of drug addiction. According to many critics, this performance was the pinnacle of her career, a review that seems a bit premature, since Hepburn continued to work. She won her next two Academy Awards for Best Actress for her portrayal of Eleanor of Aquitane in The Lion in Winter (1968) and for her portrayal of Ethel Thayer in On Golden Pond (1981). These two films clearly demonstrated to the studios and critics that the American public would not only pay to see but also relish quality films starring mature, competent actors.
Impressive Actress.
Throughout her career, Katharine Hepburn pushed herself to explore the limits of her ability and of the motion picture medium. Her frequent stage work, from her struggles with The Lake to her success in The Philadelphia Story to her frequent Shakespeare roles, bears testimony to her determination not to rest on her laurels. Her four Academy Awards for Best Actress attest her talent as an actress and the admiration of her colleagues. Although audiences initially did not know what to make of her early performances (which were far from the typical Hollywood stereotypes of women) and despite more than her share of critical attacks, Hepburn eventually came to epitomize honesty, independence, and intelligence, and she was idolized by millions of filmgoers. Hepburn's biographer, Gary Carey, quoted Richard Watts of the Herald Tribune as saying, "Few actresses have been so relentlessly assailed by critics, wits, columnists, magazine editors, and other professional assailers over so long a period of time, and even if you confess that some of the abuse had a certain amount of justification to it, you must admit she faced it gamely and unflinchingly and fought back with courage and gallantry."
AWARDS
Academy Awards, 1933; Academy Award, 1967; Academy Award, 1968; Academy Award, 1981; Emmy Award, 1975.
* Films as Actress
* 1932: A Bill of Divorcement (Cukor) (as Sydney Fairfield)
* 1933: Christopher Strong (Arzner) (as Lady Cynthia Darrington)
* 1933: Morning Glory (Sherman) (as Ada Love/"Eva Lovelace")
* 1933: Little Women (Cukor) (as Jo)
* 1934: Spitfire (Cromwell) (as Trigger Hicks)
* 1934: The Little Minister (Wallace) (as Lady Babbie)
* 1935: Break of Hearts (Moeller) (as Constance Dane)
* 1935: Alice Adams (Stevens) (title role)
* 1936: Sylvia Scarlett (Cukor) (title role)
* 1936: Mary of Scotland (Ford) (title role)
* 1936: A Woman Rebels (Sandrich) (as Pamela Thistlewaite)
* 1937: Quality Street (Stevens) (as Phoebe Throssel)
* 1937: Stage Door (La Cava) (as Terry Randall)
* 1938: Bringing Up Baby (Hawks) (as Susan Vance)
* 1938: Holiday (Cukor) (as Linda Seton)
* 1940: The Philadelphia Story (Cukor) (as Tracy Lord)
* 1942: Woman of the Year (Stevens) (as Tess Harding)
* 1943: Keeper of the Flame (Cukor) (as Christine Forrest)
* 1943: Stage Door Canteen (Borzage) (as herself)
* 1944: Dragon Seed (Bucquet) (as Jade)
* 1945: Without Love (Bucquet) (as Jamie Rowan)
* 1946: Undercurrent (Minnelli) (as Ann Hamilton)
* 1947: The Sea of Grass (Kazan) (as Lutie Cameron)
* 1947: Song of Love (Brown) (as Clara Schumann)
* 1948: State of the Union (Capra) (as Mary Matthews)
* 1949: Adam's Rib (Cukor) (as Amanda Bonner)
* 1951: The African Queen (Huston) (as Rose Sayer)
* 1952: Pat and Mike (Cukor) (as Pat Pemberton)
* 1955: Summertime (Lean) (as Jane Hudson)
* 1956: The Rainmaker (Anthony) (as Lizzie)
* 1957: The Iron Petticoat (Thomas) (as Vinka Kovelenko)
* 1957: Desk Set (Walter Lang) (as Bunny Watson)
* 1959: Suddenly, Last Summer (Mankiewicz) (as Mrs. Violet Venable)
* 1962: Long Day's Journey into Night (Lumet) (as Mary Tyrone)
* 1967: Guess Who's Coming to Dinner?; (Kramer) (as Christina Drayton)
* 1968: The Lion in Winter (Anthony Harvey) (as Eleanor of Aquitaine)
* 1969: The Madwoman of Chaillot (Forbes) (as Countess Aurelia)
* 1971: The Trojan Women (Cacoyannis) (as Hecuba)
* 1973: A Delicate Balance (Richardson) (as Agnes)
* 1973: The Glass Menagerie (Anthony Harvey--for TV) (as Amanda Wingfield)
* 1975: Rooster Cogburn (Millar) (as Eula Goodnight)
* 1975: Love among the Ruins (Cukor--for TV) (as Jessica Medlicott)
* 1977: Olly, Olly, Oxen Free (The Great Balloon Adventure) (Colla) (as Miss Pudd)
* 1978: The Corn Is Green (Cukor--for TV) (as Lilly C. Moffat)
* 1981: On Golden Pond (Rydell) (as Ethel Thayer)
* 1983: The Ultimate Solution of Grace Quigley (Grace Quigley) (Anthony Harvey) (title role)
* 1984: George Stevens: A Filmmaker's Journey (Stevens, Jr.)
* 1986: Mrs. Delafield Wants to Marry (Schaefer--for TV) (title role)
* 1986: Spencer Tracy Legacy: A Tribute by Katharine Hepburn (Heeley--for TV)
* 1988: Laura Lansing Slept Here (Schaefer--for TV) (title role)
* 1993: The Man Upstairs (Schaefer--for TV) (as Victoria Brown)
* 1994: Love Affair (Caron) (as Ginny)
* 1994: This Can't Be Love (Anthony Harvey--for TV) (as Marion Bennett)
* 1994: One Christmas (Tony Bill--for TV) (as Cornelia Beaumont)
Read more
Latest headlines