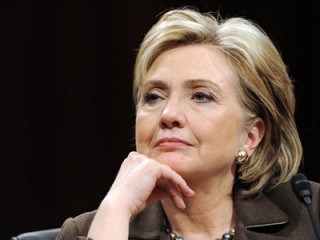 Hillary Clinton biography
Date of birth : 1947-10-26
Date of death : -
Birthplace : Chicago, Illinois, USA
Nationality : American
Category : Politics
Last modified : 2010-07-05
Credited as : Politician and lawyer, U.S. Secretary of State, Obama administration
Hillary Rodham Clinton
(also known as:
Hillary Clinton
) born October 26, 1947 in Chicago, Illinois, United States is an American politician, senator and lawyer. She is also a former first lady of the United States.
Hillary Rodham Clinton
began her political career as the wife of
Bill Clinton
, former governor of Arkansas and the 42nd president of the United States. As First Lady, she figured prominently in the Clinton administration, with substantial influence on domestic policy-making. She was first elected to public office in her own right in 2000, as one of New York's U.S. senators. In 2007, she announced her candidacy for president of the United States. After her strong but unsuccessful campaign in the primary elections, Clinton conceded the nomination to run for president to fellow Democratic senator Barack Obama in June 2008. In early December 2008, Clinton announced she would serve as United States Secretary of State for President-elect Obama; she was confirmed as Secretary of State in January of 2009.
A First Lady with an independent professional identity, Hillary Rodham Clinton had experience as a corporate lawyer, a tenacious fighter for educational reform, a nationally recognized expert on children's legal rights, and a director of both corporate and nonprofit boards. Hillary Diane Rodham was born on October 26, 1947, in Chicago, Illinois. She grew up with two younger brothers in Park Ridge, a conservative, upper-class suburb north of the city. Her parents, Hugh and Dorothy Howell Rodham, reared their three children with traditional mid-American values that stressed family, church, school, and social obligations that evolved from the adage that "to whom much is given, much is expected."
As a youth Rodham was influenced by her religious training in Methodism, with its emphasis on personal salvation and active applied Christianity. A seminal influence in her teen years was a youth minister, the Reverend Don Jones, who introduced Rodham and her peers to some of the issues, causes, and movements of the time and who encouraged involvement in direct social action. It was under Jones's guidance that she read religious philosophers such as Soren Kierkegaard and Dietrich Bonhoeffer; babysat the children of migrant farm workers; and met the Reverend Dr. Martin Luther King, Jr., when he came to Chicago on a speaking tour.
Rodham attended the public schools of Park Ridge and in 1965 enrolled in Wellesley College, where she majored in political science and took a minor in psychology. Her undergraduate years were important to her developing worldview. An exceptional communicator, she was a catalyst for many of the movements for change occurring on the Wellesley campus and was involved also in a number of off-campus activities. She spent her final undergraduate summer in Washington, D.C., working for the House Republican Conference and returned to campus to spend her senior year as president of the student government. Graduating with highest distinction in 1969, Rodham gave the first student address delivered during commencement in the history of the college. In the fall she enrolled in Yale University Law School, where she was among 30 women in the class of 1972.
Experience in Washington, D.C.
Rodham's experiences at Yale helped to focus her areas of interest and commitment toward issues related to children, particularly poor and disadvantaged ones. She became acquainted with Marian Wright Edelman, a civil rights attorney who headed up the Washington Research Project, a non-profit group based in Washington, D.C., later to be known as the Children's Defense Fund. Spending a summer internship in Washington, D.C., Rodham was assigned by Edelman to Walter Mondale's Senate subcommittee, which was studying the plight of migrant families. In subsequent years at Yale she volunteered to work in the Yale Child Studies Center and the Yale-New Haven Hospital, assisted the New Haven Legal Assistance Association, and engaged in several other projects aimed at improving understanding of, and effecting improvements in, the legal system where children were concerned. An extra year of study at Yale prior to her graduation in 1973 further refined her expertise in child law issues.
After graduation Rodham moved to Washington and took a full-time position with the Children's Defense Fund. As staff attorney, she worked on juvenile justice problems, traveling the country comparing census data with school populations and becoming involved in litigations related to juvenile issues. In January 1974 she was chosen as one of 43 lawyers handpicked to work on the legal staff of the House Judiciary Committee, which was charged with preparing impeachment proceedings against President Richard Nixon resulting from the Watergate scandal. When Nixon resigned on August 9, 1974, and the legal staff disbanded, she accepted a teaching position at the University of Arkansas Law School. In Arkansas in 1975, she married Bill Clinton, whom she had met while attending Yale.
A Life in Little Rock
Two years after their wedding, Bill Clinton became attorney general of Arkansas, and the couple moved to Little Rock. In 1977 Hillary Clinton joined the prestigious Rose Law Firm, said to be one of the oldest law firms west of the Mississippi River, and became involved in intellectual property law. Her primary focus, however, remained in the area of children's rights, and she helped found Arkansas Advocates for Children and Families. She continued to write on the rights of children, revising an earlier article published in the Harvard Educational Review. The revised essay, "Children's Rights: A Legal Perspective," appearing in Children Rights: Contemporary Perspectives, developed and refined her arguments for the implementation of children's legal rights. She also was appointed by President Jimmy Carter to the board of the Legal Services Corporation in Washington (1978 to 1981), a federally-funded program that provided legal assistance to the poor. In January 1978, following her husband's successful bid for the governorship, Clinton became Arkansas' first lady. Later that year she also became the first woman ever to become a partner in the Rose Law Firm. In February 1980 she gave birth to a daughter, Chelsea Victoria.
In her 11 years as first lady of Arkansas, Clinton continued to pursue activities aimed at public service and policy reforms in the state. In her husband's second term she served as chair of the Arkansas Education Standards Committee, established to study the state's educational system and to recommend changes in the standards for public schools. Released to the public in September 1983, the standards report was controversial in several aspects, although it would eventually become state law. In 1985 Hillary Clinton also gave leadership to the establishment in Arkansas of the Home Instruction Program for Pre-School Youngsters (HIPPY). The program, which brought instruction and tutorials into impoverished homes to teach four-and five-year-olds, became one of the largest such programs in the country, with over 2,400 mothers participating.
In 1987 she was elected chairperson of the board of the Children's Defense Fund and of the New World Foundation, a philanthropic organization headquartered in New York that had helped launch the Children's Defense Fund. Also in that year, Hillary and Bill Clinton were awarded the National Humanitarian Award from the National Conference of Christians and Jews. Enjoying a national prominence, Hillary Clinton held directorships on the boards of directors of several corporations, including Wal-Mart, TCBY Enterprises (yogurt), and Lafarge (cement). She also was cited by the National Law Journal in 1988, and again in 1991, as one of the "One Hundred Most Influential Lawyers in America."
Analyses of Clinton were varied; however, they generally pointed to her "spiritual center" and her "continuous textured development." People magazine, as one example, noted that "her social concern and her political thought rest on a spiritual foundation" (January 25, 1993). The "politics of virtue," according to the The New York Times Magazine, informed the actions of the newest First Lady (May 23, 1993).
In the White House
As the wife of the President of the United States, Clinton remained an advocate for many of the programs and issues she had long supported. Her stated goal of "making a difference" in the world led her to press for reforms in many ares, including health care and child welfare. Hers is said to be "the most purely voiced expression of the collective spirit of the Clinton administration, a spirit that is notable ... for the long reach of its reformist ambitions ...." (The New York Times, May 23, 1993). She provided leadership in a number of areas, with the most notable appointment in the first year of the Clinton administration being head of the Task Force on National Health Care, with responsibility for preparing legislation, lobbying proposals before Congress, and marshaling strategy for passage of a comprehensive reform package. However, the Clintons' proposed health care reform did not pass.
Her White House agenda also included promoting diversity in personnel appointments--an effort she began with her role in the transition group--and pushing for children's issues. With an office in the White House's West Wing, close to the center of power, Clinton broke the mold of the role of First Lady.
Clinton remained an active and vital figure in the White House throughout her husband's presidency. In August of 1995, she was invited to deliver the keynote address at the United Nations International Conference on Women near Beijing, China. Early in 1996 Clinton and her daughter Chelsea made a goodwill trip to South Asia, addressing women's issues in Pakistan and India.
In November 1996 Bill Clinton was re-elected president of the United States. In that same year Hillary Clinton published her first book entitled It Takes a Village: And Other Lessons Children Teach Us. In 1998, she published a collection of letters written to the Clinton family pets, Socks the cat and Buddy the dog, entitled Dear Socks, Dear Buddy: Kid's Letters to the First Pets, providing a cheerful contrast to the Clinton impeachment trial that was happening at the same time. She revealed--during and after the time of the trial, which included details of her husband's extramartial affair--that she planned to stay with the President for the rest of her life. On September 20, 2000, Independent Counsel Robert Ray said in his final report reviewing the 1970s-era Whitewater real estate partnership that there was insufficient evidence that either President Clinton or first lady Hillary Rodham Clinton had engaged in any criminal wrongdoing.
In 2000, Hillary and Bill Clinton moved to Chappaqua to establish residency and Hillary Clinton officially announced her candidacy for the U.S. Senate from New York. In May of 2000, Clinton received the state convention's nod as the Democratic nominee. Her Republican opponent was originally Rudolph Giuliani, the mayor of New York. However, when Giuliani had to drop out after being diagnosed with prostate cancer, Republican Rick Lazio jumped into the race. On November 7, 2000, Clinton became the first sitting first lady to win an elected office when she beat Lazio for the New York Senate seat in one of the most expensive Senate races to date. She began her term in the Senate in January of 2001, just before her husband's term as president ended.
As 2002 closed, there were murmurs of Clinton running for the presidency in 2004. However, she vowed to finish her six-year Senate term. "I'm looking forward to" running for re-election in 2006, Clinton told Time interviewer Nancy Gibbs. "I'm having a good time being Senator."
Many political observers believed that her decision to serve on the Senate Armed Services Committee was a calculated move to help her prepare to run for president, since it would provide her with more foreign policy experience and round out her formerly domestic-policy-heavy resume. If it was intentional, such positioning appears to have worked: by the time President George W. Bush was sworn in for his second term, Clinton was being described as the "presumed front-runner for the Democratic nomination" to replace him by the New York Journal News.
As criticism of Bush and his handling of the Iraq war mounted in 2005, Clinton, who had voted to authorize U.S. military action against Iraq, began to shift her position. In late November of that year, she sent an e-mail to constituents, suggesting a withdrawal may be in the works. "We are at a critical point with the December 15 [Iraqi] elections that should, if successful, allow us to start bringing home our troops in the coming year," she said, according to the Sunday Times of London. (However, Bush refused to withdraw U.S. troops.) Earlier in 2005, Clinton visited Iraq as part of a delegation of U.S. Senators and met with interim leaders of the country. Calling her a "human weather-vane," the Sunday Times added, "A good indicator of the way the wind is blowing in Washington is often the position of Senator Hillary Clinton." Clinton, meanwhile, remained active in promoting women's issues. Speaking at the all-female Agnes Scott College in Decatur, Georgia, also in 2005, said all women must "decide what we want to do and how we will contribute."
In 2006 Clinton handily defeated her opponent, Republican John Spencer, in her bid for reelection to the Senate. It was an expensive victory, however. Clinton spent more money on her reelection than any other candidate for Senate in 2006. By early 2007, she was deep in the planning stages for her run for the White House, with Illinois Senator Barack Obama her most serious rival.
Clinton announced her run for president in early 2007, and polls that year consistently showed her as the front-runner for the Democratic nomination. She spent most of her time talking about she would run against the Republican candidate in 2008, rather than talking much about her Democratic opponents. Her positions seemed calculated to appeal in the general election, such as her refusal to say that her vote to authorize war in Iraq had been a mistake, even though most Democratic voters had turned against the war. Despite conservative adversaries' depiction of her as liberal, she campaigned as a practical moderate promising common-sense solutions, while also promising to correct what she considered the right-wing excesses of the Bush Administration. She promised to end U.S. involvement in the Iraq war, but she did not spell out as detailed a withdrawal plan as some of her Democratic opponents. She also promised programs that would achieve universal health care and energy independence.
In early January of 2008, Clinton came in third in the Iowa caucuses, behind Obama and former Sen. John Edwards. However, she rebounded with a surprise win, defying polls and predictions, in New Hampshire five days later. Observers credited her win there to the support of female voters, her shift in focus from her experience to promises of economic solutions to people's problems, and flashes of emotion, from anger to wounded determination, that she showed while campaigning there. Clinton's husband campaigned heavily for her in South Carolina later that month, criticizing Obama, but the tactic backfired: Obama won the state overwhelmingly. On Super Tuesday, February 5, when about half of the states held primaries and caucuses, Clinton and Obama split the vote and the available delegates almost equally. Later in February, Obama won eight straight primaries and caucuses, moving ahead of Clinton in the number of convention delegates pledged to him. Clinton focused her campaign strategy on winning the primaries in populous Texas and Ohio on March 4. Political observers generally agreed that she needed to beat Obama in those states or lose the Democratic nomination to him.
As 2008 progressed, it was clear that Clinton had run a successful campaign, but failed to win important primary elections in key states. Clinton had made history with her efforts, as some hailed her as the first viable female candidate for the American presidency. In June 2008, she gracefully conceded the Democratic nomination to Illinois Senator Barack Obama. Clinton kept her promise, and she openly pledged her support for an Obama Administration at the Democratic National Convention in Denver, Colorado, in August 2008. On December 1, 2008, it was announced that Clinton accepted the offer to serve as Secretary of State for President Barack Obama in 2009. Her position was confirmed by the Senate on January 22, 2009.
Clinton immediately started traveling, visiting Japan, Indonesia, South Korea, and China in February, followed by visits to countries in the Middle East and Europe in March. After a spike in insurgent attacks in Baghdad, Iraq, in April, she visited there. In short, in her first 100 days, she traveled over 70,00 miles all over the world, finding it easy to fit into her former rival's cabinet. She said, "We have a lot of damage to repair," according to Paul Richter in the Los Angeles Times, referring to the anti-American feeling that she and other Democrats believed President George W. Bush had stirred up around the world.
On the State Department Web site, Clinton posted the text of a speech she made regarding the Obama administration's philosophy on international relations: We must use what has been called ôsmart powerö: the full range of tools at our disposal -- diplomatic, economic, military, political, legal, and cultural -- picking the right tool, or combination of tools, for each situation. With smart power, diplomacy will be the vanguard of foreign policy. This is not a radical idea. The ancient Roman poet Terence, who was born a slave and rose to become one of the great voices of his time, declared that ôin every endeavor, the seemly course for wise men is to try persuasion first.ö The same truth binds wise women as well.
PERSONAL INFORMATION
Born Hillary Rodham, October 26, 1947, in Park Ridge, IL; daughter of Hugh (owner of a fabric store) and Dorothy Rodham; married William Jefferson Blythe Clinton (former governor of Arkansas and 42nd president of the United States), 1975; children: Chelsea. Education: Attended Wellesley College 1965-69; received law degree from Yale Law School, 1973. Religion: Methodist. Addresses: Home--Chappaqua, New York.
AWARDS
Arkansas Woman of the Year, 1983; Women's International Center Living Legacy award, 1994; Grammy Award for Best Spoken Word Album, for It Takes a Village, 1997; Albania's Mother Teresa award, 1999; Rochester School of Nursing Health and Humanity award, 2004; German Media Prize, 2004; Reserve Officer's Association National President's award, 2005; National Women's Hall of Fame, 2005; United States Energy Association Energy Leadership award, 2006; Vital Voices Global Partnership Global Trailblazer award, 2009, Barnard Medal of Distinction, 2009. onorary degrees from University of Arkansas at Little Rock, University of Pennsylvania, Mount St. Vincent University, University of Ulster, Agnes Scott College, University of Gothenburg, New York University, and Yale University.
CAREER
Has been active in the Children's Defense Fund since the early 1970s, serving as its chairperson from 1986 through February 1992; worked on impeachment inquiry of former president Richard Nixon, Washington, DC, 1974; University of Arkansas at Little Rock, instructor in law, beginning in 1974, and head of legal-aid clinic; Rose Law Firm, associate, beginning in 1977, became partner, 1979; board member of Legal Services Corp., 1978-81; chaired an Arkansas state commission education panel, 1983; served on dozens of civic and corporate boards during Bill Clinton's 12-year career as Arkansas's governor, 1978-80, and 1982-92; became First Lady of the United States and named by the president to head a high-level task force charged with producing a health-care reform plan, 1993; U.S. Senator from New York, 2001-- candidate for president, 2008; U.S. Secretary of State, 2009--.
Read more
Latest headlines