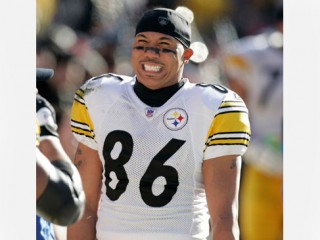 Hines Ward biography
Date of birth : 1976-03-08
Date of death : -
Birthplace : Seoul, South Korea
Nationality : South Korean
Category : Sports
Last modified : 2010-08-20
Credited as : Football player NFL, wide receiver for the Pittsburgh Steelers, Super Bowl 45
GROWING UP
Hines Ward Jr.
was born March 8, 1976, in Seoul, South Korea. His parents—Kim and Hines Sr.—had met while his dad was a 20-year-old serviceman. Kim was a 25-year-old cashier in her homeland. Hines Sr. had been a high school football star, but began drinking and frittered away any chance at a college scholarship. His younger brother, Wayne, would go on to play for Eddie Robinson at Grambling. Talent clearly ran in the family bloodlines.
The Wards returned to the United States a couple of months after Hines's first birthday. His father was stationed in Fort McPherson, near Atlanta. A year later, Hines Sr. left the family and took a tour of duty in Germany. Alone and feeling lost, Kim spoke no English and had no friends. Mother and son were on their own. Kim found work as a cleaning woman at a trailer park.
A year later, Hines Sr.—now remarried—returned to the States and took his son to Louisiana. He dumped the boy on his grandmother, Martha, while he lived in Shreveport, a couple of hours away.
Kim, devastated at the loss of her son, worked to build a life for herself in Atlanta, hoping she would one day regain custody of Hines. She visited him when she could. In 1983, Kim announced that she was financially capable of raising Hines. Grandma Martha agreed to let her grandson go, believing a child's place was with his mother. Hines was not pleased with this turn of events. He barely knew his mother, and deeply resented the change of address. He decided to make her life a living hell.
In 1986, no longer able to handle Hines, Kim sent him to spend the summer with his father and his third wife. It was a rude awakening. Hines Sr. was irate over the disrespect he had shown his mother and punished him on a daily basis. When he returned to Atlanta that fall, Hines was a changed boy. He began to understand the sacrifices Kim was making for him. She would leave their apartment before dawn to prepare airline meals, but breakfast was always on the table for Hines when he woke up. She was home to make him dinner every evening, before going across the street to work at a convenience store.
Kim bought Hines whatever he wanted, assuming there was money for it. He never felt like he was poor. In exchange, he heeded her pleas to stay away from gangs and drugs, and got his homework done every day.
Over the next eight years, Hines's contact with his father was limited to once-a-year phone calls, usually around Christmas. Hines Sr. usually explained why there again would be no present under the tree. The next time Hines saw his father was on graduation day at Forest Park High School.
During those years, Hines became one of the state's top scholar-athletes. At Forest Park, he played quarterback in a high-powered shotgun offense, and excelled on the diamond as a baseball player in the spring. Hines was the starting quarterback for the better part of three varsity seasons and amassed 3,581 passing yards and 2,500 rushing yards. He threw for 38 touchdowns and ran for 29 more. As a junior and a senior, he was named the county's Offensive Player of the Year. In his final season on the gridiron, Hines threw for more than 1,500 yards, ran for more than 1,000 yards and earned All-American honors from Super Prep and USA Today.
By the end of his senior year, Hines was being wooed by a Who's Who of college football coaches, including Tom Osborne, Phillip Fulmer, Bobby Bowden, Lou Holtz and Ray Goff. He was also drafted by the Florida Marlins, who dangled a $25,000 bonus in front of him. Hines chose to go with Goff and the Georgia Bulldogs—he wanted to stay close to home.
Hines began his freshman year at Georgia in 1994. Although recruited as a quarterback, he was willing to do anything to earn playing time. During an early season practice, running back Terrell Davis injured himself and Goff asked Hines to sub in against the first-string defense. He took his first handoff for a 50-yard touchdown. Goff started him in the next game, and Hines rumbled for 117 yards against Northeast Louisiana. Two weeks later, Hines gained 137 yards against Alabama. He also caught five passes that game, further opening eyes on the coaching staff.
Goff used his freshman star at tailback and wideout, getting him about 10 touches a game. Soon Hines stopped practicing with the quarterbacks altogether. In all, he caught 11 passes as a frosh and gained 423 yards on 77 carries. He often shared in the same backfield with Davis.
In 1995, Hines jammed his shoulder in spring practice, and his ascension to a starting role was in immediate jeopardy. Robert Edwards, a cornerback, moved to the tailback position and did a great job. That relegated Hines to do-it-all backup duty once again. Hie wanted to play, so he volunteered to join a weak receiving corps. He caught five passes in the opener against South Carolina, but was moved into the backfield after Edwards was injured.
Then, prior to the Alabama game, Goff informed Hines that he would be starting at quarterback in place of injured Mike Bobo. The Crimson Tide had an awesome pass rush, and Hines had not taken a snap since freshman year. He tried to cram the week before the game, studying the playbook and watching films. But when the first play came in from the sideline that Saturday, Hines had no idea what it was. His first pass was picked off, and he never found his rhythm. When Goff mercifully pulled him after a couple more series, Hines heard 85,000 fans booing him.
ON THE RISE
The soph spent the next game on the bench, and was ready to strangle Goff. He believed the coach had hung him out to dry and was now punishing him for it. But with three games to go, and another backup quarterback on the trainer's table, Hines got the call again. This time, he was ready. Playing in a spread shotgun system similar to the one he had mastered in high school, he passed for over 600 yards in one win and a pair of losses. Hines got the starting nod in the Peach Bowl and threw for an 413 yards against Virginia, but the Bulldogs came up on the short end of an exciting 34-27 game.
As Hines's football career began to take shape, his father began appearing at games. He had followed his son's progress in high school with a subscription to the Atlanta Journal-Constitution. He showed up for a 1995 game against Mississippi and road games at Auburn and Mississippi State a year later. Hines suspected his dad was looking for money, but Hines Sr. was simply looking to rebuild their relationship.
The 1996 season found Hines with a new full-time position: receiver. Goff's successor, Jim Donnan, liked what the junior could do for his offense, which needed a versatile receiver who sometimes lined up out wide, in the slot, or in the backfield. He also liked the fact that Hines was the first player to come see him. Hines told Donnan he would do whatever it took to help the Bulldogs.
Hines delivered a great performance with 52 receptions for 900 yards, and also ran 26 times for 170 yards. His understanding of defenses helped him get separation on his routes, and the quick feet he developed as a running back made up for a lack of raw speed and size.
In 1997, Hines blossomed into Georgia's go-to guy. He was the team's leader on and off the field, the player opponents feared and teammates respected. Double-teamed on virtually every play, he nonetheless hauled in 55 passes and scored six touchdowns, copping All-SEC honors in the process. Hines finished his college career as Georgia's second all-time receiver with 144 receptions and 3,870 total yards, which ranked second in Bulldogs history to Herschel Walker.
As draft day neared, Hines knew there were a lot of teams interested in him because of his versatility. Vut because he had shifted around so much at Georgia, it was unlikely anyone would gamble a high pick on him. He was right. Ninety-one names came off the board before the Pittsburgh Steelers grabbed him late in the third round.
Hines joined a club that had made the playoffs six years in a row under coach Bill Cowher. In 1996, the Steelers had reached the AFC title game. Cowher wasn't sure where to play Hines at first—hewas tempted to make him a Slash-type player, like quarterback Kordell Stewart. He started the rookie on special teams, where he made 28 tackles.
Hines eventually became part of a receiving corps that lacked a primetime target. Charles Johnson and Courtney Hawkins were quality receivers, but they did not scare NFL defenses. Neither did Stewart, who was regressing as a pocket passer. Running back Jerome Bettis also had a so-so year, finding the end zone only three times. The Steelers had a solid defense, but down the stretch the team hit paydirt in just two of their final five games. They went from being a 7-4 contender to a 7-9 also-ran.
Another down season followed, as Pittsburgh sank to 6-10. Hines saw a lot more action, however, catching 61 balls for 638 yards and seven touchdowns. Those numbers dwarfed his production as a rookie. Most notable, however, was the intensity with which Hines played. He never took off a down, and he blocked with the ferocity of an offensive lineman.
In 2000, Pittsburgh improved to 9-7, but Hines lost playing time to rookie sensation Plaxico Burress. Rotating at the other wideout position with Troy Edwards, he caught just 48 passes. After the season, Hines joked that Burress would have made the cover of Sports Illustrated if he had caught 48 passes—a comment he regretted almost as soon as it left his lips. He and Burress would soon become the most productive receiving duo in team history.
Cowher decided to commit to Hines in 2001. In the team's retooled offense, Burress would be the big-play receiver, and Hines would be the possession guy. With the reemergence of Stewart at quarterback, Pittsburgh's passing attack regained its potency. The team won its division with an AFC-best record of 13-3. Hines and Burress each topped 1,000 receiving yards—the first time in franchise history two players had done so.
Hines finished '01 with a team-record 94 catches and was chosen as a Pro Bowl alternate. Just as impressive was the caliber of his team play. Time and again, Hines delivered stunning blocks to spring teammates for long gains. The Steelers destroyed the Indianapolis Colts 27-10 in their first playoff tilt. But they fell to Tom Brady and the surprising New England Patriots in the AFC Championship Game.
Pittsburgh finished atop the AFC's newly formed North Division in 2002 with a 10-5-1 record. The season's turning point came when longtime backup Tommy Maddox took over the quarterback job from an ineffective Stewart.
Hines, meanwhile, proved his breakout season in '01 was no fluke by obliterating his own team record with 112 catches. He tied the franchise mark with a dozen touchdown catches and became the first non-kicker to lead Pittsburgh in scoring since Franco Harris in 1977. This time, Hines was a Pro Bowl starter—though not a Super Bowl starter. After defeating the Cleveland Browns in a Wild Card shootout 36-33, the Steelers lost by a field goal the following week to Steve McNair and the Tennessee Titans in overtime.
Pittsburgh sank to 6-10 in 2003. Hines was one of the team's lone bright spots, catching 95 passes and scoring 10 touchdowns. Unfortunately, many of his receptions were made late in games, when the Steelers were far behind. With Bettis slowing down, Maddox was forced to throw more than 500 times, which normally wasn't a Cowher recipe for success. Overall, the team was inconsistent, failing to win back-to-back games all season long.
MAKING HIS MARK
Pittsburgh's prospects seemed to be dimming as the 2004 campaign began. Maddox was anointed the starter once again, but he tore up his elbow in the second game. Cowher took a gamble, inserting rookie Ben Roethlisberger into the lineup.
Big Ben's first start, against the Dolphins, nearly ended in disaster. But Roethlisberger got it together, the defense kept Miami out of the end zone, and Hines scored a fourth-quarter touchdown to seal a 13-3 victory.
The Steelers did not lose another game during the regular season. Roethlisberger matured quickly, the defense continued its fantastic play, and Bettis tapped the fountain of youth with 941 yards and 13 touchdowns. Hines posted fine numbers with a team-high 80 catches for more than 1,000 yards.
In the playoffs, the Steelers thought they had dodged a bullet when they faced the Jets. New York had defeated Ladainian Tomlinson and the Chargers in a Wild Card game the weekend before. San Diego appeared to be the tougher matchup. But the Jets hung tough, and actually had two chances to kick game-winning field goals. Doug Brien missed both, and the Steelers prevailed 20-17 in overtime. Their confidence, however, had been shaken.
Against New England in the AFC Championship, the Steelers committed two early turnovers, which the Pats converted into 10 points. From there, it was a game of catch-up. Hines snagged a beautiful 30-yard scoring pass in the third quarter, but the game was already out of reach at that point. He finished with five catches for 109 yards, but once again, there would be no trip to the Super Bowl.
During the off-season, the Steelers allowed Burress to leave via free agency. Cowher felt that Antwaan Randle-El, Cedrick Wilson and rookie tight end Heath Miller could pick up the slack. What he did not count on was a summer holdout by Hines. It was the first time in more than a decade a Steeler had pulled such a move. Hines believed he was perfectly justified. A promise by ownership to "take care of him" after the 2004 campaign had gone unfulfilled. Hines was annoyed. Cowher talked him back onto the field after two weeks, citing the importance of team unity.
The entire city of Pittsburgh breathed a sigh of relief when the Steelers signed Hines to a four-year extension worth over $25 million. Hines felt he was one of the best receivers in the league, and wanted to be paid that way. It may have been the smartest signing in team history.
Hines had another big year, with 69 catches, 975 receiving yards and a team-leading 11 touchdowns. The Steelers played so-so ball early on, then found another gear in December. They their last four in a row to snag the AFC's final Wild Card slot, and then scored road upsets over the Cincinnati Bengals, Indianapolis Colts and Denver Broncos to reach Super Bowl XL.
Pittsburgh was the first six seed in NFL history to make it to the big game. Hines caught 10 passes and scored twice to help the cause.
Hines believed that everything he had accomplished in his life had led him to the Super Bowl XL against the Seattle Seahawks. In practice, he made his cuts a little sharper and executed his blocks with a little extra savagery. He hoped he would get a chance to be the difference in Pittsburgh's drive for a fifth NFL title.
His first shot came in the second quarter, when Roethlisberger lofted a pass to the right edge of the end zone. Hines made sure to get his feet down inbounds, but the ball ticked off his fingertips. The drop was doubly frustrating because Seattle had established some momentum, and a score at that point might have turned the tide.
A few minutes later, before the first half's two-minute warning, Roethlisberger threw up a prayer on third-and-28. Hines, double-covered in the end zone, came back to the ball and darted in front of a Seattle defender to catch the ball. It was a huge play that set up Pittsburgh's go-ahead touchdown.
In the second half, Hines picked a bullet off the turf to keep a drive alive, and continued plowing linebackers and safeties out of the way for Pittsburgh's backs. Then, with nine minutes left in the game and the Steelers up 14-10, Randle-El took a handoff on a reverse to the right side and saw Hines streaking toward the goal line. He fired a perfect pass for a 43-yard score. Hines's end zone celebration was front-page news the following day.
With the sloppy Seahawks unable to capitalize on any Pittsburgh mistake, the Steelers held on for a 21-10 victory. The franchise had its "one for the thumb." Hines, who ended with five catches for 123 yards, walked away with the game's MVP award. The player whose skills and contributions were so difficult to define for so long finally found a label everyone in the NFL could wraps their minds around.
The Steelers began the 2006 season without their starting quarterback. Roethlisberger had been injured in a motorcycle accident in the off-season. Big Ben recovered, but he team didn't. The Steelers had an up-and-down season, going 8–8 and missing the playoffs. Hines was "Mr. Consistency," leading the team with 74 receptions and 975 receiving yards. He would have gone over 1,000 yards again, but a sore knee kept him out of the last two games.
The picture brightened for the Steelers in 2007. Roethlisberger matured as a passer, the defense regrouped, and Pittsburgh went 10–6 to win another division title. Hines was hobbled by a sore knee much of the season and had to sit out three games. Still, he led the club with 71 receptions.
In the playoffs, Pittsbrugh suffered a heartbreaking 31–29 loss to the Jaguars, Hines was the Steelers' most potent weapon. He caught 10 balls for a career postseason high of 135 yards.
The Steelers were firing on all cylinders in 2008. They repeated as AFC North champs with a 12–4 record and made strong showings in playoff victories over the Chargers and Ravens. Hines finished the season in style, surpassing 800 career receptions in his final game and inching over the 1000-yard mark for the first time since 2004. He logged 81 catches on the year and scored seven touchdowns.
Hines's health was a huge question heading into the postseason. That forced Steelers head coach Mike Tomlin to use him judiciously. Just when opponents stopped paying attention to Hines, he hurt them the most. At the end of the first half of the Divisional game against San Diego, he snagged a long pass from Roethlisberger and took it to the 3-yard-line. Willie Parker punched it in on the next play to give the Steelers a 14–10 lead going into the locker room.
Hines sprained his knee early in the AFC title game against the Ravens. For a while, it seemed doubtful that he would recover in time to be a factor in the Super Bowl against Arizona. Those who knew Hines refused to believe reports that he might not play. They were right. Hines caught the first pass for the Steelers, a 38-yarder on the team's opening drive, which sent a message to the Cardinals. The Arizona defense had to watch him carefully all day long. This helped to free up Santonio Holmes, who ended up catching the winning pass. After the game, he joined Hines as a Super Bowl MVP receiver. The Steelers won one of Super Sunday's most exciting contests ever, 27-23.
The smile on Hines's face afterward told the story. For a receiver who plays his position like a linebacker, winning is all that matters.
HINES THE PLAYER
Whether or not Hines is the NFL's best all-around receiver is a subject of considerable debate. What is undeniable is that he is the only pass-catcher in the league who figures prominently in virtually every play. In the passing game, he demands double-coverage, even when he's a decoy. As a run-blocker, he is unparalleled. Hines doesn't just wall off linebackers and safeties, he tries to destroy them. He has left several defenders on the field with concussions, and has even taken out superstars like Ray Lewis.
No one on the Steelers is more adept than Hines at recognizing coverages, including Ben Roethlisberger. Whatever Hines lacks in size and speed, he more than makes up for with his head. The numbers bear this out. His catches typically account for almost a third of Pittsburgh's passing attack.
The Steelers like to move Hines around. Whether he is running routes, blocking, or taking an end-around, defenses must adjust to account for his presence on every play. And obviously, as a former quarterback, he lends a dangerous dimension to Pittsburgh's trick playbook.
EXTRA
# Hines ruptured his ACL when he was nine in a bike riding accident. The injury was never repaired.
# The year Hines became a wide receiver at Georgia, the school did not have a receivers coach.
# Because his 413 passing yards in the Peach Bowl don't count in the regular-season stats, Hines just missed becoming the only player in NCAA history to top 1,000 yards in running, receiving, passing and kick returns.
# Hines's mother did not have cable at her home, so he could not watch the 1998 draft. They watched "Mr. Bean" together and waited for the phone to ring.
# In 2002, Hines and Joey Porter were named the Steerers' co-MVPs. In 2005, he and Casey Hampton shared the honor.
# Hines passed John Stallworth in 2005 to become the Steerers' all-time leader in receptions.
# In 2006, Hines passed Louis Lipps as the Steelers' all-time rushing receiver.
# Hines became the team's all-time TD reception leader with his 64th scoring grab, in a December 2007 game. Two weeks later, he reached the top of Pittsburgh's all-time receiving yards list. He passed Stallworth in both categories.
# Hines had a long chat with Jerry Rice at the 2003 Pro Bowl. Rice told him never to waste an off-season. The best work, said Rice, was when nobody was watching. A month later ,Hines was doing full workouts and refining his pattern-running skills.
# After Super Bowl XL, Hines returned to Korea for the first time. He donated $1 million to a charity that helps mixed-raced children in Korea.
# A Sports Illustrated poll of NFL players listed Hines as one of the dirtiest.
# Hines's reputation as a vicious blocker grew in 2008 when he KO'ed Cincinnati linebacker Keith Rivers, who left the game with a broken jaw.
# After Super Bowl XL, Hines said, "I'm going to Disney World ... and I'm taking the bus!" A few days later he and Jerome Bettis appeared in a victory parade down Disney World's Main Street.
# Hines majored in Consumer Economics at Georgia and racked up enough credits to graduate in December of his senior year.
# Hines's favorite food is sushi.
# Hines is known as the "Dalai Lama of Football" because of his constant smile.
# Hines was a partner in a Pittsburgh bar & grill called The Locker Room. After a dispute with his partners, he reopened as South Side 86.
Read more
Latest headlines