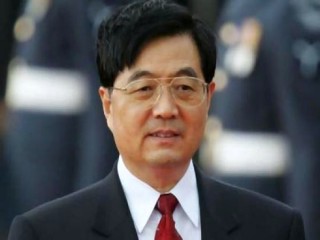 Hu Jintao biography
Date of birth : 1942-12-21
Date of death : -
Birthplace : Shanghai, Taizhou, China
Nationality : Chinese
Category : Politics
Last modified : 2010-07-23
Credited as : Politician, President of the People's Republic of China, World's political leader
Hu Jintao
, born 21 December, 1942 in Shanghai, Taizhou, China is a Chinese politician and the current Paramount leader of the People's Republic of China. He began to hold the titles of General Secretary of the Communist Party of China since 2002, President of the People's Republic of China since 2003, and Chairman of the Central Military Commission since 2004, succeeding Jiang Zemin as the top leader of fourth generation leadership of the People's Republic of China.
"We in China are working hard to build up a strong, prosperous, democratic, and culturally advanced modern socialist country. We need an international environment of lasting peace, and we long for living harmoniously with all countries of the world." Hu Jintao

The People's Republic of China is located in central and eastern Asia. Its total area is 9,596,960 sq km (3,705,407 sq mi), making China the third-largest country in the world. With a population estimated at 1.3 billion in 2002, it is also the world's most populous nation. China is a climatically and geographically diverse nation with primarily temperate climate in most of the nation, but dense tropics in the south, warm and humid coastal regions, and frigid northern and Tibetan regions. Of the total land mass, only 10% is cultivated regularly. Some of the world's longest rivers, including the Chang Jiang (Yangtze) and Huang He (Yellow) rivers, and the world's highest mountains are located in China.
China is a relatively homogeneous nation, linguistically and ethnically, with the Han Chinese comprising 92% of the population. The remaining 8% consists of minorities such as the Zhuang, Uygur, Hui, Yi, Tibetan, Miao, Manchu, Mongol, Buyi, Korean, and others. Mandarin Chinese is the official language, and the literacy rate is 81.5%. The largest cities are Shanghai, Beijing (the capital), and Tianjin.
In 2001, an estimated 50% of the labor force was engaged in agriculture and forestry, while another 23% was involved in industry and 27% in services. The yuan is the national currency. China's major trading partners include Japan, Taiwan, South Korea, the United States, Germany, Singapore, and Taiwan. Its primary exports are machinery and equipment, textiles, footwear, toys and sporting goods, and mineral fuels. Since 1991, the booming Chinese economy has grown approximately 10% annually. The per capita gross domestic product (GDP) was estimated at US$4,300 in 2001.
POLITICAL BACKGROUND
The People's Republic of China was proclaimed in 1949, following a lengthy civil war when Communist leader Mao Zedong consolidated power and forced the Nationalist forces under Chiang Kai-shek to flee to the island of Taiwan, located off China's southern coast. The Chinese Communist Party (CCP) transformed the political, economic, and social system of the country by emphasizing socialist egalitarianism combined with a nationalistic drive toward modernization. The 1982 constitution specifies that supreme political power resides in the 2,979-member National People's Congress (NPC--Quanguo Renmin Daibiao Dahui), but real power lies in the Politburo of the CCP Central Committee, with crucial decisions made by a small circle of the CCP select Standing Committee of the Politburo. The NPC's members meet annually and elect most of the leading government officials, including the president, vice president, premier, and vice premier.
The State Council, similar to the cabinet in other countries, is the top executive organ of the national government, and it reports to the CCP Secretariat, which encompasses the Central Committee and the Politburo. All senior members of the State Council also hold concurrently significant influence within the party. The State Council is headed by a premier (the head of government, Zhu Rongji since 18 March 1998). At the local level, China is divided into 23 provinces with representation consisting of provincial and municipal People's Congresses further decentralized by prefectural, city, county, and town assemblies.
Prior to the sixteenth Communist Party Congress held in November 2002, power in China was shared by three individuals: Jiang Zemin (president, general secretary of the Communist Party, and chairman of the Central Military Affairs Commissions--both the party and state commissions); Li Peng (chairman of the NPC Standing Committee); and Zhu Rongji (premier). All three resigned their posts in the Politburo Standing Committee in November 2002, and the three were expected to give up their state positions at the Tenth NPC to be held in March 2003. Jiang Zemin was expected to retain his position as head of the military.
PERSONAL BACKGROUND
Hu Jintao was born in December 1942 in Shanghai, but he grew up in the provincial city of Taizhou, about 250 km (160 mi) northwest of Shanghai. Official biographies list his birthplace as the town of Jixi in Anhui province, his ancestral clan village. He is the oldest of three children, born to an educated family of affluent tea merchants. He was raised largely by his paternal grandmother and his great-aunt, since his mother died when he was five, and his father was operating the family tea shop in Shanghai. He has been described by his great-aunt as being reticent and studious. In 1959 he entered the elite Qinghua University in Beijing, where he studied hydroelectric engineering. He was the youngest student in his class. There he joined the Communist Party.
Hu met his wife, Liu Yongqing, at Qinghua University, and they were married after a long courtship. They have one son and one daughter. Liu works in the Beijing Municipal Construction Committee.
Hu has been labeled by intellectuals as "sunzi"--literally translated as "grandson" but also a colloquial synonym for "yes-man." There is a Chinese saying that describes the risk of showing one's political or ideological leanings: "The bird that sticks its head out gets shot." Some have said Hu reflects the proverb, in that his image as a political enigma reflects his cautious personality.
RISE TO POWER
After finishing his studies in hydroelectric engineering, Hu was a postgraduate and political instructor at the Water Conservancy Engineering Department at Qinghua University, participating in research and development. After he left the university, he worked for 12 years in the underdeveloped western province of Gansu as a hydroelectric engineer on the Liujia Gorge Dam project, and was in charge of building homes for farmers who had been displaced from their native villages by the construction of the dam, among other tasks. Gansu's Communist Party secretary, Song Ping, helped him become an alternate member of the party's Central Committee in 1982, the youngest such member in the country. Song once described Hu as a "walking map of Gansu," because he had visited every part of the province and knew the counties and their problems intimately.
Hu was named vice-secretary of the Communist Youth League in 1982, and named party secretary of Guizhou province by Communist Party general secretary Hu Yaobang (no relation) in 1985, which made him China's youngest party secretary. When liberal Hu Yaobang was demoted in mid-1987, Hu Jintao was criticized for not standing by his mentor: he condemned Hu Yaobang and his supporters, saying they had been contaminated by the values of Western democracy.
In 1988, he was named party secretary of the Tibet Autonomous Region; apparently his demonstrated management skills were seen as useful in the turbulent province. In February 1989, large crowds led demonstrations carrying Tibetan national flags after the death of the Panchen Lama that January. During the days leading up to 10 March, the thirtieth anniversary of the 1959 Chinese occupation of Tibet, security forces killed 70 unarmed demonstrators, and Premier Li Peng declared martial law. Many regard this action as a prelude to the introduction of martial law and crackdown on pro-democracy demonstrators in Beijing's Tiananmen Square in June 1989. Hu kept his position in Tibet until 1992, despite suffering from altitude sickness that kept him from spending long periods of time in the province.
Former Communist Party general secretary Deng Xiaoping, who referred to Hu as the most promising leader of his generation, orchestrated his placement on the seven-member Standing Committee of the Politburo in 1992. He was charged with overseeing personnel and propaganda.
In 1993, Hu became president of the Central Party School--a think tank and training center for rising party members--setting up an international relations center and starting a project with Harvard University to conduct studies on the Cold War and the parameters of Sino-U.S. relations. It taught finance, Western economics and management, and Marxist theory. The school was charged with reconciling economic liberalization, foreign investment, and privatization with the demands of state control. Hu continued to hold the job of president of the Central Party School until December 2002.
In March 1998 Hu was named China's vice president. In October 1999 he was named vice chairman of the Central Military Affairs Commissions (both the party and state commissions), and began to take part in a series of military reforms, including one that would remove the military from all business activities.
At the sixteenth Chinese Communist Party Congress held 8-14 November 2002, Hu was named general secretary of the Communist Party, replacing Jiang Zemin, and would also assume the role of president of China in March 2003.
LEADERSHIP
Hu is regarded as a consummate politician who is the leader of China's "fourth generation" of leaders. He has shown that he can work effectively with others, both those above and below his rank, and with those of differing points of view. Spending a long time rising in the ranks of the party, he has demonstrated patience and moderation. As a technocrat, it has been speculated that he might be a political reformist, but that theory has yet to be tested. Hu has diligently adhered to the party line, including supporting the "three represents" theory of Jiang Zemin. The theory, written into the party constitution at the sixteenth Party Congress held in November 2002, is seen as a reorientation of the party away from its sole mission to serve the proletariat. The theory of the "three represents" emphasizes the importance of the middle class, stating that the party will represent not only workers and peasants, but the "advanced productive forces, advanced culture and the broad masses of the people."
In December 2002 Hu stated that China's constitution was of supreme importance and that no individual or organization could operate above it. This was seen as an indication that he relegated the Communist Party's status to a position where it will be governed by the law, not operating above the law.
DOMESTIC POLICY
One of Hu's tasks as leader of China will be to manage and sustain the country's growth. To accomplish this, he needs to encourage continued direct investment in technology, to promote the reform of an unprofitable state sector, and to continue to draw foreign investment into China. Another major goal is the alleviation of poverty, which is caused by inequitable distribution of benefits derived from economic growth and by poor performance of the agricultural sector in many provinces.
After years of rapid growth, the Chinese economy as of 2003 suffered from some significant structural flaws. In particular, glaring differences between the coastal and inland regions threaten the unity of the nation. These regional differences not only contribute to massive migrations into Shanghai and Guangdong, but also cause resentment by poorer provinces that view the richer regions as benefiting from excessive governmental attention at their cost. Alternatively, richer coastal provinces resent public spending in poorer regions. Hu needs to alleviate the severe economic differences among the regions without weakening the growth of the coastal areas.
Another serious domestic issue is the restructuring of state enterprise operations, which have become a severe budgetary burden. In the late 1990s and early years of the twenty-first century, the Chinese government began a major privatization campaign. The government has become concerned about a potential backlash against the government resulting from increased social problems related to economic changes. The government has cracked down on the religious sect, Falun Gong, resulting in increased international condemnation of the country's human rights practices.
It will be important for Hu to maintain the flow of foreign investment into China, and the government needs to promote investment in the interior of the country. In particular, agricultural productivity must be improved in many regions where gripping poverty and hunger are a way of life. The rush to industrialize has left interior regions largely neglected. Even though labor costs are low in these regions, the infrastructure is not conducive to large-scale foreign investment.
FOREIGN POLICY
Hu has major obstacles to overcome in the international arena. Over the years, China's reputation has suffered internationally over its treatment of political prisoners and dissidents and continues to remain tarnished more than a decade after the 1989 Tiananmen Square massacre. Issues of fair trial and prison conditions have enraged Western human rights activists. Contributing to this problem is the lack of democracy in China, as measured by Western standards.
As the Chinese economy grows and its export-led growth strategy produces significant trade surpluses, critics in the United States are likely to question China's dedication to free trade principles. Significant pressure will continue to emanate from the White House with calls for the reform of Chinese copyright protection laws and labor laws. However, in order to maintain its high growth, China will have to export increasingly higher value-added products. In order to do this, China needs to convince the foreign business community that its domestic political and economic situation is stable and that reforms of the legal and investment codes are forthcoming. China's global position has improved since it became a member of the World Trade Organization (WTO) in late 2001 and won its bid to host the 2008 Summer Olympics.
The perennial Taiwan problem, the return of Hong Kong and Macau, and constant attacks from Western critics of Chinese democracy and human rights have combined to increase nationalism within China. From a security standpoint, Asian neighbors have expressed concern over China's growing economic and military power and how that may fuel rising Chinese nationalism and consequent military action.
During his rise to power, Hu played an increasingly central role in Chinese foreign policy, making trips to numerous countries and occasionally making policy statements. In 1995 he visited Central Asia and Romania, and in 1997 he visited Portugal, Mexico, Colombia, and Cuba, where he complained about U.S. sanctions on Cuba. In April-May 1998, he visited Japan and South Korea, and in December attended the Association of Southeast Asian Nations (ASEAN) summit in Hanoi, Vietnam. In July 1999, he attended the second anniversary celebrations of the handover of Hong Kong. In July 2000, he visited Myanmar (Burma), Thailand, and Indonesia. In January 2001 he visited Iran, Syria, Jordan, Cyprus, and Uganda. In November 2001 he made a formal state visit to Europe, including Russia, Germany, France, the United Kingdom, and Spain on his itinerary. All of these trips strengthened his credentials as a statesman.
By January 2002, Hu had initiated an informal task force on Sino-U.S. relations. The task force will develop long-term strategies toward the U.S. Congress, plans to improve China's image in the United States, and a strategy for building relations with Taiwan. Hu engaged in short meetings with U.S. president George W. Bush in Beijing in February 2002. However, his few publicized statements regarding the United States have reflected suspicion. He expressed anger over the U.S.-led North Atlantic Treaty Organization (NATO) bombing of the Chinese embassy in Belgrade in spring 1999, saying "the hostile forces in the U.S. will never give up [their] attempt to subjugate China." Later he tempered his remarks, and urged demonstrators protesting the bombing to "guard against overreactions." When he visited Washington, D.C., on 1 May 2002, meeting with President Bush and Vice-President Dick Cheney, the impression that he left among U.S. officials, academics, and journalists was of someone the United States could work with. Bush and Hu expressed confidence the two countries could resolve their differences over Taiwan and human rights. They discussed the U.S.-led war on terrorism, agricultural issues, missile proliferation, and trade, in addition to Taiwan and human rights. It is uncertain how Hu will react to rising nationalism in China.
On July 2, 2003 Hu Jintao says that the "foremost political duty" of China's leaders is to carry out the ideological theories of former Chinese President Jiang Zemin.
August 1, 2003: Hu Jintao canceled the annual Communist leadership seaside retreat. The New York Times called the decision "Hu's most formal break with Communist tradition. It is also the strongest signal to date that he intends to manage party affairs differently than ... his immediate predecessor."
October 1, 2003: Hu Jintao called for more democracy in China on the eve of China's National Day holiday.
October 19, 2003: Hu Jintao--under pressure from the United States to re-value China's currency--agreed that Chinese and American experts would study how Beijing could move toward a floating exchange rate.
September 15, 2004: Hu gave a speech declaring that China would not adopt any Western democratic ideas, including separation of powers or multi-party elections, as part of its governmental reforms. Hu said the government will continue to fight official corruption through other means.
February 28, 2006: Hu reacted strongly to Taiwanese President Chen Shui-bian's decision to disband Taiwan's National Unification Council. Hu declared the move "a grave provocation" and said that China would not tolerate Taiwan's secession.
April 19, 2006: Hu began a visit to the United States with a dinner at the home of Bill Gates. His itinerary for the rest of the four-day trip included a tour of Boeing's offices and meetings with President George W. Bush.
April 22, 2006: Hu traveled to Saudi Arabia, where he and Saudi Arabia's King Abdullah signed agreements on trade and defense.
April 24, 2006: Hu began a week-long trip to Africa with a two-day stop in Morocco. He signed several trade agreements with that country's King Mohammed VI before traveling to Kenya and Nigeria.
November 4, 2006: Hu hosted a summit in Beijing for the leaders of approximately fifty African countries. In his opening remarks, Hu promised $5 billion in Chinese loans to Africa, as well as a doubling of foreign aid from China to the continent.
October 22, 2007: Hu was elected to another term as head of the Chinese Communist Party.
March 15, 2008: The National People's Congress elected Hu to another term as president of China and as chairman of the Central Military Commission.
April 12, 2008: Hu met with the vice president-elect of Taiwan, Vincent Siew. This was the first time that two officials so highly placed in the Chinese and Taiwanese governments had met with each other since Taiwan split from China in 1949.
May 16, 2008: Jintao traveled to Sichuan Province to view the damage from a May 12, 2008, earthquake that rated 7.9 on the Richter scale. The quake killed tens of thousands of people.
May 28, 2008: Hu met with Wu Poh-hsiung, the chairman of the Taiwanese Kuomintang party. This was the highest-level meeting between Chinese and Taiwanese leaders since Taiwan broke away from China in 1949.
July 8, 2009: Hu left the G8 summit in Italy early to return to China. He returned early in order to deal with ethnic unrest that had killed over 150 people in China's Xinjiang province.
July 27, 2009: Hu sent a telegram to Taiwanese President Ma Ying-jeou to congratulate Ma upon being elected head of the Taiwanese Kuomintang party. This was the first time the heads of Taiwan and China had communicated without intermediaries since 1949.
PERSONAL INFORMATION
Addresses: Office: Office of the President, Beijing, People's Republic of China.
Read more
Latest headlines