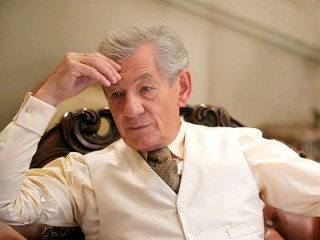 Ian McKellen biography
Date of birth : 1939-05-25
Date of death : -
Birthplace : Burnley, England
Nationality : British
Category : Arts and Entertainment
Last modified : 2010-08-26
Credited as : Actor and gay-rights activist, Gandalf in the Lord of the Rings film trilogy, role in X-Men film 200 as Magento
Ian Murray McKellen
, also known as Sir Ian Murray McKellen born May 25, 1939 in Burnley, England is a British actor.
Ian McKellen has made his mark as one of the premier Shakespearean actors of his generation worldwide. McKellen, a United Kingdom native who has won 40 international acting awards, is also a gay-rights activist.
English actor
Ian McKellen
has delighted audiences and critics from his first professional appearance in 1961 to stage and film performances in the twenty-first century. One of the premier Shakespearean performers of his time, he attained widespread fame in the role of Gandalf in the Lord of the Rings movie trilogy that opened in 2001. He was also noted for his public avowal of his homosexuality in 1988, and his activism for gay rights thereafter. Knighted in 1991, his sexual revelation did nothing to hamper his career or, certainly, his legendary talents. It instead became another thing for which he was greatly admired.
Early Years
McKellen was born on May 25, 1939, in the Northern English town of Burnley. His father, Denis Murray, was a civil engineer who also played the piano and his mother, Margery Lois (Sutcliffe), a housewife who dabbled in amateur theater. An older sister, Jean, completed the family unit. Shortly before the onset of World War II, the McKellens relocated to a coal mining town called Wigan, where their son slept under the makeshift bomb shelter of the dining room table.
McKellen's parents were fans of the theater and encouraged his early interest in it. They took him to see his first play, Peter Pan, at the Manchester Opera House when he was three years old. At nine, he received a toy theater for Christmas. His sister was theatrically inclined as well, and exposed McKellen to Shakespeare at a Wigan's Little Theater performance of Twelfth Night. With all that familial influence, it is hardly surprising that McKellen took to the boards himself, starting in grammar school.
When he was 12, McKellen began attending the Bolton School (Boys' Division) in the town of the same name. Unhappily, it was also in that year that his world was shaken by the premature death of his mother. Over 50 years later, when most memories of her had faded, he still felt the loss keenly, telling Emma Brockes of the London Guardian, "If I could rewrite my life(,) it would be that, a) my mother didn't die when I was 12, because if so she might even be alive now..." His father remarried quickly, and McKellen did have the good fortune to enjoy a long and warm relationship with his stepmother, Gladys.
Back at Bolton, McKellen did well despite the recent upheaval in his domestic life. The senior English master, who directed the annual spring play, supported his theatrical aspirations and McKellen made his Shakespearean debut at 13 as Malvolio in Twelfth Night. His appreciation for Shakespeare was deepened by summer camps at Stratford-upon-Avon, where he watched performances by such luminaries as Edith Evans, Paul Robeson, and John Gielgud. He was also successful in other areas, becoming Bolton's Head Boy in 1957 and winning a scholarship to study English at Cambridge University upon graduation. So, at 18, McKellen set out for new adventures.
Became An Actor
At Cambridge, McKellen soon felt at home among an undergraduate body of would-be show business aspirants that included Corin Redgrave, Derek Jacobi, Trevor Nunn, and David Frost. Even such talented fellows did not, however, prevent McKellen's stage work being singled out for praise by the student and national press while he was still in his first year. His studies suffered as he completely immersed himself in theatrical pursuits (21 productions during his undergraduate tenure). He did manage to squeak by enough academically to receive an English degree in 1961, but his heart was clearly not in it. He had decided to act professionally. Thus, without the benefit of any drama school training, McKellen pursued a career on the stage.
McKellen first landed at London's storied Old Vic Theater, then under the leadership of the eminent actor Laurence Olivier. On the plus side, the company was comprised of some of the most wonderful young performers of the day, including Maggie Smith, Joan Plowright, Lynn Redgrave, Michael York, Anthony Hopkins, and Michael Gambon. Invigorating as having such colleagues undoubtedly was though, the extent of their gifts also presented a problem. That is, of course, as there was only a finite number of leading roles to be had and there was a tremendous amount of potential star power vying for each one. McKellen was too young and impatient to wait his turn, so he left for slightly less august circles in which he had better hopes of actually plying his craft.
McKellen made his professional debut in 1961 as Roper in A Man for All Seasons at the Belgrade Theater Company in Coventry. After a year with that company, he moved on to the Arts Theater Company in Ipswich and the Nottingham Playhouse before winding up in London again in late 1964. The smaller companies had given him many opportunities to perform, but he felt it was time to seek a bigger spotlight. His professional debut in London was in 1964, as Godfrey in the Duke of York's production of A Scent of Flowers. The role won McKellen the Clarence Derwent Award for best supporting actor. In 1965, he returned to the Old Vic as Claudio in Much Ado About Nothing. 1967 saw his Broadway debut in The Promise, which led to a small part in the 1969 movie version. In short, and with very little downtime, McKellen had forged the very career he had vowed to pursue when he had been fresh out of college.
Gay Pride
For the next twenty years, McKellen built a repertoire and reputation on the stage. Shakespeare was a specialty, and he played almost every one of the Bard's great roles at one time or another, from Hamlet to Iago to Richard III to Macbeth to Romeo to, most recently, King Lear. In 1980, he took Broadway by storm with his portrayal of Antonio Salieri in Amadeus. The part earned him a Tony Award for best actor, as well as other accolades. In England, his efforts had already been recognized with myriad honors by that time, including being named a Commander of the British Empire in 1979. But all his success did not soothe the internal battle he was fighting over his sexuality.
McKellen had been openly gay among his colleagues and friends since the middle 1960s, but he had hidden that reality from his family and the public, and the secret became increasingly wearing on him. That all changed in 1988 however, when, at age 49, he publicly came out as a gay man during a BBC Radio discussion about a law to prevent the "promotion of homosexuality." McKellen's world changed almost immediately and, quite surprisingly to him, mainly for the better. As he told Brockes, "Once you come out, all the problems go away, because the problem becomes somebody else's. It's not yours anymore. I was emotionally freed up, not only in life(,) but in work. Acting became easier because I was unedited." The newfound sense of freedom also prompted him to become an activist and vocal proponent of gay rights. He was, for instance, a co-founder of "Stonewall," a group that promotes social and legal equality for gays and lesbians. But perhaps even more unexpected than his newfound sense of liberation and purpose was the reaction of the public and impact on his career, both of which were quite positive. Rather than being reviled or mocked by his fans, he was hailed for his bravery. And far from putting a damper on the kinds of roles he was offered, 1989 found him starring as notorious womanizer John Profumo in the feature film Scandal. To top it all off, McKellen was knighted in 1991, making him one of the country's very few openly-gay knights.
As McKellen's father had died just 12 years after his mother, coming out to his family mainly entailed telling his Quaker stepmother, Gladys. Gratifyingly to the actor, she was accepting. "Not only was she not fazed," McKellen told Bruce C. Steele of the Advocate, "but as a member of a society which declared its indifference to people's sexuality years back, I think she was just glad for my sake that I wasn't lying anymore." Thus having rid himself of his albatross of deception and secrecy, McKellen carried on with his distinguished career.
Stage and Screen
McKellen began to get more widespread attention from American television audiences in the 1990s with such projects as Armistead Maupin's Tales of the City (1993) and And the Band Played On (1993). He then picked up a Golden Globe Award for the 1996 TV production of Rasputin. Feature film notice started to increase with 1993's Six Degrees of Separation, 1995's Richard III, and 1997's Bent, in which he had starred in the London production of the original play in 1989. But his portrayal of James Whale in 1998's Gods and Monsters kicked that newfound visibility up to another level, as critical acclaim, including an Academy Award nomination for best actor, poured in. More popularized appeal was the result of 2000's X-Men, but McKellen unquestionably hit international celebrity paydirt with his unforgettable (and also Oscar-nominated) portrayal of Gandalf in the Lord of the Rings trilogy that began in 2001. Once a hero primarily to his countrymen, McKellen had risen to worldwide fame.
Although his success on the big screen could not have been unwelcome, McKellen still considered himself a stage actor. He returned to Broadway in 2001, for example, to appear with Helen Mirren in a revival of Dance of Death. Even more notably was his 2007 star turn in one of Shakespeare's most challenging roles, King Lear, which opened in London and went on tour in conjunction with Anton Chekhov's The Seagull. Asked by the Economist why he chose such an ambitious project rather than bask away in Hollywood, McKellen answered, "This is what I do. This is what I've been doing a long time...I'm not living full(-)time in Hollywood and I don't think of myself as a film actor. Why would I not want to do what I have spent 40 or more odd years discovering how to do, which is to act in these extremely difficult plays by William Shakespeare, which are more rewarding in personal achievement." Movies were still in the mix as well though, including 2007's The Golden Compass and The Colossus, which was expected to be released in 2008. It was just such a mixture of projects that McKellen found appealing, but the stage remained his first home.
McKellen turned 69 in 2008, and had the impressive resume and myriad awards that came with such a long and stellar career. (The latest accolade was having been made a Companion of Honor in December of 2007.) But he remained spry and showed no signs of slowing down. His world tour of King Lear ended in January, but he had other undertakings in the works, including a recording of some of William Wordsworth's poetry and the aforementioned film, The Colossus. His attitude was well reflected in his remarks to Catherine Shoard of the Sunday Telegraph in 2004, when queried on how old he felt. "I feel like everything's to come, like I'm just over halfway," McKellen said. "I'm aware of the end, but it's not in sight. Maybe I just need my glasses."
AWARDS
New York Drama Desk Award, for King Lear and The Wood Demon, 1974; Commander of the British Empire, 1979; New York Drama Desk Award, Outer Critics' Circle Award, Antoinette Perry Award, for Amadeus, 1980; Royal Television Society Performer of the Year, for Walter, 1982; New York Drama Desk Award, for Acting Shakespeare, 1983; Elliot Norton Award, for Acting Shakespeare, 1988; London Critics' Circle Drama Theatre Award, best actor, for Othello, 1989; Knight of the British Empire, 1991; Golden Globe Award, best supporting actor, for Rasputin, 1996; Golden Quill, Sir John Gielgud Award for Excellence in the Dramatic Arts, Shakespeare Guild, 1996; Lifetime Achievement Ovation Award, Theater LA, 1998; Lifetime Achievement Award, Los Angeles Outfest, 1998; Barclay's Theatre Award, best supporting actor, for The Seagull, 1999; UK Personality of the Year, Variety, 2003; London Critics' Circle Award for Distinguished Contribution to the Arts, 2003; Master of the Craft Award, Movieline's Hollywood Life Young Hollywood Awards, 2006; Lifetime Honorary Golden Bear Award, Berlinale, 2006; Special Olivier Award, Society of London, 2006; Annie Animation Award, best feature voice acting, for Flushed Away, 2007; Companion of Honor, 2007.
WORKS
* Films as Actor
* 1969: A Touch of Love (The Millstone; Thank You All Very Much) (Hussein) (as George Matthews)
* 1969: Alfred the Great (Donner) (as Roger)
* 1969: The Promise (Hayes) (as Leonidik)
* 1981: Priest of Love (Miles) (as D. H. Lawrence)
* 1983: The Keep (Mann) (as Dr. Theodore Cuza)
* 1985: Zina (McMullen) (as Professor Kronfeld)
* 1985: Plenty (Schepisi) (as Sir Andrew Charleson)
* 1985: Walter and June (Loving Walter) (Frears) (as Walter)
* 1989: Scandal (Caton-Jones) (as John Profumo, M.P.)
* 1993: The Ballad of Little Jo (Greenwald) (as Percy Corcoran)
* 1993: Last Action Hero (McTiernan) (as Death)
* 1993: Six Degrees of Separation (Schepisi) (as Geoffrey)
* 1993: And the Band Played On (Spottiswoode) (as Bill Kraus)
* 1994: I'll Do Anything (James L. Brooks) (as John Earl McAlpine)
* 1994: To Die For (Litten) (Quilt Documentary Narrator)
* 1994: The Shadow (Mulcahy) (as Dr. Reinhardt Lane)
* 1995: Cold Comfort Farm (Schlesinger) (as Amos Starkadder)
* 1995: Restoration (Hoffman) (as Will Gates)
* 1995: Thin Ice (Cunningham-Reid) (as Himself)
* 1995: Jack and Sarah (Sullivan) (as William)
* 1995: Richard III (Loncraine) (as Richard III) (+ co-pr, co-sc)
* 1997: Surviving Friendly Fire (Nelson) (as Narrator); BENT (Mathias) (as Uncle Freddie)
* 1997: Swept for the Sea (Kidron) (as Dr. James Kennedy)
* 1998: Apt Pupil (Singer) (as Kurt Dussander)
* 1998: Gods and Monsters (Condon) (as James Whale)
* 2000: X-Men (Singer) (as Erik Magnus Lehnsherr/Magento)
* 2001: The Lord of the Rings: The Fellowship of the Ring
* 2002: The Lord of the Rings: The Two Towers
* 2003: The Lord of the Rings: The Return of the King
* 2003: Emile
* 2003: The Simpsons
* 2004: Eighteen
* 2005: Neverwas
* 2005: Asylum
* 2005: The Magic Roundabout
* 2006: Extras
* 2006: Flushed Away
* 2006: X-Men: The Last Stand
* 2006: The Da Vinci Code
* 2007: Stardust
* 2007: The Golden Compass
* 2008: King Lear
* 2009: The Prisoner
Read more
Latest headlines