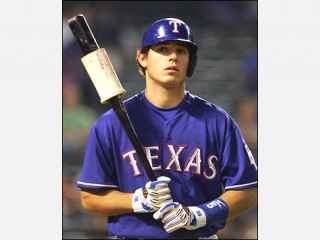 Ian Michael Kinsler biography
Date of birth : 1982-06-22
Date of death : -
Birthplace : Tucson, Arizona
Nationality : American
Category : Sports
Last modified : 2010-11-04
Credited as : Baseball player MLB, second base with the Texas Rangers,
GROWING UP
Ian Michael Kinsler was born on June 22, 1982 in Tucson, Arizona. He was followed by a sister, Tori. Their parents, Howard and Kathy, were loving and nurturing. father Ian's dad was a warden at the state prison on Tucson's Southeast Side.
It wasn't long before Howard noticed that his son had an organic feel for baseball. He would toss pitches to four-year-old Ian, and the youngster would drive them with a picture-perfect swing.
For most of Ian's childhood, there was not a major league team in Arizona. His father coaxed him into being a fan of the New York Yankees—ironic because Howard, a native New Yorker, rooted for the Mets. T'his was all part of Howard's plan to feed Ian's love of the game.
Howard coached Ian through much of his youth-league career. When Ian was 13, he was the best player on a team that advanced to the local Pony League championship. Howard caught his son rolling his eyes at him as he gave instructions to the team. Not afraid to teach Ian a lesson, he benched him without hesitation. With their star shortstop on the bench, the team lost the game.
Ian enrolled in Canyon del Oro High School in 1996. He made the varsity as a fresman and helped the Dorados win the state championship in the spring of 1997. Two years later, Ian hit .380 with three home runs to earn second-team all-league honors.
Standing out on the Canyon del Oro roster was no simple matter. The team was stacked with blue-chip talent. Ian's teammates included future major leaguers Brian Anderson—who was also his closest friend—along with the Duncan brothers, Shelly and Chris.
Ian truly blossomed in his final season with the Dorados. As a senior, he hit .504 with five homers and 26 stolen bases. Canyon del Oro again won state title. Ian was named first-team all-state and first-team all-league. That June, he was drafted by his home state Arizona Diamondbacks in the 29th round. The D-Backs had joined the major leagues as an expansion club just two seasons earlier. It was an honor, a thrill, and a great temptation, but Ian knew he was ill-prepared for pro ball.
Without a Division-I scholarship offer on the table, Ian's choices were limited. He settled on Central Arizona College, a school known for its fine JC baseball program. With the Vaqueros, he alongside future big-leaguers Scott Hairston and Rich Harden. Ian had a monster season in 2001, batting.405 with 17 doubles, 37 RBIs and 24 stolen bases. He was named second-team All-ACCAC.
The following season, Ian transferred to Arizona State, a bigger school with o'ne of the nations top-rated baseball programs. Another reason for the move was to be with his girlfriend, Tess, who would later become his wife.
It was in Tempe where Ian would first encounter a player with whom he would compete, both directly and indirectly, for the balance of his baseball career—Dustin Pedroia. The scruffy middle infielder was already wearing a Sun Devil uniform when Ian joined the team in 2002. Pedroia played shortstop at the time but moved over to second base when Ian joined the team.
At first, Ian adjusted well to Division I compettiion. But he struggled during a grueling early season tournament, and Pedroia replaced him at shortstop. He was eventually named first-team All Pac-10. In 2004, he was chosen in the second round by the Boston Red Sox in 2004. Things would not work out as smoothly for Ian.
Having lost his starting job at ASU, Ian transferred to the Missouri for his junior year. During the summer, he worked diligently with his father every day. Missouri coach Tim Jamieson could see from the moment Ian walked onto the field that he was on a mission.
ON THE RISE
Ians determination paid off. In 2003, he hit .335 with an .416 on-base percentage and a .536 slugging percentage. He also stole 16 bases. His stellar year did not go unnoticed. A Texas scout named Mike Grouse had originally seen Ian play in 2002 during the National Baseball Conference World Series in Wichita, Kansas. Because Ian hadn't done anything special, Grouse was only mildly interested. But he got a second look at Ian in a Missouri uniform and was impressed by Ian's makeup and approach. Grouse began chatting up Ian's teammates and kept hearing the same thing—the kid was a leader, winner and hard worker.
Ian's impact on the Tigers was obvious. He led Missouri to the NCAA Regionals—t'he teams first appearance there in seven years. Grouse watched with a keen eye, but it was fellow-scout and friend Mitch Webster who convinced him that Ian was the real deal. A veteran of 13 big league seasons, Webster was now working for the Los Angeles Dodgers. He was completely sold on Ian and told Grouse so.
Texas scouting director Grady Fuson also needed convincing. He was familiar with Ian, having seen him play at Central Arizona while checking out Harden and Hairston. Fuson questioned whether Ian possessed the physical skills to make it in professional ball. Grouse got Fuson to give Ian a second look.
The tipping point fcame when Fuson attended the Big 12 Tournament. He saw with his own eyes the intangibles in Ian that Grouse had been raving about. The young infielder was supremely confident and showed flashes of top-shelf speed and power.
Heading into the '03 draft, the Rangers targeted two shortstops, Ian and high schooler Lucas May. The Dodgers also had May on their radar, courtesy of Webster, snapped him up early. That cleared the way for Texas to pick Ian. He didn't sign with the Rangers right away and instead thought about going back to Missouri for one more year.
After sharpening his skills in the Missouri Jayhawk League, Ian decided to accept the team's $30,000 signing bonus. He inked his contract in a Chili's restaurant in the Kansas City airport on his 22nd birthday and flew off to his first pro assignment, in the Arizona Fall League.
Ian split the 2004 season between the Class-A Clinton LumberKings and the Class-AA Frisco Rough Riders. He put up exceptional numbers. In 501 at-bats, Ian had 174 hits, 20 home runs, 103 runs, 99 RBIs and 23 steals. He was named to the Midwest League All-Star team as the starting shortstop. The Rangers crowned him their Minor League Player of the Year, and he was also named Baseball America's top prospect. Though still unconvinced that he would be a star, Texas knew it now had a valuable bargaining chip. The Rangers actually agreed to trade Ian to the Colorado Rockies for Larry Walker for the stretch run, but the veteran nixed the deal and headed for the St. Louis Cardinals instead.
After the season, Ian returned to the Arizona Fall League. With Michael Young ensconced at shortstop, the Rangers wanted Ian to learn to play second base. Alfonso Soriano, acquired from the Yankees in the Alex Rodriguez deal, was technically the team's second sacker, but a move to the outfield was in the works. Texas wanted a new double-play partner for Young.
The following spring, the Rockies expressed renewed interest in Ian. Colorado GM Dan O'Dowd presented the Rangers with a list of players they would part with. While the Rangers ruminated, Ian was clobbering the ball. Texas GM Jon Daniels declined the offer. The organization was finally sold on Ian.
Ian began the 2005 season with the Triple-A Oklahoma Red Hawks. He continued to crush the ball, batting .274 with 23 home runs, 102 runs, and 94 RBIs. His biggest hurdle was getting used to second base. He had been a shortstop since the age of eight,. At second, he felt like he was playing the game backwards. That being said, he led all second baseman in the Pacific Coast League with 276 putouts, 413 assists and 112 double plays.
Over the winter, the Rangers jettisoned Soriano to the Washington Nationals for Brad Wilkerson, Termell Sledge and Armando Galarraga. The trade opened the door for Ian. He impressed manager Buck Showalter in spring training and beat out Mark DeRosa and D'Angelo Jimenez for the starting spot at second base. Ian made his major league debut against the Red Sox on April 3 and got his first hit that off Curt Schilling.
Ian joined a formidable Texas offense led by Young and Mark Teixeira. He injured his thumb on a headfirst slide in mid-April but returned from the DL two weeks later. In his first game back, he went 3-for-4 with a pair of home runs.
Ian finished the year with excellent rookie numbers: a .286 batting average, 14 homers, 11 stolen bases and 55 RBIs. Defensively, however, he knew he had work to do. Ian had made 18 errors and determined that many of those were mental mistakes forced by the speed of the game. In response, he prepared a checklist to run through on each play: who is on deck, how fast the runner is, how much time did he have to make a throw and where did he need to throw.
Ian also encountered a problem with the oppressive Texas heat. The dog days of summer and playing every day had worn him out. By September, his legs were tired, and he was less selective at the plate.
Before embarking on a new training regimen in the off-season, Ian and long-time girlfriend Tess got married. The couple honeymooned in Hawaii. Then it was back to work. Ian had to get in better shape for the upcoming season.
Ian sought advice from Young, and the two adopted a rigid workout regimen that included leg-specific exercises, lunges and sprints with weights. Ian put on about 15 pounds of muscle in an attempt to get more stamina down the stretch.
MAKING HIS MARK
Ian came bursting out of the box in spring training in 2006, and his teammates took notice. The usually tight-lipped Young told reporters in early April that Ian would be an All-Star that year. Teixeira also saw something special in the second baseman, commenting on Ian's quiet confidence and professionalism.
Perhaps the most important aspect of Ian's development was finding the quintessential role model in Young. The two became close friends. Ian has since admitted that he models his life both on and off the field after the All-Star shortstop.
Ian was named American League Player of Week for in early April after hitting .429 over a seven-day stretch. He went on to crush nine homers that month to tie a team record. Ian was quickly becoming a fan favorite. He got his own bobble-head night, and t-shirts with his jersey #5 were given away as a promotion all over the Dallas-Fort Worth region.
Despite Ian's success at the plate—and a new manager in Ron Washington—the Rangers were abysmal. In May, they went 9-20, the worst month in team history. The losing affected Ian at the plate. He hit only one home run during the month, and his average dropped from .300 to .237. Once Ian figured out that he could not stop the team's rapid losing by himself, he refocused on setting the table for the big bats in the lineup. It still didn't help the team's bottom line—Texas finished last in the AL West.
Unlike the previous year, Ian's September numbers were outstanding, and his defense was stellar. Overall, he finished with 20 homers to top AL second baseman and stole 23 bases. In turn, he became him only the seventh 20-20 player in franchise historyn. Ian achieved these numbers despite a stress fracture in his left foot. He also led major league second baseman in range factor (5.69) for the second straight year.
In the winter of 2007, the Rangers decided to make Ian the centerpiece of their future and signed him to a five-year, $22-million contract. It was the largest deal ever offered to a home-grown Texas talent. Ian opened the 2008 campaign as the team's leadoff hitter. He flourished in this role, enjoying a first half for the ages. Ian led the AL in batting average (.331), runs (90), hits (145) and extra-base hits (55) through the end of July.
Ian hoped to start for the AL in the All-Star Game, which would be played in Yankee Stadium—just a few blocks from where his dad had grown up. As fate would have it, Ian was edged in the fan voting by his old teammate, Pedroia. The Rangers had put their PR machine behind the amazing comeback of Josh Hamilton that season. Ian ended up making the All-Star Game as a reserve, while Hamilton wowed the crowd with a historic slugging performance in the Home Run Derby.
Ian's breakout season abruptly ended on August 17 when he was placed on the DL due to a sports hernia. He opted to have surgery because the Rangers were out of the playoff race once again. Ian still managed to finish fourth in the league in hitting (.319), eighth in runs (102) and tenth in stolen bases (26). Alongside Alex Rodriguez and Grady Sizemore, he was one of only three players in the AL to have at least 18 homers and 18 steals in both 2007 and 2008.
After posting a 79-83 mark in '08, the Rangers entered 2009 a much-improved club. In his second year as team president, Nolan Ryan decided to toughen up his hurlers. Pitch counts were thrown out the window, and the staff responded with one quality start after another—no small accomplishment in the claustrophobic Ballpark at Arlington. Two young starters, Brandon McCarthy and Scott Feldman, were especially pleasant surprises.
Meanwhile, the offense chugged away, despite an injury-plagued season from Hamilton and the departure a season earlier of Teixeira. Emerging stars Nelson Cruz and Chris Davis helped pick up the slack, and Young kept his numbers up despite being pushed to third base by young shortstop Elvis Andrus.
The player who made the Texas engine go, however, was Ian. On April 15, he became the first player in 119 years to collect six hits in a game while hitting for the cycle. He led off in the first with a double, hit a homer in the third, had two singles in the fourth and legged out a triple in the sixth. It was only the fourth time in Texas history that a player went for the cycle. Ian finished with 13 total bases, and the Rangers won 19-6.
Ian's month of April was spectacular to say the least. He was named AL Co-Player of the Week after hitting .556 and adding an on-base percentage of .600 and a slugging percentage of 1.000. Through July 1, he was third in the AL with 19 home runs and 55 runs and also had 16 stolen bases. More important, however, was the fact that the Rangers were winning. At the All-Star break, the team was just a few games out of first place in the West. Texas had not been in competition for the pennant this late in the season in a decade.
So with the Rangers winning and Ian putting up Nintendo-like numbers, was that enough to win the starting second base job at the All-Star Game in St. Louis? Once again, Pedroia's huge Boston fan-base put Ian on the wrong side of the balloting. In the online vote for the AL's final spot, he was edged by Brandon Inge of the Detroit Tigers.
With the Rangers battling for the Wild Card, Ian tried to play through a nagging hamstring injury in the latter part of July. The team decided to give him two weeks on the DL at the beginning of August to get right again.
The rest did Ian good, as he homered in three of his first four games back. By the end of the month, Ian had surpassed Cruz for the team lead in homers. As September started no one could get him out ... and Texas seemed destined to play October baseball for the first time in a very long time.
On September 25, Ian became the 34th player in history to hit 30 homers and steal 30 bases in a season. He joined Alfonso Soriano and Brandon Phillips as the only second basemen to earn a spot in the 30–30 Club.
Ian finished the year with 31 homers, 31 steals, 86 RBIs and 101 runs scored. His improved power came at a cost, however, as his average plummeted to .253. Then again, he was clearly becoming a more selective hitter. As for the Rangers, their hopes withered down the stretch. They came in second in the AL West and were beaten out for the Wild Card by the Red Sox. For Ian and the Rangers, 2010 figured to be a pivotal season.
The year went better for the team than for Ian. The maturing pitching staff and lights-out rookie closer Neftali Perez helped Texas stay in front of the competition all summer. The Rangers easily won the West. Ian rolled his ankle in spring training and started the year on the DL. Although he recovered and made the All-Star team, he was back on the DL at the end of July, this time with a groin injury.
In all, Ian played in just 103 games. His average rose to .286, but his power numbers fell dramatically. On the bright side, Ian posted a career-best on-base percentage of .382. The Rangers were a much better team with him in the lineup.
No one in Tampa would argue this point. In Texas's five-game ALDS triumph over the Rays, Ian got a hit in each contest, slugged three homers and drove in six runs. Cruz also reached the seats three times. The last teammates to accomplish this feat in a postseason matchup this short were Babe Ruth and Lou Gehrig, in the 1928 World Series. Ian cooled off in the ALCS against the Yankees, but only slightly. He doubled, tripled, knocked in three runs and stole two bases, as Texas ran wild against New York. The Rangers won the series in six games to reach the World Series for the first time in franchise history.
By any measure, Ian has established himself as a bona fide star. His production as a middle infielder makes him an MVP candidate in any given year. Rangers fans love his hardnosed style of play. With teammates like Josh Hamilton and Cliff Lee, attracting headlines in Texas hasn't been easy, but Ian is beginning to get the attention he deserves. The former shortstop is proving that he's second to no one.
IAN THE PLAYER
Ian is a gritty, old-school player. He plays hard every day and is wired to give 100% of himself in order to succeed. He has good speed, can hit to all fields, plays excellent defense and hits for average and power. He had become the quintessential five-tool player.
A right-handed hitter, Ian turns slightly towards third base and then back to the mound as the pitch is released. This ensures that he picks up the ball out of the pitcher's hand. He had a problem with hiding his right eye when he was younger.
At first, Ian is perfectly still when he steps into the batter's box. He gain rhythm by rocking back on his right leg and then lifting his left leg, keeping only the toe to the ground. He has a compact swing, which keeps the barrel of the bat in the strike zone longer.
Ian can handle a variety of pitches and drives the ball well to all field. There are no holes in his swing. He used to be more of free-swinger but now concentrates on the strike zone and uses his legs to generate power. He has a studied approach to every swing of every at-bat. He thinks over what he wants to do and how he is going to do it. He's not simply trying to hit the ball as far as possible.
As a converted shortstop, Ian is still learning about playing second base. His improvement has been steady. He and Elvis Andrus have combined to form one of the best double-play partnerships in the game. The 2009 season has been his best on defense in the majors.
Ian has become one of the leaders in the Texas clubhouse. He loves that role, though he gladly shares it with Michael Young. Their friendship has guided Ian throughout his career. He wouldn't be the player he is today without his buddy±s support and advice both on and off the field.
Read more
Latest headlines