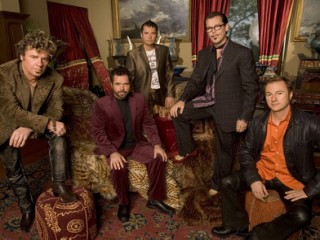 INXS biography
Date of birth : -
Date of death : -
Birthplace : Sydney, Australia
Nationality : Australian
Category : Arts and Entertainment
Last modified : 2012-03-26
Credited as : Rock band, The Farris Brothers, Rock Star: INXS competition
INXS (pronounced "In Excess") is a rock group formed in Sydney, Australia. The band formed in 1977 under the name The Farris Brothers. Original members included Michael Hutchence (lead vocals), Andrew Farriss (guitar and keyboards), Tim Farriss (lead guitar), Jon Farriss (drums), Garry Beers (bass), and Kirk Pengilly (saxophone and guitar). The band changed their name to INXS just prior to the release of their self-titled debut album in 1980.
Noted for their blend of rock and funk, Australia's INXS is still composed of the same members who started the band in 1977-Michael Hutchence, Tim, Andrew, and Jon Farriss, Kirk Pengilly, and Garry Gary Beers. After struggling for years on the Australian pub scene, the group began to attract international attention in the early 1980s and had what Rob Tannenbaum labeled in Rolling Stone a "breakthrough hit" in the United States with 1986's "What You Need." This taste of fame was small, however, compared to the phenomenal popularity INXS experienced after the release of their 1987 album Kick. Aided by wide music video exposure on networks such as MTV, Kick's first single, "Need You Tonight," thrust INXS, and especially lead singer Hutchence, into the limelight. As critic Cathleen McGuigan announced in Newsweek, INXS has "a hard-driving, irresistibly danceable sound and a sexy, live-for-the-moment attitude--tempered with just a dash of social consciousness." She concluded that the band possessed "all the right ingredients for late '80s success."
Perhaps part of the reason that INXS has remained intact long enough to reach that pinnacle is that half of the group is composed of family members. Tim Farriss on lead guitar, Andrew Farriss playing keyboards and writing most of the group's music, and Jon Farriss on drums, are all brothers. The Farrisses grew up in Perth, Australia, where their early interest in music was supported by their parents. Tim, the eldest, told Anthony DeCurtis of Rolling Stone: "When we were really young, we used to stand around with tennis rackets and mime records, the three of us. ... Like 'Don't Sleep in the Subway' and 'Mr. Pleasant,' by the Kinks--and the Monkees, even Herb Alpert!" Later, their father bought them instruments "and made sure that we could play them, that we got taught," Tim added. By the time the Farrisses had moved to Sidney and all of INXS's members had joined together, Jon Farriss explained to DeCurtis, their parents were still "exceptionally helpful in accommodating everything we needed. If Kirk's parents or someone's parents were against it, they'd have them over to stay the night so they'd feel really kosher about it. They'd allow us to play until eleven at night so we could develop."
Michael Hutchence was born in Sidney, but spent much of his childhood in Hong Kong while his father was in the import business. During a return to Sidney at the age of fourteen, he met Andrew Farriss, and, after Farriss rescued Hutchence from the persecutions of a neighborhood bully, the two became good friends. As Hutchence confided to Tannenbaum, the relationship was based on "hanging? around living rooms and recording? obscure music on this four-track recorder and trying? to impress girls with this." Despite the fact that Hutchence moved to Los Angeles, California, a year later--his mother became a make-up artist there after his parents were divorced--the boys remained in contact with each other through a steady correspondence. After a year in the United States, Hutchence returned yet again to Sidney. He recalled for DeCurtis: "The day I got back, I rang Andrew, and he said, 'Yeah, great, come around.' It was funny . ... Most people fifteen, you split them up for a while and they come back completely different people. We still had a strong friendship."
Hutchence and Andrew Farriss began playing in a band that also featured bassist Garry Gary Beers; meanwhile, Tim Farriss, who, according to Tannenbaum, had been "a Christian youth-group leader until a copy of Roxy Music's For Your Pleasure 'changed [his] life,'" was performing in a group that included guitar and saxophone player Kirk Pengilly. In 1977 after both groups broke up, the five young men joined together, and invited Jon Farriss, the youngest, to serve as their drummer. Though they were not yet INXS--early names included the Vegetables and the Farriss Brothers--all concerned felt sufficiently committed to the new combination to move to Perth rather than lose Jon, who, because of his age, had to go with his parents when they decided to return to the family's earlier home. When Jon graduated from high school in 1979, the band decided to come back to Sidney and start playing in pubs--and used its moniker for the first time. Tim Farriss recounted for Steve Dougherty in People: "Our record company suggested 'In Excess.' But without a record out, it seemed people came to shows if your name was really big on your posters. We wanted ours huge, so we shortened it [to INXS]."
While playing pubs throughout Australia, where audiences were so rough that success was based on whether or not a band was peppered by hurled beer bottles, INXS also managed to release a few albums, including INXS and Underneath the Colours. They had attracted more widespread attention (and better arenas for their concert performances) by 1984, when they recorded The Swing and its single "Original Sin." Featuring the controversial theme of interracial love, "Original Sin" was denied airplay by many radio stations. INXS followed The Swing with Listen Like Thieves, which included the hit song "What You Need." But most critics agree that 1987's Kick is the band's best effort. In addition to the hit "Need You Tonight," songs like "Devil Inside"--which Hutchence has been known to dedicate in concerts to televangelist Jimmy Swaggart--and "Guns in the Sky" help make up Kick. Though Hutchence, who writes the words to most of the group's songs, made clear to DeCurtis that he was "not a great political lyricist" and that he dislikes "knee-jerk politics," "Guns in the Sky" is a protest song against the United States' proposed Strategic Defense Initiative.
The success of Kick and the sex-symbol status that it has gained Hutchence as INXS's lead singer have led to speculation that he would separate from the band. True, he has outside interests--he was featured in the Australian film Dogs in Space, in which he played what Dougherty described as "a feral, half-naked junkie who spends most of his time crawling around the floor of a squalid commune." But Garry Gary Beers assured DeCurtis that Hutchence "has gone out of his way to make us all realize that INXS is his number-one priority. I feel more confident in him than ever." Hutchence himself summed up the band's probable future for DeCurtis: "We've got a lot more to say, a lot more to do and a lot more songs to write."
On 22 November 1997, Hutchence was found dead in his Sydney Ritz-Carlton hotel room. On 6 February 1998, after an autopsy and coronial inquest, New South Wales State Coroner, Derrick Hand, presented his report which ruled that Hutchence's death was a suicide while depressed and under the influence of drugs and alcohol.Despite the official coroner's report, fans and relatives want to believe that his death was accidental.
After Hutchence's death, INXS did not perform publicly for almost a year and then only made a few one-off performances with different guest singers until 2000.On 28 November 1998, they played at the Mushroom 25 Concert with Jimmy Barnes fronting for two songs: "The Loved One" and "Good Times". On 12 June 1999, they headlined the opening of Stadium Australia in Sydney, with US singer-songwriter Terence Trent D'Arby as guest vocalist, they performed "New Sensation", "Kick", "Never Tear Us Apart" and "What You Need".
INXS returned to the news in 2004, when it was announced that a new reality television program titled Rock Star: INXS would feature a contest to find a new lead vocalist for the band. The show, which had its debut on the CBS network 11 July 2005, (on Global in Canada, VH1 in the UK and FOX8 in Australia), featured 15 contestants vying for the position of lead singer. The show was executive produced by Survivor's Mark Burnett and hosted by Brooke Burke and Jane's Addiction and former Red Hot Chili Peppers guitarist Dave Navarro.
With Fortune they recorded their 2005 album, Switch produced by Guy Chambers and went on a world tour in 2006. Runner-up Marty Casey was the opening act during the first leg of the tour, along with his band, The Lovehammers.
During the Rock Star: INXS competition, the contestants were challenged to write the lyrics and melody to music written by Andrew Farriss. Originally this challenge was divided up into two teams. When Fortune did not see eye-to-eye with his team (that included Casey), he decided to venture out on his own and write his own lyrics. At first Fortune's move seemed to have doomed his chances to win the competition (because it was perceived he couldn't work in a team), but it was this move that resulted in his creation of the lyrics to "Pretty Vegas". This song became a favourite of both fans and INXS and played a major role in Fortune being able to win the competition.
On 8 December 2009, INXS announced they will be embarking on a large scale world tour, commencing with a performance in Vancouver for the 2010 Olympic Winter Games. The band announced on 11 February 2010 that J. D. Fortune would be vocalist for the performance at the 2010 Winter Olympics, but it will be a one-off performance with Fortune, and a vocalist for the subsequent world tour has yet to be announced. The band performed at the Vancouver 2010 Winter Olympics on 24 February 2010 with guest singers J. D. Fortune and Argentine singer Deborah de Corral.
The band recorded an album in memory of Michael Hutchence titled Original Sin, released in November 2010. The album featured well-known singers from Australia and around the world. Brandon Flowers of the band The Killers revealed that he recorded the song "Beautiful Girl" with the band, although the track ultimately did not appear on the album due to conflicts with the release of Flowers' solo album. Rob Thomas from the band Matchbox Twenty recorded the song "Never Tear Us Apart" and "Original Sin" with the band, although only "Original Sin" with DJ Yaleidys appeared on the final album.
The band toured extensively throughout 2011 with singer J.D. Fortune to support the album Original Sin.The band released a demo of a future song, called "Tiny Summer", in streaming format on their official website in September 2011, along with news that J.D. Fortune had left the band again and that Northern Irish singer-songwriter Ciaran Gribbin would be the band's new frontman for their forthcoming tour of Australia, South America and Europe in November & December 2011.
Discography:
INXS (1980)
Underneath the Colours (1981)
Shabooh Shoobah (1982)
The Swing (1984)
Listen Like Thieves (1985)
Kick (1987)
X (1990)
Welcome to Wherever You Are (1992)
Full Moon, Dirty Hearts (1993)
Elegantly Wasted (1997)
Switch (2005)
Original Sin (2010)
Members:
Current:
Garry Gary Beers – bass guitar, double bass (1977–present)
Andrew Farriss – keyboards, guitar (1977–present)
Jon Farriss – drums, keyboards (1977–present)
Tim Farriss – lead guitar (1977–present)
Kirk Pengilly – guitar, saxophone, backing vocals (1977–present)
Ciaran Gribbin – lead vocals (2011–present)
Former:
Michael Hutchence – lead vocals (1977–1997)
Jon Stevens – lead vocals (2000–2003)
J. D. Fortune – lead vocals (2005–2011)
Read more
INXS Picture Gallery
Latest headlines