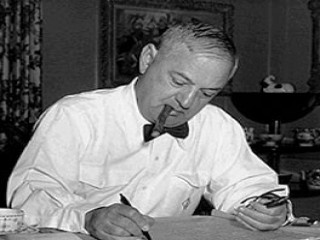 Ira Gershwin biography
Date of birth : 1896-12-06
Date of death : 1983-08-17
Birthplace : New York City, USA
Nationality : American
Category : Famous Figures
Last modified : 2011-06-27
Credited as : Lyricist, George Gershwin, Pulitzer Prize
Ira Gershwin captivated audiences worldwide during the 1920s and 1930s with his provocative lyrics and librettos. His 1932 Pulitzer Prize was the first ever for a musical comedy. In the 1940s his lyrics enhanced the scores of several motion picture classics.
Ira Gershwin emerged as a master of musical comedy during the 1920s and 1930s, when vaudeville was golden. With his memorable lyrics, Gershwin charmed the audiences of stage and screen and inspired the most popular singing stars of America and Europe. He strummed heartstrings with his dazzling show-stopping tunes and caused critics to notice an art form they had never before taken seriously. In collaboration with his younger brother, composer George Gershwin, the elder Gershwin put lyrics to the scores of vaudeville reviews and Broadway plays beginning in 1918. In 1932 he shared a Pulitzer Prize for the musical satire, Of Thee I Sing, and he collaborated on light operas, including a libretto for the poignant Porgy and Bess in 1936.
Ira Gershwin was born Israel Gershvin on Manhattan's East Side on December 6, 1896. His father, Morris (Moishe) Gershovitz, changed the family name to Gershvin sometime after emigrating from St. Petersburg, Russia. Gershwin's mother, Rosa Bruskin, also emigrated from Russia, just four years before she married Gershovitz. A refreshingly informal attitude permeated the Gershvin household that accounted for the variation of surnames between children and parents. Such informality overflowed into virtually every aspect of the Gershvins' lives. Indeed, Ira Gershwin went by the name "Izzy" as a child and always believed his proper name to be Isidore, until he applied for a passport in 1928 and learned his true given name.
Gershwin was the oldest of four siblings. His brother, George, was two years younger, followed by another brother, Arthur, and a sister, Frances, who was born on Ira Gershwin's tenth birthday. His father changed jobs frequently and moved the family residence accordingly. Thus, Gershwin lived at dozens of addresses around New York City as a child. The children amused themselves by roller-skating and playing street games and, in adolescence, the boys frequented the billiard halls. Ira Gershwin attended P.S. 20 elementary school and Townsend Harris Hall. In 1914, he enrolled at City College of New York, but left two years later without a degree. He enrolled briefly in a pre-medical curriculum through the Columbia University extension system in 1918. During his college years, Gershwin held assorted odd jobs. He worked as a steam room attendant, a carnival helper, and a photographer's assistant.
Gershwin, who aspired to be a writer, published early works under a variety of pseudonyms including Bruskin Gershwin, which was the name he affixed to his short story "The Shrine," when it appeared in February 1918 in Smart Set, an H.L. Mencken publication. His first published song was the whimsical "You May Throw All the Rice You Desire but Please Friends, Throw No Shoes." He published many of his earliest song lyrics under the pseudonym of Arthur Francis, a name that he contrived from a combination of the first names of his youngest brother and his only sister. He chose to conceal his identity because of his naturally retiring nature and to eliminate confusion between himself and his younger brother, George Gershwin, who came to prominence as a composer around the same time. In the early 1920s, Ira Gershwin's song-writing efforts became closely entwined with those of his brother. The two collaborated in earnest for over a decade, with Ira Gershwin writing lyrics for George Gershwin's musical scores. They wrote for vaudeville, as well as Broadway musicals, and operettas.
Gershwin collaborated with Vincent Youmans as early as 1920. The two wrote "Who's Who with You?" and "Mr. And Mrs." for Piccadilly to Broadway, and Two Little Girls in Blue. In 1921, as Arthur Francis, Gershwin wrote "The Piccadilly Walk" from Pins and Needles with Arthur Riscoe and Edward A. Horan. In 1922, he penned "When All Your Castles Come Tumbling Down," for Molly Darling, with Milton E. Schwarzwald. Gershwin also contributed to the Schuyler Greene and Louis Silvers score of "Fascination," from the picture of the same name.
Gershwin's earliest published collaboration with his younger brother was "The Real American Folk Song," a tune they incorporated into Ladies First, which opened at the Broadhurst Theatre on October 24, 1918. Ira Gershwin continued to create song lyrics as Arthur Francis as late as 1922 when he and his brother collaborated on that year's version of George White's annual Broadway review, Scandals. That show featured their popular standard, "I'll Build a Stairway to Paradise." That same year Ira Gershwin penned the lyrics for "Someone" and "Tra-La-La," and collaborated with Arthur Jackson on "French Pastry Walk" for the show For Goodness Sake, a musical starring Fred and Adele Astaire. For Goodness Sake was a pivotal achievement for both Gershwins and led to a long-standing working relationship between the Gershwin brothers and the Astaire siblings. The show later debuted in London under the name Stop Flirting.
In 1924, Gershwin and his brother scored an operetta called Primrose in collaboration with Desmond Carter. The show debuted to favorable reviews on September 11, 1924, at the Winter Garden in London. Two months later the Gershwin brothers sealed their reputation in the musical world with their first complete and independent collaboration, an Alex Aarons/Vinton Freedley production called Lady Be Good. Starring the Astaires and backed by Otto Kahn, Lady premiered in Philadelphia on November 17, 1924. The play, which opened at the Liberty Theater in New York on December 1, continued for 184 performances and then played a profitable run in England. The Gershwins collaborated with Buddy De Sylva on the score of Tell Me More, which opened at the Gaity Theater on April 13, 1925. That production experienced success in London as well. Ira Gershwin had by then dropped his pseudonym and emerged as an accomplished lyricist in his own right. In 1926, the Gershwins contracted to write a musical for Gertrude Lawrence. The play, Oh, Kay! received outstanding reviews when it opened at Broadway's Imperial Theater on November 8; the show ran for 256 performances. Biographer Charles Schwartz, commenting on the Gershwin mystique, noted that he had "the uncanny knack for coming up with the fresh and the novel ballads appropriate for their time and genre [with] wonderfully creative lyrics, songs of chivalric love and gallantry."
Gershwin married Leonore Strunsky on September 14, 1926. As he and his brother embarked on a lucrative professional career, they moved their entire family to an impressive five-story house at 316 West 103rd Street in Manhattan. Ira Gershwin lived with his wife on the fourth floor. The house was generally astir with a flurry of visitors: artistic colleagues, neighbors, and friends.
To escape the pandemonium of New York City, Gershwin retreated to the Chumleigh Farm, north of the city in Ossining in 1927. He and his brother spent the spring and summer months of that year on the rented estate as a respite from the hectic pace of vaudeville. At Chumleigh the brothers wrote a musical called Strike Up the Band which debuted later that summer. The show featured a future Gershwin classic, "The Man I Love," but failed to attract pre-Broadway audiences in New Jersey and Philadelphia. After some revision by the Gershwins, the program ran a successful tour on Broadway in 1930. The Gershwins rewrote another show originally entitled Smarty, for producers Aarons and Freedley in November 1927. The reworked production, called Funny Face, starred the Astaires. Ira Gershwin implemented innovative lyrical devices with aplomb. In the hit song "'S Wonderful" he cued the male lead to drop each line in mid-verse, leaving the female lead to complete the line in perfect time, without losing a beat. In that same song, Gershwin employed what Schwartz called a "slurred-over, sibilant sound of its lyrics—with its 's wonderful,' 's marvelous,' 's paradise, a combination not easy to ignore or to forget." The overhauled musical met with enormous success when it returned to Broadway the following year. It grossed $44,000 within a few weeks and enjoyed a Broadway run of 244 performances.
In 1928, Gershwin and his brother moved from the family home into adjoining penthouses on nearby Riverside Drive and 75th Street. That year, Gershwin updated the lyrics to some discarded compositions of his brother. He added some Sigmund Romberg tunes, and the result was a Flo Ziegfeld production, Rosalie, that opened on January 10, 1928 and ran for 335 performances on Broadway. A subsequent Ziegfeld review was cancelled that year, but the songs and score survived nonetheless and were incorporated into other Gershwin works, including the immensely popular "Embraceable You," which went into Girl Crazy in 1930 and "Blah, Blah, Blah," heard in the 1931 movie, Delicious. By 1929, the long-standing working relationship between the Gershwins and Ziegfeld ended in the wake of an overdone production called Show Girl. Six years later Ira Gershwin contracted one last time with Ziegfeld, to collaborate with Vernon Duke on the Ziegfeld Follies of 1936.
Ira Gershwin along with his wife and sister accompanied George Gershwin on a European holiday in 1928. That trip was the inspiration for George Gershwin's orchestral, An American in Paris. The four travelers departed on March 11 and followed an itinerary through London, Paris, and Vienna. Upon their return to the United States the Gershwin brothers prepared a new Broadway musical, Treasure Girl, for Gertrude Lawrence, including such quality Gershwin tunes as "I've Got a Crush on You," a favorite of many popular singers. In 1929, the Gershwins reprised Strike Up the Band for Boston's Schubert Theatre. The production opened on Broadway at Times Square Theater on January 14, 1930.
In 1932, Gershwin shared a Pulitzer Prize with writers George S. Kaufman and Morrie Ryskind for the satirical score of the musical comedy Of Thee I Sing. It was the first time that a Pulitzer Prize went to a songwriter, and it was the first time that a musical comedy was honored by an award of such magnitude. The award brought new respect to the musical comedy as an art form.
The Gershwin brothers rented a residence on Fire Island in 1935, along with Vernon Duke, Joseph Schillinger, and Moss Hart. There they wrote much of the opera Porgy and Bess, based on a DuBose Heyward novel set in Charleston's Catfish Row. Gershwin worked closely with Heyward on the libretto for that production which opened in Boston that same year.
Following the Broadway production of Porgy and Bess, Gershwin began to spend most of his time in Hollywood, working on motion pictures. The Gershwin brothers were under contract to complete another musical, the Goldwyn Follies, when George Gershwin became ill. After his death in July 1937, Ira Gershwin completed the final song for Follies in collaboration with Duke.
Ira Gershwin was a retiring person by nature and shunned the limelight. Jablonski and Stewart quoted Gershwin's sentiment, "I always felt that if George hadn't been my brother and pushed me, I'd have been contented to be a bookkeeper." Indeed, Ira Gershwin spent a great deal of time maintaining the financial affairs of his younger brother and functioned, to a large extent, as a business manager for their collective interests. After the death of his brother George, Gershwin inherited the lucrative royalties from his brother's musical scores and a priceless collection of artworks, valued at untold millions of dollars.
After his brother's death, Gershwin collaborated with Jerome Kern and Harry Warren on the Goldwyn Follies of 1938. Other Gershwin/Kern collaborations remained unpublished until 1968, including "Once There Were Two of Us," "Now That We Are One," and "No Question in My Heart." They worked on a movie score together, Where Do We Go from Here? and an operetta, The Firebrand of Florence. Gershwin and the German-born composer, Kurt Weill, became acquainted in 1935, and collaborated on Lady in the Dark, which opened on January 23, 1941 at the Alvin Theatre in New York City. In 1943, Gershwin worked on the score for Samuel Goldwyn's film, North Star, followed by the 1944 movie musical, Cover Girl. Gershwin's final Broadway musical, Park Avenue, opened at the Shubert Theatre on November 4, 1946. Ira Gershwin died on August 17, 1983 in Beverly Hills, California.
Read more
Latest headlines