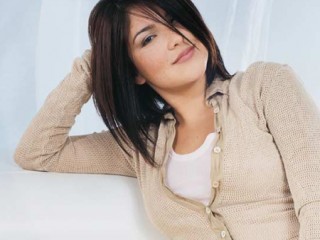 Jaci Velasquez biography
Date of birth : 1979-10-15
Date of death : -
Birthplace : Houston, Texas,U.S.
Nationality : American
Category : Arts and Entertainment
Last modified : 2012-03-02
Credited as : Singer, Christian musician, Radio host
Jacquelyn "Jaci" Davette Velasquez is an American Contemporary Christian and Latin pop singer—in both English and Spanish languages.
Velasquez has sold almost five million albums around the world, recorded three Platinum and three Gold albums, and recorded 16 singles that hit No. 1 plus six more that hit the top-10. She has received seven Dove Awards including Best New Artist and Female Vocalist of the Year.Velasquez has co-hosted a morning radio show since late 2010.
Recognized first as a teenage Christian music sensation, Jaci Velasquez took on a groundbreaking dual role when she became a Latin music success. Her clear, expressive voice has won her repeated acclaim and huge record sales in both Christian and Latin circles. While record executives have their eyes on Velasquez as the next Amy Grant and Selena all wrapped up in one, Velasquez depends on her close family ties and strong Christian faith to guide her.
A dark-haired beauty of Mexican, Spanish and French heritage, Velasquez has tried to be a worthy idol for her fans. She is credited with being well-grounded, at ease with her fame, and taking her job as a role model to young people seriously. As a supporter for True Love Waits, an organization that promotes teen abstinence, she has urged young people to follow her lead, talking openly about her decision to remain a virgin until marriage. On the other hand, she has recognized the limits to being held up as an example. "I don't enjoy being a role model," she told Kathleen Stauffer of Catholic Digest,"because I feel like I'm going to fail and people are going to crucify me when I do. So, yeah, I do feel responsible to live my life beyond reproach."
Jacqueline Davette Velasquez was born on October 15, 1979, in Houston, Texas, to David and Diana Velasquez. Her father worked as an evangelist minister and musician, recording albums with a Dallas-based gospel group called the Galileans. Her mother was a gospel singer and retail clothing buyer. Each of her parents had children from previous marriages. Jaci was the youngest of all the children.
The Velasquez family recognized Jaci's musical talents early. "She wasn't even old enough to talk," her brother Julian told Alisa Valdes-Rodriguez of the Los Angeles Times, "but she was in her crib snapping her fingers, on both hands, and she was snapping them in time to the music.... I called my mom and told her to come look at this, and we couldn't believe it." Another significant incident happened in Houston before Jaci turned two years old. Her family was attending a small church service singing "Our God Reigns," with the congregation. All of a sudden, the pastor held his finger to his mouth to hush everyone. Their silence revealed Jaci's strong voice from the nursery singing the chorus. It was at that point Jaci's mother decided to choose a nickname that her daughter could easily use to sign autographs. By age three, Jaci had made her solo debut.
Jaci's young life was steeped in travel and musical performances. She began by singing in neighborhood churches in Houston, but soon was touring the country as a background singer for her father. The entire family performed with David Velasquez as he traveled from town to town preaching and singing. The Velasquezes sold their Houston home and lived out of their Honda Accord once all of their children had moved out, except for 10-year-old Jaci. She was home-schooled on the road and remembers what a luxury it was when her parents bought an RV a couple years later. In 1992 she performed at the White House, but Jaci's big break came at age 14 when she was performing with her family's band in Houston. A local pastor alerted Mike Atkins Management that Jaci was a "bright new talent" and encouraged them to see her. During her performance as the opening act for a popular Christian female vocal group, Point of Grace, she left a lasting impression. "What was captivating about Jaci was her presence," Jim Chaffee of Myrrh Records told Valdes-Rodriguez of the Los Angeles Times, "She's got star quality, a real confidence...." Two years later Atkins became her manager and, shortly thereafter, Jaci was signed to Myrrh Records.
Velasquez made an immediate splash with her 1996 debut album, Heavenly Place.Paul Verna of Billboard described it as "a mature, focused effort.... She has a voice capable of wringing every subtle nuance of emotion from a song." Heavenly Place became the fastest selling solo debut recording in the history of Christian music, making Velasquez the first solo artist in the history of Christian music to reach gold status with her debut album. It also earned her a Dove Award from the Gospel Music Association for New Artist of the Year in 1997 and Song of the Year for "On My Knees" in 1998. Two years later, her second album, Jaci Velasquez, debuted at number one on Billboard'sChristian music album chart, spending six weeks at number one. "We just let Jaci be Jaci," Chaffee told the Los Angeles Times, "and it worked, because parents want their kids to be like her, boys want to date her, and girls want to be her." Velasquez commented to Jennifer Soong of Teen People: "It's been a crazy ride, but I wouldn't change it for the world. I missed out on some things, but I think we all have a destiny laid out in front of us, and you just have to follow directions." She felt her success was a result of her message, and she went on to describe how she wanted her lyrics to be "uplifting and inspirational to a 17-year-old contemplating suicide who buys my record."
Firmly established as one of Christian music's most popular new stars, Velasquez released her first Spanish-language album, Llegar a Ti, in 1999. Again, she was breaking barriers. "Llegar a Ti" was the only debut single from a new artist to hit the top of Billboard's Hot Latin Tracks chart in 1999 and made her the first gospel artist to ever hold the top position on the chart. "Velasquez's chart accomplishments in the Spanish market are unique in the fact that few recording artists make a successful transition from English-language to Spanish-language markets," Billboard's John Lannert reported. "Even more astonishing, however, is that Velasquez has been able to successfully switch from the English-language Contemporary-Christian market to the Spanish secular market."
Llegar a Ti had been a great challenge for Velasquez. Although she had sung Latin songs in church before, she did not speak Spanish well. She relied on her grandmother to help teach her. It was a time of growth for her. "I learned to appreciate my heritage," she told Latin Music's Velia Zamora, "and came heart to heart with my roots." In the end, she learned her songs phonetically for Llegar a Ti.Velasquez also went through a personal crisis during the recording of the album. Her great success at such a young age hit her hard. She disliked the person she was becoming, feeling like she had taken her own star status too seriously. "I had to suddenly decide," she told Gregory Rumburg of CCM, "'Why do I believe what I believe? No one's going to watch over me, no one's going to make sure I go to church right now. No one's going to make sure I pray.... I can't let my relationship with God rely on what my parents tell me anymore."
According to Maritza Sánchez of Latingirl,Velaquez's new album didn't please everyone. Shortly after its release, her audience, mainly Hispanic Christians, bombarded her with letters, Internet postings, and comments during autograph sessions that criticized her album. They were upset that she had recorded with a non-Christian company and that the title track, "Llegar a Ti," was chosen as the title song of a Telemundo novela (soap opera). Some of her fans were worried that she had turned her back on Christian music. One church went further and encouraged young members to burn their Jaci Velasquez records. Velasquez told CCM's Rumberg why she didn't feel this was a conflict: "[Latin music] is truly my ministry. This is where God called me as my ministry. But my English records are still my dreams, too. They are both my priorities. There's not one that takes priority over another one. I think what happens in the Christian market is that they like to keep you only theirs. They don't want to share you."
Velasquez returned to the Christian market in 2000, releasing Crystal Clear.Miriam Di Nunzio of the Chicago Sun-Timessaid of the album, "Velasquez combines devout passion for her faith and a cutting-edge pop sensibility to songs of deep love of God." Crystal Clear marked a new level of involvement in her album. Velasquez was more active in song selection, produced her own vocals on Crystal Clear, and co-wrote two songs: "You're Not There," and the lively, Latin-influenced "Escuchame," with producer Mark Heimermann.
"There's no visible ceiling for how high her rocket ship will travel," CCM's Dave Urbanski declared. And indeed, it seemed Velasquez's only challenge to continued success was finding the right balance for her Christian music fans and her Latin pop fans. "I'm more the edgy kind of chick artist in the Christian market and very much the good girl, can-do-no-wrong kind of girl in the pop market," Velasquez told Brian Mansfield of USA Today, "In the Latin market, they make a really big deal about the sexual abstinence thing. Of course, in the Christian market, they're all about making sure you're still a Christian after you're doing pop music.... And in the pop market, they're all about making sure you're not too Christian to be un-cool for them."
Velasquez told the Los Angeles Times that she planned to alternate between Spanish-language and English-language albums indefinitely. She reconciled the two worlds she performs in to Billboard'sLannert: "Not all of my songs are about God. But I do have a faith that intertwines my whole life, and it feeds me the life I live." Music industry professionals in both Christian and secular music saw her future potential as unlimited. "She has the voice, she has the personality, she has the strength and desire to really make it," Jorge Piña of Sony Latin told USA Today, "I think she's going to be a great superstar in the general market--forget Latin, forget Christian, this will be the mainstream market."
Discography:
1992: Help Me (independent)
1994: Keep the Fire Burning (independent)
1996: Heavenly Place (US No. 142) (Platinum – RIAA) (debut album)
1998: Jaci Velasquez (US No. 56) (Gold – RIAA)
1999: Llegar A Ti (2× Platinum – Latin RIAA)
2000: Crystal Clear (US No. 49) (Gold – RIAA)
2001: Mi Corazón (Platinum – Latin RIAA)
2001: Christmas (US No. 102)
2001: Navidad
2003: Unspoken (US No. 55)
2003: Milagro
2004: Mi Historia Musical
2005: Beauty Has Grace (US No. 195)
2006: On My Knees: The Best of Jaci Velasquez (a.k.a. Jaci Velasquez: Greatest Hits)
2007: Open House (Christmas EP)
2008: Love Out Loud
2012: Diamond
Read more
Latest headlines