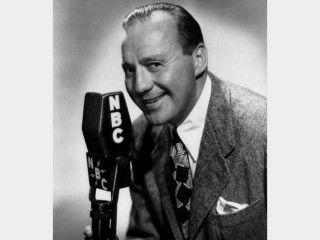 Jack Benny biography
Date of birth : 1894-01-14
Date of death : 1974-12-26
Birthplace : Chicago, Illinois, USA
Nationality : American
Category : Famous Figures
Last modified : 2010-09-07
Credited as : Actor and comedian, The Jack Benny Show, radio host on CBS
Benny, Jack
(February 14, 1894 – December 26, 1974), born
Benjamin Kubelsky
in Chicago, Illinois, the son of Meyer Kubelsky and Emma Sachs was an American actor and comedian. The family lived in suburban Waukegan, Ill., north of Chicago, where his father was at various times a peddler of household goods, the owner of a tavern, and finally a haberdasher. Benny had one sister.
Never a good student--he was expelled from Central High School in Waukegan after attending for only one term--Benny demonstrated an early interest in show business. For a while, as a very young child, he was considered something of a violin prodigy. At age seventeen, he was a violinist in the pit orchestra at Waukegan's leading vaudeville house. In 1912, with his parents' consent, he left home to become half of a touring piano-and-violin act with Cora Salisbury, a forty-five-year-old widow. After two seasons he joined another musical act, touring vaudeville houses across the country for five years.
The name
"Jack Benny" evolved after several false starts. When an established violinist named Jan Kubelik claimed that a violinist named Kubelsky might be mistaken for him, Benny decided to call himself Ben K. Benny. Later, he was obliged to change his name once again, this time to Jack Benny, when entertainer Ben Bernie claimed that the names were too similar. In 1917, Benny and his partner, Lyman Woods, brought their act to the prestigious Palace Theater in New York City, but they were indifferently received. After one year in the U.S. Navy, during which time he began adding jokes to his musical performance, Benny went solo, at first offering what he called "Fiddle Funology" and then, as he phased out his violin-playing, billing himself as the "Aristocrat of Humor." By the end of the 1920's he had established a national reputation as a master of ceremonies and monologist.

On Jan. 14, 1927, Benny married Sadie Marks, a young woman he had met six years earlier but scarcely remembered from that time. Later she changed her name to Mary Living-stone and became an integral part of his radio family. They had one child.

In 1928, Benny made a one-reel comedy called Bright Moments, in which he appeared with his wife, who was billed as Marie Marsh. The following year, he signed a contract with Metro-Goldwyn-Mayer (MGM) and starred in several musical films. He was the master of ceremonies for MGM's lavish, all-star Hollywood Revue of 1929. Benny's other movies made at the time, some for studios other than MGM, were inconsequential. He also returned briefly to the theater to star in a new edition of Earl Carroll's Vanities (1930).

It was in radio that Benny made his most indelible mark. After appearing as a guest on Ed Sullivan's radio program in 1931, he was given his first network show, which premiered on May 2, 1932, under the sponsorship of Canada Dry Ginger Ale. From that point on, although his sponsors changed--Jell-O held the franchise for eight consecutive seasons, beginning in 1934--Benny built a solid career as one of the country's most popular radio comedians. Aided by a team of talented writers, including Bill Morrow, Ed Beloin, Milt Josefsberg, and Hilliard Marks, and a group of expert supporting players, he created the character Jack Benny who endured for decades.

Amazingly, this character was constructed almost entirely of negative qualities. The Benny whom radio audiences came to know and love was a vain, stingy, overconfident man who was the target of everyone's jokes and quips. Perennially aged thirty-nine, he fancied himself a ladies' man and bon vivant, yet he was constantly mocked or snubbed by women. On the show he cultivated the friendship of such distinguished actors as Ronald Colman and James Stewart, who disliked him and tried to avoid him. (In real life they were good friends.) His parsimony was legendary--he insisted on driving an antique Maxwell car and kept his money in a vault deep in the subbasement of his house. Nevertheless, he won the affection and loyalty of his listeners, who recognized many of the same qualities in themselves. In the days before television, Benny could, with a pause, an inflection, or a single line, evoke gales of laughter and waves of sympathy for this foolish, self-important, but lovable man. "Timing," he wrote, "is not so much knowing when to speak, but when to pause." In perhaps his most memorable routine, a thief approached him with a gun and demanded his money or his life. After a lengthy pause that generated spiraling laughter, Benny replied, "I'm thinking it over!"

Benny was especially fortunate in the actors who made up his radio family. Genial announcer Don Wilson joined early in the run, and on another early show, his wife, Sadie, became Mary Livingstone, a friend of Benny's whose wry, sarcastic comments on his shortcomings delighted listeners and kept her a permanent fixture on the show for twenty years. Bandleader Phil Harris joined the cast in 1936, playing the hard-drinking, happy-go-lucky braggart and know-it-all in charge of an equally disreputable group of musicians. Black actor Eddie Anderson turned up the following year as Benny's long-suffering but wily valet, Rochester. Ill-paid and overworked, but never ill-treated, Rochester became one of the show's most endearing characters, slyly managing to beat or put down his employer on many occasions. (After 1945, at a time when America was becoming more socially conscious, jokes about Rochester that might be construed as racist were eliminated.)

A permanent feature of Benny's radio show was the young singer who performed at least one song on each program. Tenors Frank Parker, James Melton, Kenny Baker, and Dennis Day were among those who filled this role at various times, but it was Day who had the longest engagement, not only singing but also playing the naive, none-too-bright "kid" whose domineering mother, in the voice of Verna Felton, always had something disparaging to say about Benny.

Over the years, Benny hired a number of talented actors who created characters that are now part of radio folklore. Among them was Mel Blanc, whose repertoire of voices and accents included such characters as Benny's put-upon violin teacher, Professor LeBlanc, and a monosyllabic Mexican named Sy. (He also voiced Benny's sputtering Maxwell.) Other favorite performers included Frank Nelson, who, whatever the character, always greeted Benny with a supercilious "Yes-s-s-s?"; Artie Auerbach, creator of Mr. Kitzel, a peddler who, among other things, hawked frankfurters in his Yiddish-flavored dialect ("de peekle een de meedle and de mustard on top!"), and Sheldon Leonard as the racetrack tout, ready to offer Benny advice or odds on anything. Many other actors, including Sam Hearn, Bea Benaderet, Elliot Lewis, and Sandra Gould, contributed to the show over its long run.

One of the best-remembered features of Benny's radio shows was his long-standing "feud" with comedian Fred Allen. The "feud," in which the two traded angry barbs and insults, began in 1936 and attracted such attention that it continued for ten weeks and resurfaced periodically for many more years. Allen, noted for his biting wit, enjoyed feigning hostility toward a friend he admired greatly. The "feud" was even the basis for a 1940 movie called Love Thy Neighbor, starring Benny and Allen.

Benny worked assiduously on each of his radio programs, broadcast on Sunday night at 7 P.M. for many years. During World War II, he spent his summers away from the show touring military bases all over the world. In 1948, he moved from NBC to CBS. Two years later, on Oct. 28, 1950, the inevitable occurred: Benny launched his show on television, bringing with him most of the performers who had served him so well on radio. His appearance matched his radio persona: tall and handsome, with a bemused or exasperated expression on his face, he would stride onstage in an assured, slightly effeminate manner that was popular with impressionists. No longer needing to rely on pauses and vocal inflections, he could now use such visual devices as the pained look directly into the camera or the hand-to-cheek pose to express exasperation. The character of Jack Benny was as vain and stingy as ever, and now that he was visible, viewers were no less generous in their affection for him. The true-life Benny was, in fact, a philanthropic, self-effacing man, widely loved by everyone; but audiences continued to believe in his radio-television persona. His radio program continued until 1955, and his television show appeared on a regular basis until 1965.

Although his screechy violin playing was the target of innumerable jokes, Benny was actually a competent violinist. In October 1956, he gave a violin concert at Carnegie Hall in New York City, performing with the New York Philharmonic Orchestra at the suggestion of violinist Isaac Stern. From then on, he played at benefit concerts with nearly every major symphony orchestra in the United States and Canada, as well as abroad. In all his concerts, he balanced comedy and music in felicitous proportions.

Benny's career was dominated by his work in radio and television, yet he also made a number of films over the years. In the 1930's he appeared in such musicals as Broadway Melody of 1936 (1935), The Big Broadcast of 1937 (1936), and College Holiday (1936). A peak came in 1942 when he costarred with Carole Lombard in Ernst Lubitsch's stinging black comedy To Be or Not to Be. As a vain Polish actor whose theater troupe is put out of business by invading Nazis, Benny gave a richly comic performance. Other of his 1940's movies include Charley's Aunt (1941), George Washington Slept Here (1942), and The Horn Blows at Midnight (1945), which he mocked repeatedly as the nadir of his film career. His movie appearances in subsequent decades were sporadic--most often he was a guest star or unbilled walk-on in films throughout the 1950's and 1960's.

Benny remained active until the end of his life, performing at music-and-comedy concerts or appearing as a guest on television talk shows. In 1959, a junior high school in Waukegan was named in his honor, and in 1968 he donated all of his memorabilia to the University of California at Los Angeles. He died in Holmby Hills, Calif., and was buried in Hillside Cemetery in Los Angeles. He retained to the end his persona of a man who, for all of his human frailties, was dearly loved by the American people.

Read more
Latest headlines