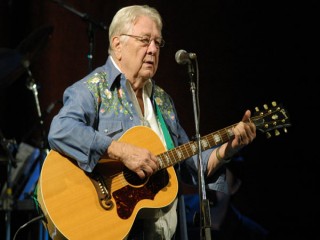 Jack Clement biography
Date of birth : 1931-04-05
Date of death : -
Birthplace : Memphis, Tennessee, U.S.
Nationality : American
Category : Arts and Entertainment
Last modified : 2011-11-03
Credited as : singer-songwriter, Jack Clement Stage-In-A-Box, Country Music Hall of Fame
Jack Henderson Clement is an American singer, songwriter, and a record and film producer.
As a solo artist, Jack Clement has only a handful of singles and two albums to his credit. However, as a musician, arranger, and producer, he shook the recording world with his work at Sun Records with Johnny Cash, Jerry Lee Lewis, Billy Lee Riley, and Sonny Burgess. He is considered one of the most gifted and eclectic men in rock and country music
Clement is the "executive tour guide and scenic consultant" for the Country Music Hall of Fame, has dabbled in film making, invented the Jack Clement Stage-In-A-Box, and advises a Nashville repertory group called Actors Bridge. That said, it is in country music production that the portly Renaissance man has made his greatest mark. A hit songwriter, he has also toiled as a freelance studio guru for acts as diverse as Waylon Jennings, John Hartford, and U2. More important, he helped break country music's color barrier when he introduced Charley Pride.
A native of Memphis, Tennessee, Clement had played music since he was a teenager, eventually mastering the rudiments of guitar, steel guitar, dobro, ukelele, and bass. Joining the Marines at age 17, he honed his country music skills during off hours, and even gathered a treasured memento. "I've got a picture of me on the Capitol steps with Queen Elizabeth," Clement quipped. "She was only a princess at the time."
Upon his military discharge, Clement made some unsuccessful bids to get his bluegrass band, which featured Jimmy and Scott Stoneman of the legendary Stoneman Family, on the Grand Ole Opry. He also studied architecture at Memphis State while working as an instructor for the Arthur Murray Dance Schools. In 1953 Clement and Buzz Busby auditioned for West Virginia's Wheeling Jamboree radio show as Buzz and Jack, The Banjo Boys. "They said they already had acts like that, the only thing they needed was a comedy act," Clement explained. "So, Buzz went back to D.C. and got some joke books and some silly little outfits, silly little vests, silly little hats, multicolored. We did a lot of Homer and Jethro type things. I wrote a few things like 'Lady Insane' (sung to the tune of 'Lady of Spain.'). 'Lady insane how you bore me.' That kind of stuff." The team gathered a little steam when the manager of Hawkshaw Hawkins got them a good paying regular radio gig on Boston's Hayloft Jamboree on WCOP.
After Clement returned to Memphis, he soon discovered that Elvis Presley was taking the city by storm with his first Sun single, "That's All Right." Clement recalled, "I loved it; it was like, 'Hey, why didn't I think of that?.' ... So, I was hooked from the first day, and before that day was over, everybody in Memphis was talking about Elvis."
Clement and part-time bandleader and nightclub owner Slim Wallace built a recording studio in Wallace's garage and started a small record label called Fernwood, named after the street it resided on. Armed with a tape recorder purchased from WHBQ disc jockey Sleepy Eyed John, Clement and Wallace recorded Riley's "Trouble Bound" and "Think Before You Go," their first release, and they took the raw tapes to Sam Phillips's Sun studio to work up a mixed master. Upon hearing what Clement and Riley had produced, Phillips offered them both a contract at Sun.
Clement made some changes while at Sun. He brought in superior equipment, hired a house band that included Riley, guitarist Roland Janes, pianist Jimmy Wilson, and drummer J.M. Van Eaton. He instituted a musician-friendly payment policy. "I was always trying to take care of the boys," he told Country Standard Time. Clement still feels that the atmosphere at the Sun studio was extraordinary. "People would go in that room and they'd just let loose. That's what you were supposed to do in there."
Clement's work was especially important to the career of Johnny Cash. At a point when the Man in Black was saving his best songs for an eventual move to Columbia, Clement penned material for Cash every bit as good as that of his star. He also augmented the basic Tennessee Two sound with the piano accompaniment of Charlie Rich, Jimmy Wilson, and Jerry Lee Lewis. The results he got working with Cash on "Ballad of a Teenaged Queen," "Guess Things Happen That Way," and "Down The Street at 301," which Clement also wrote, resulted in he label's most sustained country crossover successes. Further, the material he cut for Sonny Burgess, Barbara Pittman, and several others provided the best those cult rockabilly artists could deliver. Clement even found time to release two singles under his own name, both of which sank without a trace. Phillips fired Clement in March of 1959 for "insubordination" (he had told a drunken Phillips to be quiet during a recording session), but his career was in motion and there was no stopping it.
After a brief fling with his own label, Summer Records, Clement dabbled in Nashville production before moving to Beaumont, Texas. Forming Hall-Clement Music with Bill Hall, he wrote and produced for such performers as Moon Mulllican, Cliff Bruner, Rod Bernard, and former Sun artist Dickey Lee. One of his best-known projects during that period was Johnny Cash's "Ring of Fire." Adding Mexican trumpets to the intro and turn-arounds, Clement not only provided distinctive atmosphere and a clever hook, but fashioned a monster crossover hit that completely resurrected Cash's faltering career.
The success of "Ring of Fire" led to more calls from Nashville and, tired of making the commute, Clement moved there in 1965. At first he worked as an independent producer and publisher of his own Jack Music. He later worked as an assistant to RCA honcho/guitar legend Chet Atkins, scouting talent, producing, and engineering. In this capacity, he brought Charley Pride, a former minor league baseball player, to RCA.
"Well, actually, it started back at Sun Records," Clement said in a Goldmine article. "Sam [Phillips] had discovered a white guy that sounded black, sort of. I was saying, 'Why don't we get a black guy and teach him to sing country.'" Several years later in Nashville, Clement heard a tape that Jack Johnson had made with Pride, and Clement was impressed, saying that Pride "sounds like Hank Williams or somebody. He's a real country singer---nothing fake about it." Clement further recalled, "So, I agreed to pay for a session. ... I took it to Chet [Atkins] and he turned it down first. He loved it, but they didn't know exactly how to deal with it. But [later] ... I ran into Chet and he said, 'What'd you ever do with that colored boy?' I said, 'Well, I haven't done anything yet.' .... He said, 'Well, I've been thinking about that. We might be passing up another Elvis Presley.'"
Despite the fact that RCA wouldn't circulate Pride's picture until they were sure his music would be accepted by radio disc jockeys, and then felt it necessary to refer to the singer as "Country" Charley Pride, the label did indeed enjoy the fruits of a major discovery. With Clement overseeing most of his recordings, the Mississippi-born Pride became one of RCA's biggest country music stars, eventually winning a Grammy for his hit "Kiss An Angel Good Morning."
When not working with Pride, Clement wrote hits for George Jones, Porter Wagoner and Dolly Parton, Bobby Bare, and his friend Johnny Cash. He produced projects by such denizens of Outlaw Country as Waylon Jennings, John Prine, Tompall Glaser, Townes Van Zandt, and Hank Williams Jr. Then, to throw everyone a curve, he recorded an album with polka veteran Frankie Yankovic. Of his role as a producer, Clement said, "I'm an unlicensed psychiatrist. I've heard a lot of stories and dealt with a lot of egos, prima donnas. Hell, I'm not afraid of prima donnas; I chew 'em up and spit 'em out for breakfast."
Working in production and songwriting proved quite lucrative, so Clement decided to branch out into film. He invested heavily in the unsuccessful 1979 horror movie Dear Dead Delilah, which featured Agnes Moorehead in one of her last film roles. He rebounded in 1972 by forming JMI Records with Allen Reynolds, the label that discovered perennial hitmaker Don Williams.
Clement has released various singles of his own on Sun, Mala, RCA, and JMI, with little or no impact. As a singer he boasts a pleasant baritone, reminiscent of the old pop crooners. He came closest to a hit with his 1978 LP for Elektra, If I Had to Do it All Over Again. Three of the singles---the title track, and "We Must Believe in Magic" and "All I Want to Do in Life"---skirted the bottom of the country charts, and the album itself was much admired by critics. He wouldn't make another until 2004's Dualtone release Guess Things Happen That Way.
On the Dulatone set, Clement's vocals sometimes sounded craggy and pitchy, yet his old-time baritone often proved effortlessly charming. This was especially true of the absurdly humorous polka-tinged "Drinking Carrot Juice" and the scatting Dixieland of "Leavin' Is The Lovin' Thing To Do." Not content to stick with his own material, Clement's cover song choices---notably a country boogie version the Rolling Stones's "No Expectations" and a Countrypolitan reading of Waylon Jennings's "Dreaming My Dreams With You," are as varied as his influences. The disc's highlight occurs when Johnny Cash offers vocal counterpoint to Clement's melancholy renditions of "Guess Things Happen That Way" and "Ballad of a Teenage Queen." His voice weak, yet instantly recognizable, the Man in Black seems to speak from the grave during these poignant renditions of their respective Sun-era hits.
Although Clement has scaled back his activities, he still finds himself in demand to produce, but only accepts projects that interest him. U2 wanted Clement to produce a few tracks at the old Sun Records studio, and the iconoclastic producer had to be told who they were. "I had the time of my life with those characters," he told Deborah Evans Price in an essay in the Encyclopedia of Record Producers.
As if being the self-proclaimed "World's Greatest Rhythm Guitarist" (and unofficial "King of Nashville Polka") wasn't enough, Clement has found himself busier than ever during the early 2000s. He has appeared in documentaries, made a highly touted film of his own with award-winning author Robert Gordon, and brought 86-year-old Eddy Arnold out of retirement to do one last album
Clement currently hosts a weekly program on Sirius XM Satellite Radio's Outlaw country (channel 60) from 2pm to 6pm (Eastern) on Saturdays.Jack Clement has been inducted into the Rockabilly Hall of Fame and the Music City Walk of Fame.
Clement offered the following summation of his music in the book Country Music Changed My Life. "It's been a propelling force. It has given me the feeling that I need to stay true to certain things musically, do what I like to do, and make a joyful noise unto the Lord. Make happy music and not too serious. Fun, like country music's supposed to be. It's a communal thing, stuff that people do in kitchens, libraries, and in their backyards. I've always tried to keep that feeling in there some way."
Selected discography
Albums:
-All I Want to Do in Life Elektra, 1978.
-Guess Things Happen That Way Dualtone, 2004.
As producer:
-(Charley Pride) Flivvers, Flappers & Foxtrots RCA, 1960.
-(Ben Colder) Big Ben Strikes Again MGM, 1966.
-(Charley Pride) Country Charley Pride RCA, 1966.
-(Ben Colder) Wine, Women and Song MGM, 1967.
-(Charley Pride) The Country Way RCA, 1967.
-(Tompall and the Glaser Brothers) Tompall and the Glaser Brothers MGM, 1967.
-(Townes Van Zandt) For the Sake of a Song Poppy, 1968.
-(Tompall Glaser) Through the Eyes of Love Columbia, 1969.
-(Charley Pride) Songs of Pride...Charley, That Is RCA 1968.
-(Tompall Glaser) Wicked California Columbia, 1969.
-(Townes Van Zandt) Our Mother the Mountain Poppy, 1969.
-(Charley Pride) In Person at Panther Hall RCA, 1969.
-(Charley Pride) The Sensational Charley Pride RCA, 1969.
-(Charley Pride) Charley Pride's 10th Album Columbia, 1970.
-(Charley Pride) From Me to You RCA, 1970.
-(The Stonemans) Dawn of the Stonemans Age RCA, 1970.
-(Charley Pride) Did You Think to Pray? RCA, 1971.
-(Mac Wiseman & Lester Flatt) Lester & Mac RCA, 1971.
-(Charley Pride) Charley Pride Sings Heart Songs Columbia, 1971.
-(Doc Watson) Elementary Doctor Watson Poppy, 1972.
-(Townes Van Zandt) Late Great Townes Van Zandt Poppy, 1972.
-(Doc & Merle Watson) Then and Now Sugar Hill 1973.
-(Charley Pride) Songs of Love by Charley Pride RCA, 1973.
-(Hank Williams Jr.) Living Proof: The MGM Recordings 1963-1975 MGM, 1974.
-(Waylon Jennings) Dreaming My Dreams RCA, 1975.
-(Dickey Lee) Ashes of Love RCA, 1976.
-(Johnny Cash) Rockabilly Blues Columbia, 1980.
-(John Hartford) Gumtree Canoe Flying Fish 1984.
-(John Hartford) Annual Waltz MCA, 1988, 1971.
-(John Hartford) Oh Me Oh My How the Time Does Fly Flying Fish, 1989.
-(The Cues) Why Bear Family, 1991.
-(Marty Stuart) Let There Be Country Columbia, 1992.
-(Charley Pride) My 6 Latest, My 6 Greatest Honest Entertainment, 1994.
-(Johnny Cash) Wanted Man Mercury, 1995.
-(Various Artists) The Complete Sun Singles, Vol. 1 Bear Family, 1995.
-(Various Artists) The Complete Sun Singles, Vol. 2 Bear Family, 1995.
-(Various Artists) The Complete Sun Singles, Vol. 3 Bear Family, 1996.
-(Frankie Yankovic) Songs of the Polka King, Vol. 1 Mercury, 1996.
-(Various Artists) The Complete Sun Singles, Vol. 4 Bear Family, 1997.
-(Various Artists) The Complete Sun Singles, Vol. 5 Bear Family, 1998.
-(Various Artists) The Complete Sun Singles, Vol. 6 Bear Family, 1999.
-(Lester Flatt) Flatt on Victor Plus More Bear Family, 1999.
-(Various Artists) Memphis Belles: the Women of Sun Records Bear Family, 2002.
-(Eddy Arnold) After All These Years RCA, 2005.
Read more
Latest headlines