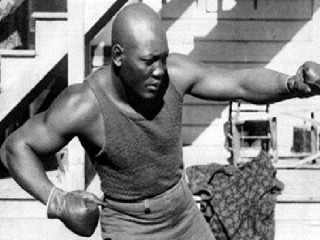 Jack Johnson biography
Date of birth : 1878-03-31
Date of death : 1946-06-10
Birthplace : Galveston, Texas, U.S.
Nationality : American
Category : Famous Figures
Last modified : 2010-07-12
Credited as : Professional boxer, ,
Jack Johnson
(also known as:
John A. Johnson, John Arthur Johnson, Arthur John Johnson
), born March 31, 1878 in Galveston, Texas, United States - died June 10, 1946 in Raleigh, North Carolina, United States is an African-American boxer.
Jack Johnson
was the first African American to hold the title of world heavyweight champion, a distinction he earned by defeating Tommy Burns in a 1908 fight. During an era of blatant racism, Johnson was a flamboyant character who provoked a worldwide search for the "Great White Hope" who could defeat him. Johnson, both as a brilliant fighter and as a man who lived lavishly, was one of the most well-known sports figures of his day. Boxing historian Nat Fleischer wrote in 1949, "after years devoted to the study of heavyweight fighters, I have no hesitation in naming Jack Johnson as the greatest of them all."
Early Training
Johnson was born into a large, poor family in Galveston, Texas. His father was a former slave from Tennessee, and worked as a janitor and porter. Johnson left school after the fifth grade and began working odd jobs. He worked on the docks as a longshoreman, and got some of his first experience as a fighter in that rough atmosphere. Johnson also worked in a carriage shop, where his boss--an ex-prize fighter--taught him to box. Even though boxing was still illegal in most of the country, Johnson began traveling around the United States, fighting in exhibition bouts for food or lodging. He also participated in the "Battle Royals," competitions staged for white audiences in which several black youths--some blindfolded or naked--fought until only one was left standing.
Success in the Ring
Between 1902 and 1908, Johnson fought fifty-seven official fights, predominantly against other black boxers. Johnson, whose fighting style was fast and nimble, with a strong defense and tremendous power in both fists, won fifty-four of those fights. He was also known for his flamboyant personal style: Johnson joked with the crowd, taunted his opponents, and would defiantly flash his "golden smile" (several teeth had been replaced with gold). In 1902, Johnson defeated the former world light-heavyweight champion George Gardiner. He went on to defeat Denver Ed Martin in 1903, becoming the unofficial black world heavyweight champion. White boxers, including world heavyweight champion Jim Jeffries, refused to fight Johnson because of his race.
On December 26, 1908, Johnson finally was allowed his chance to fight the world heavyweight champion. The 6-foot, 200 pound Johnson faced 5 foot 7, 175 pound Tommy Burns, a white Canadian fighter, in a match in Sydney, Australia. Even though Johnson was forced to agree to allow Burns's manager to referee the match, he won easily in the fourteenth round when police stopped the match. Although he was the undisputed winner of the bout, Johnson received just $5,000 of the $40,000 purse and some boxing experts refused to acknowledge him as world champion because of his race.
Johnson was disliked and ridiculed not just for being black, but also for his unabashed flamboyance. When he wasn't boxing, Johnson performed in a vaudeville act, singing, dancing, playing the fiddle, and giving speeches. He had tastes for fast cars, stylish clothes, and loose women. His brashness outside the ring (and the outrage that a black man held the world title) led critics to call for another fight, this time with Jeffries, who had retired as the undefeated champion. Novelist Jack London wrote in the New York Herald, "Jim Jeffries must now emerge from his alfalfa farm and remove that golden smile from Jack Johnson's face. Jeff it's up to you. The White Man must be rescued."
Jeffries finally agreed to fight Johnson on July 4, 1910. The match was held in front of a crowd of 16,000 in Reno, Nevada, and was billed as "The Hope of the White Race vs. The Deliverer of the Negroes." Johnson entered the ring in an ivory satin robe, gold chains, and a turquoise feathered scarf. His confidence was warranted: he won the fight in a knockout in the fifteenth round. Johnson's victory sparked race riots around the country, and eleven people died in the violence. There followed a nationwide call for competitions to find the "Great White Hope" who could stop the champion Johnson.
Controversial Figure
Johnson's flamboyance was not only a problem for him in the ring. Not only did he openly enjoy his winnings by opening the cabaret Café de Champion in Chicago, he dared to publicly court white women. Johnson--who married three white women over his lifetime--was denounced on the floor of the United States Senate, and some states passed legislation outlawing interracial marriage based on his case. Reformers during the "white slavery" hysteria managed to have Johnson's liquor license revoked, and also had him charged under the Mann Act, which prohibits transporting women across state lines "for immoral purposes." Johnson had moved across state lines both with his wives and with white prostitutes, but before the Mann Act was enacted. Nevertheless, an all-white jury found him guilty of the offense in May 1913, and he was sentenced to a year and a day in prison.
Rather than serve his prison sentence, Johnson escaped to Europe with his then-current wife, Lucile. He boxed in exhibition matches and performed in vaudeville acts there and in Latin America for two years. In 1915, Johnson agreed to fight the "white hope" Jess Willard for the title. The bout was held in Havana, Cuba, since Johnson could not return to the United States. The boxers fought under a blazing sun for 26 rounds, until Willard knocked Johnson out. Johnson claimed afterward that he had thrown the fight in return for a pledge of amnesty from the United States, but none was forthcoming. He fled back to Europe and lived mostly in Spain, performing in exhibition fights and wrestling matches, acting in a film, and performing as a matador.
In 1920, Johnson returned to the United States and served his prison term in Leavenworth. He worked some odd jobs and spent most of the rest of his life working as a lecturer at Hubert's Museum, a sideshow and penny arcade, on 42nd Street in New York. On June 10, 1946, Johnson was speeding through Franklin, North Carolina, toward the Joe Louis-Billy Conn rematch when his car hit a light pole. He died hours later in a Raleigh hospital.
Legacy as a Boxer
Johnson was among the first boxers to be inducted into the Boxing Hall of Fame in 1954, and he was included in the International Boxing Hall of Fame in 1990. In his obituary, the New York Times called Johnson "one of the craftiest boxers known to the ring, recognized by many as one of the five outstanding heavyweight champions of all time."
Jack Johnson's life was fictionalized by Howard Sackler in the play The Great White Hope, performed on Broadway in 1967. The play starred James Earl Jones and Jane Alexander, and helped launch their careers. The work focuses on the romance between a black boxer and his white lover, and on his prosecution under the Mann Act. Sackler's play won the Tony Award, the New York Drama Critics' Award, and the Pulitzer Prize. The Great White Hope was released as a film in 1970 starring the Broadway leads.
Johnson was a flamboyant and widely-despised figure, but also a tremendously talented boxer. He was the first African American athlete to raise such controversy and enjoy such success, and his story haunted the careers of later African American boxers like Joe Louis. Throughout his career, Louis worked to prove his modesty and his moral character; he was always combating the public's memories of Johnson's white wives, flashy suits, and golden smile. Louis, often called "a credit to his race," became the second black world heavyweight champion in 1937.
Later world champion Muhammad Ali was tremendously influenced not only by Johnson's boxing technique, but also by his relentless self-promotion and "trash talk." Ali would watch tapes of Johnson's bouts before his own fights, and was inspired by the African American boxing pioneer. Johnson's flamboyance presaged the later antics not just of Ali, but also of star athletes like Dennis Rodman. The controversy Johnson stirred up in the American public reflected the racism of the time, and gave other black sports heroes an idea of what they, too, would face.
AWARDS
1902-08, Wins 54 of 57 fights; 1903, Becomes unofficial black world heavyweight champion; 1908, Becomes world heavyweight champion; 1910, Defends title against Jim Jeffries; 1954, Included in Boxing Hall of Fame; 1990, Inducted into the International Boxing Hall of Fame.
CHRONOLOGY
* 1878 Born March 31 in Galveston, Texas
* 1897 First professional fight
* 1898 Marries Mary Austin
* 1902 Defeats George Gardiner, former light-heavyweight world champion
* 1903 Defeats Denver Ed Martin, becoming unofficial black world heavyweight champion
* 1903 First wife dies
* 1908 Defeats Tommy Burns, becoming world heavyweight champion and sparking controversy because of his race
* 1910 Defeats Jim Jeffries, retired world heavyweight champion, and defends his title; race riots break out, and the public cries out for the "Great White Hope"
* 1911 Marries Etta (Terry) Duryea, a white divorcee from Brooklyn, provoking public outrage
* 1912 Second wife commits suicide
* 1912 Marries Lucile Frances Cameron, his white bookkeeper at the cabaret
* 1913 Convicted of violating the Mann Act, sentenced to one year and one day in prison
* 1913 Flees to Europe
* 1915 Loses title to Jess Willard in Havana, Cuba; insists fight was fixed
* 1920 Returns to United States and serves prison term
* 1924 Divorces third wife
* 1925 Marries Marie Pineau, a white divorcee
* 1946 Dies in car crash in North Carolina
Read more
Latest headlines