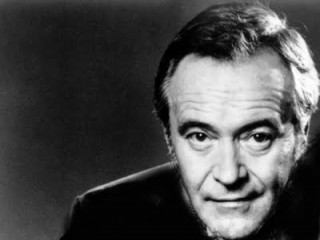 Jack Lemmon biography
Date of birth : 1925-02-08
Date of death : 2001-06-27
Birthplace : Boston, Massachusetts, United States
Nationality : American
Category : Famous Figures
Last modified : 2011-07-04
Credited as : Actor, Grumpy Old Men, Academy Award
Actor Jack Lemmon was born in the Boston suburb of Newton, Massachusetts, on February 8, 1925— legend has it that he was actually born in the hospital elevator. The son of a successful businessman, Lemmon grew up under the expectation that he would follow his father into the bakery business. He was educated at Andover Academy and by the time he graduated from Harvard University he was thoroughly bitten by the acting bug, having acted in summer stock and in some of Harvard's Hasty Pudding productions. In a 1990 interview in the Independent Mark Steyn quoted Lemmon's account of how he broke the news of his aspiration to be an actor to his father after graduating from Harvard University in 1947: "'Pop, can you lend me 300 bucks so I can go to New York and see if I can get in the theatre?' He said, 'Eugh—acting. Do you really love it?' I said I did, and he said, 'Okay, good. Because when the day comes that I don't find romance in a loaf of bread, I'll quit.' Boy, that came in handy during the terrible dry periods. Then I remembered, well, I do love it, like he loved what he did." Lemmon's initial show business job in New York involved playing piano in the Old Knickerbocker Music Hall on Second Avenue as an accompanist to the silent films of Charlie Chaplin and Buster Keaton. He also performed in skits there and tended bar, among other tasks. During his early years in the business he continued doing summer stock.
In late 1949 Lemmon appeared in a television series, That Wonderful Guy, along with Cynthia Stone, whom he later married. The series was canceled after 17 weeks, but Lemmon soon landed a job as master of ceremonies on a talent show named Toni Twin Time, where he received mixed reviews as an MC. When the show was canceled he and Stone found work on an improvisation show called The Ad Libbers. After that show was canceled Lemmon and Stone were paired once again, this time in a continuing 15-minute segment in which they played a young married couple. For the two, art mirrored life, as they had married on May 7, 1952. In 1952 Lemmon and Stone were cast in yet another situation comedy, Heaven for Betsy, which was panned by the critics.
By the early 1950s Lemmon, who now worked regularly in television, landed a part in the Broadway revival of Room Service, a hit play from the 1930s. Lemmon's Broadway debut was not so fortunate; this time around. Room Service closed after 18 performances, leaving Lemmon undaunted by the show's generally poor reviews. For one thing, he received valuable experience and exposure; for another, Hollywood literally beckoned him. He signed a seven-year nonexclusive contract with Columbia Pictures that required him to do two films a year, with a studio option for a third. Unfortunately, as his career moved forward his marriage with Stone steadily declined.
Lemmon's first film for Columbia was It Should Happen to You, which starred Academy Award-winner Judy Holliday and was directed by George Cukor. In it Lemmon plays a struggling documentary filmmaker. The film was successful and Lemmon caught the attention of the critics. In his second film, Phfft, he was again paired with Holliday. By this time he had reconciled with Stone, and the couple now relocated to California. In 1954 their son Christopher was born. Lemmon next had a small role in My Sister Eileen, but it was his fourth film that marked his entrance into the Hollywood pantheon.
Lemmon's real breakthrough in movies came when legendary director John Ford literally handed him the role of Ensign Pulver in the film Mister Roberts. Based on the successful play, the film starred veteran actors Henry Fonda, James Cagney, William Powell, and Ward Bond, but it was Lemmon's performance as the laundry and morale officer Pulver that truly shone. This performance earned Lemmon an Academy Award for best supporting actor in 1955 and proved to the film world that he was a talent to be reckoned with. Unfortunately his increasing work schedule and his growing fame as a result of Mister Roberts took their toll on Lemmon's marriage. Soon after receiving the best supporting actor award, he received a divorce summons from his wife.
During the late 1950s Lemmon continued working in television as well as film and became friends with comedian Ernie Kovacs, a comic genius until his 1962 death in an automobile accident. The two worked together on two films, Operation Mad Ball and It Happened to Jane, the latter co-starring Doris Day. Lemmon's friendship with Kovacs was so close that in his Lemmon, biographer Don Widener quoted director Richard Quine as noting: "If Ernie had lived, the Lemmon-Matthau team might well have been Lemmon-Kovacs. They reminded me of a sophisticated Laurel and Hardy."
In 1959 Lemmon was paired with Tony Curtis in Some Like It Hot. Under the brilliant direction of Billy Wilder Lemmon gave one of the greatest performances of his career opposite Marilyn Monroe by playing Jerry/Daphne, a Depression-era musician on the run from Chicago gangsters who hides out in an all-female band touring Florida. The next year Lemmon starred in The Apartment, also directed by Wilder. Lemmon's performance as C. C. Baxter, an up-and-coming corporate man who allows his superiors to use his apartment for liaisons, is perhaps his truest personification of the "everyman" for which he was best known.
Three things happened in 1962 that altered Lemmon's life and career. Kovacs died in an automobile accident, thus ending a flourishing professional partnership and close friendship; in August Lemmon married actress Felicia Farr, with whom he would have a daughter, Courtney, in 1966; and he starred with Lee Remick in the independent film, Days of Wine and Roses. As good as Lemmon's film work had been up to that time—he had won an additional two Academy Award nominations for his performances in Some Like It Hot and The Apartment—Lemmon stunned critics and audiences alike with his performance as the alcoholic Joe Clay in Days of Wine and Roses. The breakout performance earned him his fourth Academy Award nomination.
Over the next few years Lemmon returned to light comedy, with many of the roles shoring up his Everyman persona. He also acted in such high-farce films as The Great Race, until the mid-1960s when his career took another fateful turn. In 1966 he was teamed up for the first time with Walter Matthau in The Fortune Cookie, a Wilder-directed comedy about a photographer who, at the instigation of an unscrupulous lawyer, fakes the seriousness of an injury in order to defraud an insurance company. Two years later Lemmon and Matthau were cast as Felix and Oscar in The Odd Couple, their best-known film together. The two enjoyed a 34-year friendship until Matthau's death in 2000, working together on 11 films, most of which were produced in the 1990s.
In the 1970s the middle-aged Lemmon took on greater challenges, promoting his recognizable Everyman persona even as he discarded the youthful innocence that he had up to then played as counterpoint. In 1971 he tried his hand at directing and the result was Kotch, starring Matthau and with a cameo appearance by Lemmon. In 1973 came the role that brought Lemmon his second Academy Award, this time for best actor. As Harry Stoner in Save the Tiger, he played a businessman suffering through a mid-life crisis who must now weigh his ethics against his struggling business. Lemmon returned to television work in 1976, in a remake of The Entertainer reprising the role of second-rate entertainer Archie Rice formerly performed by Sir Laurence Olivier. While some criticized Lemmon for remaking the film, it was Olivier himself who had suggested he take on the part. Lemmon also starred in one of the decade's better disaster movies, Airport '77. He closed out the decade with another stunning performance, as the tormented but scrupulous Jack Godell in the controversial film The China Syndrome. The performance earned Lemmon his sixth Academy Award nomination, a Golden Globe nomination, a BAFTA (the British film award), the best actor award at the Cannes Film Festival, and a David (Italian film award) for best foreign actor, the last which he shared with fellow actor Dustin Hoffman.
The 1980s saw no letdown in the quality of Lemmon's work. He followed his turn in The China Syndrome with Tribute, in which he played the shallow agent Scotty Templeton, who discovers he is dying. The performance earned him another Academy Award nomination. as well as consideration for a Golden Globe Award. In 1982 Lemmon turned in yet another stunning performance in Missing, directed by controversial filmaker Costa-Gavras. In the film Lemmon plays a father whose son has gone missing as a result of the CIA-sponsored 1973 coup that overthrew Chilean President Salvador Allende. The film sparked lawsuits and official rebuttals but nevertheless became a turning point in the American public's perception of the coup. For his performance Lemmon received his eighth and final Academy Award nomination. He was also nominated for a BAFTA Award and a Golden Globe Award and received the award for best actor at the Cannes Film Festival.
During the 1980s Lemmon became increasingly involved in television work. He appeared in tributes to Frank Capra, Billy Wilder, Harold Lloyd, and even himself, but more important were the dramatic roles he took on. During the decade he appeared in the television films Long Day's Journey into Night (1987) and The Murder of Mary Phagan (1988). Yet Lemmon's film career was far from over. During the 1990s he appeared in Robert Altman's The Player (1992) and Short Cuts (1993) and also did a noteworthy job in David Mamet's Glengarry Glen Ross, (1992) which Roger Ebert, writing in the Chicago Sun-Times, described as Lemmon's "version of Death of a Salesman."
Lemmon was remarkably busy during the 1990s. At the beginning of the decade he appeared in yet another political drama, JFK, and also starred in a number of comedies, particularly reviving his partnership with Matthau. The pair made five movies together during the decade, including Grumpy Old Men, Grumpier Old Men, and The Odd Couple II, all of which enjoyed fair commercial success but mixed critical reviews. Lemmon's television work included remakes of 12 Angry Men and Inherit the Wind, both of which earned him Emmy and Golden Globe nominations. He won the Golden Globe for his performance as Henry Drummond, the Clarence Darrow-like defense attorney in the latter. Lemmon's last important role came in the 1999 television film Tuesdays with Morrie, for which he won an Emmy award. He died from cancer on June 27, 2001.
Read more
Jack Lemmon Picture Gallery
Latest headlines