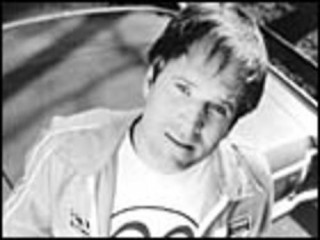 Jack Logan biography
Date of birth : -
Date of death : -
Birthplace : Lawrenceville, Illinois, U.S.
Nationality : American
Category : Arts and Entertainment
Last modified : 2011-12-09
Credited as : singer-songwriter, Liquor Cabinet band, "Third Creature"
Jack Logan is an American singer-songwriter from southern Illinois. He created two comic books in the 1980s, starring Peter Buck of R.E.M. as a superhero, and the connection to Peter Buck led to Twin/Tone Records' Peter Jesperson's interest in releasing some of Logan's material.
Jack Logan, aided by his makeshift band called the Liquor Cabinet, made an impression on music industry critics in 1994 with his garage-style, low-fidelity debut entitled Bulk, a 42-track collection of country, pop, rock, blues, and folk songs written and recorded in his rural Georgia home in a town called Winder, located some 40 miles northeast of Atlanta. Logan and his drinking buddies spent more than a decade writing songs and recording them in various garages, barns, and the kitchens and living room of Logan's house. They worked during the evenings and weekends, mainly for their own amusement, never trying to land a record contract.
Logan and friends all maintained day jobs (Logan repaired swimming pool pumps, while best friend Kelly Keneipp refurbished old refrigerators), and their only connection to the public consisted of performances every now and then at local hangouts. Then in the early 1990s, after amassing more than 600 recorded songs, Logan sent them to a producer, Peter Jesperson, just to see what would happen. When Jesperson, Logan's later manager and producer, received the demo, he listened with amazement. "He's one of the best songwriters anywhere on the planet--period," Jesperson assured Jon Bream in the Minneapolis Star Tribune. After a portion of the songs, consisting of everything from country ballads and upbeat rock tunes to long narratives about life and death, found their way onto Bulk, Logan and friends were thrust into the media spotlight.
To Logan's amazement, the release scored a four-star review in Rolling Stone, as well as a rare page-one feature in Billboard. With Logan now a favorite among college radio stations, he was subsequently invited to appear with his band in January of 1995 on the television show Late Night with Conan O'Brien. Despite Bulk's overwhelming critical reception, the work failed to catch on in terms of record sales, and Logan only attracted a cult following of listeners. Nonetheless, Logan would continue to stick with his favorite pastime, and by late 1994, Logan and friends had already recorded over 100 new songs. "We're going to keep doing it just like we always have. Record it listen to it--which is the kick--and add it to the shelf with the rest of our stuff," he told People magazine in January of 1995. Logan and his Liquor Cabinet followed Bulk with two more albums, Mood Elevator in 1996 and Buzz Me In in 1999; both records again were deemed critical favorites. Logan, although originally from the Midwest state of Illinois, evolved into an accomplished and witty storyteller in the southern style since relocating to the South in the mid-1980s. "His characters wear their humanity proudly," stated the Trouser Press Guide to '90s Rock, "and their circumstances update the southern gothic morality of [novelist] Flannery O'Connor to include the current society of the trailer park and the long-haul trucker."
Logan, born around 1959, spent his childhood in Lawrenceville, Illinois, a small rural town in the southern part of the state. In school, he met his best friend and future collaborator Kelly Keneipp. Upon graduating from high school, Logan studied art (he originally wanted to work as a cartoonist) at Illinois State University in Normal, Illinois, located near his hometown, while his childhood pal Keneipp attended the University of Illinois in nearby Champagne-Urbana. Together, the two friends made music throughout college, inspired by punk rock's do-it-yourself attitude, the idea of performing and recording without the use of high-tech equipment. After college in 1985, Logan and Keneipp moved to Winder, Georgia, a town located 40 miles northeast of Atlanta. With no plans of ever finding careers as musicians, both men accepted jobs with an electric shop in Atlanta repairing swimming pool pumps (Keneipp also refurbished old refrigeration units). However, both men still enjoyed writing and playing music. Consequently, Logan, Keneipp (who played second guitar and keyboards), and other drinking buddies, collectively known as the Liquor Cabinet, started making tapes and playing in local bars and at small venues in Atlanta and Athens, Georgia, just for fun. "This is something we do on weekends, the way other people play golf," Logan explained to People.
Before long, Logan and his crew had written and taped an amazing amount of work, over 600 detailed and poetic, yet simple, songs, some of which would appear on the debut album. "Kelly goes into the kitchen and comes up with the verse-chorus structure; then I write the lyrics on the spot," Logan revealed about his casual style of songwriting to People. "We do six or seven songs in a couple of hours." However, as he told Neal Justin in the Minneapolis Star Tribune in his self-depreciating and neighborly manner, "Trust me, they aren't all great, but usually there's one or two that has some sort of potential.... I can go in with the musicians, have no idea what I'm doing at all, and kind of force myself to come up with something."
Around the same time, Logan and his act caught the attention of R.E.M. guitarist Peter Buck and musician Vic Chesnutt, who both lived in Athens. The two musicians then spread the word about Logan to influential manager/producer Peter Jesperson from Minneapolis, known for discovering the successful pop group The Replacements and cofounding the Twin/Tone record label. He would eventually manage Logan and produce two albums for the ensemble on his Medium Cool Records label. It took Jesperson more than a year, though, to persuade Logan to mail him some demo tapes. When Logan finally obliged, Jesperson offered him a record deal right away. Jesperson then sorted through the diffuse collection of work, picking out the songs that would appear on Logan's debut release.
All of the songs included in Bulk, a 42-track double CD, were recorded in Logan's kitchen, living room, and other home studio settings. Listening to the eclectic album was considered a truly humbling experience for any person who had ever attempted to write music, especially considering the fact that reviewers found it impossible to select highlight tracks from the recording. Examples of the rock-oriented anthems include the reverent "Female Jesus" and a tale of a tragic end called "Floating Cowboy." The musician also extends his wit and attention to rural life in country songs like the self-explanatory "New Used Car and a Plate of Bar-B-Que." Logan's understated ballads move beyond the traditional, questioning the timeless concept of love in new ways. In the song "Would I Be Happy Then?," the singer wonders if acquiring the car, house, and woman he had always longed for will bring him true happiness. While the debut record proved a success in terms of critical response, the album lacked support in sales.
Thus, the Liquor Cabinet continued with their day jobs, performed locally and made more music in their spare time. "Bulkdidn't tear up the charts or nothing, so our lives have remained the same," Logan remarked to Chris Dickinson of the St. Louis Post-Dispatch. "We still work every day. We haven't run into too many creeps or golddiggers." However, Logan did meet one fan, as he recalled to Dickinson. "We had a 12-year-old girl show up at the shop and ask for autographs. I'm old enough to be her grandfather! But she was really cool. She said 'I just want to shake your hand.' We were stunned." While Logan continued to work and develop new songs, his record company released Bulk 101, an 11-song sampler derived from Bulk, followed by Out of Whack, a four-song EP.
For Logan's next album, Mood Elevator--released in1996--the band recorded the songs in a barn in Indiana. After a week, Logan and the Liquor Cabinet had completed 30 songs, 17 of which ended up on the finished record. Unlike Logan's debut, which included a variety of musical genres, Mood Elevator centered on conventional rock songs and lacked the raw humor and ambition of Bulk. Nevertheless, Logan's novelistic imagery, use of simple language, focus on working-class and small-town concerns, and attention to detail remained present. In the song "Just Babies," for example, Logan tells the story of a father who misses his children, yet he stays away from them because of his alcoholism. The somber "My New Town" collects the thoughts of a man who feels alienated in his new environment. Although Logan attempted to make a more commercially appealing record this time, sales again were low. In addition, MTV rejected his video, and the Liquor Cabinet's shows continued to draw only modest crowds.
In 1998, Logan made an album with another friend, Bob Kimbell of the overlooked band Weird Summer. For Little Private Angel, which sounded similar to Logan's work with the Liquor Cabinet, Logan wrote the lyrics and sang lead vocals, while Kimbell played guitar and sang harmonies. Like Logan's other projects, critics raved about the artist's songwriting ability. "As a writer, Logan is a miniaturist," wrote Phil Sheridan in Magnet, "creating whole worlds of emotion from such small moments as 'Dialing Your Number' or stepping up to the plate and hitting a 'Frozen Rope.'" For the ballad "Rained Like Hell" Logan wears the heart of a man recalling the wedding day of a lost love.
Logan united again with his band to release their next album Buzz Me In, originally recorded under Logan's old label back in 1997, then rescued by Capricorn Records in 1999. The musician took a new approach with this record, adopting a studio sound, aided by former Clash producer Kosmo Vinyl, as opposed to his previous low-tech method of recording and keeping the length down to 14 tracks.
Nevertheless, he still managed to include songs that span his usual country, rock, and blues spectrum. And in spite of the album's more polished sound, Logan asserted to Steve Dollar of the Atlanta Journal and Constitution, "It'll always be guitars and beating on boxes for me." In addition, Logan added other instruments to compliment the guitar and drums of the Liquor Cabinet. "All Grown Up," for example, includes the trombone and vocals of Chesnutt and a cast of gospel backup singers, and for "Hit or Miss," Logan opted for a string section. As Logan again reaped praise for his more refined and intimate glimpse into the world of ordinary life, the music industry predicted greater commercial rewards for Buzz Me In.
His most recent release is 2006's Orthodox Garage, recorded under the band name "Third Creature" on Fundamental Records.
Selected discography:
- Bulk , Medium Cool/Twin/Tone, 1994.
-Bulk 101 (11-song promotional sampler from Bulk ), Medium Cool/Twin/Tone, 1994.
-Out of Whack EP , Guilt Ridden Pop, 1995.
-Mood Elevator , Medium Cool/Restless, 1996.
-(With Bob Kimbell) Little Private Angel , Parasol, 1998.
-Buzz Me In , Capricorn, 1999.
Read more
Latest headlines