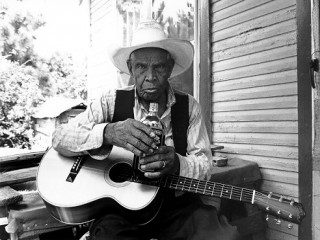 Jack Owens biography
Date of birth : 1904-11-17
Date of death : 1997-02-09
Birthplace : Bentonia, Mississippi, U.S.
Nationality : American
Category : Famous Figures
Last modified : 2012-01-06
Credited as : Blues singer, Guitarist, It Must Have Been the Devil album
Jack Owens was an American Delta blues singer and guitarist, from Bentonia, Mississippi, United States.
At the time of his death on February 9, 1997, at the age of 93, guitarist Jack Owens was the oldest performing Mississippi Delta bluesman, one of the last links to the golden age of country blues and an American tradition that has all but vanished. Although Owens made his recording debut late in life with It Must Have Been the Devil in 1971, he had already earned recognition from his rural hometown of Bentonia as a first generation blues singer and guitarist, influencing younger artists such as Muddy Waters and B.B. King, as well as modern performers like Eric Clapton and the Rolling Stones. "He's the dean of living Delta bluesmen and gives you a rare window into a world that most of us can only read about, or listen to on records," said David Evans, a music professor at the University of Memphis and the man most responsible for "rediscovering" Owens during the 1960s blues revival, as quoted by Josh Getlin of the Los Angeles Times. "There just aren't too many people like him around, and soon they'll all be gone."
Owens spent his entire life in Bentonia, Mississippi, a quiet town of modest homes and aging storefronts located between Jackson and Yazoo City on the edge of the Delta. Although not found on many maps, the small community occupies an honored position in blues history, enough to attract a fair number of blues enthusiasts during Owens' lifetime each year to an old wooden house off a rugged dirt road on the outskirts of town. It was here that the legendary guitarist, weather permitting, could be seen on the front porch of his dilapidated shack, sitting in his weathered tan vinyl rocking chair, often clad in a worn jacket of the same color. If he felt comfortable with these strangers, Owens, a slight and well-worn, but steely-eyed and confident man even in his later years, would invite them onto his porch, answer their questions, and after negotiating some payment for his time, begin to play his acoustic guitar and sing in his piercing, bone-chilling wail.
Unlike many Mississippi blues performers, Jack Owens, born on November 17, 1904, never sought fame, fortune, or outside recognition for his music. Content to remain unknown to the mainstream, he only left the Bentonia area with his music during the last ten years of his life, when he started touring from time to time across the United States and in Europe. "I don't got long," Owens told Getlin in 1995. "But until I'm gone, I'll be here." His parents were longtime farmers, and Owens, the oldest of eight children, began working in the fields at an early age and never learned to read or write. Inspired by several family members who played guitar, Owens in his youth developed an interest in music as well, learning to play on a three-stringed instrument. According to Owens, blues songs came to him naturally during the long hours toiling in the fields. "I'd be working the plow and then a song would come to me, I'd be moanin' me a song, and then when I'd get home, I'd try to play it," he recalled. "But I was dragging a guitar around the floor before I could even walk."
Although regional distinctions are less clear today as the American countryside has become more homogenized, the Delta area years ago was a place where everyone in each rural community knew each other. Families helped raise one another's children, sharing food and other necessities during tough times. The people also relied upon music as a primary source of entertainment and self expression, passing on traditions, as well as a strong sense of community, from one generation to the next. Some Americans, however, would just as soon forget about the oppressive circumstances that shaped the music of the deep South. Mississippi country blues and the lifestyle that nurtured it grew out of slavery, racial bigotry, and economic struggles.
While he always wore an outward cheerfulness, Owens, like his neighbors, knew of dark moments through personal experience. He lost his only three children in a house fire in the 1930s, and the death of his third wife, Mabel, in the 1990 also took an emotional toll. In addition, he witnessed and felt the lash of racism firsthand. "Look at that place," he said to Getlin, pointing toward a local river. "Once it was filled with black bodies. There was lynchings here. The peoples who got taken didn't do nothing. They stringed 'em up and set fire to the bodies." But in the wake of such cultural injustices, the people of the Delta developed a sound rich in musical authenticity and human contact, with each small community uncovering its own original voice.
Bentonia, in particular, rose to a high standing in the blues world through its indigenous music. "It's a chilling kind of Delta blues," Don Kent, manager of the respected archival label Yazoo Records, explained to Getlin. "But like so many other styles, it was the music of people who were overwhelmed by a violent, changing world." More specifically, the style distinctive to Bentonia "is defined by its minor modes, myriad complex tunings, intricately picked guitar accompaniments, eerie, moaning vocals and lyrical focus on death, violence, the supernatural and, oh yes, unfaithful women," wrote David McGee in the Rolling Stone Jazz & Blues Album Guide.
Skip James, regarded as the Bentonia blues standard bearer, brought the area's music to the rest of the world with his 1931 sessions for Paramount Records in a style defined by its high-pitched singing and powerful, dynamic guitar work. James, a childhood friend, was at one time married to Owens' sister; Owens referred to his late pal as "Skippy." Prior to his success, only the residents of Bentonia knew of James, and if they knew him, they certainly knew about Owens, his running buddy and one of Bentonia's most colorful characters. Owens' guitar playing sounds similar to that of James--ambitious, sharp finger-picking, stinging single notes, and double-note bursts of feeling. However, Owens played with more tempo shifts and bouncing and driving rhythms, a technique he insisted he developed on his own.
Moreover, Owens' writing was more open-minded; rather than provide a straight story line like James, Owens focused on anecdotal observations about people and places. "As much as any bluesman who has ever been recorded, his music recognizes a connection between humans and the sky above, the land below, the invisible, omnipotent God who brings life and death and the dark forces that speak to our basest natures," wrote McGee. Through such insight, Owens methodically picked out tunes in minor keys while singing in his haunting falsetto, all of his tales gaining urgency through atmosphere amid swirling guitar lines.
As the years passed, Owens quietly farmed and played his guitar in Bentonia, where he became a popular local entertainer. On the weekends, he turned his small shack into a juke joint. As the proprietor, Owens not only provided a jukebox and sold gallon jugs of moonshine while his wife sold barbecued goat sandwiches through a hole in the wall, but also served as the evening's live entertainment. Often, he performed for his customers with the harmonica support of longtime friend and comic foil Benjamin "Bud" Spires, the son of Chicago bluesman Arthur "Big Boy" Spires. This way of life and the juke joint performances endured well into the late-1960s, long after most of the other Delta bluesman had migrated to places like Chicago.
Owens would have remained hidden had it not been for James. In 1966, Owens' old friend stayed as a guest at the flat of blues scholar David Evans, then a folklore student at UCLA, for several days. One night while the blues legend was performing at the Ash Grove nightclub, Evans asked James if he knew any other musicians like him from Bentonia still playing. Evans then traveled to the remote town, hoping to find other artists, and locals immediately directed him to Owens. Soon, he recorded Owens' first album, It Must Have Been the Devil, released first in 1971, then reissued in 1993 to include five extra tracks. Containing the songs most identified with Owens--the anguished "Cherry Ball," a surging workout featuring guitar and Spires on harmonica in a fierce duel entitled "Hard Times," the field holler "Can't See, Baby," a tale of lost love called "Jack Ain't Had No Water," and the title track, an account of evil doings afoot and the model for the famous James song "Devil Got My Woman"--It Must Have Been the Devil became an instant collectors' favorite.
In the 1980s, the record gained a wider audience. By then Owens, one of the few Delta bluesmen still playing, had outlived most of his contemporaries, and people wanting to hear the original music flocked to his porch. Although the juke joint had long since closed, Owens and Spires remained, and as Owens' celebrity grew, he became a tourist attraction. In 1990, after his wife's death, Owens, backed by Spires, began playing on occasion at music festivals, earning high praises in blues magazines and enjoying a cult following on the blues revival circuit. Most of the time, however, Owens and Spires could be found back home, happy to play for those who searched them out in Bentonia. According to McGee, "Cash and a couple bottles of whiskey get the music started; what happens next will change you."
In 1991, Owens was featured on the soundtrack for Deep Blues, a landmark documentary of the living blues tradition based on the book by the late Robert Palmer. That same year, the 11-track import The Last Giants of Mississippi Blues arrived, featuring seven songs recorded by Owens in 1980 and 1981, four from 1991, and ten tracks recorded during the same period by fellow bluesman Eugene Powell, born in Utica, Mississippi, in 1908. In 1995, he was featured playing on his front porch in a television advertisement for Levi's 501 jeans. The high point of Owens' career occurred in Washington, D.C., in 1993, when he received a $10,000 National Heritage Fellowship Award from the United States government for his work in keeping folk traditions alive. For two days and nights in Washington, Owens was treated like a national treasure, then returned to a simpler life in Bentonia. For years afterward until his death, Owens kept the entire amount of money from the Heritage Award hidden in a pouch under his shirt.
Read more
Latest headlines