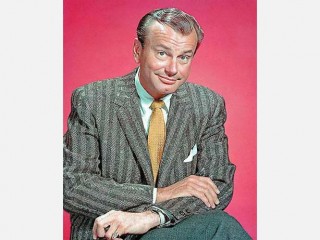 Jack Paar biography
Date of birth : 1918-05-01
Date of death : 2004-01-27
Birthplace : Canton, Ohio, USA
Nationality : American
Category : Arts and Entertainment
Last modified : 2010-04-06
Credited as : American radio and television comedian, Talk show host, The Tonight Show
Midwestern Youth and Early Radio Career
Born in Canton, Ohio, on May 1, 1918, Jack Paar was the second son of Howard and Lillian Paar. Paar's father was a division superintendent for the New York Central Railroad, causing the family to move around the Midwestern part of the United States; most of Paar's boyhood was spent in Jackson and Detroit, Michigan. Paar's youth was not an auspicious one. Richard Severo noted in the New York Times that "when [Paar] was 5 years old, an older brother was killed by a car. When he was 10, his best friend died. When he was 14, he had tuberculosis." Despite this litany of misfortunes and a long-lasting childhood stammer, Paar decided he wished to work in radio broadcasting. As a teenager, he got a job at the local radio station in Jackson, announcing the station's call letters and performing other minor chores.
Paar left formal schooling at age 16 to take a job in Cleveland, Ohio, with radio station WGAR. This position became the first in an early career with radio stations throughout the Midwest in places like Indianapolis, Indiana; Youngstown, Ohio; Pittsburgh, Pennsylvania; and Buffalo, New York. As a young man, Paar married, divorced, re-married and finally divorced for the second and last time his first wife, Irene. In 1938, while a radio announcer at WGAR in Cleveland, Paar worked through Orson Welles' infamous War of the Worlds broadcast, which purportedly told of a Martian force invading New Jersey. Like many other Americans, Paar was taken in by the hoax - much to his later embarrassment.
Paar's radio career took a brief detour in 1942 when he was drafted into the United States Army for service in World War II. As a member of the Army's Special Services Division, responsible for entertaining the troops, Paar put on stand-up comedy shows in the South Pacific. There, joking that the attacking Japanese forces were in fact trying to bring the U.S. servicemen food, Paar discovered - in the words of The Independent's Dick Vosburgh - that "the laughter, applause and cheers he quip produced made him realize that tilting against authority was his strong suit." During these early wartime years, Paar married his second wife, Miriam Wagner Paar, with whom he would later have his only child, daughter Randy. (Paar and his wife had expected to have a boy; when they instead had a girl, they changed their plans of naming the baby after Paar's grandfather by altering "Andy" to "Randy.") In the later years of the war, Paar returned to radio as an announcer and became quite popular. His fame among the servicemen led to recognition in the United States; at the end of the war, Paar found himself in demand.
Post-War Variety
Paar first signed with movie studio RKO as an actor, although his film career was short-lived. He held small roles in several films, including Variety Time (1948); Easy Living (1949); Walk Softly Stranger (1950); Love Nest (1951), an early Marilyn Monroe film; Footlight Varieties (1951); and Down Among the Sheltering Palms (1953). His undistinguished movie career paralleled a more successful stint in radio. Paar substituted for radio personality Don McNeill, whose show The Breakfast Club was one of the most popular on the 1940s and 1950s, and in 1947 served as a summer replacement host on Jack Benny's Sunday night show. By 1952, Paar's career seemed unlikely to live up to its early promise.
With the expiration of his RKO contract, Paar left California for New York City, where he hosted a game show, Up to Paar, and appeared on variety and game shows such as What's My Line? and Toast of the Town. During his early New York years, Paar also hosted CBS radio show Bank on the Stars and took over for host Walter Cronkite on the CBS Morning Show in 1954. As with his previous endeavors, however, none of these shows proved to be particularly successful.
Hosted The Tonight Show
Nevertheless, Paar was once again thrust into the limelight in 1957 when he accepted the job as host of The Tonight Show. The show's first host, Steve Allen, was a respected entertainer who had typically featured sketch comedy and musical numbers on the show. Paar turned to the format more to talk, causing television luminary Merv Griffin to note decades later in an article written by Tim Feran for The Columbus Dispatch that "Jack invented the talk-show format as we know it: the ability to sit down and make small talk big." On the show, Paar was joined by a number of supporting players including announcer Hugh Downs: pianist Jose Melis; French singer Genevieve; and comedians Cliff Arquette, Jonathan Winters, Dody Goodman and Peggy Cass. Paar's guests were a mix of famous entertainers such as Peter Ustinov and Judy Garland, notable politicians like Robert Kennedy and Barry Goldwater, and up-and-coming stars including Bill Cosby and Carol Burnett. When asked by young comedian Dick Cavett, then a writer for The Tonight Show, what his secret was to having such successful interviews, Cavett wrote in The New York Times that Paar replied: "Don't make it an interview, kid. Make it a conversation. Interviews have clipboards." The Tonight Show, bolstered by Paar's somewhat emotional, personal handling of it, grew immensely popular - so much so that the show was renamed The Jack Paar Show only a year after he took over hosting duties.
Paar's emotional nature colored his years with The Tonight Show. He publicly feuded with newspaper columnists, particularly Walter Winchell and Dorothy Kigallen, as well as fellow comedians. Dramatically, he quit The Tonight Show in February 1960 over their censorship of one of his jokes. The joke referenced a water closet - a British term for a toilet - and was removed by network censors who deemed it inappropriate. Feran recounts that a distraught Paar walked off the set of the show after announcing "I am leaving The Tonight Show. There must be a better way of making a living than this." Three weeks later, he returned with the words: "As I was saying before I was interrupted …" He completed the thought by responding to his own assertion that there must be a better way to make a living by saying: "Well, I looked, and there isn't."
Paar courted controversy during his tenure as Tonight Show host in other ways, as well. He was openly outspoken against Cuba's Batista regime and interviewed Fidel Castro on the show, despite loud public denunciation. Following the Bay of Pigs, the Kennedys - both John and Robert Kennedy having also been Paar's guests - approached Paar to serve as a go-between in some negotiations with Cuba. In 1961, he broadcast from Berlin while the Berlin Wall was being erected. Although Paar drew negative attention for these activities, his popularity did not flag. In 1962, Paar tired of the stress of a daily late-night talk show and left The Tonight Show to be replaced by Johnny Carson. From the relatively unsuccessful show Paar had taken over five years previously, with only two sponsors and distribution in 62 markets, he had developed a behemoth carried by 115 channels and boasting complete sponsorship.
Paar then began hosting a weekly Friday-night primetime variety show, The Jack Paar Program. This show had much the same format as had The Tonight Show under his tenure, but did not last as long. However, The Jack Paar Program did have the distinction of being the first television show to introduce the Beatles to the United States; although popular memory gives that nod to Ed Sullivan's 1964 live airing of the group, Paar showed British taped recordings of the band on his show before that time, not because he enjoyed their music but because he thought they were funny. In 1965, Paar essentially retired from the public eye. He reappeared occasionally over the ensuring decades, briefly hosting an ABC late-night show in 1975 and appearing on career retrospectives in the 1980s.
Retirement and Death
Paar remained primarily out of the public eye, however. In the late 1960's, he purchased television station WMTW in Poland Springs, Maine, which he ran for several years before selling it at an immense profit. Also in the late 1960s, he produced a series of documentaries focusing on international cultures. Paar spent his remaining years traveling, spending time with his family, and dedicating himself to hobbies like electronics and gardening and by all accounts simply enjoying life in Connecticut. This public invisibility prompted James Lileks to comment in Minneapolis' Star Tribune shortly after Paar's death; "Jack Paar was alive? His was one of those obituaries that makes you wonder how many others whose death you've assumed are still drawing breath." At his height, Paar was watched nightly in seven million American households; by the time of his death, he was more visible through his influence of the performances of contemporary talk show hosts like David Letterman than through anything else. In addition to his radio and televisions successes, Paar was a bestselling author. Over the course of his life, he wrote four light-hearted non-fictional books based on his life, memories and travels: 1960's I Kid You Not - the title taken from his Tonight Show catchphrase; 1961's My Saber is Bent; 1965's Three on a Toothbrush; and finally 1983's P.S. Jack Paar.
During his brief return to late-night television in the mid-1970s, Paar agreed to film a public service health announcement. In the course of the spot's taping, he realized that he himself exhibited all the symptoms of the disease about which he was informing the viewers: diabetes. Despite his condition and his avowal in P.S. Jack Paar that "when you reach your sixtieth birthday, there is not a lot to look forward to except falling down in the bathtub and breaking your hip," Paar lived well past the age of 60, albeit in relative obscurity. In 2003, he suffered a mild stroke; the following year, he died on January 27 at his home in Greenwich, Connecticut, accompanied by his wife of sixty years and their daughter. He was 85.
Writing in the New York Times after Paar's death, comedian Dick Cavett said that Paar "was smart, sentimental, witty, irritable, loyal, insecure, infuriating, hilarious, neurotic and totally entertaining." Remembered today as the man who was if perhaps not the inventor of the talk show, then certainly the one who molded it into its present form, Jack Paar is recognized as a pioneer in both radio and television broadcasting whose enduring legacy can be seen on television screens both in the United States and around the world.
Read more
Latest headlines