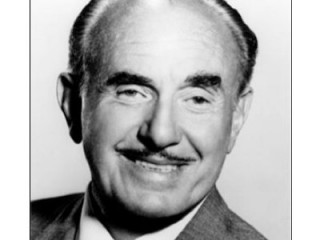 Jack Warner biography
Date of birth : 1892-08-02
Date of death : 1978-09-09
Birthplace : London, Ontario, Canada
Nationality : Canadian
Category : Famous Figures
Last modified : 2011-07-03
Credited as : Film executive, Warner Bros. Studios , Sam Warner
Born on August 2, 1892, in London, Ontario, Canada, Jack Warner was the ninth of twelve children born to Benjamin and Pearl Leah Eichelbaum, and the youngest son of the seven children to survive into adulthood. Warner's parents were Jewish immigrants from Poland. Warner's father worked as a butcher, cobbler, and peddler to support his family. When Warner was two years old, the family moved to Youngstown, Ohio. In 1907, the family name was changed to "Warner." Jack Warner only had a fourth grade education and was a poor student while in school. This left him with life-long feelings of inferiority. His son Jack Warner, Jr., later told Jean Stein of The New Yorker, "I always felt, what the hell, he's a cum laude in his field, he doesn't have to feel negative about it. But he did have a great inferiority complex."
As a child, Warner wanted to be an entertainer, singing and telling jokes. When he was a teenager, he performed in vaudeville and at a local opera house under the name Leon Zuardo. Over his lifetime, he developed a reputation for telling bad jokes. Warner's niece, Betty Warner Sheinbaum,
told Jean Stein of The New Yorker that "He was cute and funny and he wanted to be in show business; he was a pest from the day he was born."
Warner's elder brothers, including the eldest Harry as well as Sam and Albert, entered the movie exhibition business while Warner was a teenager. In 1906, these four Warner brothers and their sister Rose, moved to New Castle, Pennsylvania where they ran a movie theater. Jack continued to exercise his desire to entertain by singing between movies as a "chaser" to rid the theater of its audience between films. In 1907, the Warner clan moved into distribution with its Duquesne Amusement Supply Company, which rented films to theaters. They were forced to sell the business in 1910 because Thomas Edison, the inventor of many technical aspects of film production, held many patents through which he tried to control the burgeoning film industry. The Warners temporarily turned to movie making. Warner and his brother Sam went to St. Louis to make a film, The Perils of the Plains which was of poor quality and did not do well at the box office. After Edison's trust was legally broken, the Warners returned to distribution temporarily and then, in 1912, tried to get production started again. Warner represented the family's interests in San Francisco at the time.
World War I broke out and Warner and his brother Sam served in the Air Corps. During this time, Warner appeared in his only lead role in a military training film on the dangers of sexually transmitted diseases. By 1917, their efforts were concentrated on production, away from distribution. Warner moved to Los Angeles to start up a studio and worked as head of production for the new studio. The Warners' first hit was 1918's My Four Years in Germany. In 1920, Warner produced a 15-episode serial. Between 1920 and 1922, Warner produced about six feature-length films.
In 1922, the Warners moved into a bigger studio, and the company officially became known as Warner Bros. in 1923, with Warner serving as head of production. The studio's earliest star was a dog named Rin Tin Tin. Warner Bros. slowly built up their stock of actors and the number of features the company released each year. By 1925, Warner was at the head of 30 features. Warner's importance in the studio grew throughout the 1920s as his responsibilities increased and he was making day-to-day decisions about who would work on what pictures. The studio however was not making much of a profit, though they had the theaters to show their pictures. In fact, Warner Bros. was deeply in the red.
To salvage the company, Warner Bros. became the first studio to take a chance on a new technology: sound. This was a risky proposition in 1925, when they first announced their intentions. First, Warner Bros. tried Vitaphone, which allowed for a synchronized soundtrack and special effects, but no dialogue. In 1926, the company released Don Juan in this format, but it did not do well. Audiences were already used to orchestras accompanying silent films. In 1927, the Warners made a bigger gamble by putting out The Jazz Singer, the first movie to feature sound which included dialogue. The Jazz Singer was the most expensive movie Warner Bros. made up until that time, but the risk paid off because their innovation changed the industry. Warner Bros. became a major studio, and had a huge jump on their competition. Unfortunately for the family, Sam Warner died the night before the premiere. Sam was Warner's favorite brother, the buffer between Jack and his eldest brother, Harry.
With the success of The Jazz Singer, Warner Bros. was able to acquire a better studio and bigger stars. In the 1930s, Warner oversaw plant operations and the studio. As the Warner representative on the lot, he was officially the vice president and chief of production. He made most of the artistic and financial decisions, and was highly concerned with keeping the movies under budget. One way he accomplished this was by focusing on one star (usually male) in each picture. Richard Schikel of Fortune wrote, "Efficiency was an obsession with crude, shrewd Jack Warner, who supervised production while his brother attended to more boring matters, like distribution and finance. Jack was known to prowl the lot looking for lights that had been left on unnecessarily."
Warner's penchant for thrift aside, Warner Bros. was amazingly successful in the 1930s. The company had a reputation for being intelligent, making socially aware films that have transcended time. Their film stars included James Cagney, Humphrey Bogart, Paul Muni, and Edward G. Robinson. As Warner Bros. thrived, Warner became a prominent social figure. Yet he was regarded as undignified and coarse when compared with the other studio heads. He became a fixture on the gossip pages, mostly for his personal life.
In 1916, Warner met and married Irma Solomon while living in San Francisco. Together they had a son, Jack Warner, Jr. Over the course of his marriage, Warner had many affairs, including one in the 1930s with a sometimes actress named Ann Paige that lasted for three years. Warner eventually divorced his wife and married Paige in 1936. Together, they had a daughter named Barbara. The Warner family, especially Harry, did not approve of Warner's second wife, which deepened the already cavernous rift. Harry Warner treated his brother badly, in a very controlling way. Warner's niece Betty Warner Sheinbaum told Stein of The New Yorker, "Jack was constantly rebelling, and everything he did was just shocking to my father. He treated Jack as if he were a bad little boy, and they were constantly at odds. It wasn't that their relationship deteriorated-it was just always bad." For his part, Warner lied to his brothers, except for Sam when he was alive, and cheated them on deals.
In the 1940s, Warner tried to increase his power in the studio and Hollywood, but faced increasing problems within his studios employees and its stars. Warner worked people hard, expecting much from them. His stubbornness in labor negotiations ended up costing the studio money. Such unnecessary outlays did not extend to Warner Bros. films. The studio developed a new film style called film noir, in part because it was cost effective to shoot everything in fog so that whole sets would not have to be built. Warner Bros. also produced star vehicles, among them 1943's Casablanca.
During World War II, Warner again supported the war effort. He joined the Army Air Force and reached the rank of lieutenant colonel. The Warner Bros. studio also cooperated with the war effort. Warner was extremely patriotic, and very afraid of Communism. In the late 1940s, Warner testified before the House Un-American Activities Committee investigating Communist activity in Hollywood. Warner Bros. had made what could be read as a pro-Russian film at the request of President Roosevelt when the Russians were still American allies. After the war ended, Warner Bros. had to defend the fact that they had made the film. Warner said that he wanted to send Communists back to Russia, and would contribute to any fund that would remove them from the United States. Warner also gave the Committee several names of people he believed were Communists, but later had to retract them. Warner Bros. went on to make one of the first anti-fascist films, Confessions of a Nazi Spy.
In the 1950s, the fight between Warner and his brother Harry reached its peak. In 1956, Warner deceived his brother into selling off the studio. In fact, Warner had arranged a deal to sell both of their shares after the initial buyout was complete. Jack Warner put himself in charge of Warner Bros. as studio president. At the time, he was spending half the year gambling in the south of France. Warner's relationship with his wife Ann was also problematic. Though she was the only person he trusted, he treated her poorly, having many affairs. They lived separate lives. However, Warner did not divorce her because he was afraid that she might get half of the studio. Betty Warner Sheinbaum told Stein of The New Yorker, "The sad thing was that Jack didn't have friends. He had yes-men. He loved people who lived like kings. But although he sought out society, he always seemed so uneasy and defensive when he was in it."
In 1958, Harry Warner suddenly died. Within days, Warner was involved in a serious car accident in the Cap d'Antibes, France. Authorities believed Warner probably fell asleep at the wheel and lost control of his car. He was in a coma for nearly a week and full recovery took months. His family believed he was going to die. When Warner later learned Jack Warner, Jr., had said something to this effect to the press, he broke off the relationship with his son for the rest of his life. In 1966, at the age of 74, Warner sold his studio for $32 million to Seven Arts productions, a holding company. Warner retained his position as the head of the studio until 1969 when he finally retired.
Though Warner had retired from the studio, he did not retire from the entertainment industry, but instead branched out into theater and independent film production. First, he financed a Broadway musical Jimmy which totally failed and cost him $1.5 million. Then Warner produced two independent movies in 1972, Dirty Little Billy and 1776, both of which fared poorly at the box office. In 1974, Warner took a fall on a tennis court which left him injured for the rest of his life. Warner suffered a stroke in 1977 and another the next year. He died from edema on September 9, 1978 in his Los Angeles home. As Leah Rozen wrote in People Weekly, "Jack Warner wasn't the brightest, the smoothest or the best of Hollywood's founding studio moguls, but he was the one who lasted the longest."
Read more
Latest headlines