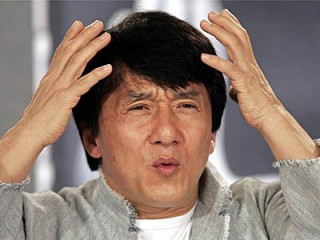 Jackie Chan biography
Date of birth : 1954-04-07
Date of death : -
Birthplace : Hong Kong, China
Nationality : Chinese
Category : Arts and Entertainment
Last modified : 2010-06-16
Credited as : Martial arts movie star actor, ,
Jackie Chan
(Also known as: Chan Kong-sang, Shen Chen Gang, Long Chen Yuan) born April 7, 1954 in Hong Kong, United Kingdom (now China) is a Chinese actor.
Hong Kong martial arts film star
Jackie Chan
is one of the most recognizable cinematic personalities in the world. His mixture of literally death-defying stunts and genial, self-deprecating comedy gained a massive following first in Hong Kong, then over much of Asia, and finally, beginning in the late 1990s, in the United States.
Chan has been famous for doing his own stunts on film, largely without the aid of special effects, and the closing credits of his more recent releases feature a comic but brutal background montage of stunts gone wrong. The list of body parts Chan has injured while filming includes his head (it has a deep dent into which he will sometimes allow reporters to stick their fingers), eye, mouth, teeth, throat, neck, arm, shoulder, legs, foot, nose, ears, cheekbone, chin, hand, back, chest, pelvis, and knee. Yet the comic side of Chan's film persona has been as important as his action skills, acquired through ten years of rigorous training in Chinese opera. It was comedy that set Chan apart from other kung fu and action stars, including the hard-to-top Bruce Lee. "When Bruce Lee punched someone, he kept going like it didn't hurt," Chan told Gregory Cerio of People. "I shake my hand and go, 'Ow!'"
Parents Held Embassy Jobs
Jackie Chan was born Chan Kong-Sang (in Chinese usage the family name, Chan, is written first) in Hong Kong on April 7, 1954. Press accounts and his own website state that his parents were poor but steadily employed Hong Kong residents who worked at the French embassy, his father Charles as a cook and his mother Lily (or Lee-Lee) as a housekeeper. Chan's parents, however, had a colorful past, revealed in the 2003 documentary Traces of a Dragon. Chan's father was a spy for China's pre-World War II Nationalist government and later a member of Shanghai's organized crime underworld who was forced to flee to Hong Kong after the Communist takeover of mainland China in 1949. His mother was a stage performer and occasional opium dealer whom Charles Chan arrested as part of his intelligence duties but released and then later married.
Jackie Chan was apparently physically powerful even as an infant; his weight at birth has been reported as anywhere from nine to 12 pounds, and his parents nicknamed him "Shandong Cannon." When he was seven, his parents moved to Australia so that Charles Chan could take a job as head cook at the American embassy there. They decided that Jackie should stay in Hong Kong, and enrolled him at a boarding school there, a strict but world-class institution called the China Drama Academy. Among Chan's classmates at the school were Sammo Hung and Yuen Biao, both of whom went on to careers as major martial arts stars.
At the school, Chan studied traditional Chinese opera, a mix of singing, stagecraft, martial arts, and difficult acrobatics. Chan had to get up in the morning at 5 a.m., often working until midnight. Errors were punished with physical abuse. "I was beaten every day," Chan told Cerio. "I was very angry." Even as a student, however, Chan had small roles in several films, and by the time he graduated at 17, in 1971, he had acquired formidable stunt skills. He found work in Hong Kong's growing film industry, appearing in martial arts films, and even had an uncredited role as an extra in the greatest international action success of them all, Bruce Lee's film Enter the Dragon (1973).
For a few years in the early 1970s, the film work petered out and Chan was forced to move in with his parents in Australia. He did construction work, acquiring the nickname "Jackie" (at first it was "Little Jack") from a co-worker named Jack who found his Chinese name hard to pronounce. In 1976 Chan, at the invitation of a talent promoter named Willie Chan (no relation), returned to Hong Kong to give his career another try. He began to bill himself as Sing Lung, which means "to become the dragon," and he became one of a host of young martial artists hoping to fill the shoes of Bruce Lee, who had died in 1973. Several action films, including Shaolin Chamber of Death (1976) and Fist of Death (1977), met with limited success.
Introduced Comedic Element
Chan's fortunes improved when he began to experiment with comic characterizations. The switch brought a fresh perspective to a genre whose original principles Lee had taken to their limits, and allowed Chan to take advantage of the acting skills he had learned at the opera school. Chan parodied traditional martial arts storylines in such films as Snake in the Eagle's Shadow (1977), where instead of modeling his art on the fighting skills of the animals named in the film's title, he emulates his pet cat. In Half a Loaf of Kung Fu (1978) he learns martial arts not from a revered master but from a pair of street people.
His breakthrough came in 1978 with Drunken Master, a historical tale of a young kung fu student who learns a style in which the fighter appears to be drunk. Drunken Master became a hit in Asia and an art house success in the United States, spawning a sequel and eventually a restored American reissue, as Chan's popularity finally crossed the Pacific. Chan's performance was a virtuoso blend of action and perfectly controlled (and often highly comic) false-drunken choreography.
In the early 1980s Chan made his first attempt to break into the American market. His desire to do so was natural enough, but Jeff Rovin and Kathy Tracy, in The Essential Jackie Chan Sourcebook, reported that he might also have been motivated by death threats from members of the Chinese underworld who had backed his earlier films. His U.S. experiment failed initially, as Chan took straight action roles in films helmed by directors who failed to appreciate the unique nature of his talents. Two films in which he starred, The Big Brawl (1980) and The Protector (1985, opposite Danny Aiello), went nowhere, but his face did become implanted in the minds of American audiences as a result of his small role in the hit Cannonball Run (1981). Back in Hong Kong, Chan honed his comedic persona in such films as the dizzyingly paced slapstick action comedy Project A (1983), in which, borrowing a prop from American silent-film comic Harold Lloyd, he took a headfirst plunge off a giant clock face.
Thanks to the sheer energy of such films, Chan began to acquire a following among American cult film enthusiasts. In Asia, his success had more dramatic financial implications; audiences flocked to see him top himself with newly inventive stunts in each successive release. Police Story (1985) contained an especially dangerous pole-sliding stunt that nearly paralyzed Chan after a fall in which he broke two vertebrae in his spine. In Operation Condor (1990) he rode a motorcycle off a river dock and jumped off, catching, in midair, a net attached to a nearby crane. His kung fu scenes might use an amazing variety of weapons, including a hat rack and fans of various kinds. Chan's films became slicker as his box office numbers increased--1992's Twin Dragons was a flashy comedic take on European action star Jean-Claude van Damme's Double Impact, with an awe-inspiring final chase through a Toyota auto-testing facility. But his stunts were always his own, and his everyman comic gift remained endearing. Sometimes Chan's character would be a young man who bumbled through a film's early scenes but had the chance to redeem himself in the end.
Kept Marriage Secret
By the early 1990s Chan was perhaps the top marquee attraction on the Asian continent. He had some success as a singer, later expressing a wish to remake the classic film The Sound of Music, and his carefully guarded personal life was the stuff of tabloid headlines. One of his legion of female fans was reportedly driven to suicide by rumors that he was actually involved with another woman, and those rumors turned out to be true; in 1982 Chan married Taiwanese actress Lin Feng-Jiao. He also has a son, Jaycee. Chan revealed the marriage only in his 1998 autobiography, I Am Jackie Chan.
Despite his success, Chan's lack of success in the American market still rankled. With strong underground buzz culminating in a 1995 lifetime achievement nod at the MTV Movie Awards, presented by director Quentin Tarantino, Hollywood distributors resolved to give Chan another try. His first new American effort, Rumble in the Bronx, was a dubbed version of an earlier Cantonese-language Hong Kong release, but it did well enough to pave the way for subsequent Chan releases stateside. Chan hit paydirt with Rush Hour (1998) and Shanghai Noon (2000), both genre films featuring American stars (Chris Tucker and Owen Wilson, respectively) with whom Chan could establish comic chemistry. Both films spawned successful sequels, but Chan's original Asian audience was cool to them. Rush Hour, Shanghai Noon, and Rush Hour 2 collectively took in some $50 million in Asian theaters, while two contemporaneous Cantonese-language releases, Gorgeous and The Accidental Spy earned $90 million or more.
By the mid-2000s, even with the benefits reaped from a lifetime of physical conditioning, Chan faced the problem of where to go next with his career. "I am not so good at healing now," he admitted to People. Chan appeared in films beyond the action genre such as the ensemble adventure Around the World in 80 Days, a big-budget family film that failed to meet box office expectations. And he gradually expanded his production activities. He starred in and executive-produced the 2005 Hong Kong film The Myth, a period adventure in which he portrayed an archaeologist. Chan diversified beyond direct involvement with films, opening a string of restaurants in Southeast Asia (and one in Honolulu, Jackie's Kitchen). He also attached his name to lines of shoes, clothes, golf clubs, skin-care products, and table tennis balls. He considered the idea of opening a school for aspiring stunt specialists.
Chan also began to devote time to humanitarian activities, serving as an ambassador for the UNICEF/UNAIDS children's organization. Still, his energy remained devoted mostly to films. He felt a commitment to continue working in Hong Kong, where film profits had deteriorated under the twin pressures of Communist Chinese oversight of the former British colony and rampant video piracy in Chan's home Asian market. He provided dialogue for an animated television series, Jackie Chan Adventures, on the Kids' WB cable network. As of 2006, an American release of Chan's Cantonese-language New Police Story was under consideration, and Rush Hour 3 was in production.
AWARDS
RoadShow Awards, Best Actor, 1983-89, Best Foreign Director, 1985, 1988; Jaycees International, one of the outstanding young persons of the world, 1988; Most Excellent Order of the British Empire, inducted 1989; Hong Kong Radio and Television, named one of the ten most popular performers of the 1980s; Asia Pacific Film Festival, award for outstanding contribution to movies, 1993; MTV Movie Award for Lifetime Achievement, 1995; Hong Kong Film Award, Best Action Choreography, 1996, 1999; Hollywood Film Festival, Actor of the Year, 1999; Hong Kong Film Awards, Professional Spirit Award, 2005.
Read more
Latest headlines