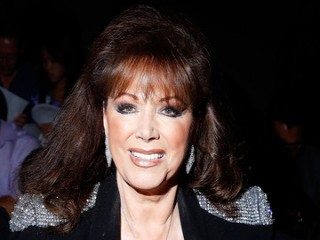 Jackie Collins biography
Date of birth : 1937-10-04
Date of death : -
Birthplace : London, England, UK
Nationality : British
Category : Famous Figures
Last modified : 2011-09-16
Credited as : novelist, former actress, Joan Collins
Jacqueline Jill "Jackie" Collins
is an English novelist and former actress. She is the younger sister of actress Joan Collins. She has written 27 novels, all of which have appeared on the New York Times bestsellers list. In total, her books have sold over 400 million copies and have been translated into 40 languages. Eight of her novels have been adapted for the screen, either as films or television mini-series.
British born author Jackie Collins regularly lands on best seller lists with her racy page turners that chronicle the scandalous doings of various fictional movie stars, rock stars, up and coming stars, and has been stars. Best known for her immensely successful "Hollywood" series that kicked off with the 1983 bestseller Hollywood Wives, Collins has mined her own experiences in celebrity ville for the plots of nearly two dozen books. Critics have not always been kind to Collins, but the 400 million books sold under her name attest to her enduring appeal.
Collins is the sister of veteran actress Joan Collins, who has been married five times and regularly lands in the tabloids on both sides of the Atlantic. The younger Collins daughter prefers a quieter life, and described herself as a stay at home mom through much of her career as a best selling author. Yet nearly all of her novels feature "tawdry tales of fabulous people," remarked Entertainment Weekly writer Rebecca Ascher Walsh, "who get into the kind of trouble only the very rich can afford." A high school drop out who had a brief career as a film actress in the 1950s herself and then married twice, Collins views her remarkable success in publishing as an inspirational tale. "People can look at me and say, 'If she can do it, there's hope for anybody,'" she told People.
Collins's official birthdate is 1941, but other sources peg it as early as 1937. She was born in London, England, to a mother who had once been a dancer and a father who earned a good living as a theatrical agent. Jacqueline Jill Collins arrived some eight years—or four, depending on the birthdate after her sister, Joan Henrietta. At a young age, she was determined to break free of her middle–class home's constraints. "I read the whole time and lived in a fantasy world," Collins once recalled in an interview for Los Angeles Magazine with Eve Babitz. "I was English but pretended I was American and couldn't reveal my own identity, and I wouldn't hang out with other kids."
During her school years, Collins was an admittedly bad student who regularly earned only one good grade—in her composition class. She also penned limericks with scandalous lines, and charged her friends six cents a page to read them. "I guess I was really a juvenile delinquent," she told People 's Scot Haller. "I would pad my bed at night with pillows and be out the window. My parents were constantly threatening juvenile hall." At the age of 15, her various transgressions—which included smoking and mocking the local flasher—caused school officials to expel her. Eventually, her parents agreed to let her go live with her sister, who had some success in British films in the early 1950s and then moved on to conquer Hollywood. There, Joan had some early success with roles in films like The Girl in the Red Velvet Swing, and even greater luck dating the most sought–after of young actors in town, among them Warren Beatty.
Collins joined her sister in Hollywood in 1956, settling into an attic room at the swanky Chateau Marmont. She dallied with a few young heartthrobs herself, including Marlon Brando, but eventually returned to London, where she married a man 12 years her senior. She has described Wallace Austin in various interviews as a compulsive gambler, mentally unstable, and a substance abuser, but did say once that the first months of her life as a newlywed were exciting. "We would do wild things like go for dinner in London and end up on a plane to the south of France, where we would gamble for 24 hours," she told Los Angeles Magazine 's Babitz. Motherhood sobered her, as did the life–threatening illness of her own mother, and she left Austin. "It was a very unfortunate first marriage," she told People. "Wallace was a drug addict, and he ultimately killed himself of an overdose. I divorced him because I knew he was going to do it."
Collins decided to try her luck in film, and between 1957 and 1958 appeared in a half–dozen films, among them Undercover Girl and Passport to Shame. She went through an admittedly carefree period as a single woman, but in 1966 wed Oscar Lerman, a nightclub owner and art dealer. They had two daughters, and Lerman encouraged his wife to begin writing fiction based on her experiences. Her first book, The World Is Full of Married Men, was published in 1968 to some notoriety. Its plot follows the downfall of a philandering London advertising executive. Collins wrote it, she told Babitz in the Los Angeles Magazine interview, to make a statement. "I was fed up with the way married men came on to me. I'd say, 'Well, what about your wife?' and they'd all say, 'Oh, my wife's different—she's happy staying at home.'"
Critics were shocked by Collins's literary debut. "One review called it 'the most disgusting book ever written,'" noted Haller in People, but it quickly became a bestseller in Britain. She followed it with The Stud a year later, which centered on a wealthy nightclub owner and the young, handsome man who enters her life. Collins said she wrote the part of "Fontaine," the main character, with her sister Joan in mind. She signed over the rights to her sister, and it would take Joan several years to find a backer willing to make the film version. A visit to the Cannes Film Festival in France in 1977 finally yielded a deal to make The Stud. As Joan recalled in the interview with Haller in People, "I suggested Jackie write the screenplay. She said, 'Oh, I've never written a screenplay,' and I said, 'Listen, we can't afford to hire a good screenwriter. Write the screenplay!'" Collins finished it six weeks later, and the 1979 film became a cult hit in Europe. It also revived her actress–sister's flagging career. Joan's portrayal of Fontaine, the assertive, scheming nightclub owner, was widely thought to have been the basis for Alexis Carrington, the vixen she played on the hit ABC series Dynasty in the 1980s that launched her star in the United States.
Collins wrote several other novels during the 1970s, among them The World Is Full of Divorced Women, and in 1979 brought two more of her own novels to the big screen The Bitch, which also starred her sister, and The World Is Full of Married Men. Yet Collins only hit her stride after she and her husband moved to the Los Angeles, California, area in 1980. Lerman had run a successful London discotheque called Tramp, and opened an L.A. branch. The new cast of characters that Collins encountered in Hollywood and Beverly Hills enlivened the already sensational plots of her books, and she had a hit with her 1981 novel Chances, which marked the first appearance of Lucky Santangelo, the determined daughter of a former mobster. Her next book, Hollywood Wives, was her first for Simon & Schuster, the powerful New York publishing house, and remained on the best seller lists for much of 1983. It made Collins a household name, and boosted sales of her backlist as well.
Hollywood Wives was a scathing indictment of Hollywood and the sordid lives behind the glamour. The "wives" were a certain breed of Beverly Hills housewife, the wealthy spouses of powerful entertainment industry executives and leading men actors. They shopped, schemed, and relished the occasional fall from grace of a particularly unfaithful husband. Collins' book sold ten million copies and became the talk of Hollywood. Though the characters were entirely fictitious, guessing who Collins had based her wives and executives on occupied restaurant table and poolside gossip sessions for months. She was often asked about her inspiration and her sources, since so much of it seemed to ring true. "I have a great many acquaintances who are Hollywood wives," she admitted in a People interview in 1983. "They call me and say, 'Who is this one and who is that one?' I tell them my characters are composites. They never recognize themselves."
The guessing game continued with Collins's other novels. Rock Star was another best seller for her in 1988, and she brought Lucky Santangelo back in Lady Boss in 1990 and Vendetta six years after that. The "Hollywood" franchise proved her most enduring, however: she wrote Hollywood Husbands, Hollywood Kids, and Hollywood Wives: The New Generation in a 15 year span. Hollywood Kids proved a bit prophetic: one young character runs an expensive prostitution ring, and the book was published in 1994 just as the story of real life Hollywood madam Heidi Fleiss broke. "Overlapping plot lines are propelled by rude energy and blazing tabloid style tales of suicide, substance abuse, towering egos, dubious parentage, and truly star crossed lovers," assessed a reviewer for Publishers Weekly of the book.
At the start of the twenty first century, Collins wrote an update of sorts with the book Hollywood Wives: The New Generation, which reflected a new generation of power couples in the entertainment biz: the women held impressive studio jobs themselves now. Another "wife" is actually a gay man. "Collins recounts her two main narrative strands a kidnapping and a celebrity's dalliance with her bodyguard in her inimitably breathless staccato," noted Harper's Bazaar 's Henry Alford, who went on to mimic her. "Jackie Collins. Jackie Collins's prose style. Jackie Collins's prose style is a snowball from hell."
The mobster daughter device that Collins deployed in the "Lucky" books proved so successful that she reinvented it for Lethal Seduction, a 2000 novel that starred the daring and beautiful Madison Castelli. In 2002's Deadly Embrace, Madison finds herself embroiled in a hostage situation in, most improbably, a hip restaurant. Collins' 23rd book, Hollywood Divorces, appeared on bookshelves in 2003. It featured the by now familiar mix of infidelity, designer gowns, and romantic scheming. Publishers Weekly found it "jampacked with glamorous characters as believable as paper dolls and situations as familiar and credible as in any Collins classic."
Other book critics have been less than kind in judging Collins's immensely successful "sex and shopping" fiction category. "The only original thing that Collins brings to this exhausted genre is remarkably foul dialogue," wrote Campbell Geeslin about Lucky in a 1985 People review. Lucky's reappearance in Lady Boss five years later prompted Time 's John Skow to point out that the book "offers the reader a rare opportunity to watch adverbs mate." But Collins remains unfazed by bad reviews, as someone who has sold some 400 million books and seen several of the titles turned into
miniseries might indeed be. "The people who really put me down do so because I'm Jackie Collins and I write a supposed kind of book, but they never read them," she told People.
Coinciding with the publication of her 23rd book in 2003 was the made for television movie version of Hollywood Wives: The New Generation, which starred Farrah Fawcett. In a twist that only the combination of Hollywood and Collins' fiction could provide, the veteran Hollywood blond actress was once thought to have been the inspiration for a character in Hollywood Husbands, Whitney Valentine. Though her own life has been nearly as fascinating as any of her characters, Collins is proud of her quietest accomplishment: her three daughters. The eldest, Tracy, is a makeup artist. Rory, one of her two daughters with Lerman, is a children's book editor in London; the other, Tiffany, designs her own line of handbags. Lerman died in 1992, and for a time in the late 1990s Collins was engaged to a shopping mall developer, but he also died of cancer. She still writes for ten hours daily, in longhand. "I plan to write a hundred books," she told Good Housekeeping writer Maria Speidel. A memoir, she admitted, could only be published if she was ready to retire from mining Hollywood gossip. "I'll only write my story," she told the magazine, "when I'm ready to leave town."
Read more
Latest headlines