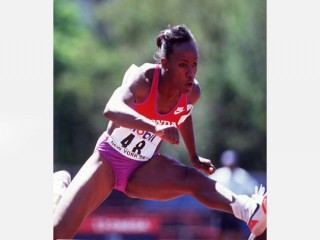 Jackie Joyner biography
Date of birth : 1962-03-03
Date of death : -
Birthplace : St. Louis, Illinois
Nationality : American
Category : Sports
Last modified : 2022-03-03
Credited as : Track and field athlete, Jackie Joyner running, Jackie Joyner Kersee
Jackie Joyner-Kersee
, born March 3, 1962 in East St. Louis, Illinois, United States is a retired African-American track and field athlete.
Known as the greatest multi-event track and field athlete of all time, Jackie Joyner-Kersee is the winner of three Olympic gold medals, one silver medal, and two bronze medals, more than any other woman has ever won in the history of track and field. She competed in the 1984, 1988, 1992, and 1996 Olympics and is the first American woman to win over 7,000 points in the heptathlon. She set a new world record in the heptathlon in 1986, and was the first athlete in 64 years to win gold medal in both a multi-event and a single event in track and field. She is also the first American ever to win a gold medal in the long jump.
An Impoverished Beginning
Joyner-Kersee
was born Jackie Joyner in 1962, the second child of two impoverished teenage parents, Alfred and Mary Joyner. Mary was 14 when her first child was born, and 16 when Joyner-Kersee was born. Alfred Joyner worked in construction and on the railroad, and Mary Joyner worked as a nurse's aid. According to the Encyclopedia of World Biography, Kenny Moore wrote in Sports Illustrated, "Their house was little more than wallpaper and sticks, with four tiny bedrooms. During the winters, when the hot-water pipes would freeze, they had to heat water for baths in kettles on the kitchen stove. Their great-grandmother ... lived with them until she died on the plastic-covered sofa in the living room while Jackie was at the store buying milk."
Joyner-Kersee, who had been named Jackie by a grandmother who hoped she would grow up to be as influential as then-first-lady Jacqueline Kennedy Onassis, swore that she would make something of herself and improve her life. Mary Joyner, who knew the difficulty of life as a teenage mother, did not let Joyner-Kersee or her brother Al date until they were 18 years old. Instead, she encouraged them to become involved in other activities.
Joyner-Kersee and Al grew up in East St. Louis and became involved in sports at the Mayor Brown Community Center there. She began running track there and, when she saw the 1976 Olympics on television, was inspired to try and become an Olympian too. Al encouraged her, and became her first competitor--and the first person she beat in a race.
First Pentathlon Win
When she was 14, she won the first of four consecutive national junior pentathlon championships. During those years, she also played basketball and volleyball and was listed on the honor roll for her high grades. In 1980, Joyner-Kersee accepted a scholarship to the University of California in Los Angeles, where her main sport was basketball. During her freshman year, her mother became ill with meningitis, and died. Joyner-Kersee decided to devote herself even more wholeheartedly to athletics because of her mother's desire for her to succeed. After her mother's funeral, she returned to college with a new resolve.
She soon caught the eye of track coach Bob Kersee, who convinced her that multi-event track should be her sport. He was so convinced that she had hidden talent in this event that he told the university authorities that if they did not allow her to switch from basketball to the heptathlon, he would quit his job. They agreed. Joyner-Kersee was already a good long-jumper and 200-meter runner, so she learned to run the 100-meter hurdles and the 800 meters, do the high jump, throw the javelin, and toss the shot put. These seven events are combined in the heptathlon; an athlete's performance in each event is scored, and the athlete with the highest point total for all the events is the winner. In 1982, Joyner-Kersee qualified for the world championships, but she pulled a hamstring and did not compete in the event.
Competes in First Olympics
In 1984, the same year she graduated from college, Joyner-Kersee's Olympic dreams came true. Not only did she compete in the Olympics, but she won a silver medal in the heptathlon. Joyner-Kersee set a world record in the long jump in 1985, with a jump of 23 feet 9 inches. In 1986 she set a new world record in the heptathlon at the Goodwill Games in Moscow, accumulating 7,148 points. Three weeks later, running on a 100-degree day in Houston, Texas, she beat her own record. For these two world records, she was awarded the 1986 Sullivan Award for Best Amateur Athlete, as well as the Jesse Owens Award. On January 11, 1986, she married Bob Kersee, changing her name from Jackie Joyner to Jackie Joyner-Kersee.
Joyner-Kersee returned to the Olympics two years later to match her performance in her first Olympiad. At the 1988 Olympics, Joyner-Kersee won gold medals in the heptathlon and the long jump, setting yet another record in the heptathlon with 7,291 points. She won the gold medal in the heptathlon again at the Barcelona Olympics in 1992. She also won a bronze medal in the long jump.
Before the 1996 Olympics in Atlanta, some observers questioned whether or not Joyner-Kersee would be able to win a medal in the heptathlon. She was 34, and no athlete, male or female, had ever won a multievent at that age. According to Great Women in Sports, Joyner-Kersee told a reporter for Women's Sports + Fitness, "That's the ultimate challenge--to do something nobody has been able to do. I would love that." She also said that one secret of her longevity as an athlete is that she took good care of herself, and didn't compete very often: she only did two heptathlons a year, avoiding burnout.
At the Atlanta Olympics in 1996, Joyner-Kersee suffered a hamstring injury and had to withdraw from the heptathlon, but took a bronze medal in the long jump. She later said that because she was battling the injury, she was as proud of the bronze medal as if it were gold. After the Olympics, Joyner-Kersee signed a one-year contract to play basketball with the Richmond Rage, but did not play much. She left in the middle of the season because of injuries.
An Athlete Committed to Helping Others
Joyner-Kersee continued to compete in track and field, but also turned her attention to other projects. She had long been known not only as a star athlete, but as a generous and gracious person who was committed to helping others. She became involved in Nike's PLAY (Participate in the Lives of American Youth) program, raising funds for youth activity centers, and founded a scholarship fund, the Joyner-Kersee Community Foundation. She worked with children in her home town, East St. Louis. Although she spent some time trying to rebuild the old Mayor Brown Community Center where she had played as a child, she announced in 1997 that the Joyner-Kersee Community Foundation would finance the construction of a new center, occupying 37 acres in downtown East St. Louis. The center would have facilities for basketball, baseball, indoor and outdoor track and field, but would also house a library, computer center, and other educational resources.
In 1998, Joyner-Kersee signed to become an agent with the National Football League Players Association, and created a sports management company to represent a variety of athletes. By the end of that year, she was representing three NFL players. In that same year, she won a gold medal in the heptathlon in the Goodwill Games. On August 1, 1998, she announced that she was retiring from competition, but she did not fill out the official forms that are required to certify such an announcement.
In 2000, Joyner-Kersee tried to qualify for the 2000 Olympic team, but did not make the cut. After this, she said that she would not compete again, even in Masters competitions for older athletes. In that same year, the Jackie Joyner-Kersee Boys and Girls Club was officially opened in East St. Louis.
Retires from Competition
On February 1, 2001, USA Track and Field announced that the paperwork regarding Joyner-Kersee's retirement was complete, and she was officially retired. In Ebony, Joyner-Kersee told a reporter that she wanted to pass on the support that people gave her when she was young. "I feel that in return I can do that for the next generation. I probably can't do much, but at least I hope I can inspire someone to take the right path and be successful."
Joyner-Kersee continues to work to encourage young people to improve their lives, largely through her work with the Joyner-Kersee Boys and Girls Club. She told a reporter for PR Newswire, "I will be there as often as I can, hopefully every other day. I don't want the Center to just be my namesake, but to be a center that I am very active in. I want to be there for the kids."
Here is a list of Jackie Joyner's awards:
1974-78, Wins four consecutive national junior pentathlon championships; 1984, Silver medal, Olympic heptathlon; 1985, Sets U.S. record in long jump; 1986, Sets two world records in heptathlon; 1986, Sullivan Award for Best Amateur Athlete; Jesse Owens Award; Track and Field Athlete of the Year; 1987, McDonald's Amateur Athlete of the Year; 1988, Olympic gold medals in heptathlon and long jump; 1989, Honorary doctorate, University of Missouri; 1992, Olympic gold medal, heptathlon; Olympic bronze medal, long jump; 1996, Olympic bronze medal, long jump; 1998, Gold medal, heptathlon, Goodwill Games.
CHRONOLOGY
* 1962 Born in East St. Louis, Illinois
* 1974 Wins first of four consecutive national junior pentathlon championships
* 1980-84 Attends University of California-Los Angeles
* 1984 Competes in Olympic, wins silver medals
* 1985 Sets world record in long jump
* 1986 Sets two world records, receives several awards
* 1986 Marries Bob Kersee
* 1988 Wins two Olympic gold medals
* 1992 Wins Olympic gold medal and bronze medal
* 1996 Wins Olympic bronze medal
* 1996 Briefly plays with Richmond Rage basketball team
* 1996-present Works on behalf of a variety of philanthropic causes
* 1997 Announces creation of the Joyner-Kersee Boys and Girls Club
* 1998 Announces retirement from competition, but it is not official
* 2000 Does not qualify for U.S. Olympic team
* 2001 Officially retires from competition
Read more
Jackie Joyner Picture Gallery
Latest headlines