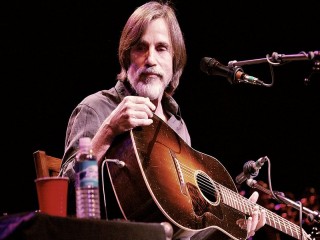 Jackson Browne biography
Date of birth : 1948-10-09
Date of death : -
Birthplace : Heidelberg, Germany
Nationality : German
Category : Arts and Entertainment
Last modified : 2011-11-01
Credited as : Singer, Nitty Gritty Dirt Band, No Nukes
Jackson Browne (born Clyde Jackson Browne) is an American singer-songwriter and musician who has sold over 17 million albums in the United States alone.
Like Bob Dylan, whose music inspired many during the sixties, Jackson Browne is a song poet, and one of the most prolific of the 1970s. His early music dealt with themes of love and innocence; later songs with humanitarian and political concerns, often interspersed with a recurring, ominous apocalyptic theme. Though much of his early success was attributed to his gift as a composer, Browne was later to score major hits as a performer as well. David Spiwack of Crawdaddy wrote that Browne's songs "consistently express moods and emotions many of us have felt but couldn't conjure up the words to describe."
Born in Heidelberg, West Germany, Browne was raised in Los Angeles, California, where he studied various musical instruments in his early years. By his late teens he was a proficient guitarist and pianist and an active member in the early efforts of the Nitty Gritty Dirt Band. Too shy to perform his own work at first, Browne gained a reputation as a songwriter, his work showcased by performers such as the Byrds, Linda Ronstadt, and folksinger Tom Rush. His solo career began to take off late in 1969 when he opened for Linda Ronstadt at a Los Angeles club.
The following year Browne shed his stage-shyness and gained experience and publicity touring as Laura Nyro's opening act, and in 1972 his spare, self-titled debut album arrived, featuring the successful singles "Doctor My Eyes" and "Rock Me on the Water." According to Melody Maker, the album established Browne "not just as a versatile songwriter but as an artist of major stature." His second album, For Everyman, boasted a fuller instrumental and vocal sound and included Browne's version of "Take It Easy," an enormous Eagles hit he had co-penned with Eagle Glenn Frey.
Late for the Sky, released in 1974, was perhaps Browne's most poignant and penetrating album. As a composer, he was recognized for the raw, honest emotion displayed in what were otherwise unremarkable, even repetitous melodies. Nevertheless, according to Rolling Stone, the album was Browne's "most mature, conceptually unified work to date." It was also his first certified gold album. Following suit was Browne's next effort, The Pretender. In progress at the time of his wife's suicide, the album displays the composer's sense of loss, revealing and reconciling him with his grief in intense and disturbing vocals on such songs as "Sleep's Dark and Silent Gate" as well as both the title track and the hit "Here Come Those Tears Again."
Browne's next project was a clear departure from anything he'd done previously. Running on Empty featured all new material, much of which was written by or with others. Recorded entirely "on the road"--on stage, in dressing rooms, on the tour bus--Running on Empty was Browne's best-selling album to date and was named favorite album of 1978 in the Second Annual Rock Radio Awards. Browne himself was named favorite male singer as well as favorite singer/songwriter. Said Steve Simels in Stereo Review, Running on Empty contains "the work of an artist newly matured and unafraid to take risks."
Simel's claim was strengthened when Browne took a deliberate stand against nuclear power in 1979 and co-founded Musicians United for Safe Energy (MUSE). Browne also helped back and organize the impressive NO NUKES five-day benefit concert, album package, and film to aid the antinuclear cause, a project that took him out of the studio for a year. His next solo project was the 1980 album Hold Out, which continued on the rock and roll track he'd laid on Running on Empty, with simpler melodies and lyrics bringing Browne mixed reviews. Rolling Stone noted that "the music represents a real advance" yet complained that "lyrically, Hold Out is probably the weakest record [Browne has] ever made." Despite the varying critiques, the album yielded several hits, including "Boulevard" and "That Girl Could Sing."
If Hold Out was indeed weak, the same could not be said of Browne's seventh album, Lawyers in Love (1983), which met with critical acclaim. Again, Browne passed over highly personal, autobiographical material in favor of broader views of comtemporary life. In his Time review of the album, Jay Cocks summed it up well, saying, "Browne's music pulses with a feeling of renewal and new possibilities ... he is writing some of the best songs west of the Rockies."
Embracing the political arena, Browne moved farther from his poetic origins in 1986 with Lives in the Balance, concentrating on terser melodies and concise phrasing. Like Hold Out, the album received mixed reviews, hailed as both bold and tepid. "For America" came under fire from one critic for having "a chorus guaranteed to make you wince," yet another called it "a prayer and a love song, which damns 'a generation's blank stare.'" Having spent much of the preceding two years visiting Nicaragua, Browne focused, not surprisingly, primarily on Latin America and its conflicts with the United States government, exemplified by the songs "Lives in the Balance" and "Soldier of Plenty." According to Rolling Stone, Browne's "new-found ability to link the personal to the political breathes life into these songs and prevents them from becoming too didactic." The music itself is considered "terse and memorable," with even love songs like "In the Shape of a Heart" seeming more mature than ever before.
Browne was issue-conscious again on the World in Motion album. Instead of politics, though, Browne aimed at "universal truths bound together by a highly personal focus." He sang of moral and legal violations ("How Long" and "The Word Justice"), of pride and hope ("I Am a Patriot"), of revenge (in the chilling Hispanic ballad "My Personal Revenge"), and of enduring love and the potential for change ("Anything Can Happen"). As difficult as it can be to successfully deliver "good-conscience pop," Browne maintained his ground. If, as in "Anything Can Happen," love is possible in this world, amid strife and pain, Browne reasons, then anything can be accomplished. Rolling Stone said it succinctly in commenting that World in Motion "gets your attention by getting under your skin."
Browne continued to probe matters close to the bone in his 1993 album I'm Alive. Possibly in reaction to the demise of his relationship with actress Daryl Hannah, the album focused on the personal rather than the political. Without any notable singles, I'm Alive still managed to go gold and was well-received by critics and fans alike. He followed it up in 1996 with Looking East, an album that produced several songwriting collaborations with members of Browne's band.
In 1999, Browne recorded a duet with singer/guitarist Bonnie Raitt. "Kisses Sweeter Than Wine," from the Pete Seeger tribute album Where Have All the Flowers Gone, Volume 1 was nominated for a Grammy Award for Best Pop Collaboration. For the second volume of the tribute series, he sang with legendary folk singer Joan Baez on "Guantanamera."
In 2002, he received the John Steinbeck Award for being an artist who exemplifies the values that Steinbeck represented. That same year he released the album The Naked Ride Home. The album combined the personal and the political in a mix that showcased Browne's maturity as a songwriter and singer. The album debuted at number 36 on Billboard's Top 200 and was Browne's last record on the Elektra label.
In 2004, Browne ended his long association with Elektra and struck out to find a new label. Although he had no record label, Browne found a place among the luminaries of rock history when he was inducted into the Rock and Roll Hall of Fame. Around the same time The Very Best of Jackson Browne was released. The two-CD collection showcased Browne's thirty-plus years of record-making. With a successful collection reintroducing Browne's pivotal early works as well as later hits and a permanent spot in the Hall of Fame, Browne was steadfastly holding his own as one of rock and roll's greatest singer-songwriters.
During late 2006, Browne performed with Michael Stanley and J. D. Souther at a fundraiser for Democratic candidates in Ohio. For the 2008 Presidential Election, he endorsed John Edwards for the Democratic Presidential Nomination and performed at some of Edwards' appearances.
Solo Acoustic, Vol. 1, was released in 2005 on Inside Recordings. The album consists of live recordings of 11 previously released tracks and "The Birds of St. Marks", a song that does not appear on any of Browne's studio albums. This album was nominated for a Grammy Award in 2007 in the category of Best Contemporary Folk/Americana Album. A live followup album, Solo Acoustic, Vol. 2, was released on March 4, 2008.
Browne is part of the No Nukes group which is against the expansion of nuclear power. During 2007, the group recorded a music video of a new version of the Buffalo Springfield song "For What It's Worth".
Browne cameoed in the 2007 film, Walk Hard: The Dewey Cox Story.
Browne's studio album, Time the Conqueror, was released September 23, 2008 via Inside Recordings. The album reached the Billboard 200 album chart at #20, which was his first top 20 record since releasing Lawyers in Love in 1983. In addition, the album peaked at #2 on the Billboard Independent Album chart.
During August 2008, he appeared on the ALMA Awards in a taped interview honoring Trailblazer Award recipient and long-time friend, Linda Ronstadt.
On 31 May 2008, Jackson Browne performed at the Artist for the Arts Foundation benefit at Barnum Hall, Santa Monica High School, Santa Monica, California. Performing live, alongside Heart, Venice ("Crazy On You") and over 70 members of the Santa Monica High School (SaMoHi) Orchestra and Girls Choir ("Bohemian Rhapsody"), the benefit helped to provide funds for the continuation of music education in public schools. The event was filmed and recorded by Touring Video and Post by On the WAVE Productions. Browne again performed there with Heart and other musician guest stars in 2009.
In January 2011, Browne won the 10th Annual Independent Music Awards in the Best Live Performance Album category for Love is Strange, performed by himself and David Lindley.
Browne contributed a cover of Buddy Holly's "True Love Ways" for a 2011 tribute album, Listen to Me: Buddy Holly.
Selected discography:
-Jackson Browne Asylum, 1972.
-For Everyman Asylum, 1973.
-Late for the Sky Asylum, 1974.
-The Pretender Asylum, 1976.
-Running on Empty Asylum, 1977.
-Hold Out Asylum, 1980.
-Lawyers in Love Asylum, 1983.
-Lives in the Balance Asylum, 1986.
-World in Motion Elektra, 1989.
-I'm Alive Elektra, 1993.
-Looking East Elektra, 1996.
-The Naked Ride Home Elektra, 2002.
-The Very Best of Jackson Browne Rhino, 2004.
Read more
Latest headlines