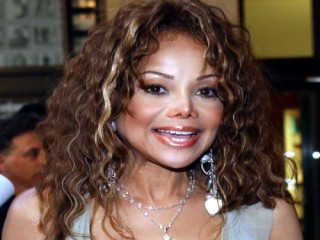 Jackson La Toya biography
Date of birth : 1956-05-29
Date of death : -
Birthplace : Gary, Indiana, U.S.
Nationality : American
Category : Arts and Entertainment
Last modified : 2010-05-11
Credited as : Famous musician and actress, The Jacksons, Startin' Over (2010)
La Toya Yvonne Jackson
(born May 29, 1956) is an American singer-songwriter, musician, author, television personality, actress, businesswoman, and activist. She is the fifth child of the Jackson family. She had a career as a singer throughout the 1980s and 1990s, and returned to music in 2004 with her Billboard charting songs "Just Wanna Dance" and "Free the World". A forthcoming album, Startin' Over, has yet to be released. She is also the first Jackson sister to pursue a career in music.
Early life
Born on her sister Rebbie's 6th birthday on May 29, 1956, in Gary, Indiana, La Toya Jackson is the fifth of nine children born to Joseph and Katherine Jackson and the middle female child between Rebbie and Janet. Growing up, La Toya was a shy homebody. After her mother became a member of the Jehovah's Witnesses in 1965, La Toya, along with the rest of her siblings followed. She would spend some of her time (alongside her mother) preaching door-to-door. "Every morning, Michael and I witnessed, knocking on doors around Los Angeles, spreading the word of Jehovah". By 1972, at sixteen, La Toya joined her brothers in the spotlight with a tap dancing routine when her father arranged for them to perform shows in Las Vegas, among other cities. Jackson aspired to be an attorney specializing in business law. She attended college for a short time before her father insisted that she pursue a career in show business like the rest of the family.
1970s: The Jacksons
In 1976 and 1977, La Toya and her sisters Rebbie and Janet appeared in all twelve episodes of "The Jacksons", a variety program on CBS. Along with their brothers (minus Jermaine), La Toya and her sisters sang, danced and performed skits. In 1978 during the filming of The Wiz La Toya traveled with her brother to New York. Sharing an apartment, it was the first time either of them had lived elsewhere as adults. Close siblings Michael and La Toya would not move out of the family's Encino home until they were 30 and 31 respectively.
Gentleman callers during this period included Diana Ross' brother Chico and a young David Gest. Jackson briefly dated Bobby DeBarge, and was the inspiration for Switch's 1979 hit "I Call Your Name".
Under Joe Jackson's tutelage Rebbie, La Toya and Janet formed a short-lived musical group. However, they never performed live and soon separated because of creative differences about the act's future direction. As a consequence no related material was ever released by the trio. The next year she began work on her first solo album.
1980-83: Solo career
In 1980, Jackson released her self-titled debut. In order to distinguish herself from her famous brothers, The Jacksons, La Toya only wanted her first name on the album. "I begged just to have it 'La Toya'. But my father said, 'It's your last name. You got to use it.' But I wanted to see what I could do as an individual". The first single "If You Feel the Funk", became a modest hit, climbing into the Top 40 of the US R&B chart. Her second single, "Night Time Lover", was produced by younger brother Michael who provided backing vocals. In turn, she provided the opening scream on her brothers', The Jacksons, 1980 hit, "This Place Hotel" as well as backing vocals on brother Michael's 1984 solo hit "P.Y.T. (Pretty Young Thing)".
The La Toya Jackson album peaked at #116 on the US Billboard 200, #26 on the Billboard R&B album chart, and #178 on the UK Top 200, making it her highest placing album.
In 1982, Jackson released a follow-up album, My Special Love which generated two singles, "Stay the Night" and "I Don't Want You to Go".
1984-87: Heart Don't Lie and international success
1984 saw the release of Jackson's critically acclaimed album Heart Don't Lie. Jackson scored her biggest Billboard Hot 100 hit with the titular track "Heart Don't Lie", which peaked at number 56. Other singles from this album were "Bet'cha Gonna Need My Lovin'", "Hot Potato", and a cover of Prince's "Private Joy." Jackson and Amir Bayyan co-wrote "Reggae Nights" for Heart Don't Lie but the track did not make the cut. Jimmy Cliff's recording of the song was a hit and was nominated for a Grammy. Cliff commissioned Jackson to write two more songs: "Brown Eyes" and "American Sweet."
In 1984 Jackson capitalized on her rising popularity by licensing her name to a fashion line; "David Laurenz for La Toya". According to her three year contract with the suede and leather-maker Jackson agreed to only wear David Laurenz items during her public appearances. Apparel in the collection included Jackson's signature leather headbands. The following year Jackson become the spokesmodel for cosmetics firm Mahogany Image and launched her own eponymous fragrance, La Toya.
In 1985 Jackson participated on the single "We Are the World", an appeal for famine relief in Ethiopia. That same year Jackson featured in anti-drug music video "Stop the Madness".
Her 1985 single "Baby Sister" was a notable success, as it received one of three Outstanding Song Awards at the sixteenth annual World Popular Song Festival in Japan. "Baby Sister" was included on the 1986 album Imagination, released just before Jackson's record label, Private-I, went bankrupt resulting in poor promotion. Jackson went on to record two duets; "Oops, Oh No!" with Cerrone, and "Yes, I'm Ready" with artist Jed. In 1987 Jackson was featured as a special guest at Minako Honda's DISPA (Disco Party) concert, joining in for the song, "Funkytown".
On September 5, 1989, after her Sizzling Spectacular concert in Nevada, Gordon forcibly married Jackson, claiming it was for her own protection against kidnapping by her family. La Toya Jackson states that this was both unplanned and against her wishes. According to Jackson; "I told him, 'No way, Jack! I can't marry you. You know what marriage means to me. I've never been in love; I don't even date.... It's not right. I don't love you. I don't have feelings for you". Jackson tried to run out of the chapel three times but bodyguard Antonio Rossi grabbed her saying, "There's some things you have to do. Even if you don't want to". Jackson told Ebony magazine the marriage was "strictly in name only. It has never been consummated". Six months into the marriage, Jackson asked Gordon for an annulment when in Rome, Italy. In response, Gordon repeatedly bashed her head against the corner of the hotel room table saying that he would never let her go. Paparazzi subsequently photographed Jackson with black eyes, which Gordon claimed was caused by an intruder. From this point forward, Jackson lost all contact with her family and wrote an autobiography, La Toya: Growing Up in the Jackson Family, which accused her father of physical abuse.
Jackson publicly re-emerged on Larry King Live on March 9, 2003. Her appearance caused CNN's phone lines to stay busy for hours and was King's highest-rated show in three years. Jackson announced her first musical project in six years, Startin' Over. Startin' Over's lead single was 2004's "Just Wanna Dance", released independently under her pseudonymous nickname "Toy" in order to avoid any prejudices DJs might hold against La Toya Jackson's name. The plan worked, with "Just Wanna Dance" reaching #13 on the US Billboard Hot Dance chart. "Free the World" was released later that year to similar success. Jackson's label, Ja-Tail Records secured a deal with Universal Music Group to distribute the album, which was delayed several times due to extenuating circumstances. The 2003 promotional copy of Startin' Over leaked online in 2006, however Jackson's management revealed that the entire album was being re-recorded with an all-new track list and updated sound. That year Jackson became the spokeswoman for Australian malt beverage Star Ice's US launch.
After Jack Gordon's death in 2005, Jackson was free to speak more openly about the control he exerted over her life. She sent a security expert to eyewitness that Gordon had not faked his death a second time. In 2005 she appeared on ABC News to recant her previous allegations and defend brother Michael against new charges of child abuse. VH1 described Jackson as a role model having weathered various successes and setbacks. The perception of Jackson as an underdog and her support for LGBT rights has led her to be declared a gay icon.
2007-09: Armed and Famous and Celebrity Big Brother
On January 10, 2007, the reality TV show Armed & Famous premiered on CBS starring Jackson and other celebrities. The program documented Jackson's basic training and service as a reserve police officer with the Muncie Police Department. Jackson maintains her badge by continuing to volunteer as a deputy. The show was eventually removed from the CBS lineup, due to its inability to compete with American Idol. VH1 subsequently aired the remaining episodes. On the show, Jackson demonstrated her phobia of cats, after she began hysterically screaming and locked herself in a squad car. This fear, she revealed, was caused by a childhood memory in which a relative was attacked by a cat. She underwent on-screen therapy to try to relieve her of this phobia. A single called "Armed and Famous" was planned but the title was changed to "I Don't Play That" shortly before it was sent to radio stations, where it failed to take off, on January 29, 2007, due to CBS' cancellation of the show.
In January 2009, Jackson was paid £103,000 to appear as a contestant on the British television program Celebrity Big Brother. She was the second member of the Jackson family to be on the show, the first being her brother Jermaine in 2007. She was evicted 4th from the house and was the first evictee of the series to be cheered on her exit.
2009-10: Death of brother Michael and Home
The final version of Startin' Over was completed in late 2008, just before Jackson joined the cast of Celebrity Big Brother. A new lead single, "Love, Honor, and Obey," planned for a summer 2009 release, was put on hold because of the death of Jackson's younger brother Michael. Instead, "Home" was released on the 28th of July 2009 in Michael's memory with all proceeds going to AIDS Project Los Angeles, one of his favorite charities.
La Toya Jackson was one of the first siblings present at Reagan-UCLA Medical Center on June 25, 2009, after brother Michael Jackson was pronounced dead after suffering cardiac arrest. She was named as the informant on her brother's death certificate. Jackson requested a second autopsy to be carried out after noting suspicious medical paraphernalia in Michael's rented house, evasive behavior by his doctors, and discovering that $2 million in cash and jewels had gone missing. On July 13 an interview was published in News of the World and the Daily Mail where Jackson went public with her conclusion that Michael was murdered. The Los Angeles County Coroner ruled Jackson's death a homicide weeks later.
In 2010 Jackson launched Dream Cream, a hand cream for German cosmetics firm Alessandro International, and named Teddy Riley head of Ja-Tail Record's music division.
Studio albums
* La Toya Jackson (1980)
* My Special Love (1981)
* Heart Don't Lie(1984)
* Imagination (1986)
* La Toya (1988)
* Bad Girl (1991)
* No Relations (1991)
* Formidable (1992)
* From Nashville to You (1994)
* Stop in the Name of Love (1995)
* Startin' Over (2010)
Read more
Latest headlines