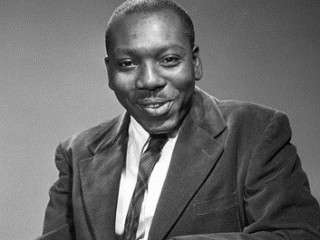 Jacob Lawrence biography
Date of birth : 1917-09-17
Date of death : 2000-06-09
Birthplace : Atlantic City, New Jersey, United States
Nationality : American
Category : Famous Figures
Last modified : 2010-10-05
Credited as : Artist painter, ,
Jacob Lawrence has become one of the most acclaimed African American artists of the twentieth century. His work is characterized by small scale tempera and gouache paintings of genre scenes of African Americans and their sociopolitical struggles. His work is often organized through a series, typically accompanied with a simple text which serves as a narrative, based on the artist's careful research. Lawrence has been classified as a social realist and the style of his work is associated with Cubism.
Jacob A. Lawrence was the eldest of three children born to Jacob and Rosa Lee Lawrence on September 17, 1917, in Atlantic City, New Jersey. Lawrence's father worked as a railroad cook and as a coal miner while his mother was employed as a domestic worker. The family moved to Easton, Pennsylvania, where Lawrence and his siblings were born. Jacob Lawrence's parents separated when he was seven years old. At that time, Rosa Lee Lawrence and her children moved to Philadelphia and the children were temporarily placed in a foster home. They reunited with their mother in Harlem in the early 1930s after she found employment.
At the age of 12, Lawrence was enrolled at Public School 89, and concurrently at the Utopia (Settlement) House which offered after-school classes in arts and crafts. The center was directed by Harlem artist Charles Alston, who immediately recognized Lawrence's artistic abilities. His first projects consisted of abstract drawings based on decorative patterns and designs observed in his home, and papier mache masks and cardboard dioramas using crayons and poster paints. Lawrence attended Frederick Douglass Junior High School and Commerce High School through the 11th grade.
During the Great Depression, Lawrence's mother lost employment and the family was forced to go on welfare. Lawrence dropped out of high school in order to take odd jobs to support his family. He was temporarily employed by the Civilian Conservation Corps to plant trees, build dams, and drain swamps in upstate New York.
Between 1932 and 1934, Lawrence studied again with Charles Alston at the Harlem Art Workshop, located at the 135th Street Library in Harlem. He continued to study under Alston and painter and sculptor Henry Bannarn at 306 West 141st Street, which became known as a central gathering place among Harlem artists. Those who frequented the site were commonly known as "the 306 Group," consisting of artists, musicians, poets and writers from Harlem, New York, and Europe. Lawrence also met Augusta Savage, a noteworthy sculptor and teacher who became instrumental in art education in Harlem as the director of community art programs for children and adults. Lawrence attributed his greatest formative influences to Alston, Bannarn, and Savage. During his early years in Harlem, Lawrence also came into contact with such noteworthy individuals as Romare Bearden, Gwendolyn Bennett, Bob Blackburn, Aaron Douglas, W. E. B. Du Bois, Ralph Ellison, Langston Hughes, Ronald Joseph, Gwendolyn Knight (who became the artist's wife), Norman Lewis, Alain Locke, Claude McKay, and Arthur Schomburg.
Lawrence was influenced by Asian wood block prints, and the work of Breughel, Daumier, William Edmonson, Giotto, Goya, William Gropper, George Grosz, Kathe Kollwitz, Jose Clemente Orozco, Diego Rivera, and David Siqueiros due to the importance these artists placed on documenting human emotion through historical, social, and cultural references. Lawrence was also keenly aware of the work of Arthur Dove, Georgio de Chirico, and Charles Sheeler who represented the growing American Modernist movement and its European counterpart.
Rise to Fame
In 1937 Lawrence was awarded a scholarship to the American Artists School in New York City, where he attended classes for two years. There he was instructed by Eugene Moreley, Anton Refregier, Philip Reisman, and Sol Wilson. During the evenings, Lawrence frequented Alston's studio as well the studios of other prominent Harlem artists. The artist made his public debut in April of 1937, at an group exhibition sponsored by the Harlem Artists Guild, at the 115th Street Public Library. Lawrence exhibited several paintings at the American Artists School the following month in conjunction with the Harlem Artists Guild. He was represented alongside his mentors Alston and Bannarn in both shows.
Savage managed to help Lawrence secure WPA (U.S. Works Progress Administration) Easel Project in 1938 lasting 18 months. Lawrence was contracted to complete two paintings every six weeks. It was during this time that he produced his first major works of art and established himself as a leading African American artist. In 1938 the artist initiated another series, The Life of Frederick Douglass, which was completed in 1939.
Lawrence was given his first one-man show in February of 1938, at the age of 20, at the YMCA in Harlem. The artist debuted his genre paintings of Harlem, depicting street and interior scenes done in 1936--37. The paintings were small, done with tempera and poster paint on brown wrapping paper. His early style was characterized by the use of flat shapes, frontal or profile views of people displaying overt gestures with mask-like faces, props that punctuate the organization of the figures, and an expressive portrayal of human emotion--attributes which would become his signature as an artist. Around 1937, upon the recommendation of Bearden, Lawrence became interested in using casein tempera (ground pigment, casein--milk protein, and ammonia) on gessoed hardboard panels. This change of medium allowed Lawrence to create a chalky, fresco-like appearance in his paintings.
At the YMCA, where Lawrence often played pool, he met "Professor" Charles Siefert, historian of African culture and art. Siefert introduced Lawrence to African and African American resources at the New York Public Library (currently known as the Schomburg Center for Research in Black Culture), which had an enormous influence on the artist. In 1935 Siefert took Lawrence to an important exhibition of African art at the Museum of Modern Art in New York City. Siefert possessed a vast library specializing in African and African American subjects which he made available to Lawrence. Due to the inspiration of Siefert, the artist developed a series of paintings in 1937 of the Haitian revolutionary Toussaint L'Overture, consisting of 41 panels.
Early in his career, Lawrence developed a very disciplined manner of working on his series projects. First, he conceives of a theme and begins to experiment with ideas that lead to sequentially structured compositions. The artist completes a final pencil drawing for each painting in the series. He then paints one color at a time, proceeding from dark to light in each of the individual paintings that constitute the series before continuing with the next color. Works contained within a series are normally accompanied by a text usually in the form of a narrative. Due to Lawrence's documentary use of images and captions combined, his work bears a similarity to photojournalism, which has been a popular form of media throughout the twentieth century.
In 1939 the artist had another exhibition at the American Artists School, which was reviewed favorably in Art News. That same year, Lawrence's Toussaint L'Overture series was shown for the first time at the De Porres Interracial Council headquarters, and again at an exhibition cosponsored by the Harmon Fund at the Baltimore Museum later that year. The series was reproduced, in part, in the March of 1939 issue of Survey Graphic and reviewed favorably by the Baltimore Sun. The same year, Lawrence's Toussaint L'Overture series was again shown at the American Negro Exhibition in Chicago, where Lawrence was honored with a second prize and medal.
In 1940 Lawrence's work was included in several exhibitions including group shows at the Harlem Community Art Center, Columbia University, and the Library of Congress. Beginning that year, Lawrence received a Rosenwald Grant for three consecutive years. This opportunity allowed the artist to move into a studio on 125th Street in New York City. There he began a series of images about black migration in the United States. He developed 60 panel paintings between 1940 and 1941, entitled The Migration of the Negro. In this series, the artist depicted the mass exodus of blacks from the rural South to the industrial North from the early 1900s until the 1940s.
The Middle Years
In 1941 Lawrence married Gwendolyn Knight, whom the artist met as a teenager in Harlem. Knight is originally from the West Indies and is also an artist. She has been a major force behind the artistic achievements of her husband throughout his career. They have no children. After their marriage, the couple lived in New Orleans for one year, during which time Lawrence began his John Brown series under the sponsorship of a Rosenwald Grant for a second consecutive year. Lawrence's Migration series was represented along with the work of Tanner, Alston, Johnson, Pippin, and Bearden in an exhibition at the Downtown Gallery entitled, "American Negro Art: 19th and 20th Centuries" in December of 1941. At the age of 24, Lawrence became the first black artist to be sponsored by a prominent New York City art gallery. Concurrent with the exhibition, Fortune magazine featured 26 color reproductions from the series. The entire series was purchased, half by the Museum of Modern Art and half by the Phillips Collection. The Migration series achieved popular success and is touted by scholars as the artist's greatest single artistic achievement.
Lawrence was introduced to many leading contemporary artists including Davis, Dove, Marin, O'Keeffe, Pippin, Scheeler, Shahn, Tobey, and Weber through his association with Edith Halpert, owner of the Downtown Gallery. The artist was featured in numerous exhibitions at the Downtown Gallery beginning in 1942 for a period of 20 years.
The artist began his Harlem series in 1942, again supported by a Rosenwald Fellowship. Lawrence joined the U.S. Coast Guard in 1943. Both of Lawrence's commanding officers, captain J. S. Rosenthal and lieutenant commander Carltin Skinner, encouraged the artist to continue his painting while fulfilling regular duties as a steward's mate. Rosenthal promoted Lawrence to the position of combat artist. Ultimately, Lawrence became the official Coast Guard painter. During his 26 months in the service, Lawrence produced approximately 48 paintings in a series entitled, Coast Guard.
After completing his obligations with the military, Lawrence resumed painting the history of African American people in 1945. He was saluted by New Masses magazine for his contribution to the arts in 1946. Funded by a Guggenheim Fellowship between 1946 and 1947, Lawrence completed a series that documented his memories of World War II. While working on the series the artist was featured in two shows--one at The Phillips Collection and the other at ACA Gallery in New York. The artist was invited by Joseph Albers to teach at Black Mountain College in North Carolina during the summer of 1947. Due to Albers's influence, Lawrence became absorbed in formal considerations based on Bauhaus principles of art and design. That same year, Fortune magazine commissioned the artist to do a series of ten paintings on postwar conditions in the South. In 1948 the artist exhibited the Migration series at the Eight Annual Exhibition of the Art Institute of Chicago and was awarded a silver medal.
Lawrence became psychologically depressed during the late 1940s due to his enormous success and the lack of recognition of his colleagues. Finally in July of 1949, Lawrence committed himself to Hillside Hospital in Queens, New York, to receive treatment for depression. During his stay from 1949 until 1950, the artist completed a series entitled Hospital, consisting of 11 panels. Lawrence actively resumed painting after his recovery. He began working on genre scenes of Harlem and a series entitled Theater, consisting of 12 panels. Soon thereafter, he began a series depicting the history of war and conflict in America entitled Struggle--History of the American People between 1955 and 1956. Thirty panels were completed of 60 originally projected.
The artist began teaching at Pratt Institute in 1955, where he stayed for 15 years, while also teaching concurrently at other institutions. He has also taught at the Art Students League, New York City; Brandeis University; The New School for Social Research; Skowhegan School of Painting and Sculpture; California State University at Hayward; and the University of Washington at Seattle. He retired from teaching.
The Mature Years
In 1960 Lawrence was given a retrospective by The American Federation of the Arts. He visited Nigeria at the invitation of the American Society of African Culture (AMSAC) and the Mbari Club of Artists and Writers of Ibadan once briefly in 1962 and again for eight months in 1964. He gained enormous insight about African aesthetics and design during his early years in Harlem and in Africa, which is evident in his work throughout his career. During his stay in Africa, Lawrence produced a series of paintings entitled Nigeria. He initiated a series of paintings based on the theme of civil rights in the South from 1961 to 1969.
In the late 1960s, Lawrence was commissioned by Windmill Books (Simon and Schuster) to direct a book project. He chose the life of Harriet Tubman. The book consisted of 17 of Lawrence's paintings accompanied with original verse. Some of the imagery in Harriet and the Promised Land (1968) was taken directly from Lawrence's Harriet Tubman series of 1939. Lawrence illustrated three other books: Aesop's Fables (1970), Hiroshima (1983), and One Way Ticket (1948). Lawrence completed a number of illustration projects including three covers for Time magazine, a poster for the 1972 Olympics in Munich, a silk screen poster in 1977 for a fund raising campaign to offset the expenses of President Jimmy Carter's inauguration, as well as several other poster projects.
In 1973 Lawrence was commissioned by the state of Washington to paint a mural about the life of George Washington Bush--the first black elected to the Washington legislature in 1889--at the State Capital Museum in Olympia. Lawrence was honored with a major retrospective at the Whitney Museum of American Art in 1974 and again at the Seattle Art Museum in 1986. In 1975 the Founders Society of the Detroit Institute of the Arts commissioned Lawrence to do an edition of silk screen prints of the John Brown Series from 1941.
Although Lawrence has painted throughout his career mostly with water-based materials, during the past several decades he has increased his use of media to include prints, drawings, and murals composed of enamel, as seen in the Games mural for the Kingdome Stadium in Seattle (1979), his Exploration mural at Howard University (1980), and a second mural for Hampton University, Origins (1984). During the 1970s Lawrence created several paintings based on the theme of libraries. In 1982 he was commissioned to produced a series of silkscreen prints for Limited Editions Club of New York City in collaboration with author, John Hersey.
In 1994 Lawrence completed a series of paintings based on the theme of the supermarket. The major theme of Lawrence's most recent works during the past two decades has been building, reflecting his love for manual craftsmanship, and tools. Lawrence collects antique tools and is an expert on their forms and functions. He uses his intimate knowledge about the subject of tools and hand labor throughout these thematically linked works.
Lawrence has received numerous awards during his career, including election in the Hall of Fame for Great Americans, 1976; nominated commissioner, National Council for the Arts, 1978--84; American Academy of Arts and Letters, 1983; NAACP (National Association for the Advancement of Colored People) 3rd Annual Great Black Artist's Award, 1988; College Art Association Distinguished Artist Award, 1988; National Medal of Arts, presented by President George Bush, 1990; National Art Club Medal of Honor, 1993; and the American Academy of Arts and Sciences, 1995.
In addition to the small gouache paintings based on themes organized as a series which characterize the artist's work, Lawrence has also produced a number of drawings, prints, murals, posters, and illustrations revealing his personal and cultural heritage. He prefers water-based paints and small brushes and usually paints small scale works on paper or gessoed panels. He has contributed a legacy of art revealing the expression, challenges, and rewards of black culture and society. He has immortalized his aesthetic philosophy and imagery through his involvement as a teacher. Lawrence was a child and adolescent during the prime of the Harlem Renaissance, survived the Depression, served in World War II, experienced post-war reconstruction and the Civil Rights Movement of the 1950s, 1960s, and 1970s, and his lifetime has nearly spanned the century. Jacob Lawrence has been proclaimed by critics as the divine translator of the history of the African American experience through art.
Lawrence and his wife have resided in the state of Washington since 1971.
Lawrence died in his sleep on June 9, 2000, in Seattle, Washington, at the age of 82.
Read more
Latest headlines