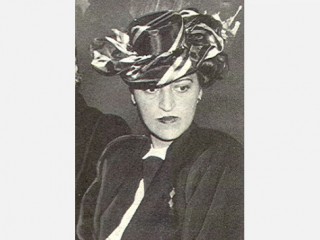 Jane Bolin biography
Date of birth : 1908-04-11
Date of death : 2007-01-08
Birthplace : Poughkeepsie, New York, United States
Nationality : American
Category : Politics
Last modified : 2010-07-13
Credited as : Judge, New York City Domestic Relations Court ,
Jane Matilda Bolin
, born April 11, 1908 in Poughkeepsie, New York, United States - died January 8, 2007 in New York, New York, United States is an African-American judge.
Jane Matilda Bolin
was the first African-American woman to graduate from Yale Law School, the first to join the New York City Bar Association, and the first to join the city's law department. She became the first black woman to serve as a judge in the United States when she was sworn in to the bench of the New York City Domestic Relations Court in 1939.
Although she never cared to think in these terms, Jane Bolin would often have her name followed with the descriptive, "first black woman to...." In her mind, she was simply following her life's path, pursuing goals in a profession she cared for deeply, not unlike any other man or woman, black or white. Still, the facts are undeniable that part of Bolin's life path involved opening doors that had been, until her arrival, closed to African-American women and so the description, while not necessarily welcome, is accurate. Jane Bolin was the first black woman to graduate from Yale Law School, the first black woman to work as corporate counsel for the city of New York, the first black woman to be admitted to the Bar Association of the City of New York and most significantly, the first black woman judge in the United States. "Everyone else makes a fuss about it, but I didn't think about it, and I still don't," she told David Margolick of the New York Times in 1993. "I wasn't concerned about first, second or last. My work was my primary concern."
Determined to Be a Lawyer
Born Jane Matilda Bolin on April 11, 1908, in Poughkeepsie, New York, she was the youngest of four children born to Gaius C. Bolin, a lawyer and first black graduate of Williams College, and Matilda Ingram Bolin, a white Englishwoman. Her mother had become ill when Bolin was young and died when she was eight years old. As a single parent her father devoted a great deal of time and energy to his children while simultaneously running his own small law practice in Poughkeepsie. It was in her father's office with the rows and rows of law books, that Bolin, an avid reader and excellent student, first thought of becoming a lawyer.
A bright student, Bolin graduated from Poughkeepsie High School at age 15. Bolin began attending Wellesley College in 1924, one of two black women to enter that year. She later recalled her life at Wellesley as a lonely time where she was ignored socially and received little encouragement from the faculty. As a senior, when she told her adviser about her plans to become a lawyer, she was sternly instructed to think of something else. There was no future for a black woman as a lawyer, she was told. Upon graduating in 1928 Bolin was named a "Wellesley Scholar" a distinction given to the top 20 women in their class. Bolin's experience at Wellesley grated on her. In an essay she wrote in 1974 for a Wellesley publication, she candidly explained: "I am saddened and maddened even nearly half a century later to recall many of my Wellesley experiences but my college days for the most part evoke sad and lonely personal memories. These experiences perhaps were partly responsible for my lifelong interest in the social problems, poverty and racial discrimination rampant in our country," as quoted on the Wellesley College Web site.
In sharp contrast to her adviser at Wellesley, Bolin's father knew his daughter could become a lawyer--he simply did not want her to. "He was very opposed to the idea at first," Bolin recalled to Judy Klemesrud of the New York Times. "He assumed I'd be a schoolteacher. He didn't think that women should hear the unpleasant things that lawyers have to hear." Bolin so feared her father's disapproval that she did not tell him her plans until she had already interviewed and was accepted by Yale Law School. With her father's reluctant blessing, Bolin went through the school and graduated in 1931, the first black woman to do so.
Began Pioneering Career
With law degree in hand Bolin affixed her name to the front door of her father's Poughkeepsie practice until 1933 when her marriage to fellow lawyer, Ralph E. Mizelle took her to New York. The couple practiced law together until 1937 when Bolin applied for a position in the Office of the Corporation Counsel of the City of New York, the city's law office. Although initially dismissed during her interview for the position by an assistant, Corporation Counsel Paul Windels walked in the office and hired her on the spot, giving Bolin the distinction as the first black woman to become an Assistant Corporation Counsel. In this role Bolin was assigned to the Domestic Relations Court where she represented petitioners who could not afford their own lawyer.
Bolin had held the position of Assistant Corporation Counsel for two years when she was summoned by the office of New York's mayor, Fiorello LaGuardia, to meet the mayor at the New York City building of the World's Fair which had just opened. Concerned that someone had complained about her performance in the Corporation Counsel's office and the mayor was going to reprimand her, Bolin persuaded her husband to accompany her to the meeting. Her concern turned to surprise which then turned to numbness when she learned Mayor LaGuardia's intent was swear her in as a judge--the first black woman judge in the United States. The swearing in took place on a Saturday and Bolin took her place on the bench the following Monday. It would be a position she would hold for the next 40 years.
Her early years as a judge tested her mettle, for she had to balance family life with her professional duties. Two years after Bolin gave birth to her son, Yorke Bolin Mizelle, in 1941, her husband died. She remained a widow until remarrying in 1950. Of those seven years raising her son as a single parent and pursuing a full-time career, Bolin remarked "I don't think I short-changed anybody but myself. I did not get all the sleep I needed.... I felt my first obligation was to my child," according to the American Bar Association Web site. She followed the example set by her own father, who had lavished her with devotion and support as a child. She remembered her time as a single parent and widow as a period when she gained a true appreciation for her father's sacrifices in support of his children, according to the Poughkeepsie Journal. Her second marriage to Walter P. Offutt, Jr., a clergyman, lasted until he passed away in 1974 from lymphoma.
Bolin's efforts to provide a loving family life for her own son and husband were reinforced by her court duties, which gave her deep insight into the social affects of troubled family life. She was assigned to the Domestic Relations Court, which in 1962 became known as the Family Court of the State of New York. Her position gave Bolin a front row seat to virtually every aspect of legal trouble that could engage a New York family from battered spouses and neglected children to paternity suits and, increasingly over her 40-year career, homicides committed by juveniles. "We always had homicides, but not in the numbers we have today," Bolin told Klemesrud of the New York Times at the time of her retirement. "I've never seen anything like this, the extent of this violence, never." Adding, "Sometimes, from the bench, I ask the children, `Why, why, why?,' and I never get a satisfactory answer. They look at you, they stare at you, and they don't say anything."
Bolin's vision extended far beyond the social affects of family life, however. As a justice Bolin determined to bring about changes to the way things were handled in the New York legal bureaucracy with regard to race and ethnicity. One change was the assignment of probation officers to cases without to race or religion. "When I came in, the one or two black probation officers handled only black families," she recalled to Klemesrud. "I had that changed." A second change was ensuring private childcare agencies that received public funding would accept children regardless of ethnic background. "They used to put a big N or PR on the front of every petition, to indicate if the family was black or Puerto Rican," she told Klemesrud. Bolin had that changed as well.
Possessed Tireless Passion for Work
In addition to her work on the bench, Bolin served on the boards of many agencies and organizations including the Child Welfare League, the National Board of the NAACP, the New York Urban League, the Dalton School, and Wiltwyck School for Boys, which she helped found with Eleanor Roosevelt and others. All activities that paralleled a lifetime of professional work designed to help people, a passion for which she never tired.
When Bolin reached the mandatory retirement age of 70 in 1978, she was forced to step down from the bench. She was very much opposed to the idea. Though she left the bench, Bolin remained active. She became a member of the Regents Review Committee of for the New York State Board of Regents where she reviewed disciplinary cases. She also tutored New York public school children in math and reading during her retirement, and worked as a family law consultant. "I've always done the kind of work I like," she admitted to Klemesrud. "I don't want to sound trite, but families and children are so important to our society, and to dedicate your life to trying to improve their lives is completely satisfying." Bolin died in New York on January 8, 2007. She was 98 years old.
PERSONAL INFORMATION
Born Jane Matilda Bolin on April 11, 1908, in Poughkeepsie, NY; died on January 8, 2007, in New York, NY; youngest daughter of Matilda Ingram Emery and Gaius C. Bolin (a lawyer); married Ralph E. Mizelle (a lawyer), 1933 (died, 1943); married Walter P. Offutt, Jr. (a clergyman), 1950 (died, 1974); children: Yorke Mizelle Education: Wellesley College, BA, 1928; Yale Law School, JD, 1931. Memberships: Harlem Lawyers Association, Association of the Bar of the City of New York, National Bar Association, New York State Bar Association; New York Association of Family Court Judges. Served on boards of NAACP, New York Urban League, Dalton School, Wiltwyck School, Child Welfare League.
AWARDS
Honorary degrees from Morgan State College, Tuskegee Institute, Hampton Institute, Western College for Women, Williams College; Corporation Counsel's Award for Distinguished Service, 1993.
CAREER
Admitted to New York State Bar, 1932; private practice lawyer, 1932-37; Office of the Corporation Counsel of the City of New York, Assistant Corporation Counsel, 1937-39; Domestic Relations Court (became know as Family Court of the State of New York in 1962), justice, 1939-78; New York State Board of Regents, Regents Review Committee member, 1979-?.
Read more
Latest headlines